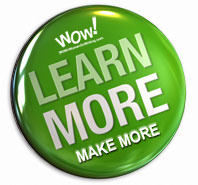 WOW! Women On Writing Workshops & Classes

invest in yourself, write now
Welcome to our classroom! Whether you are looking to boost your income or work on your craft, we know that education is an important part of a writer's career. That's why WOW! handpicks qualified instructors and targeted classes that women writers will benefit from. The instructors are women we've worked with on a professional level, and these ladies offer high quality courses on various topics.
Are we choosy about our instructors? You bet! That's why you'll only find a few courses available at a time. Before we even accept an instructor, we verify their course materials, syllabus, credentials, and determine whether their course would be right for our WOW! writers. We work hard to bring you the best of the wild, wild web, and these ladies are all fantastic.
How the courses work: All of the courses operate online—whether through email, website, chat room, or listserv, depending on the instructor's preferences—and are taught one-on-one with the instructor. The flexibility of the platform allows students to complete assignments on their own time and work at their own pace in the comfort of their own home. It's a wonderful experience and an excellent way to further develop your skills, or to try your hand at something completely new!
By enrolling in one of our e-courses, you'll be that much closer to reaching your writing goals!
Featured Courses
Ongoing Courses:
Starts Upon Ordering:
SUBMISSIONS CONSULTATION (up to 4,500 words) with Chelsey Clammer
MANUSCRIPT DRAFT EDITING PACKAGE WITH CONSULTATION (For Novels, Short Story Collections, and Memoirs – up to 100,000 words) with Margo L. Dill
STORY SEEDLINGS: DAILY PROMPTS, WEEKLY FEEDBACK, AND A 5,000-WORD CRITIQUE by Amanda Zieba
SIMPLIFY YOUR BOOK-WRITING PROCESS WITH A BOOK STYLE GUIDE by Bernadette Geyer
ONLINE CLIPS FOR FREELANCE WRITERS: WEBSITES VS. PORTFOLIOS - VIDEO CLASS AND CONSULTATION by Bernadette Geyer
Starts the First Tuesday of Every Month:
INTRODUCTION TO THE CRAFT OF SCREENWRITING by Christina Hamlett
INTRODUCTION TO PLAYWRITING by Christina Hamlett
HOW TO WRITE A TV PILOT by Christina Hamlett
Starts the First Friday of Every Month:
WRITING A NOVEL WITH A WRITING COACH: ONE-ON-ONE INSTRUCTION by Margo L. Dill
Courses by Start Date:
March 4, 2020
1-2-3 PERSONAL ESSAYS & WEEKLY FEEDBACK by Kandace Chapple
March 13, 2020
DEVELOPING YOUR AUTHENTIC VOICE: A WRITING WORKSHOP by Melanie Faith
March 27, 2020
CREATING AN ONLINE CREATIVE-WRITING CLASS FOR FUN AND PROFIT by Melanie Faith
March 30, 2020
THE WOMEN WRITERS' BOOK GROUP: How to Write an Essay that Reaches Beyond Personal Experience by Chelsey Clammer
March 31, 2020
WRITING MIDDLE GRADE AND YOUNG ADULT FICTION: A STUDY AND WORKSHOP by Margo L. Dill
April 6, 2020
DISSECTING REJECTION—Understanding Why Your Book Keeps Getting Rejected and Knowing When It's Ready for Publication by Dawn Carrington, Editor-in-Chief of Vinspire Publishing
EMPOWER YOUR MUSE, EMPOWER YOUR WRITING SELF by Kelly L. Stone
BUILD YOUR AUTHOR/WRITER PLATFORM by Karen Cioffi
BECOME A POWER-BLOGGER AND CONTENT WRITER IN JUST 4 WEEKS by Karen Cioffi
April 13, 2020
WRITING WITH TRANSITIONS: How to Keep Readers Close While Moving Them Through Time and Space by Sheila Bender
May 1, 2020
IMAGERY POWER: PHOTOGRAPHY FOR WRITERS by Melanie Faith
May 4, 2020
WRITING IS REVISING: HOW TO BECOME A BETTER EDITOR by Chelsey Clammer
NO MATTER HOW BUSY YOU ARE, YOU CAN STILL FIND TIME TO WRITE! by Kelly L. Stone
BLOGGING MADE EASY by Karen Cioffi
GHOSTWRITING YOUR WAY TO A PROFITABLE WRITING BUSINESS by Karen Cioffi
RESEARCH: PREPPING TO WRITE NONFICTION FOR CHILDREN AND YOUNG ADULTS by Sue Bradford Edwards
May 25, 2020
WRITING SHORT, WRITING DEEP by Sheila Bender
June 1, 2020
BUILD YOUR AUTHOR/WRITER PLATFORM by Karen Cioffi
BECOME A POWER-BLOGGER AND CONTENT WRITER IN JUST 4 WEEKS by Karen Cioffi
LIFE'S A BITCH AND THEN YOU WRITE: A THREE-STEP TECHNIQUE TO STRENGTHEN YOUR WORK-IN-PROGRESS by Kelly L. Stone
EMPOWER YOUR MUSE, EMPOWER YOUR WRITING SELF by Kelly L. Stone
June 3, 2020
TRANSFORM YOUR MEMORIES INTO MEMOIR IN 5 WEEKS by Dorit Sasson
June 8, 2020
WHAT OUR BODIES HAVE TO SAY: WRITING ABOUT, WRITING WITH THE BODY by Chelsey Clammer
Questions? Email Marcia & Angela at:
classroom[at]wow-womenonwriting[dot]com
----------------
Personal Attention
WOW! Women On Writing ensures that our instructors will work with you one-on-one. In most cases you will receive emailed course materials and assignments, or for those with groups, you will be able to download course materials. Your instructor will give you assignments and personal feedback, and guide you through a charted course of learning. Our instructors are wonderful ladies who go above and beyond to help you achieve your writing goals.
Enrollment
Upon successful completion of payment via PayPal, your name, email address, and contact info will be submitted to your instructor within a week of your enrollment. She will contact you before her class starts and provide you with the necessary information you need to start the class. If you have another e-mail address you'd like to use for the course, please send it to Marcia & Angela classroom[at]wow-womenonwriting[dot]com and we will forward the information to your instructor.
Refunds
We understand that things may come up in your life where you are unable to attend the class. If you purchased a class and it hasn't started yet, you may receive a refund minus PayPal fees (roughly 5-10%, depending on which country you purchased from and if you used your PayPal account or a credit card) by contacting Marcia & Angela classroom[at]wow-womenonwriting[dot]com. Or you may apply the full fee as a credit for another class. Please note that once the class starts and materials are delivered, we are unable to issue a refund through WOW!.
Join Our Faculty
If you are interested in participating as an instructor, please email Marcia & Angela at classroom[at]wow-womenonwriting[dot]com. We will send you an application to fill out and return for review.