TAKE ACTION AUTHOR PLAN
by Amanda Zieba
START DATE: This is an independent, self-paced program. Participants can start at any time. As soon as the curriculum is purchased, a password will be emailed so they can access the website and begin. Participants can move through the three sections of the course at their own pace, but it is recommended to spend one week on each section.
DURATION: 4 weeks
COURSE DESCRIPTION: The Take Action Author Plan will teach you how to self-publish your manuscript, sell your books and take your author career to the next level. I've taken the lessons I've learned from publishing ten books and combined it with my Masters Degree in education to bring you an easy to follow plan with actionable steps you can implement ASAP.
The course includes 4 workbooks and 3 Google Slideshows with embedded videos. (Each slide show is roughly an hour long.)
Course Workbook: This ten-page download includes Take Action Task Sheets, Calendar Planning Pages and instructions on how to make the most of this learning experience so you can take control of your dreams and take action to achieve them.
3 Course Sections

Self-Publishing 101 Slides + Workbook
Book Marketing 101 Slides + Workbook
The ABC's of Authorpreneurship Slides + Workbook
Amanda Zieba gives a fabulous presentation based on real life experience that gives you concrete information you can immediately apply to your own author or entrepreneurial journey. Great advice for beginners AND those well into their careers. - Deb Buschman, SCBWI member and Wisconsin Assistant Regional Advisor

Amanda's information is valuable and her boots-on-the-ground experience backs up her tips. I was pleased with how relatable and practical her thought process and methods are. She is detailed, thorough, and genuinely cares about your success. I will definitely be revisiting my notes and applying some of her tried-and-true methods on my own book launch and promotion. - Jessica Kopecky of Kopecky Design, LLC

Amanda is very knowledgeable. Her A to Z format is fun and inviting. I would recommend anyone looking to publish a novel reach out to Amanda. She thoroughly knew the material. - Danielle Rae Severson

Amanda is a high-energy, capable writer who generously offers tips, techniques and insights into creating a high quality product! - Kim Hammer
WEEKS AT A GLANCE:
WEEK 1: Prep and Set Up
Take this week to look through the course workbook and set yourself up for success. Print your course workbooks, set aside time in your calendar for the upcoming weeks so you can make the most of this learning experience and take a little time to dream about where it is you actually want to go and what you'd like to accomplish.
WEEK 2: Self-Publishing 101
In this section, I will walk you through the process of self-publishing step by step so that you can go from having a manuscript in your desk drawer to seeing it in a bookstore! This section of the course will cover everything from copy editors to interior formatting, from book cover design to pricing, and more. Links to services and tools I recommend are included so you won't have to search high and low as you come to each step. I also share a case study of one of my books sharing exactly how much I spent to publish and promote the book as well as how much I earned from it's sales in the first year.
WEEK 3: Book Marketing 101
Often people think that writing the book is the hard part, but honestly, I think selling it is an even bigger challenge. In this section I show you dozens of ways I have creatively sold my books, many of which are outside the bookstore box. In addition to the concepts and ideas, I provide specific examples, articles with additional information and links to tools you can use on your own book selling journey.
WEEK 4: The ABC's of Authorpreneurship
This week we will dig into 26 lessons, techniques, mindsets and habits (one for each letter of the alphabet!) that you can use to level up your writing career. These are the lessons I have learned over the past seven years as a self-published author and knowing them up front will save you from making my same mistakes. Concepts included are: finances, time management, energy investment, passive revenue stream options, website components, personal/professional relationship tips, resources and more.
Materials needed: All materials will be provided by the instructor.
Samples from The Take Action Author Plan:
Sample Videos
Course Intro
Self-Publishing 101: Book Cover Design
Book Marketing 101 Sample: Blogging
The ABC's of Authorpreneurship Sample: Why is Writing Any Different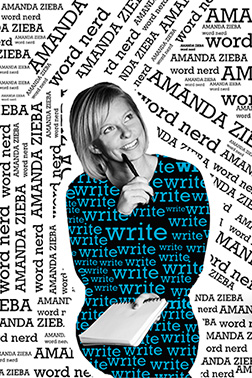 ABOUT THE INSTRUCTOR: Amanda Zieba is a self-proclaimed word nerd and has been so her whole life. In her opinion back to school supply shopping should be a national holiday because she certainly finds fresh notebooks and new pens a reason to celebrate. After a dozen years in public education, she now teaches writing part time at the college level, writes educational materials for a cultural connectivity company and most of all enjoys making up stories for the enjoyment of readers of all ages. She is the author of eleven books, with more on the way. She has visited schools and book clubs and lead writing workshops and retreats in four states across the Midwest.
COST: $300, which includes 4 workbooks and 3 Google Slideshows (with embedded videos).
BUY NOW: TAKE ACTION AUTHOR PLAN with Amanda Zieba (4 weeks, starts upon ordering and after materials are delivered)
----------------
Notes: Upon successful completion of payment, your name, email address, and contact info will be submitted to your instructor. Just before class begins, she will e-mail you with instructions on how to get started.
Questions? Email Marcia & Angela at:
classroom[at]wow-womenonwriting[dot]com