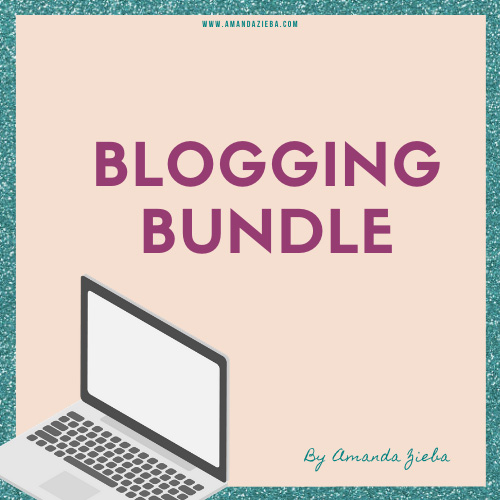 BEGINNER BLOGGING BUNDLE
by Amanda Zieba
START DATE: This is an independent, self-paced program. Participants can start at any time. As soon as they download the curriculum they can begin and move through lessons at their own pace. The course includes a Google Slides presentation and a 22-page workbook.
DURATION: 4 weeks
COURSE DESCRIPTION: I am excited to be able to guide you through this online journey and offer you valuable tips, techniques and advice for creating, organizing and promoting your online content! In addition to a Google Slideshow walking you through the steps to begin a blog and generate content, a 22-page digital download includes worksheets, brainstorming exercises, blog writing prompts, templates, advice, tried and true resources, motivation and more.
Included in this 22 page digital download are exercises and worksheets designed to help you brainstorm content ideas, develop them, and then plan where and when to post and promote them. It will include a special section on how to create engaging graphics and where to find gorgeous and free images that will WOW your audience.
Finally, I will wrap up with a little inspiration, some closing tips and ways I can continue to help you in the future. If you have questions at any time while working with the bundle, feel free to email me for help.
I had always wanted to start a blog, but never had the guts to begin. Amanda's blogging workshop inspired me to just get started. Amanda is an expert, but also welcoming and approachable." - Allison Wagner

Amanda Zieba gives a fabulous presentation based on real life experience that gives you concrete information you can immediately apply to your own author or entrepreneurial journey. Great advice for beginners AND those well into their careers. - Deb Buschman, SCBWI member and Wisconsin Assistant Regional Advisor

This blogging workshop was amazing. I feel totally confident in starting my blog with a great foundation. Amanda gives a lot of practical tips mixed with inspiration and wisdom from her own experiences. A valuable workshop for anyone wanting to start a blog. - Niki Bergler
WEEKS AT A GLANCE:
WEEK 1: Course Intro and Buckets!
Take this week to look through the course overview and set aside time in your calendar for the next four weeks to work through the course materials. Then, begin thinking about your "blogging buckets" and narrowing the items in them down to your niche topic.
WEEK 2: Idea Generation
Use the monthly idea calendar, blog prompt list and content generating slides to brainstorm a list of possible blog post entries. You will also explore the ideas of guest blog posting, interviews and affiliate marketing through your blog.
WEEK 3: Time to Write!
Use the blog post template to plan and write a bank of 6 - 10 blog posts. Once your blog is live and ready to go, you will use these posts (and the calendar templates provided) to plan a consistent and sustainable posting schedule.
WEEK 4: Design Images and Post
In this final week of the course you will learn how to design engaging images to accompany your text and make your blog even more appealing. Then, using the Blog Post Checklist, you'll post and share your words with the world!
Materials needed: All materials will be provided by the instructor.
Sample Worksheets from the Beginner Blogging Bundle:
Blogging Workshop Monthly Content Ideas
Blog Post Checklist
Blog Post Planning Worksheet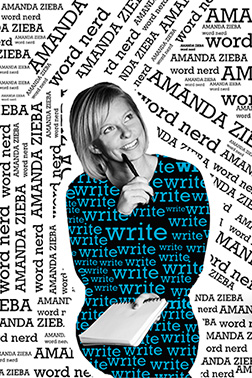 ABOUT THE INSTRUCTOR: Amanda Zieba is a self-proclaimed word nerd and has been so her whole life. In her opinion back to school supply shopping should be a national holiday because she certainly finds fresh notebooks and new pens a reason to celebrate. After a dozen years in public education, she now teaches writing part time at the college level, writes educational materials for a cultural connectivity company and most of all enjoys making up stories for the enjoyment of readers of all ages. She is the author of eleven books, with more on the way. She has visited schools and book clubs and lead writing workshops and retreats in four states across the Midwest.
COST: $80, which includes a Google Slides presentation and a 22-page workbook.
BUY NOW: Beginner Blogging Bundle with Amanda Zieba (4 weeks, starts upon ordering and after materials are delivered)
----------------
Notes: Upon successful completion of payment, your name, email address, and contact info will be submitted to your instructor. Just before class begins, she will e-mail you with instructions on how to get started.
Questions? Email Marcia & Angela at:
classroom[at]wow-womenonwriting[dot]com