ou thought you had a handle on reaching out to your audience. You're blogging and social networking, but now there's another item to add to your to-do list: a book trailer.
Book trailers are one more step in the digital evolution of book promotion. And the last thing an author wants is to get stuck in the tar pit of outdated marketing ideas. With the exponential advances in technology, it's easy to feel overwhelmed, but with a few basic tips, you'll be able to create a book trailer that brings your story to life.
Hire a Professional or D.I.Y.?
There are established companies and talented individuals advertising on the Internet, offering services to create your promotional trailer for you. A simple Google search will give you plenty to choose from. You can also check the production credits of book trailers you like or ask for a referral from the authors. The cost of hiring a professional can run anywhere from $1,000 to $10,000. You cut the check and sit back to see what they create for your book.
Or, you can do it yourself.
Like a lot of authors, you may not have $10,000 sitting around in a cookie jar, so shelling out that kind of money for a professionally-produced book trailer might not look as attractive as spending some dedicated time and effort to create one yourself.
The best part about producing your own book trailer is that you'll have the opportunity to showcase your book in a creative way that is unique to your style and voice. No one knows your story better than you do. You're limited only by your imagination.
Choose Your Style
It doesn't matter whether your book is how-to nonfiction, a novel, memoir, short story collection, children's book, or poetry chapbook, you can create a book trailer that captures the attention of your target audience and showcases your story.
There are many styles to choose from and the techniques can be mixed and matched according to your available resources, your level of expertise, and the time and effort you want to devote to creating your book trailer.
Interview/Documentary
Add More ing to Your Life: A Hip Guide to Happiness by Gabrielle Bernstein
A Thousand Sisters: My Journey into the Worst Place on Earth to Be a Woman by Lisa Shannon
The Sisters Grimm: Book Eight: The Inside Story by Michael Buckley
Live/Demonstration
I Loved, I Lost, I Made Spaghetti: A Memoir of Good Food and Bad Boyfriends by Giulia Melucci
Such A Pretty Fat: One Narcissist's Quest to Discover If Her Life Makes Her Ass Look Big, or Why Pie Is Not the Answer by Jen Lancaster
Narrated Stills
Evermore: The Immortals by Alyson Noel
Everything Sucks: Losing My Mind and Finding Myself in a High School Quest for Cool by Hannah Friedman
Mixed Media
How to Get Divorced by 30: My Misguided Attempt at a Starter Marriage by Sascha Rothschild
Spooky Little Girl by Laurie Notaro
Film Production
Vintage Veronica by Erica Perl
The Sweet Far Thing by Libba Bray
The Fidelity Files by Jessica Brody
Storyboard and Script Your Idea
Don't embark on this book trailer adventure without plotting your course. If you have a solid idea of what you want for a finished product, it will help you select audio, image, and/or video files.
Identify exactly what you want to convey about your story. Think about the tone. Is it a humorous and upbeat contemporary romance? A dark and ominous thriller? A deep and lyrical literary piece? The genre and premise of your book are important considerations when you begin searching for the right components to showcase your story.
Look at your major plot points for fiction or your main message for nonfiction. What are your strongest images? Are they symbolic or literal? Make a list or sketch the types of images you want to use. Choose active images. People are interesting. Sweeping, empty vistas are boring.
You want your book trailer audience to invest in your story, so you need to introduce the character (or yourself if it's nonfiction) in a way that allows the viewer-reader to feel connected. You can do that by text or narration that hits the emotional hot buttons of the target audience. Know the universal theme that gives your story universal appeal and use that in your trailer.
If you plan to use text on the screen, use an economy of words—don't waste text telling what the image shows. Focus on unfolding the story in a visual way. If you plan to narrate (or have a voice-actor do it), script the dialogue completely and practice it to stay within the time limit. If you intend to create an interview-style trailer, script the questions and the answers carefully.
Book Trailer Dos & Don'ts
Do start with the hook, not the credits.
Do prominently display the book cover image.
Don't make the trailer too long. The online viewer's attention span is about half the length of an inchworm. The ideal trailer length is 1 – 3 minutes.
Do make it humorous, thought provoking, suspenseful—whatever fits the book.
Do push the viewers emotional hot buttons. Use the universal theme.
Do cover the basic premise.
Do select music with the right tone for the story.
Do use image files with the good resolution—no less than 640 x 480.
Don't clog the slides with text the viewer must read. A book trailer is a visual medium.
Do make sure the audio is clear.
Don't let the music volume overpower the narration.
Don't get carried away with flashy scene transitions.
Do place the production credits at the end.
Do include one or two quotes or endorsements, if you have them.
Do show the book website URL in the video and include it in the description/source box of the video hosting site.
Do mention book retail availability.
Don't include release date. It dates your book trailer.
Do tag the trailer with appropriate keywords. Use Google keyword search to identify the best search terms.
Do-It-Yourself Resources
Software
It should go without saying—if you're planning to make your own book trailer—you need a computer with the proper editing software. The good news is that if your computer was made within the last decade, you'll be able to use Windows Movie Maker or iMovie (Mac). The programs are fairly intuitive, but if you have any problems, you can always ask questions in the help forums, flag down a local tech genius, or Google for a comprehensive how-to article.
Source Files
If you have a can-do attitude, the Internet has everything you'll need to get the job done: still images, video clips, sound effects, and music. You'll be amazed by the volume and variety of selections.
Free vs. Fee
Before you begin collecting your book trailer components, you'll need to decide what your budget is. Image, video, and audio files are readily available on the Internet in three primary ways: royalty free, Creative Commons License, and public domain.
Royalty free means you will likely find the downloadable files on stock websites that charge anywhere from $9 to $90 for a single image, audio, or video clip and there will be specific usage restrictions you need to follow that are set by the individual photographer, musician, or video producer.
A site that provides files labeled with a Creative Commons License is much more attractive to the budget-conscious author. Most image, audio, and video files bearing CC licensing are free to use, but allow the photographer, musician, or video creator to set limitations. Often the only request is that the end user fully credit and/or link back to the source.
Files in public domain are free to use without concern for copyright infringement.
Be sure to check the licensing agreement for every file you select and follow the restrictions to the letter.
Audio
There are hundreds of thousands of audio clips, both music and sound effects, available on stock websites. You can find sound effects of everything from crickets chirping and coyotes howling to a phone ringing and a door slamming. The music you'll find includes every possible genre: pop, country, folk, jazz, classical, hip-hop, rock, blues, reggae, electronic, international, etc.
Also think outside of the cyber box. Consider the resources all around you: a local band, members of your church choir, or the music program director at a university who can work with the students to score the story for your book trailer. Ask an actor or voice-over artist from your local theater or community college program to narrate. You may already know talented people who can help with your project and many of them would enjoy being involved.
You can also reach out to people online. What about contacting up-and-coming musicians on MySpace to ask permission to use (and credit) their music in your book trailer? Or post an ad on Craigslist in the creative gigs section for voice-over talent.
Royalty-free sound effects and music: SoundSnap
Royalty-free and Creative Commons sound effects and music: Partners In Rhyme, Incompetech (also has a score service).
Creative Commons and public domain music: FMA – Free, Music Archive, WikiMedia Commons.
Images
Still image and video files are easy to find on stock websites, but prepare to spend a significant amount of time searching for exactly what you want.
Other options may be right in your own neighborhood. College video production, broadcasting, and photography students can receive graduation credit for an independent study project and/or intern work done outside of the school setting. Consider contacting the appropriate department to have them connect you with a student.
Some cities have local cable television facilities and equipment that can be rented or used for free by residents. It's also a great place to find a local production crew. Or, if you are or know a good photography or video hobbyist with personal equipment, you can set up the exact shots you want for your book trailer.
If you don't have access to people with decent acting ability that can perform in your video production, consider filming in a way where you can tell the story with voice-over narration and just show simple physical actions that don't focus on facial expressions. Or, if you're going for a humorous, campy tone, by all means, use Uncle Bubba as your leading man.
Royalty-free still images and video: iStockphoto, Shutterstock, and Thinkstock.
Creative Commons and public domain images: BurningWell, PDPhoto, Public Domain Pictures, WikiMedia Commons.
Coming to a Computer Monitor Near You!
So, you've finally finished producing your book trailer masterpiece and now you're ready to release it into the world. The good news is that YouTube is not the only virtual cinema in cyber town.
Don't forget Yahoo, AOL, and MySpace have dedicated video sites. Your new book trailer can also be posted under a video tab on your Facebook page, added to your Amazon Author Central page, and available to thousands of readers on your author profile at GoodReads, a book lover's social network.
There are several video-sharing sites with unique benefits like pay-per-view revenue generation (get paid as your book trailer views increase) and video mail (e-mail blast your video to friends, family, and other biologically-related spam victims). Check out the features on Metacafe, Vimeo, blip.tv, blinkx, and Dailymotion to see what sites best suit your book promotion needs.
Don't forget to put your book trailer link into your e-mail signature block, post it on your blog or book website, and promote it on all of your social networks and forums. The key to book sales is raising awareness. The more often readers see your book, the more opportunities you have to catch their attention.
Now, get out there and bring your story to life!
***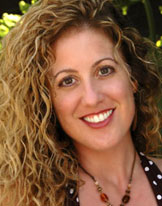 Annette Fix is the author of The Break-Up Diet: A Memoir. She speaks at national writer's conferences and hosts online and in-person workshops: "Online Author and Book Promotion," "How to Get the Right Agent for Your Manuscript," and "Memoir 101: Drawing from Your Life to Create Your Story."
Annette blogs about writing and book marketing at www.annettefix.com. She is the former senior editor of WOW! Women On Writing.
-----
Enjoyed this article? Check out some of Annette's previous articles on WOW!:
What Every Website Needs: A Checklist for Writers & Authors
How to Write a Nonfiction Book Proposal
Memoir Writing: Drawing From Your Life to Create Your Story
The Self-Publishing Travel Guide: Exploring New Territory