online promotion has changed exponentially for authors and freelance writers. A good website will increase your visibility with readers, expand your online presence, establish your expertise, and create an interactive space for people who are interested in your writing and/or book(s).
If you haven't yet set up your personal one-stop writing shop in cyber space, it's time to do it now. It's never too soon or too late to begin promoting yourself and your writing online.
In this article, I'll talk about the "must-haves" of a writing website and a book website, but think about the options like you're standing in front of a buffet. Take what you want now; you can always come back for more.
BASIC MUST-HAVES OF A WRITING SITE:

Bio
Your bio should contain:
Education
Awards/Grants/Fellowships
Noteworthy contest placement
Relevant work or life experience related to your topic
Bio Dos and Don'ts:
Do keep the content relevant to the writing and publishing industry.
Don't make up content. Focus on what you do have.
Do write your bio as a narrative. Save the bulleted resume for the 9 to 5 jobs.
Do allow your voice and personality to shine.
When it comes time to write a bio, it often causes a writer to freeze in her tracks with questions about worthy content. What if you don't have awards like The Pushcart Prize for short fiction, or articles published in The New Yorker? What should you say in your bio if you're just starting out?
Just remember your bio will continually evolve. Begin with what you do have now, and add to it as you progress in your career. Every famous writer started with only a love for the written word.
If you write humor (or at least have a sense of humor about your newbie writer status), you are in a unique position to use that humor to craft your bio. In 2006, when my agent asked for a bio, I didn't have anything I felt was noteworthy, so I crafted a bio spoof that she loved and submitted to publishers with my book manuscript—and I still use that bio on my book website today. Though I now have more content in my writing site bio.
There is no right or wrong way to craft your bio. Introduce yourself to your readers in your own personal style.

Headshot
Every writer should have at least one good picture of herself. It doesn't have to be a glamour shot. You can use a nice candid picture taken as a snapshot.
If you choose to have professional portraits taken, make sure the photographer will provide the digital files and the rights for you to use the images on your website and to reproduce them for other marketing materials.
Headshot Dos and Don'ts:
Do have your face clearly visible in the picture.
Do use flattering lighting. Outdoor, open shade is best.
Do make sure you get a high-resolution digital image.
Do look casual but professional. Let your personality shine.
Don't overdo your make-up, clothing, and bling—unless that's how you normally look.
Do keep your headshot current. Within a few years is fine, but don't use a picture from 10+ years ago.
Some writers may feel they're not very photogenic, but the point of having a headshot on your website is not for a beauty contest; it's to allow people to put a face with your name. It makes you more recognizable at writer's conferences and other writing/publishing-related events, and it allows your readers to feel more connected to you.

Clip Gallery
As you build your writing credits, make sure you have a way for your site visitors to read your published content. It showcases your writing ability, adds credibility to your writing business, and provides useful information for your readers and potential clients.
You can choose to set up your clip gallery in different ways:
summaries of your articles, and where they appeared
list titles and topics of your published articles, and where they appeared
list where you've been published
direct link to the published articles online
provide download link to pdf copies of your published articles

Writing/other services
For writers who also provide services such as:
proof-reading/editing
ghostwriting
copywriting/write-for-hire
manuscript analysis
workshops (online or in-person)
speaking
consulting/coaching
topic-related skills
You can use a page on your site to promote your writing services and other services. For example, if you are the author of a nonfiction book about clearing clutter and implementing office organization strategies—you can have a page that promotes your speaking on the topic and/or your personal organizing services.
Don't leave the people who come to your site wondering what you offer or have the ability to do. However, do keep them logically related. If you are a master bee-keeper and you wrote a book about the history of WWII, I recommend separate websites for each venture.

Subscription box
If you produce a newsletter, offer writing tips via email, or provide free e-book downloads or special reports, a subscription box will allow you to build your opt-in database of contacts who are interested in your topic/writing/services.
Note: Agents and publishers like when you've established a readership—it's part of building your platform.
Choose the frequency of contact with your subscribers and either list it near the subscription box or include it in your welcome letter. Whether you send out correspondence weekly, monthly, quarterly, or annually, make sure you respect your reader's time.
Subscription Dos and Don'ts:
Do provide useful content of interest to your readers.
Don't send only sales spam.
Do offer a way for subscribers to opt-out of receiving your correspondence.
Do allow your personality into your correspondence. Readers want to connect with a real person, not an information machine.
As your subscriber base grows, it can become challenging to send emails to hundreds (or thousands) of readers. You may want to consider using a service that distributes your newsletter. Resources: Constant Contact (used by WOW!), Mailchimp, Mailerlite, Vertical Response, Moosend, and other email marketing vendors.

Contact info
Your website functions like a cyber business card, so like a business card, you should provide contact information that will allow readers, agents, media, or potential clients to reach out to you.
At the very least, include your email address. Here is a little trick to cut down on the amount of spam you receive in your inbox: Change the way you list your email on your website.
Ex., yourname [at] mailprovider [dot] com or
yourname [at] yourdomain [dot] com
Confused yet? Using two of my email addresses as examples, this is what the format would look like:
annettefix [at] gmail [dot] com or
annette [at] annettefix [dot] com.
By listing your email formatted in this way, spam bots are unable to scan your site and pick up your email addresses. It won't eliminate spam if you are already receiving it from having your email address listed on the internet in the standard format with the @ symbol and the . dot, but it will keep new spam bots from finding you.
If you anticipate that the media may want to contact you for a last-minute quote or that a potential client may want to speak with you directly, you might also want to list a contact telephone number. A business or cell phone number would be best. I've had my cell number listed online for five years and I've never had it abused by inappropriate callers.
However, I was contacted by a journalist, a prospective workshop student, a writer's group organizer who wanted me to speak to her members, and an old friend from high school. So, if you're running a business, consider your website contact page like the cyber yellow pages—make it easy for people to get in touch with you.

A blog
Creating a blog has become the most cost-effective and efficient way for a writer to claim a piece of cyber real estate. A blog allows writers to have immediate visibility in search engine results. Blog content is picked up and cataloged by search engine "spiders" much more quickly and more often than content on static websites.
I started out with a static website and found that my site never appeared on the first five pages of a Google search for my name or book title, but blogs where I'd been interviewed did show up on the first page, so I scrapped my static website and created two blogsites (a writing site and a book site). They were easy and inexpensive to create, serve all the functions I need—including top results on searches for my name and book title—and they don't require me to have a webmaster to update.
There are several blog platforms available to choose from: WordPress, Blogger, LiveJournal, and TypePad. I recommend WordPress. It has the most functionality of the options. If you plan to use a blogsite in lieu of a static website, the most important function is the opportunity for page navigation. That allows you to have more than one page of content which means it can function like a multi-page static website—but with much higher search engine ranking.
For those of you who are on the fence about creating a blog because you don't know what to write about, you can include posts about:
The craft
Your genre
Projects in progress
Writing process/publishing journey
Conferences and workshops you've attended
Commentary about news in the publishing industry
Reviews of books and writing gadgets
Topics related to your expertise (nonfiction)
Writing/research/marketing tips
And 101 Great Posting Ideas That Will Make Your Blog Sizzle. The topic possibilities are limitless.
BASIC MUST-HAVES OF A BOOK WEBSITE:
Like the options I've already mentioned for the writing website content for freelance writers, writing service providers, and unpublished writers, a book website will have some similar content: the bio, headshot, contact information, and blog.

A blog
A book blog should focus more on the topic of the book, whether fiction or nonfiction. Keep in mind what your book readers would be interested in reading more about.

About the author
Your bio may be different for your book site. Readers are more interested in who you are than what you've accomplished in your writing career.

About the book
On this page you should have:
The book cover image
Back cover copy
Your inspiration for writing the book
A direct link to buy your book online

Chapter excerpts
In a bookstore, most readers will skim a few pages, maybe even a chapter, before buying a book. You can hook visitors on your website by providing 1-2 chapter excerpts of your book, so they can test-drive your story.
You can use a text sample. Or you can create an audio recording of you reading a chapter from your book.
PC users can download free audio recording software Audacity. Mac users can use Audacity or the Garage Band program in the applications folder.
Another way to add entertainment to your site and capture the interest of readers is to create and post a video book trailer.
Video ideas:
Live action skit or scene(s) from the book using yourself or actors
Still images with voice-over, or music and written text
Combination of mixed media images and live action
Live interview with you discussing the book
Video of you reading aloud to an audience
For additional ideas, and to see samples of creative book trailers, check out www.vidlit.com.

Reading group discussion questions (fiction and memoir authors)
Readers love to explore and discuss stories. By creating discussion questions for your book, you make it attractive to book groups as an option for their reading selection.
Post your questions on a dedicated book club page on your site. You can also provide them as a pdf download.
Ideas for creating discussion questions:
Character-based questions that examine your character's attitude, beliefs, actions, goals, decisions, conflict
Relationship/friendship interactions in your story
Questions that allow readers to discuss a culture, historical event, or region
Analysis of the central theme
Questions relating to social, political, religious, or conceptual issues
Controversial positions on ethics, morals, or values in society
For examples of the type of discussion questions you can create, study Reading Group Guides of books similar to yours.

FAQ page (nonfiction authors)
Your reader is coming to you for information. A FAQ page provides that information and establishes you as the go-to expert on your topic. Keep keywords and phrases in mind as you create your questions. Using common topic-specific keywords can help bring readers to your site via their Google search results. Creating a resource that goes beyond hawking your book also adds value to your site.
A great way to begin building your FAQ page is to answer questions you've been asked by readers, clients, or people interested in your subject. Create questions that are personal and/or informational. Use a Q&A format, like you are being interviewed, not like a narrative bio of facts.
Ideas for your page:
Topic-specific information based on your area of expertise
Details about your special experience/knowledge about your topic
Ex., If you write about how to become an entrepreneur, answer a question about how/why you took the leap to self-employment. If you write or speak about child safety in the home, are you a paramedic or pediatrician or mother who lost a child in a home accident?
If you write or speak about a specific topic of expertise or for a niche audience, create and answer questions the audience would commonly ask you. And provide information useful to people interested in your topic (like radio and TV show segment producers)
Include link resources for educational institutions, professional organizations, groups, or other sources of additional information about your craft and/or topic
Any other questions you can think of that relate to your specific topic or that your niche audience would want to know

Word of Mouth
Have a page that uses other people's words to toot your book horn.
Compile your best reader reviews and blurbs
Link to recordings of audio interviews
Provide pdfs of print interviews or features
Link to blog interviews
Post still images and quotes from media appearances

Calendar
Dedicate a page or at least a section of your site to your calendar of upcoming events:
book signings
book festivals and fairs
conferences or events
TV/radio interviews
book club appearances
blog tour stops
online or in-person giveaways

Media room
Your media room should contain content the media would need to feature you in an article and/or TV and radio show:
downloadable high-resolution images of your headshot, book cover, and any other pictures of you they can use
publisher info
press releases
possible interview questions (and your answers)
talking points you can discuss
segment ideas where you can be a featured guest
Now, on to the business and technical aspects of your website…
SELECT A DOMAIN NAME
Choosing your domain name is an important decision. It's how people will find you/your site.
It's best to choose a name that is spelled as intuitively as possible. You may think an original spelling will help you stand out, but it will be more apt to confuse people and frustrate them when they can't find you because they can't remember your URL.
Example: www.write4u.com, or www.writeforyou.com, or www.writeforu.com.
Your domain name should suit your intent for your site. It's important for branding and name recognition.
If you are a writer who provides services (editing, ghostwriting, etc.) or a writer who intends to be published (books, articles, etc.), I recommend using your name. Ex., www.yourfirstandlastname.com.
If you have products, like a book, I recommend a separate site for your book. Ex., www.yourbooktitle.com.
If you intend to write/blog as a brand, use the name you've created for that.
You can begin by selecting your name URL at WordPress. It will look like https://yourname.wordpress.com. That's the direct address format you will give to people, list in your signature block, business cards, etc.
When you are ready to purchase the actual domain name (so you own your .com), I recommend using GoDaddy. It's approx. $9.99 a year and their customer service is stellar. No matter how stupid your question is or how technologically challenged you feel, they will help you set up everything—including your free email associated with your domain name. Ex., you@yourname.com.
You can also have your .com domain name directed to your blog, so when you give out your web address (www.yourname.com), it will go to your blogsite, as will the web address format https://yourname.wordpress.com.
Think before you name leap. You want to do it right the first time and have a domain name that works for you and your business for the life of your online presence.
SELL FROM YOUR SITE
If you have services and/or products to sell, consider creating a PayPal account to process purchase transactions. The account is free, but PayPal will take a small percentage of your sale for their payment processing services. It's a small price to pay for the convenience of allowing your readers, students, and clients the ability to use their credit cards to pay you. You can set up your account through the merchant services section at PayPal. The business account will also allow you to send and receive invoices for freelance writing, editing services, workshops, etc.
*TIP: If you want to set up a PayPal cart on your WordPress site, WP doesn't allow the use of javascript, so to create a PayPal button, you'll have to use a .jpg image of the button and hyperlink it to the PayPal-hosted cart by embedding the email code PayPal provides when you create the button. Don't worry, it's a lot easier than it may seem.
You can also use Payloadz to sell and deliver digital, downloadable products like e-books, and special reports.
If you have a book that is available at Amazon, you can set up an affiliate account through Amazon Associates and make a small percentage on the sale through their website when your reader clicks though using the affiliate code you've embedded in the Amazon book link on your site. You can also use your affiliate code when you link to other books you mention on your blog or website.
ADD VISUAL CONTENT
Images add interest and variety to your pages. Consider using screenshots of the web pages where your articles have appeared. They make great visual content for your blog.
*TIP: Follow these simple steps to create screenshots on a PC. For Mac OSX users, the Grab program in your applications folder is easy and convenient to use.
For creating custom headers or adding artwork, you may want to purchase image rights from stock sites like iStockPhoto that have reasonably priced, royalty-free photographic images, illustrations, and vector graphics.
Adding images to your blog posts and website pages helps to break up the text and create visual appeal. You can select and use .jpgs from photo-sharing sites like Photobucket and Flickr. Of course, be sure to respect all copyrighted material and give photo credit where applicable.
Also remember to use your own images: your book cover, personal workspace, events/signings/appearances, book festivals, writer's conferences, etc.
PUT IT ALL TOGETHER
With a little imagination and your magic way with words, you can create a writing website and/or book website that is engaging, entertaining, informational, and profitable. There are no creative limits in cyberspace.
***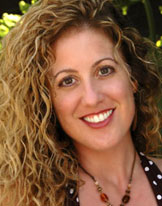 Annette Fix is the author of The Break-Up Diet: A Memoir. She speaks at national writer's conferences and hosts online and in-person workshops: Online Author and Book Promotion, How to Get the Right Agent for Your Manuscript, and Memoir: Drawing from Your Life to Create Your Story.
Annette blogs about writing and book marketing at www.annettefix.com. She is the former senior editor of WOW! Women On Writing.
Enjoyed this article? Check out some of Annette's previous articles on WOW!:
How To Write a Nonfiction Book Proposal
Memoir Writing: Drawing From Your Life To Create Your Story
How To Get Your Book Reviewed Online