ignon Fogarty's first foray in podcasting found her reading articles she'd published in science magazines. Later, a friend co-hosted the podcasts, and the two discussed science news of the week. Eventually, the show fizzled, but Mignon did not give up.
Instead, she created one of the top podcast series downloaded on nearly one million MP3 players each month. Fogarty is known as the Grammar Girl, offering weekly quick and dirty tips about everything grammar and language-related.
Fogarty isn't alone in her podcasting project. Writers, ranging from those on the New York Times bestsellers' list to first-time authors to journalists, are embracing the technological trend that co-exists with traditional publishing. In some instances, these podcasting writers are building a loyal following of readers and listeners that rival their print-only contemporaries.
"Podcasts move radio drama into the Internet Age." ~ Steve Bennett, founder of AuthorBytes
Writing Meets Speaking
Think of a podcast as the coupling of a regularly updated blog and radio programming. In its simplest form, a podcast is a digital program offering news, information, or literature that can be listened to on a computer or any digital device that plays MP3 files.
Audio content is published as an RSS feed that notifies a listener's aggregator and downloads the digital file. Hook up any MP3 player to transfer the file to the device and listen at your leisure.
AuthorBytes, a custom website design, development, and multimedia production company, offers authors a variety of podcasting options. Steve Bennett, company founder, believes that even though the web is a visual tool, podcasts are popular and will continue to grow. Using radio drama as just one example, Bennett stresses that radio is an intimate media that forms a connection with an audience. "We're instinctively drawn to the human voice. Podcasts move radio drama into the Internet Age."
AuthorBytes offered on-site audio in 2003 even though podcast aggregators didn't exist then. But the company fine-tuned a small player with audio features and featured Chris Bohjalian explaining the back story for each of his works.
Podcasting makes marketing sense for authors. "They're important marketing tools as well as an art form in and of themselves," Bennett states. The literary public expects authors to maintain a web presence that presents information about the author's work and life.
Bennett says podcasting provides inexpensive content for a writer's site that can draw new users as well as seasoned readers. Another advantage is the simplicity factor. Content is uploaded to an aggregator, which builds interest in an author's work and generates back links to a writer's website. Podcasts also connect existing fans and potential new fans.
Writers get creative with content. Some tell a story; others read book excerpts—sometimes in serialized installments known as podiobooks. Several writers provide tutorials or use a talk show format to present information.
Sci-fi author Scott Sigler turned rejection slips into a podiobook dynasty, of sorts. He recorded his first book, EarthCore, in 2005, dividing it into 22 episodes. He posted the installments online and e-mailed free to subscribers. When his second novel released, he had an established listenership of 30,000.
That's when the print publishing offers surfaced.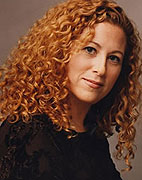 "They're a great way to marry a traditional pastime—reading—to a nontraditional one—exploring electronic media." ~ Jodi Picoult
Engage Your Audience
New York Times bestselling author Jodi Picoult appreciates how podcasting lets readers put a voice to an author's words. "It humanizes the writing experience. Readers realize, 'Oh right, there's a person who created this stuff!'"
Picoult started podcasting five years ago and now pulls in over ten thousand listeners each month. When new podcasts release, she sees a spike for close to a month before the demand declines and levels out. The movie version of My Sister's Keeper generated a spike around a podcast by the same title, producing high interest for several months.
Picoult hears from readers who enjoy the flexibility of downloading a podcast from her website or iTunes and taking it with them via an MP3 player.
"They (podcasts) carry reading into the information age, much like e-books and the Kindle," says Picoult.
Informing readers about old information, such as how a book came to fruition, and providing new content comprise successful podcasts. She also thinks being a dramatic reader helps create a worthwhile program.
Picoult uses the AuthorBytes system and records new podcasts once a year. The digital files release over a three- to six-month period. After writing a script, she records in a professional recording studio. After the recording session, audio producers at AuthorBytes add a signature opening and original soundtrack.
"In one case, I recorded an original story, which ran thirty-four minutes," she said. Most of Picoult's podcasts run between five and eight minutes long.
Picoult likes the format. "They're a great way to marry a traditional pastime–reading–to a nontraditional one–exploring electronic media."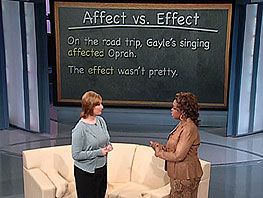 "I try to make it friendly and fun." ~ Mignon Fogarty
(Photo left: Mignon Fogarty, a.k.a. Grammar Girl, on the Oprah Winfrey Show)
Couple Sense with Sensibility
As Mignon's podcasts gained a steady listening audience, publications and media outlets took notice. After the Wall Street Journal chose Grammar Girl as their website of the day in November 2006, several publishers approached Mignon. She signed a two-book deal with Macmillan and then got the call to appear as a grammar expert on the Oprah Winfrey Show.
"My print book wasn't ready yet, so I quickly put together an hour-long audio book to release at the same time as my appearance on the show." The audio book was based primarily on the Grammar Girl podcast transcripts.
Her second book, The Grammar Devotional, hit bookstores October 27, and it includes the grammar tips listeners have come to depend on. "I love this book! It's written in a tip-a-day format, so it doesn't take a lot of time, and it has cartoons, puzzles, and memory tricks."
Now, Mignon creates a new Grammar Girl release each week. Her podcasts have been in the iTunes top 100 since it hit the list in late 2006. Still, Mignon believes it's difficult to know what attracts readers. "I think people like that it's short and provides one useful bit of information each week," says Mignon.
Mignon does know what listeners don't like. "People also complain when I occasionally have someone else deliver the show, so I guess people like my voice. I try to make it friendly and fun."
Using her podcasts as a marketing tool allows Mignon to showcase her books as well as earn income from the ads in the podcast and on her website. Grammar Girl gets promoted on Facebook and Twitter, and a daily email newsletter answers questions she receives from subscribers.
Since she started podcasting, Mignon has definitely learned a few lessons she's willing to share with fellow writers and podcasters. The location of the podcast recording session is as important as the equipment you use. She urges writers to record in a quiet, small spot to avoid an echo. "Closets work really well."
Mignon suggests writers consider attending podcamps, which are held in many cities. Billed as an "unconference" or unorganized conference for new media professionals, podcamps offer open discussions about podcasting, blogging, social media, social networking, and videocasting.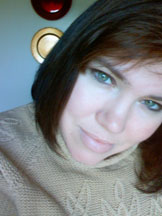 "If you have video of a story, then an audio podcast is double the workload for something no one will really click on to listen to when they can see the video." ~ Stephanie Romanski, web editor and social media coordinator
Vow to Deliver the News
While many authors are hitching on to the podcast craze, some genres need to tweak the types of messages delivered through audio files. Stephanie Romanski, web editor and social media coordinator for Grand Island, Nebraska's newspaper, Independent, says journalists shouldn't podcast articles in their entirety. Striking a balance is tricky in journalism.
"That's not to say that podcasting doesn't have its place. Including audio interviews along with rich media, like photo slideshows, can enhance a story package. To me, that's simply a media-rich story."
Full-length shows are time consuming to produce. Considering today's pared down newsrooms filled with reporters who have heavy workloads, long podcasts may not be worth it. The Independent experimented with audio podcasts, but it never caught on with the audience.
"If you have video of a story, then an audio podcast is double the workload for something no one will really click on to listen to when they can see the video."
Romanski suggests reporters in the field use AudioBoo, a free app for iPhones, to create microcasts or short broadcast updates sent from a journalist's phone. Listeners can then download the file or subscribe to it on iTunes. Additionally, when a journalist sends a "Boo" update from her phone, it will also send it to social media outlets, including Twitter, Facebook, and Posterous. AudioBoo offers an easy-to-embed code, so a player can be added to any web page. If you use WordPress, the app has a plugin that displays recent Boos. Soon, the company reports it will offer a way to send Boo updates from a laptop, which will lessen the iPhone restriction.
Stephanie states that time spent on a microcast is minimal. From recording to upload can take just a few minutes if the right tools are used. "I can't see a disadvantage unless it would be the lack of tools to use the services out there. Right now, AudioBoo requires an iPhone or iPod Touch/mic."
In the newsroom's recording studio, Romanski's colleagues use radio-quality microphones, a soundboard, and Adobe Audition.
"Come up with a show name and create a consistent opening." ~ Steve Bennett, AuthorBytes founder
Commingle the Essentials
Authors and writers at home don't have to spend hundreds of dollars on software or equipment to create a podcast. A computer, a headset microphone, and Audacity, a free program, can craft a quality podcast. Stephanie says if you can record an MP3 with a laptop and a microphone, you can have a podcast.
Before taking the plunge, writers need to develop a niche or theme. Listen to podcasts to get a feel for what does and doesn't work. Listening helps generate ideas, too.
Steve Bennett recommends that writers consider podcasts as part of their own radio show. "Come up with a show name and create a consistent opening."
Stephanie suggests following these tips for crossing the podcasting threshold:
Download Audacity, GarageBand, or other recording software.
Purchase a decent microphone.
Have a general idea of the segments. Script them if you need to.
Check copyrights. If you intend to cover things that may be considered copyrighted (music, movies, etc.), be sure you understand the rules and don't infringe on anything that is copyrighted. This sounds like a roadblock, but there are a ton of podcast-safe resources out there.
Record—goofs and all.
Edit the goofs, but remember, a podcast—especially one that is done for fun—doesn't have to sound professional or NPR-like.
Save it as an MP3.
Store the MP3 on a website. WordPress is one of the more perfect platforms out there. There is a brilliant plugin for podcasting that takes the difficulty out of displaying the podcast.
Once the podcast is stored and on a website, writers need to promote their work. Stephanie proposes adding your podcast to a podcasting network, exchanging promos with other shows, and exchanging links.
Happily Ever After
The possibilities for podcasting remain limitless. Thousands of programs covering an assortment of topics are available. In other words, there's something for everything.
Writers should view podcasting as another form of expression that showcases the writing process and the author's insights, in addition to creating an open dialogue with the audience. When writers declare their intentions and build a relationship with readers and listeners through podcasts, it's a literary match made in heaven.
***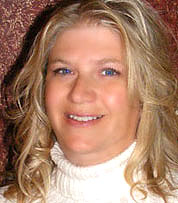 LuAnn Schindler is a full-time freelance journalist living on the eastern slope of the Nebraska Sandhills on a dairy farm with 200+ holsteins. She currently blogs for The Muffin, the WOW! Women On Writing daily blog, and is a columnist for Premium Green. Her work has appeared in the Pregnancy, 2: The Couples Magazine, Denver Post, Rural Electric Nebraskan, Absolute Write, in addition to other publications. LuAnn is a member of the National Federation of Press Women and Nebraska Press Women.