im Wilson is a widely published, full-time freelance writer and author. Her byline has appeared hundreds of times in numerous print and electronic publications.
Married to a civilian police officer/army reservist, Kim's role fluctuates between "police wife" and "army wife." (Currently, she's in army-wife-mode while her husband is deployed to Iraq.) She's the mother of two sons, Dustin (16) and Dakota (8). Born and raised in rural Iowa, Kim now resides in suburbia New Jersey.
In 1998 Kim acquired her first book deal. Inspired by the premature birth of her son, Kim teamed up with preemie-mom Kimberly Powell and co-authored/co-edited Living Miracles: Stories of Hope from Parents of Premature Babies (St. Martin's Press).
Kim's latest work-in-progress is a three-book, romantic suspense series.
Kim is a member of Romance Writers of America and The USO. She's a certified Life Coach and the owner of Write From Home and Preemie Parenting. Although her work feels more like play, she recharges by reading, watching the NASCAR Sprint Cup Series, horseback riding, fishing and cooking.
***
WOW: Welcome to WOW!, Kim. We're thrilled to be chatting with you today. Let's start from the beginning—how long have you been writing? Did it take a while to build your incredibly helpful website and fan base?
Kim: I can't remember ever not writing. In the fall of 1984, I began to give earnest thought to becoming a professional writer and technically started the process in 1985. My websites came much later in my career.
For years, I wanted to create a website for writers, but I never made the time. Once I got serious about the project, I spent 4-5 weeks designing Write From Home and launched it in October 2001.
WOW: So you designed the website yourself? Did you hire a webmaster? Please tell us about the process.
Kim: Yes, I designed the website myself. I spent 4-5 weeks creating the site while also meeting my other deadlines and promoting Living Miracles. I had a heavy workload and I guess it's a good thing that I had no idea of the challenges and changes that were about to occur in my life.
At that time, my youngest son Dakota was seven-months-old. Under normal circumstances my husband is a police officer and back then he was on day shift. While he worked, I handled the parenting and household responsibilities. When he came home we'd have an early supper and then he'd take over the parenting and I'd go into my office. It was an ideal set-up. And then, 9/11 happened.
My husband, who is also an Army Reservist, was called to active duty. His report date was October 1, 2001. Starting that day, I had no childcare. Compared to the loss and devastation other families experienced, my predicament was very minor. However, I knew if I wanted to cross this hurdle, I had to come up with a strategy. After a few days of mulling over my options, I hired a sitter to come into the house and care for Dakota while I worked in the office.
The new arrangement was a win/win situation. I loved taking mini-breaks to feed and cuddle my baby, yet I also had the peace of mind that Dakota was well cared for while I worked.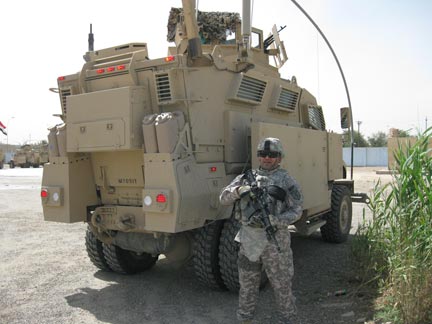 (Photo: Kim's husband 'GI George' taken a few months ago during his deployment.)
WOW: What an inspired arrangement. In addition to the wife and mommy role, you are a phenomenally busy writer and editor! Besides your freelance writing, you edit two popular websites; Write From Home and Preemie Parenting. How do you manage your time?
Kim: Planning my day beforehand is the key to keeping me on track. Right now my husband is deployed to Iraq. Because I'm in the role of happily-married-single-mom, planning, prioritizing and organizing is more important than ever.
For example, every night I fine-tune the next day's schedule. This is crucial because in the morning if I enter my office without a plan, I'm lost and feel off-track.
During the school year, each evening I make the following day's lunches, prepare my youngest son's backpack, lay out clothes and put a load of laundry in the washing machine. (I've maintained this routine for years, regardless if my husband is home or deployed.)
I despise feeling rushed and find that my mornings are more peaceful and less chaotic when I'm prepared. A wonderful side-effect of this routine is that my sense of calm carries over to the other household members and more often than not, everyone has a pleasant start to their day.
Besides planning, I've also had to learn the art of flexibility because as we all know, life happens.
WOW: As if you didn't have enough to do, you also run Kim Wilson Creative Services. Tell us more about that.
Kim: Kim Wilson Creative Services is the parent company of my freelance work. All my corporate projects (copywriting, editing, etc.), publishing and miscellaneous writing endeavors are handled through KWCS. However, when I made the decision to switch gears and pursue my fiction career, I dramatically decreased my nonfiction workload in order to free up time to devote to my novels.
WOW: Novel writing can be quite intensive. What type of fiction are you working on?
Kim: My current work-in-progress is a three-book romantic suspense series.
WOW: That is a big change in direction. Your nonfiction book, Living Miracles: Stories of Hope from Parents of Premature Babies tells of your son's premature birth. You also founded the site Preemie Parenting. Did you see a need for this through your own experiences?
Kim: Absolutely. The primary reason my co-author Kimberly Powell and I created Living Miracles is that both of us are preemie moms. When we became the parent of a preemie we searched for a book like Living Miracles, but our search came up empty. At that time, we didn't know each other. My mom knew Kimberly and when she heard that Kimberly was working on a book similar to the one I was writing, she introduced us. Immediately we clicked and decided to become co-authors and co-editors of the book.
WOW: Going back to the beginning of your writing career, tell us about your first sale. What led to landing the assignment?
Kim: My first sale is not a memorable part of my career. When I was much younger (in high school) I did copywriting-ads for small businesses, resumes for fellow students, etc. They paid me for my services, which back then was just a little pocket money.
A few years later, I was writing copy for a marketing and publishing firm on a freelance, part-time basis when an editor of a local publication called and asked if I'd be interested in writing a monthly column. At the time, it just seemed like a natural step of progression to expand my writing services and move forward with other types of freelance work. I never experienced a moment such as, "Oh my gosh, I made my first copywriting sale!" Or, "Oh my gosh, I received my first assignment!" Perhaps my first sale would've been more memorable if I'd started out querying editors.
It hasn't always been as easy as what I just described. For years, I worked my freelance business and a full-time job. Once I saw a reliable, steady, income—or as steady as you can get in this business—I cut back working full-time and went into temp status. (I worked in the medical profession, so I entered their "pool." This allowed me to choose how much or how little I wanted to work.) After a while of doing this, I was able to quit my outside employment and focus 100 percent of my time and attention on my writing business.
"One of the most important lessons I've learned is not to underestimate the value of my time."
WOW: You seem to be proficient in everything! Were there any mistakes along the way? What did you learn from them, if anything?
Kim: Oh, I've made many mistakes, and I'm sure I'll continue to make many more. But, the positive side of my mistakes is that I was able to learn and grow from them.
One of the most important lessons I've learned is not to underestimate the value of my time. Many years ago there were a few occasions where I priced my services extremely low to secure a project. Each time I did this, I regretted it. The projects took longer than anticipated; the clients were a pain to work with and then slow to pay. Thankfully, I'm a quick learner. I realized this wasn't the way I wanted to run my business. I established an hourly rate and based my project fees on that rate.
Also, I've had to learn to say "no." Sometimes when people discover you work at home, all they hear is the "at home" part and you become fair game for drop-in visits, personal phone calls, and miscellaneous requests. Don't get me wrong; if someone needs assistance, I'll gladly help. But the bottom line is: if I don't respect my work time, I can't expect others to either.
"For me, accomplishing a dream isn't the end of the proverbial road but rather a launching pad to pursue other dreams."
WOW: How true! Would you say you are "living the dream" or are there still things you would like to change?
Kim: Yes! Yes, I'm living the dream, and yes, there are still things I'd like to change. My dreams change. When that occurs my focus shifts. Looking back, I see a definite pattern of not accepting the status quo: I always want more—and I'm not necessarily referring to more money or more materialistic items, but rather more self-fulfillment.
For example, I remember dreaming about having more work than I could handle in an eight-hour day. That happened, but I wanted more. I pushed forward, dreaming about seeing my work and byline in national magazines; that happened but it wasn't enough. Then I dreamed about writing my first book, getting an agent, receiving a good publishing contract and seeing my book in bookstores. All that happened, but it still wasn't enough, I wanted more. Out of that desire for "more" I created Preemie Parenting, followed by Write From Home, followed by finishing another nonfiction book manuscript. But guess what? Again, that wasn't enough.
I became a certified life coach. In hopes of helping other writers pursue and achieve their dreams, I chose to specialize as a writing coach. During this time I also took stock of my own writing career and decided to pursue my lifetime dream of writing fiction, specifically romantic suspense.
For me, accomplishing a dream isn't the end of the proverbial road but rather a launching pad to pursue other dreams.
Right now, I'm having the time of my life with the romantic suspense. It's a lot of work, but I feel like I'm right where I'm supposed to be. And that leads to an overall feeling of self-contentment and inner peace.
"You must constantly market yourself."
WOW: That is something we should all strive for. What are your favorite and most effective marketing techniques? Any secret tips that might work for other freelancers?
Kim: I use various techniques, but all my marketing efforts have one common denominator: a target market. It doesn't matter if I'm marketing my copywriting services, my websites, Living Miracles, book manuscripts or sending out queries. I always research my prospects and direct my strategy toward a specific, targeted market.
The best tip I can provide is to find a method that works for you, then stick to it. Frequently, writers—and other business owners—give up too easily. You must constantly market yourself. This is especially crucial when you're swamped with work, because once you complete those projects you need to have jobs/assignments in the pipeline or you'll be forced to start your marketing campaign from scratch.
WOW: Marketing is a large part of a successful writing career. On the creative side of the coin, where do you get your ideas? What or who inspires you the most?
Kim: Life inspires me the most. I know that sounds sappy, but it's true. If I had to pin down my sources of inspiration, I'd say my family members play a huge part in my creativity.
For example, my oldest son, Dustin, was the inspiration behind Living Miracles; my youngest son, Dakota, became my inspiration for Write From Home. (I knew I wanted to develop a site for writers, but Dakota was the inspiration behind the site's focus of "managing kids and clips under one roof.")
Also, my husband plays a pivotal role in my career. From the day we met, he's always been supportive and inspiring. When I'm working on my romantic suspense, he's my go-to-guy. Because he's a civilian police officer and Army Reservist, he's my primary source when I need to research anything related to weapons, law enforcement or military. He's even come through for me while deployed.
During the revision process of book one in my three-book series, I kept returning to a law enforcement tactical scene that didn't feel right. One day when my husband called me from Iraq, I questioned him about it, and sure enough my hunch was correct. What I had on the page wouldn't have happened in the real world.
After we disconnected, it hit me: My husband's in a combat zone and I'm asking him research questions.
In a later conversation, he assured me that if I had further questions I shouldn't hesitate to ask him. Being the writer that I am, I've taken him up on the offer. However, when I need a quick answer, my brother-in-law, Steve—a police vice officer—is very gracious with his time.
Between daily living and my family members, I'm never uninspired. In fact, it's a safe bet that I won't live long enough to use all the fodder provided by life and the people I love.
"The saying 'do what you love and the money will follow' is correct."
WOW: You have a gift for turning that inspiration into great writing. Speaking of your many accomplishments, what was your greatest achievement? Did it give you satisfaction, monetary compensation or status?
Kim: My greatest achievement: Becoming a morning person. (Smile) Kids do that to you!
All joking aside, I'm proud of many of my achievements, but if I must narrow it down to just one, I'd have to say my book Living Miracles. This project gave me a lot of satisfaction, personally and professionally because the subject matter (premature infants) is near and dear to my heart. The saying "do what you love and the money will follow" is correct. (Although the monetary compensation is wonderful, my co-author and I donate a large portion of the proceeds.)
Living Miracles propelled my career to the next level because it was my first published book, and thankfully well-received among preemie parents and the preemie community.
I'm a private, introverted person. I never went into this profession seeking status or any kind of fame, so I'm not sure exactly how to answer this part of your question.
"Status" is not a way I track my career. Don't get me wrong: I'm extremely grateful to all my readers and the individuals who follow my career. So grateful, that I'm always trying to squeeze in an extra hour here and there to answer reader mail and frequently feel guilty that I don't have enough time to answer every letter or e-mail in a timely fashion.
WOW: We all know how much you are juggling. Where do you see yourself next year? In five years?
Kim: For all the talk I do about being a planner, you may be surprised to learn that I don't dwell on the future. I figure it'll arrive while I enjoy and make the most of the present. Sure, I plan for the future, financially and otherwise, but I don't obsess over it, especially when all I'm guaranteed is this moment of this day.
However to answer your question, by this time next year, I want the entire three-book series finished and be working on one (or two) of the novels on my "to be written" list. Also, I'm looking forward to the safe return of my husband and having our family unit once again whole.
Within the next five years I'd love to see the phrase "best selling author" attached to my name. (There I go again, boarding the dream train.) (Smile)
WOW: Thank you, Kim, for chatting with us today. It's been a truly inspirational interview! Do you have any additional thoughts or comments?
Kim: I'd like to add a word of encouragement to writers. If you want a successful writing career you must be persistent. I'm often asked, "What's the secret to making it in this business?" The truth is, there is no secret. Learn your craft, be persistent and no matter what, don't give up. (I repeat, do not give up.)
On occasion, you may feel like the universe is against you. This is the time to dig in your heels and keep moving forward. The obstacles and challenges are nothing more than a test of your commitment to writing. Giving up is the easiest course of action; it's also the one action that will guarantee the demise of your writing career. Always remember: When the writing gets tough, the tough keep writing.
WOW: Thank you so much for your valuable time!
Kim: You're welcome. Thank you for taking the time to interview me. As always, it's a pleasure working with you.
Find out more about Kim by visiting her websites:
Kim Wilson Online: https://www.kimwilsononline.com
Write From Home: https://www.writefromhome.com
Preemie Parenting: https://www.preemieparenting.com
***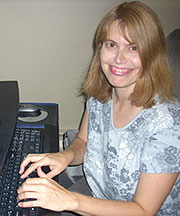 Shaunna Privratsky is a full-time author, interior designer, caretaker for her disabled husband, chauffeur to two busy teens, gardener, canner, cook and chief bottle washer. She loves to read and is getting the chance of a lifetime to meet her favorite author, Stephen King, this winter.
Shaunna publishes two monthly newsletters, The Writer Within and The Discount Diva. Sign up is free at https://shaunna67.tripod.com. Please join us!