lexandra Sokoloff's latest novel, The Unseen (St. Martin's Press) touts that "the paranormal is real" by unfolding chilling fiction based on accounts of true supernatural experiments. It's almost fitting that Alex's own exciting life story seems unreal. She began directing plays at sixteen, and now adapts novels into screenplays for Fox and Sony. She is a former member of the Board of Directors of the Writers Guild of America West, and has penned a handful of novels and numerous short stories. Alex also spent a summer singing in a Montana bar! These days, this author's unbelievable life is presently divided between two residences, one in Los Angeles, California and another in Raleigh, North Carolina.
Alex uses her formal education in drama and her potpourri of experience to teach at writing workshops and conferences. She is also the author of Screenwriting Tricks for Authors (and Screenwriters!) (Amazon Digital Services for Kindle).
Exploring her background in novels and screenplays, Alex spent some time with WOW! discussing the unique struggles of film-to-novel adaptation versus novel-to-film projects, what barriers screenwriting imposes on writers, as well as the immense satisfaction and freedoms offered through novel writing.
***
WOW: You've written novels, short stories, screenplays—your byline is on just about every type of writing! How did you "break into" the film industry?
Alex: I had just left a theater group I really loved but sort of imploded from—let's call it youthful exuberance—and I impulsively moved to L.A. to try film writing. It was not what anyone would call the most well thought out plan, but I ended up doing all the right things. First, I got a job as a story analyst—script reader—for a production company, which is the best training anyone could ever get for screenwriting. You read dozens of scripts a week, you learn how to write really fast, and you learn the players of the business.
I kept very detailed notes on every script I read—who the agent was, how the company responded to the agent, what genre the script was—and all this time I was writing myself. So when I had a script I knew was really good, I already had a targeted list of agents I wanted to submit it to. I cold-called those agents and said I was a reader for such-and-such production company and I'd read a script of this agent's client, and I had a script in the same genre that I thought the agent would respond to. And every single agent said, "Send it."
The key was, I'd done my homework. I had a good idea of how the business worked, and I didn't submit to anyone to whom I couldn't honestly say, "I really loved that script of your client's and I think you'll like mine."
I got multiple offers of representation, signed with the agent I clicked with, and he sold the script to Twentieth Century Fox in a bidding war.
"When I had a script I knew was really good, I already had a targeted list of agents I wanted to submit it to."
WOW: A bidding war—that's amazing! It does pay to do your homework. In your bio, you mention you worked for studios such as Sony and Miramax. What are the three "big" items a screenplay must possess to seduce a mainstream studio?
Alex: The big three are:
A great concept, preferably "high concept," meaning a premise that will make most people who hear the one-sentence pitch say, "Wow, I'd go see that."
It's castable, so bankable actors will want to play the lead. And generally that means male ones.
Magic. Yes, even these days in Hollywood, people are still looking for a story that gets them excited in that indefinable way; something that makes them fall in love with film all over again.
WOW: I'm intrigued by what you mentioned about casting, specifically your comment about "male ones." In recent years I've read articles about how actresses are finding less and less quality roles as they age. Wouldn't it make more sense to have strong, older female characters since there appears to be more of a need now than ever? Or does Hollywood, being a male-dominated industry, still prevent this?
Alex: It's not a pretty thing, but Hollywood is, as you say, a male-dominated and also white male-dominated industry. It's not in the habit of making movies based on cultural need, although a few films per year do get made that are passionate, morally responsible projects. Miracles happen, that's why we all keep going after the dream. But Hollywood is a money business. The biggest movie-going demographic is 17-35 year old boys/men—movies are made for them. Mature actresses find a bigger audience in television, which is watched by more women.
"Most films that are adapted into novels are just attempts to cash in on the film's, or TV show's, success."
WOW: Which process best maintains a story's integrity—adapting a film into a novel or a novel into a film?
Alex: The process that maintains integrity is writing a novel. Once in a great while a novel is adapted to film with integrity, and that's an exciting thing. Most films that are adapted into novels are just attempts to cash in on the film's, or TV show's, success. They can be done well, some very good writers are in that business, but that's mostly a commercial enterprise.
WOW: Which process do you enjoy more?
Alex: Although it's sometimes sheer agony, writing a novel is about seven billion times more satisfying than writing a script, for the simple reason that when you finish a novel, it's a complete work. When you finish a script, it's just the beginning of a process that may never amount to anything except a paycheck. For me, there's no comparison.
WOW: I always felt with screenwriting, a writer's hands are tied. One must rely heavily on dialogue and action and less on description, unless the details are absolutely relevant to the story. What does a screenplay allow a writer to do that a novel limits?
Alex: The medium of screenwriting forces visual brilliance and metaphor, and a very clean, clear plot. Suspense is also a key component of film writing, no matter what genre. These are things that can easily get lost in the words of writing a novel. A screenplay is the most compact form of storytelling I know. Done well, it's breathtaking.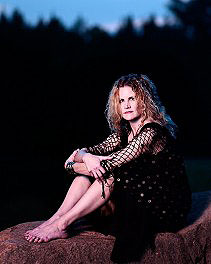 "The medium of screenwriting forces visual brilliance and metaphor, and a very clean, clear plot. Suspense is also a key component of film writing, no matter what genre."
(Photo of Alexandra by Lawrence Smith.)
WOW: You wrote Screenwriting Tricks for Authors last year. What inspired you to take this unique approach?
Alex: When my first novel, The Harrowing, came out, I was really surprised at how in demand I was to teach at conferences because I had done screenwriting and now had written an acclaimed book as well. When I started teaching, I very quickly realized authors had never heard of the film techniques that are the bread-and-butter of Hollywood writing and filmmaking, which I had used to good effect in The Harrowing and my subsequent novels, The Price and The Unseen. So I started teaching workshops explaining the process of film writing, how to watch movies to pick up story structure, and film techniques that would help with novel writing. The response was tremendous. I started blogging about what I was teaching and developed a following; it was clear there was a hunger for what I could tell people about the process. And I love talking story. I never thought I'd say this, but I do miss that about [Hollywood] story meetings.
WOW: The film industry is changing and demands for screenplays are not what they once were. From your experience, what is the catalyst for this? Strapped studio budgets, declining theater attendance, new media (pirated films) or more?
Alex: That's a good question. I think it's more about the emphasis on tent pole films, the big franchise movies. Most of those have been developed from games and graphic novels, or redoing old TV series. No one wants anything original; they want a "demonstratedly" successful product. (Yes, I just made that word up.)
WOW: (Laughs) I like that word! In your bio, you formerly studied theater and acted. Are you conscious of how your dramatic training influences your writing?
Alex: Oh, absolutely. It was key. Everything I know about creating character, evoking emotional response in an audience (or reader), visual and thematic storytelling, the rhythm of a story, suspense, stakes, everything—I learned all of that in theater. There's nothing like being in front of a live audience and feeling every reaction as it happens. There is no question whatsoever about what works and what doesn't.
WOW: You currently live between North Carolina and California. Does being away from Hollywood help your writing process?
Alex: In every possible way.
I would stop there, but have to add that the author's life takes you to many, many different cities and states and countries in a year, and that's wonderful for research purposes. Writing conferences are great about bringing in local law enforcement and historical experts and you get such a sense of the city and its (for my genre) criminal history, which authors are always filing away for future use. I love the life.
WOW: Thank you, Alex, for taking time to share your excellent tips with us today!
For writers torn between writing a screenplay or a novel, here is a golden nugget from Alex's resume: it is the expertise of bridging the universal storytelling elements between genres. Alex uncovered a fascinating trend in the film industry while doing research for an upcoming workshop she is organizing. She found that Hollywood typically options approximately 300 scripts each year, but in 2009, less than 100 screenplays were opted. The ability to bob and weave with industry trends is imperative. Knowing the facets of each writing sector strengthens authors' marketability and their stories. As evidenced by Alex's adaptability between films and novels, it's the versatility of writers today that will press them forward to success.
Find out more about Alexandra Sokoloff by visiting her website, https://www.alexandrasokoloff.com/, and her blog for screenwriters, https://thedarksalon.blogspot.com/.
***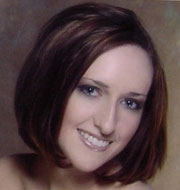 Tara Lynne Brown is a freelance writer residing in Cary, NC. She holds a degree in Cinema and Cultural Studies and organizes the Triangle Writers Group. Her short stories and poems have won awards and she received a 2009 scholarship to attend the Southampton Writers Conference. She writes for various magazines and is the self-proclaimed "Carrie Bradshaw of the South." Instead of Manolos she wears hiking boots and she drinks sweat tea in lieu of cosmos. Visit her website at www.taralynnebrown.com.