ack in the 80s, TV movies and miniseries were part of a network's regular programming. Sydney Sheldon, Barbara Taylor Bradford, Danielle Steele, and Judith Krantz became household names as their novels of glamour and wealth were translated to the small screen. But then like every trend, TV movies and mini-series tapered off, and sitcoms rose to prominence.
But with the recent productions of adaptations of novels by Nora Roberts, Debbie Macomber and Patricia Cornwall, television movies, or telefilms, are finding new audiences through cable.
Back in 2006, when Producers Peter Gruber and Stephanie Germain announced they had optioned Nora Roberts' novels (Blue Smoke, Carolina Moon, Montana Sky, The Villa, Brazen Virtue, and River's End) for Lifetime, the trend was making a big comeback.
"Ten years ago, we would've had every single network—NBC, CBS, ABC—to choose from," Germain said.
Lifetime not only gave Germain and Guber the biggest commitment; but more importantly, Roberts' work was a natural fit with the network's audience. The result was nothing less than staggering. In an article from the Hollywood Reporter, the first Roberts' series of movies (Angels Fall, Carolina Moon, and Montana Sky) tripled Lifetime's average prime time numbers.
The second series of Roberts' telefilms in 2009 (Northern Lights, High Noon, Midnight Bayou, and Tribute) was seen by 49.1 million viewers.
Germain gives much of the credit of the films' success to Roberts. "Nora has an incredible ability to create wonderful characters and stories—strong heroines you can all relate to. And they just lend themselves naturally to dramatic adaptations."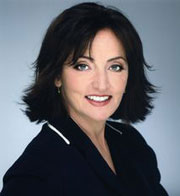 "Right now, almost exclusively, all original programming for Hallmark and the Hallmark Movie Channel are movies."
(Photo: Barbara Fisher, Hallmark Channel's senior vice president of original programming.)
CASE STUDY: "Debbie Macomber's Mrs. Miracle"
Fate orchestrated a perfect pairing when Macomber's work was brought to the attention of Barbara Fisher, senior vice president of original programming for the Hallmark Channel and Hallmark Movie Channel.
"A producer I had worked with, Dan Wigutow, asked me, 'Are you aware of Debbie Macomber? It's like she's written for the Hallmark Channel.'"
After Googling Macomber, Fisher was impressed by her enormous reach and success.
"[Wigutow] sent me a bunch of her books, and he was right. Every book I read was perfect for the Hallmark Channel. But the hardest part was picking what we wanted to do."
Debbie Macomber's Mrs. Miracle aired on December 5, 2009; and according to Nielsen Media Research, it ranked as:
The highest-rated movie of the week among all ad-supported cable networks
Viewed by more than four million total viewers
The success has spawned a sequel, which Macomber is currently writing into a book. Producer Jim Head is also actively developing a second Macomber novel, Susanah's Garden, into another Hallmark movie.
"Right now, almost exclusively, all original programming for Hallmark and the Hallmark Movie Channel are movies," Fisher said.
"When choosing books to adapt into movies, both networks are very strategic in which books and stories they select for production."
RED CARPET READY
But before all of us authors pack up our books to send off to Hallmark and Lifetime, there's something you should know. When choosing books to adapt into movies, both networks are very strategic in which books and stories they select for production. The Nora Roberts' telefilms and Macomber's Miracle were brought to the networks by producers—not the authors.
"A producer may send me a great story or script," Fisher said. "But what my needs are in a given month are as big a determination as the quality of the work."
While books are not the main source for Hallmark's movies, Fisher is open to them and even has a couple of authors on her radar. Mostly her material comes from spec scripts—scripts intended for other networks and very detailed, well-written treatments. She relies on producers and writers whom she knows from past experience will deliver the goods.
"Everybody is aware of Debbie," Fisher said. "You see her books at airports, grocery stores, and drug stores. The authors we've focused on are very successful, and that helps with cross promotion."
"Authors can't be too precious about the book and have to accept that something will be lost between the transition from page to screen."
How Do I Get Over the Wall?
This is where it gets tricky for those of us who are not yet best-selling authors. But it's not impossible. Alan Ball (True Blood) told Entertainment Weekly that he discovered one of the Sookie Stackhouse novels in the waiting room at his dentist's office. Linda Wisdom's Hexy series was optioned after Producer Rona Edwards saw the cover while browsing BEA. But most authors need the right components to see their names on the screen.
Literary Manager Maria Ruvalcaba Hackett has represented film, television, and dramatic rights on behalf of literary agents and their authors for ten years. The reality is that sales numbers are a huge swaying point for producers when considering whether or not to option a book.
"The more that a book sells, the more people who have read the book will want to see the film. But a best-seller doesn't mean it will be made into a film. Ultimately, it depends on the story."
A film rights agent enters the picture in two ways: through an established arrangement with the author's agent or agency or having found a book that they can shop to producers. Hackett, who is a self professed book lover, only takes books that resonate with her.
"I can't pitch something that I think is horrible, even if it's a best-seller. People can sense it and think: Wait a minute. You're not excited, so why would I want to make it into a film? The writing has to be there. If the story isn't there, I'd rather give it to someone else who can sell it than let it languish because I can't sell it."
If an author can't get her agency's film rights agent excited about her book or she is unagented, Hackett cautions them to be very careful when sending out their material to individuals who claim to be agents, producers, or screenwriters.
"You have to use your judgment. Any agent who charges a reading fee…I wouldn't recommend that route."
Germain also added that even if the people are legit, authors need to feel comfortable.
"The authors entering these agreements should feel out the producers before getting involved. Know their record and the authors they have worked with. When you enter into business with people, make sure that you have the same sort of personal standards. It's like a marriage; but for the authors, the book is their baby."
An excellent starting place is the International Movie Database Pro or a free, less in-depth version.
Legal issues aside, authors should also ask themselves if they can release creative license to producers and the screenwriters who will adapt their three-hundred-word novel into a ninety-minute teleplay. Hackett recalled Gabriel Garcia Marquez's reaction to the film version of Love in the Time of Cholera. "He was so devastated that he said he'd never allow one of his books to be made into a movie again."
"The film version will be nothing like the book. Sometimes you have to take creative license because it won't play out as the same on the screen. Authors can't be too precious about the book and have to accept that something will be lost between the transition from page to screen."
HAPPILY EVER AFTER
Nora Roberts wholeheartedly endorsed Lifetime's production of her books (and had walk-on roles just like Alfred Hitchcock!). According to Fisher, Macomber teamed up with Doris Roberts, star of Mrs. Miracle, and twenty-five santas for a book-signing extravaganza at Borders in Times Square (see the video here!).
Of course, there are the not-so-happily-ever-after stories of authors who ran screaming after viewing the movie versions of their books. For the most part, executives and producers want to do right by the author and her book. But true to the word, adaptation, as the story goes from book to script to movie, changes are inevitable.
"I have a tremendous respect for the form. I'm a huge reader," Germain said. "A wonderful perk of what I do is getting to know the authors. I'm always very proud if I can, at the end of the film, see that the author is happy."
***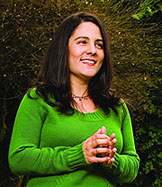 Mary Castillo's next story will appear in the anthology, Orange County Noir (Akashic Books, April 2010). A finalist in the National Hispanic Media Coalition Television Writers program, Mary recently wrote a pilot script that was shopped at HBO, Fox, and Showtime. She welcomes readers at www.marycastillo.com.
-----
Related Articles
Debbie Macomber is Passionate About Her Characters and Stories
Boomer Lit: Romancing the Middle-Aged Reader (Featuring Debbie Macomber)