obin Swicord's success as a Hollywood screenwriter came as a direct result of her dedication, perseverance and love for writing. She is most recognized in her field for her incredible screenplay adaptations of novels and short stories. Swicord took books like Little Women, Matilda, and The Jane Austen Book Club and transferred the imagery and essence of each story to the big screen. Her work on Memoirs of a Geisha won her a Satellite Award in 2005 for best adapted screenplay and her latest work, The Curious Case of Benjamin Button, earned her an Oscar nomination.
Swicord knew early on she wanted to be a writer and has clearly found success on this path. She lives in L.A. with her screenwriter husband, Nick Kazan.
***
WOW: When did you know you wanted to be a writer?
Robin: Very soon after I learned how to read, I realized that books were written—and I knew that I wanted to be a writer. Reading and writing were inextricably bound for me. As soon as I could start making letters form at the end of pencil, I started writing stories, and also drawing them in squares that I marked off on a page. Two decades later I realized I had been making storyboards for film.
WOW: During these early years when you were developing as a writer, what influenced you?
Robin: When I was young, I read anything that was recommended to me by a teacher or a librarian. Music and photography also spoke to me and paintings and cartoons in the newspaper and The New Yorker and the road shows of musicals that came to the civic auditorium in the smallish town where I grew up. I read history for fun. I read the library's collection of the entire archive of Life magazine. My brain was a disorganized mash-up of everything I loved and have never stopped loving. By a weird piece of luck, when I was a kid a local TV station played lots of black and white movies as a big chunk of their programming. I was exposed to the films that people go to film school to study. Humphrey Bogart was my first movie star crush.
WOW: You eventually went on to get a degree in English literature and theater from Florida State University. What did you do following graduation?
Robin: I moved to New York from the South because I was interested in making films, and New York seemed more accessible to me than Los Angeles. In my twenties most of my decisions were based on whether I would need to own a car, because I was fairly penniless. It was fantastic to be in New York, to find myself in a cultural-epicenter after being in small towns in the South—I think my primary emotion was one of relief at finding myself in a place that was as big as my appetite for the world. After reading stage plays for years, I finally got to see real live professional theatre, directed by visionaries like Joseph Chaikin.
"I was told by several people that there weren't any women filmmakers, and if I wanted to get myself onto a movie set, I should become a script girl..."
WOW: How did you like New York?
Robin: It took me a few months to realize that New York had its own boundaries. I immediately started making inquiries at film companies, trying to figure out my path into the film world. No doors were open to me. I was told by several people that there weren't any women filmmakers, and if I wanted to get myself onto a movie set, I should become a script girl—these professionals are called script supervisors now—because that was the only job I'd ever be likely to find.
This was in 1978—and actually, that was a false picture of the industry even at that time, because another traditionally female job at that time was being a film editor. It became apparent to me that the difference between people who wanted to make films and people who were making films was pretty simple: If you had some money, you could make a film. But I had no money.
WOW: So what did you decide to do?
Robin: During this time I continued to write, of course, so I wrote what turned out to be a solution: A stage play, Last Days At The Dixie Girl Café. With a group of like-minded friends who were trying to make a path into the theatre, we managed to mount the play ourselves in the basement of the Ansonia Hotel, for I believe about $500. An art director friend at my advertising job made us a poster that we plastered all over Manhattan in the middle of the night. (Years later this same art director working on his own went on to create those Fandango puppets you see in the ads at the movie theater.)
WOW: That must have been exciting. How long did the play run?
Robin: We could only afford to run the play for three weeks, but we attracted a reviewer and somehow we gained enough notice to allow the play to move to a bigger venue. An agent read the play and asked me if I would like to write for film. I gave her my first screenplay, Stock Cars For Christ, and she sold it to MGM. MGM sent me a plane ticket and moved me into the Del Capri Hotel in L.A. and rented me a pink typewriter so I could rewrite the screenplay (a total of nine drafts!)—which of course was never made into a film.
As soon as I found myself in Los Angeles, I quickly understood that here was where most movies were being made. So I found a little apartment in Ocean Park, and started going back and forth between the two cities I loved.
WOW: You mentioned you worked in advertising. Did that have any influence on your writing?
Robin: I didn't work as an advertising copywriter for long, certainly not long enough for it influence me much—but I think the same skills that allowed me to work briefly in a business-oriented profession have probably also helped me navigate the commercial filmmaking world. I understood well before I sold my first screenplay that to bring any film to the screen, you should be able to identify its audience and understand what that audience hopes to get from their experience. Filmmaking is too costly an art form to go at it haphazardly—although ironically, I think that the mono-focus on marketing in this age of corporate filmmaking has contributed to the now nearly lifeless state of cinema.
"I was bullheaded enough to think, 'I can use my life as I want, and I want to make movies with leading roles for women.'"
WOW: When you began working in the film industry, you were disappointed with the roles females were given in the movies. Did you intend to change that and if so, do you think you have made an impact in that area?
Robin: I did set out to write more roles for women. It was a clear and early choice that I knew could possibly limit my own career—because the movies that tend to get made are and were movies with male protagonists. But I was bullheaded enough to think, "I can use my life as I want, and I want to make movies with leading roles for women."
WOW: Do you think your movies made the impact you hoped for?
Robin: I am not sure that my films have made an impact in creating the change I want to see, not yet. What changes business opinion in Hollywood is the financial success of movies. While the films I've made have all been somewhat profitable, they haven't created a craze for movies with females in the lead role. I think Nancy Meyer's movies (Private Benjamin, What Women Want, Something's Gotta Give, It's Complicated) and Tina Fey's movies have actually begun to change the market place because of the mega-box office success of their films.
WOW: You found your niche adapting books to screenplays. What do you find is the biggest challenge with this type of writing?
Robin: For any reader who loves a novel, the hardest part of adapting the book is figuring out what can be left out when that story is told in a film. Books can't be directly translated to film—a book is no more a movie than the Grimm's fairy tale "Sleeping Beauty" is a ballet, or a chapter in Plutarch's Lives is Shakespeare's "Anthony & Cleopatra". We experience two art forms differently, even when they are blood relations.
"Keeping the kinship between book and film begins for me in an early stage of reading and re-reading, allowing myself to get underneath the skin of a book."
WOW: What is your process then for writing these adaptations?
Robin: Keeping the kinship between book and film begins for me in an early stage of reading and re-reading, allowing myself to get underneath the skin of a book. I read as deeply as I can (which often means doing my own research into the subject matter of the novel), taking it apart in a kind of reverse engineering, until I have it stripped back to its parts, and can begin to understand how the story and the characters work on our emotions. And then I try to be faithful to that, in hopes of honoring the author's intentions. And then I hope that my collaborators down the line (studio executives, producers, directors, actors, editors) will honor the same intentions.
WOW: You mentioned having to do research. Is there a lot of research involved in adapting a book into a screenplay?
Robin: I usually read quite a bit in the subject area of a novel, as a means of really entering the novel fully. For Little Women, I read for about six months in the lives of the Alcotts and the New England Transcendentalists, following the threads into the social movements of the 19th century and other aspects of 19th century cultural history. I plumbed the mind of Louisa May Alcott, as far as her writings and journals and letters gave me access. I felt this effort was necessary because I knew her book was somewhat autobiographical; and I also knew that the social forces that shaped her book would still have immediate relevance for a contemporary audience.
WOW: Was there a lot of research involved for Memoirs of a Geisha?
Robin: In Memoirs of a Geisha, I felt my own inadequacy in approaching a book that had taken Arthur Golden twenty years to research and write and rewrite. He had lived in Japan and knew geishas and could read Japanese. When I was brought on to write the screenplay, I knew this film was being fast-tracked into pre-production within four months—which meant I had to accelerate my own process.
The movie was actually greenlit from the screenplay's outline that I came up with in close collaboration with the director Rob Marshall. I think everyone who worked on the movie (director, editor, cinematographer, producer, costume designer, production designer) felt the same respect for Golden's work and the same panicked need to be immersed for a few weeks in the traditional Japanese culture that Golden depicts in such detail. Our "full immersion" trip to Kyoto was invaluable to everyone. I don't think I could have gotten started writing without it.
"I like the puzzle of coming to understand the story, and feeling the original characters come alive."
WOW: Even though most of your recent work has been book adaptations, you do write original screenplays as well. What do you enjoy most about writing an original screenplay?
Robin: What I love about writing an original screenplay is the solitude of being with my own thoughts. I like the puzzle of coming to understand the story, and feeling the original characters come alive. I sometimes sense a character in my body first, before the character's voice enters my thoughts. When I can write something from nothing, I find pleasure in improvising, in not knowing what comes next, and feeling the freedom to try anything and then discard it if I choose, rather than having to make it work because the novelist has built in something that can't be changed.
WOW: What is your writing routine?
Robin: I set writing hours, and I work. That's about it. I count research and note-making and outlining as work—writing happens in all those stages too, though we tend not to think of it as writing. Eventually the inner pressure of being increasingly pregnant with all those ideas and images forces me to begin writing scenes.
WOW: Describe your writing process.
Robin: I write virtually every day, and I rewrite as I go along, sometime to the detriment of my own sanity. I work on new pages, and then I revise yesterday's pages; or I revise yesterday's pages and I lay out new pages. I find my own rhythm on each project. Some days I have to make myself stop writing, to leave something juicy for the next day, so that starting the next morning will feel easy. On other days I am so frustrated at not writing well; or sometimes I see that I have missed an opportunity to do something surprising—on those days I sometimes go back to my desk at night and write until I have made a little progress.
"I write virtually every day, and I rewrite as I go along, sometime to the detriment of my own sanity."
WOW: How has screenwriting changed over the course of your thirty-year career?
Robin: When I was first writing screenplays, studio executives and producers tended to think about screenplays in narratively rigid ways.
WOW: Why do you think that happened?
Robin: I think that came about partially from their reading Syd Fields' first book and maybe taking workshops with other screenwriting gurus who tended toward dictates that on a certain page or stage, a certain kind of event had to happen. I understand the desire to codify the creative process, especially in a corporate filmmaking environment.
But codified storytelling eventually becomes predictable. The best thing that has happened to screenwriting in the thirty years I have been writing is the more fractured narrative that began to find its stride in Charlie Kaufman's work (and here's a shout out to studio exec Amy Pascal at Sony Pictures, who had faith in his innovations), as well as in such films as Memento, written by Christopher Nolan from a short story by Jonathan Nolan. These days a writer is much less likely to hear from a producer, "You have Act One ending on Page 39, when it should end on Page 31."
WOW: How have you grown as a screenwriter over the course of your career?
Robin: I am still teaching myself to write. But a couple of years ago I looked at my first baby screenplay again, Stock Cars For Christ, and I realized that if you write movies for thirty years, you do eventually learn something!
WOW: Over those three decades is there a screenplay of yours that is your favorite or means a lot to you?
Robin: I wrote sixteen drafts of The Curious Case of Benjamin Button, a screenplay that later became a basis for the screenplay by Eric Roth, which eventually got made as a movie, twenty years after I began. The work I did informed the film in its entirety, yet my take was sufficiently different that it made me return to my own screenplay with a feeling of love and nostalgia—perhaps not so much for my work, but for my experience of writing and finding my way in that piece. By the time I had written sixteen drafts for four different directors, I had lost my affection for the script, but after the film was made, I was freed to love the project again. It's a very private feeling that seems unrelated to the film that got made.
WOW: Are there any others?
Robin: I loved working on Little Women because that novel was a lifeline for me as a child—Jo March was the only writer I knew. She showed me that in a small town, a tomboyish girl could grow up to be a writer; leave home for the big city, and yet never lose her family ties. And I have a special feeling for The Rivals, an as-yet-unproduced screenplay about 19th century actresses Sarah Bernhardt and Eleonora Duse. I love all actors, and it has been a joy to have these two women in my life.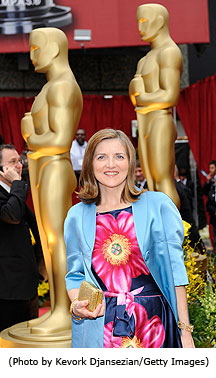 WOW: Being nominated for an Oscar for the Curious Case of Benjamin Button had to have been an incredible experience. Tell me more about that.
Robin: It's always strange to be honored for doing work that I'd have been happy to do without being noticed much at all. I am probably way out of step with this—I love being an Academy member, but I don't have an "Oscar speech" in the drawer somewhere. I never think about prizes. The Academy does incredible work in restoring films, amassing a world-class archive and library, creating access for emerging writers and directors and so forth—and Oscar night is one of their very important revenue streams that allows this good work to go on. When I was nominated, I liked showing up in a pretty flowered dress designed by one of my longtime best girlfriends (the designer Barbara Tfank), and I had fun that night seeing people I knew all dressed up and enjoying themselves...but I think it's better for my own work if I just go on paying no attention.
WOW: What do you see yourself doing over the next ten years?
Robin: I intend to keep writing and directing and producing for as long as I still love it, and for as long as I can find the right opportunities. I am preparing to direct a film called "Alibi" in which I've done some writing as well. It is a thriller that explores the dark side of female friendships. In the meantime, I'm getting to work with my friend, the producer Laura Ziskin, on a movie set in the world of medical research. I've wanted to write a film that has a background in science, so it's really a dream come true.
WOW: Do you have anything else in the works?
Robin: Another long time dream has been to design a film production model that will create a bridge between film school and the film business. This summer I'm getting that chance, with my producing partner Nina Sadowsky, in a web series that Vuguru is financing and distributing. I've written half the series of twenty episodes; the other ten episodes will be written by emerging screenwriters whom we've already identified, and I'll mentor them. We also have key mentors in place to share the rest of the production workload with emerging directors, designers, etc who will do most of the actual work of filmmaking. It's a union shoot so everyone involved will be paid, and will earn credit toward their union card.
We hope that this production model will be replicated by other people making web series, so that it won't be so hard to find the door that gives a beginning filmmaker access to their profession.
WOW: What advice do you have for screenwriters?
Robin: What I tell young screenwriters is, "Take responsibility for your work." Collaborate with friends who want to make films, and with them produce your work on whatever scale your filmmaking team can afford. Digital video has brought down the cost of making your own films. Don't wait for permission. Create your own opportunities. In terms of your craft, be as mentally free as you can be while you are writing—and then be ruthless in your assessment of your need to rewrite. Find readers you can trust, whose notes and advice trigger an "Oh, you're right!" response of self-recognition about the revisions that remain to be done.
And just keep writing. Malcolm Gladwell in his book Outliers pegs the time commitment at ten thousand hours before you begin to achieve expertise. (And for some of us, longer!) Write a script and put it away. Write another. Put it away. Go back and look at the first script again and rewrite—you'll see that you already know more about writing, just from having written.
***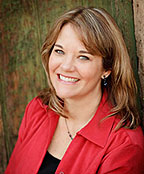 Kerrie Flanagan is the Director of Northern Colorado Writers (NCW). She is also a freelance writer with over 120 articles published in national and regional publications.
To learn more about Kerrie and NCW visit: https://www.NorthernColoradoWriters.com
(Photo of Kerrie by Desiree Suchy.)
Enjoyed this interview? Check out Kerrie's article on WOW!:
How to Pitch to a Literary Agent at a Writers' Conference