oing to a conference can be one of the best things you can do for your writing career. If you're a beginner, you're introduced to the "writing world"—people to network with that think like you and understand your struggles; access to editors, agents, and best-selling authors; and information on plotting, formatting, and submitting to take your writing to the next level. If you've been writing and publishing for several years, it's still important to attend conferences. You may meet an agent or editor who is ready to take your next project, network with writers and other professionals who have ideas and inspiration to keep you going, and gain exposure for your book and projects as well as gaining new marketing ideas.
In April, I attended the annual Missouri Writers' Guild (MWG) conference in Chesterfield, Missouri, which is a three-day event. This conference includes almost every element that I've seen at other conferences and provides writers opportunities that they won't get everywhere—especially in the Midwest. However, if you've never been to a conference, or you went but weren't sure it benefitted you, the photos below will help you look for writing conferences that include events, activities, and workshops to further your career.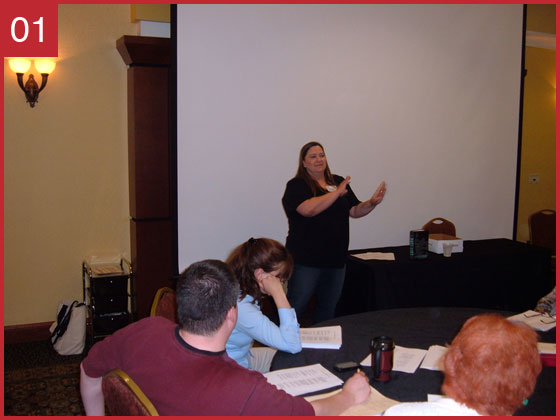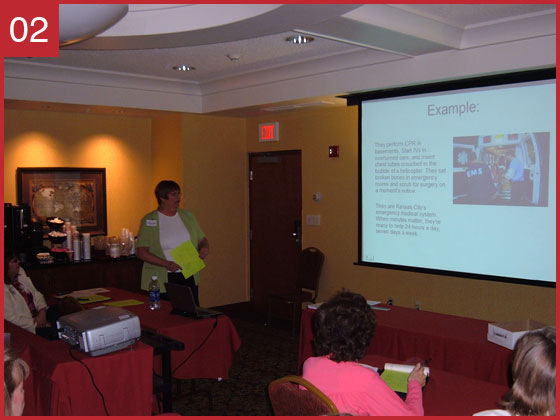 Photos one and two: Look for writing conferences that offer a variety of speakers, workshops, and panels. Many conferences divide the day into keynote speakers and workshop choices. For example, Jennifer Brown, author of Hate List, in photo one taught a class on writing young adult books at the 4:00 p.m. session on Saturday. Many attendees took her class, but not everyone writes YA. So, at the same time Mary-Lane Kamberg (photo two), the author of The "I Don't Know How To Cook" Book and The I Love to Write! Book, offered a workshop on how to write beginnings of articles, stories, and poems. Writers could choose a workshop that targeted their current needs.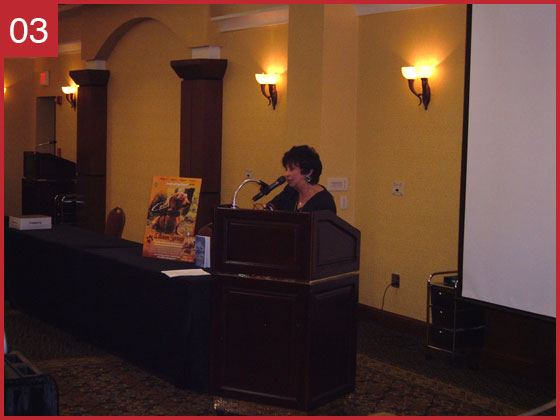 Photo three: Keynote speakers are often the inspiration of the conference. Their job is to share their life experience in the publishing world and motivate you to keep going with your career. Esther Luttrell—who has a lifetime of experience as a writer, producer, and director—kicked off the conference with a keynote speech and mini-workshop on writing mysteries. That's the best—when a keynote speech inspires and teaches you!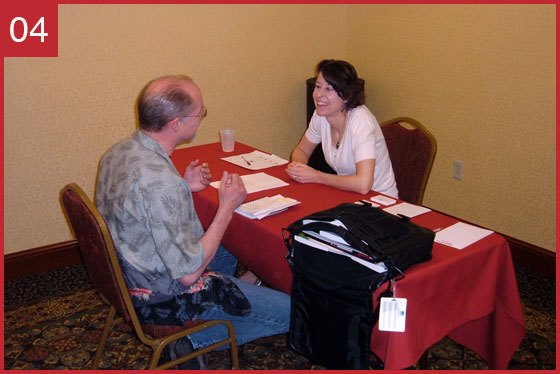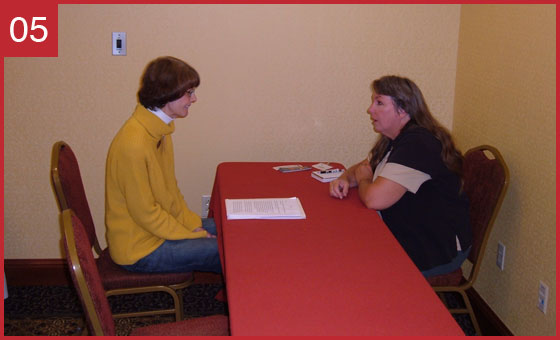 Photos four and five: One of the best parts of a conference, and something I always look for before I sign up, is a chance to have a face-to-face pitch appointment with agents and editors. There's nothing like sitting down and discussing your current project with someone who has the power to buy it and put it out there for the world to read. People really do acquire agents and find editors with conference pitch appointments—I know someone who received a book contract right after her appointment with an independent publisher at a conference. In photo four, an attendee is discussing his humorous work with agent Kristin Nelson from Nelson Literary Agency and hoping she requests his manuscript; and another attendee discusses her current writing project with Linda Houle, publisher and co-owner of L&L Dreamspell.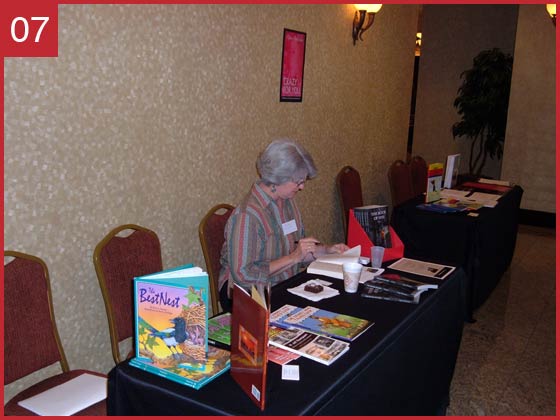 Photos six and seven: Many writers' conferences will have bookstores and book-signing opportunities. I love when conferences have these for the attendees and the authors. Most of the time, conference bookstores carry speakers' books, so you can rush right out of your workshop sessions and buy the books they talked about. This helps you remember the great advice you learned in the workshop as well as see it put to use in the real world. Bookstores also sell some "how-to" guides to improve your writing. After you purchase books, many speakers will sign them for you—either at an official book-signing or after their workshops. Independent bookstore Main St. Books in St. Charles, Missouri ran the conference bookstore, and authors had opportunities to display and sign books at the MWG conference.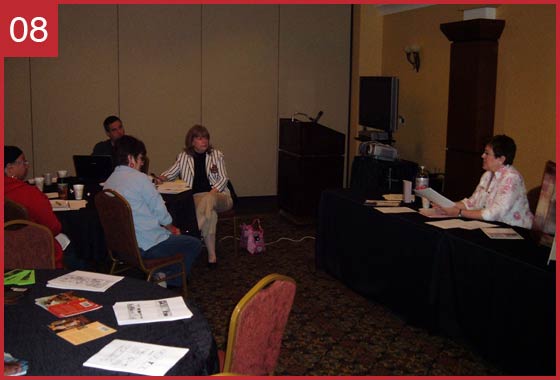 Photo eight: The MWG conference offered another opportunity called master's classes that I've seen at a few other conferences—but not many. Some conferences call this special programming intensive-study or pre-conference classes. Whatever the name, these workshops provide a longer session with a featured speaker in a small group setting. Western historical romance writer Bobbi Smith shares her knowledge of romance writing A to Z in a three-hour master's class in photo eight. Six participants paid $50 extra for the opportunity to work with Bobbi, who is a New York Times best-selling author.
Photo nine: One of the best aspects of a writing conference is you get to eat and drink with people who truly understand you. Writing conferences usually come with meals—a banquet one night, a luncheon with a keynote speaker, or a buffet lunch with networking opportunities. Don't miss out on the food, and find a table where you don't know everyone. Meals are the perfect time to meet new people, including speakers. In photo nine, conference attendees were lucky enough to sit with agents Joanna Stampfel-Volpe and Suzie Townsend (seated on the left). One last note about meals (eating is important to writers): if you're attending a conference where meals are on your own, talk to the people running the event and see if groups are getting together to eat out.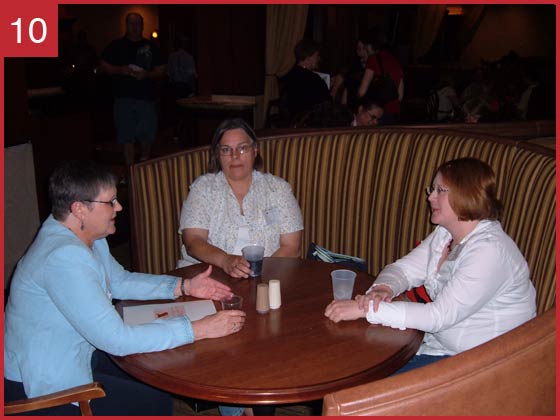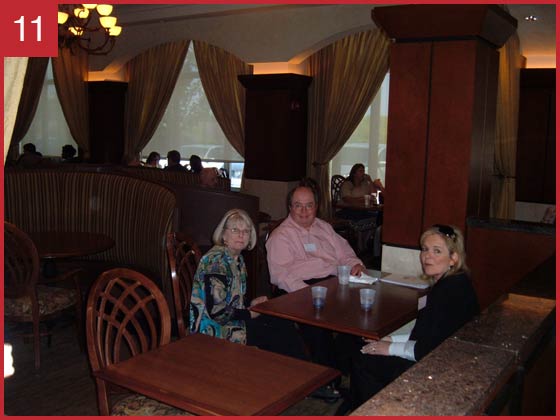 Photos ten and eleven: Some writers' number one reason for attending a writing conference is the networking opportunities. Most conferences have networking time built in—whether it's a snack break, continental breakfast, happy hour, or late-night coffee and dessert. Don't skip these opportunities. Many times, the speakers, including agents and editors, will be present and talking with attendees. You never know whom you might meet and exchange business cards with that can change your career. Both photos ten and eleven show networking groups during happy hour at the Drury Inn and Suites hotel, where the MWG conference was held.
It's amazing how much conference planners can fit into a two- or three-day event, so writers can get the most out of their experiences. Look for conferences with several elements that will benefit you and match your career goals, and then sign yourself up!
***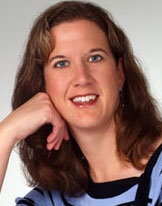 Margo L. Dill is a freelance writer, editor, and teacher, living in Mahomet, Illinois. Her work has appeared in publications such as Grit, Pockets, True Love, Fun for Kidz, Missouri Life, ByLine Magazine, and The News-Gazette. She is a columnist and contributing editor for WOW! Women On Writing. She is assistant editor for the Sunday Book page in The News-Gazette. Her first book, Finding My Place, a middle-grade historical novel, will be published by White Mane Kids. She writes a blog called, Read These Books and Use Them, for parents, teachers, and librarians. She owns her own copyediting business, Editor 911. When she's not writing, she loves spending time with her husband, stepson, and two dogs—Chester, a boxer, and Hush Puppy, a basset hound. You can find out more about Margo by visiting her website: www.margodill.com. Find out more about the workshops Margo teaches by visiting WOW's Classroom Page.