iscovering what will make a film the best it can be drives filmmaker Liliana Greenfield-Sanders to produce thought-provoking and intriguing movies. Whether it's an edgy drama or a comedic glimpse at a serious subject, Greenfield-Sanders captures the attention of film enthusiasts.
Born and raised in the East Village, Liliana's interest in film began early and she credits a volunteer gig at Anthology Film Archives for bolstering that curiosity. Liliana has worked for Fine Line Features, Red Hour Films, and Maysles Films. The Brown University alum attended NYU Graduate Film School. Presently, she resides in New York City.
Her honors thesis at Brown became her first film, Ghosts of Grey Gardens. Miriam features the story of an elderly woman and a young girl in a film based on Truman Capote's short story. She won first prize in the Lifetime Student Filmmaker Contest in 2007 with her film Anna. Two years later, her next film Samantha won Best Director, Best Graduate Film, and Best Film at the 2009 Fusion Film Festival. Her latest film Adelaide garnered multiple awards at film festivals across the United States. Currently, Liliana is writing the feature version of Adelaide.
Want to view clips of her work? Check out the trailer for Adelaide (below) or watch Anna on MyLifetime.
Liliana shares her views on filmmaking, discusses the inspiration behind the name of her film company, and talks shop about being a screenwriter, director, and editor.
***
WOW: Liliana, welcome to WOW! Thank you for sharing your ideas about filmmaking with our readership. Writing and directing requires a vision, and you've always been interested in making movies. What inspired and continues to inspire you to work in film?
Liliana: It's difficult to put my finger on exactly why I make films. I've just always loved doing it. I started volunteering at Anthology Film Archives down the street when I was eleven years old and my interest just grew and grew. It's such a challenging, engaging, and rewarding medium and I've always been in awe of the way that watching a film can alter you in ways both small and large.
WOW: You are right! I can think of several movies that impacted my life. Let's talk about your undergraduate instruction and how it prepared you for a movie career. You attended Brown University. What lessons did you learn there that gave you the confidence to progress into filmmaking?
Liliana: I had a wonderfully supportive professor named Michael Silverman who really encouraged me to pursue filmmaking. I came into his office one day with hours of footage from a performance piece I had done and mentioned that I thought it could be the beginning of a documentary. He gave me the guidance and encouragement I needed to proceed and in the end it became my honors thesis and first film, Ghosts of Grey Gardens, a short documentary about the legacy of the Maysles Brothers' 1975 documentary Grey Gardens.
WOW: Strong support and guidance create such a positive attitude. You translated those encouraging words into film. Your grad project debuted at the Tribeca Film Festival, played at the MOMA, and had its TV debut on PBS. Is this type of path typical for a new filmmaker?
Liliana: It was actually my undergraduate project and, no probably not. I've been very fortunate. I made that film Ghosts of Grey Gardens out of my own need to find out more about these incredible, fascinating women, Big Edie and Little Edie Beale. I was completely in the dark at the time as to the enormity of the film's cult following and had no idea what kind of thirst there was out there for more material on Grey Gardens. I was very fortunate to have explored this several years before the musical and feature film were made because there was a fresh excitement about it (even though the original film had been made almost thirty years earlier).
WOW: Ghosts of Grey Gardens is wonderful. You also had success with your second film. Anna won the Lifetime Student Filmmaker 1st prize. What are some of the perks of writing and producing a script for a contest?
Liliana: I had actually made Anna as my first film project at NYU Graduate Film School. They ask you to make a 4-minute film shot on 16mm with no dialogue, all exteriors, only daylight. It was really a great exercise and when I had just finished editing, I stumbled upon Lifetime's call for films under five minutes. It was only a day before the deadline and I just thought I'd send it in since I had a 4-minute film in my pocket. It was so exciting to win.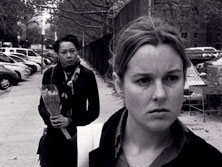 "I definitely try to write exciting, meaty parts for women."
(Photo from Anna.)
WOW: I can imagine! It's about being in the right place at the right time with a 4-minute production in your hip pocket. Now that's a great story! Liliana, your films have won multiple awards at film festivals. Can you provide a quick explanation of how a filmmaker submits to a festival and what happens at a film festival?
Liliana: I didn't have a big budget to submit to a lot of festivals so I just tried to submit to the ones I heard great things about. I was really fortunate that my film won both the Grand Jury Prize and the Audience Award at its World Premiere at Gen Art last year. I was invited to a lot of festivals because of that. I really owe Jeff Abramson a debt of gratitude for being the first festival programmer to believe in my film.
WOW: Wonderful! And congrats on the awards! In publishing, some houses publish certain genres. Through your work with different film companies, have you found that certain companies tend to produce a certain genre or style of film?
Liliana: I just got out of film school so I've been producing all my films on my own and with my producing partner, Rowan Riley.
WOW: I'm interested in your company's name: Gluten Free Films. What is its mission?
Liliana: I don't know that we have a mission exactly. We're just trying to produce these projects that I've written and they all tend to be centered on one female character. I definitely try to write exciting, meaty parts for women. My producing partner, Rowan Riley, and I went to elementary school and high school together and we are both allergic to gluten, so we thought that the name was too good to pass up.
WOW: It's an attention getter! You've written documentaries, shorts and feature-length films. From a writing standpoint, what are some of the differences in the writing process and prep work for each of these?
Liliana: With my documentary, I was writing a voice over, so I just tried to keep it personal and honest. I made that film when I was nineteen, so of course there are things I would do differently now, but I'll never be embarrassed by it because everything I said was true and real to me at the time. That's all you can do. With my narrative shorts, I usually allow myself to think about the story for a long time and when I feel like I'm ready, I sit down and write the whole thing in one sitting. Then I read it and if it's not perfect, I throw the entire thing out and wait a few days and sit down and write it over again from scratch. I love this process because it feels very liberating and like you could go anywhere. With features, it's very different. I can't just go off in a direction and hope it leads somewhere. I've had to be much more organized about developing the story, characters, and themes before I write. But I am very excited to be writing features now because I get to dive more deeply into things that I was only able to touch on in my shorts.
"I think it's a really difficult transition to go from seeing what story you had in mind to seeing what story you actually shot on set, but it's what's most important in the end."
WOW: Let's talk about your writing process. Do you begin with a premise or does a character come to mind? Also, do you outline your scripts or do you develop individual scenes and progress from that point?
Liliana: I almost always start with a character. That's probably the most important thing to me. The story then takes shape around what I'm interested in trying next. Anna was a simple character portrait, a glimpse into her life. In Samantha, I wanted to do something about a strange girl and how her strangeness sprung from the dynamics in her family. Adelaide is my attempt to write a "there's someone for everyone" love story, albeit with a very dark slant.
WOW: I detect a trend in the names of your films. Four of your films have one-word titles: a woman's name. Is this a theme in your work? Or do you use a character's name because the character drives the storytelling?
Liliana: Both. My films are all very psychological and are centered on one female character (or characters as in my documentary). I didn't name the films after women as a shtick or anything. It's just that they're what the films are really about. My professor at NYU joked that I should continue to only name my films after my main female characters and when I'm eighty-five I should make "Liliana" and then die.
WOW: Now that's an interesting concept. Filmmakers vary in their approach to creating a scene. How much of a script do you write and how much is improvisation?
Liliana: I use improvisation in the rehearsal process and my rewriting process, but I tend to stick fairly close to the script on set. I do think that as I direct more films that might change.
WOW: I can see how either approach could add new elements to a film, but that also seems to create additional dilemmas. As a writer and editor, how do you determine what gets cut and what scenes need to stay to drive the story?
Liliana: If you're editing your own material, you need to pretend as much as possible that you didn't write it, you didn't direct it, and just as yourself think, "what's going to make the best film." It's a really difficult transition to go from seeing what story you had in mind to seeing what story you actually shot on set, but it's what's most important in the end. Mostly, I just try to capture the tone and the feeling of what I had originally wanted even if that means getting rid of some of my favorite things or moments that I loved on set. In my last film, that meant cutting five whole minutes out of it (which is a lot for a short).
"I think this is a very exciting time for women filmmakers, but we can't pretend that we don't have a lot of work to do to make this industry more open to female directors and writers."
WOW: I relate to the complexities of editing! As an artist, you begin with one vision, and the end product may end up examining a different direction. Your talent hasn't gone unnoticed. All of your films have earned critical acclaim. To me, that says you have a strong storytelling voice. What award/honor has special significance to you?
Liliana: I guess I'd say that the Audience Awards are really great to win. When I make these films, I am mostly trying to make something that I would enjoy watching because it's too overwhelming to try to make it for a specific audience, so it feels great when my movie gets a vote of confidence like that from its viewers. It makes me feel connected to them.
But really, I have been so honored by every award I've received. Just being included in all these festivals and them allowing me to show my film shown is an award in itself.
WOW: I had the opportunity to view Adelaide, which has a strong sense of sophistication. How has your approach to filmmaking changed since you started in the industry?
Liliana: I think you learn so much every time you make a film. I just try to push myself as much as possible and operate outside my comfort zone. That's the only way to learn.
WOW: Ah, getting out of the comfort zone can be tough, but I believe it's good advice. What's next for you?
Liliana: I'm writing the feature length version of my short film Adelaide.
WOW: Good luck with your projects! I'm looking forward to the feature version. What advice would you offer to women interested in screenwriting and filmmaking?
Liliana: I think this is a very exciting time for women filmmakers, but we can't pretend that we don't have a lot of work to do to make this industry more open to female directors and writers. The best thing we can do is make the best work we can and never forget to support one another. I was thrilled to see Kathryn Bigelow win Best Director this year and I hope that with every win like that, it becomes that much easier for a young woman to say, "I'm going to be a director when I grow up." That might sound cheesy, but it has always been sad to me that I had so few women to choose from as influences in my filmmaking.
WOW: As an almost-middle-aged woman, I'm thinking I'd like to be a director when I grow up. What you say is true: there are so few women who taken the opportunity to direct. You're on your way to influencing women filmmakers. Thank you, Liliana, for your insights on the aspects of filmmaking.
More information about Liliana is available at her website,
https://www.lilygs.com.
***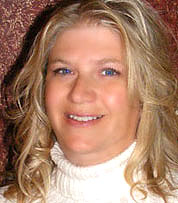 LuAnn Schindler is a full-time freelance journalist living on the eastern slope of the Nebraska Sandhills on a dairy farm with 200+ holsteins. She currently blogs for The Muffin, the WOW! Women On Writing daily blog, and is a columnist for Premium Green. Her work has appeared in the Pregnancy, 2: The Couples Magazine, Denver Post, Rural Electric Nebraskan, Absolute Write, in addition to other publications. LuAnn is a member of the National Federation of Press Women and Nebraska Press Women.