hen considering lyric writing, it's hard to ignore the work of independent literary journals like The Sonder Review (TSR). Sonder combines innovative, short creative nonfiction and fiction pieces alongside original works of art. Speaking with the modest and thoughtful Elena M. Stiehler, the founder/executive editor of The Sonder Review and Sonder Press, she offered her insight into the process of an independent journal and press. We discussed her reflections on lyric writing, language, and craft. She shared her selection and editing process, as well as her pleasure in discovering the potential in new writers. She has a genuine love of words and writing. Elena graduated from SUNY Geneseo with a BA in English and creative writing. She resides in Rochester, New York, with her husband and a variety of four-legged creatures.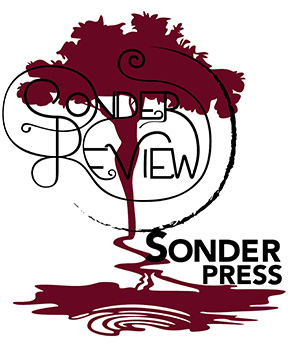 WOW: Thank you, Elena, for taking the time to speak with us about TSR and sharing your passion for TSR and the editing process. Since we are exploring lyric writing in this issue, as an editor, how do you define a lyric essay? How does it differ from poems or other essay forms?
Elena: I think by its very nature the lyric essay is elusive of definition; its very purpose is to create a feeling, a mood, a movement—to lead the reader on a curious, lushly-rendered journey towards a (but not necessarily the) truth. A lyric essay evolves. It breathes. A poem feels more like a singular fragment to me, a deeply haunting note, whereas a lyric essay creates a more complex melody. Traditional creative nonfiction essays want to play in the same sandbox as short fiction—construct a somewhat sensical narrative; utilize scene, dialogue, exposition—whereas the only real rule of a lyric essay is lyricism, an attention to language, to form. A lyric essay is an unfolding, a realization, a river wending without constraint or required destination.
WOW: When you said a truth vs. the truth, it's such an important distinction of what lyric writing expresses. With that in mind, what, in your opinion, makes a good lyric essay?
Elena: The language of a lyric essay is vital; it must be handled delicately, placed deliberately, molded with extreme care and thought. It ought to challenge the reader in the sense that they must decipher the intention, the destination, for themselves. I often think of a lyric essay as a dance—a balance between exuberance and control—which must sweep up the reader while rendering the author's vision without artifice or indulgence. I think craft is also extremely important. There is a sense of freedom to this form that should be embraced: linguistically, stylistically. But just as the form itself defies definition, so should the work itself—this is not an obvious form. As a reader, I want to be led down the rabbit hole but also trusted to find my way out.
"Always, for me, it comes back to the craft of the language—that breathless feeling of something being said so distinctly and so accurately—that sort of indescribable resonance, which just sucks the air out of you ..."
WOW: The words dance, freedom, and intention jump out to me; they are the parts that bring you to and lead you out of the rabbit hole. Your mission of TSR ties well into these ideas. To quote:
"We believe in language. Words raw and shuddering and unabashed. Prose which is spare and piercing, delicately and deliberately crafted. We believe in storytelling that is innovative and daring, precise and oddly angled. Writing which shows us the bizarre but also, always, the resounding throb of humanity."
Could you elaborate on your belief of language and storytelling that is oddly angled?
Elena: I love the mouth-feel of a piece. If it doesn't get your heart throbbing, if it doesn't wrench the gut, it doesn't do much for me. The way in which you say something, I think, is often more important than what is being said. The concept of language alone is fascinating, let alone the artistic manipulation of it; and that is what I really want to celebrate. I think the idea of a piece being "oddly angled" asks the reader to view something through an unexpected lens, opening an unexpected window onto even the simplest events. Always, for me, it comes back to the craft of the language—that breathless feeling of something being said so distinctly and so accurately—that sort of indescribable resonance, which just sucks the air out of you, which I think is the ultimate point of storytelling in the first place.
WOW: Mouth-feel is a delicious way to illustrate great writing. I love the way you said, "breathless feeling," to describe the craft of language. It makes me wonder: what are some of your favorite lyric essays, and what do you enjoy reading for pleasure?
Elena: I suppose I should probably begin with the fact that much of my "pleasure reading," especially in recent years, ends up being the submission queue, which I'm certainly not mad about! I tend to gravitate towards works that highlight craft over content—some works that have stuck with me through the years are: "Our Endless Numbered Days" by Claire Fuller, "The Physics of Imaginary Objects" by Tina May Hall, "Glaciers" by Alexis M. Smith, and "Heirlooms" by Rachel Hall. I have a desire to be moved, to be shown something I haven't quite envisioned before. I do tend towards fiction, especially short fiction, in much of my pleasure reading; but I've found that in terms of Sonder, I have been rather drawn to lyric essays of late.
WOW: What in TSR's submission queue do you enjoy the most? Do you have some insider tips for writers to catch your attention?
Elena: It largely boils down to language and craft. I never want to feel like I've read the same thing twice. There is a magnetism you can detect when an author has a particularly delicate, specific hand. When you can feel the intent dripping from the prose, but it never feels overworked. I think workshopping pieces is incredibly important; you need diverse feedback; you need to hear the hard notes. Writers can often get bogged down in their own darlings; and the greater ability you have to look objectively at your piece, the better it gets. I also really believe in the editing process—that great work often is a result of collaborative revision—and so I often look for authors who might have great raw talent but are in need of some polish and precision.
WOW: It's essential for new writers to know some editors will work with them. They too can be published. Tell us about your book publishing arm, Sonder Press. What book-length projects do you get excited about?
Elena: Honestly, I get absurdly excited about all of the work we publish; as an editor, I end up putting my own heart into everything we publish; and I'm incredibly proud of what we have put out so far. Right now, I am focusing on chapbook-length works. There is something special about a chapbook that is more difficult to capture in a full-length work. Much like a lyric essay, you can be more playful, more experimental—the attention to each little detail is heightened, and I appreciate that.
We also have the honor of publishing the 2019 Best Small Fictions Anthology, the largest project we have taken on so far, which is going to be a very special anthology. It is thrilling to be able to showcase such exceptional and diverse works and allowed me to fall in love with so many new authors and presses. It is such a privilege to be able to work with such talented authors and have a part in allowing a project to reach its full potential in both content and design.
WOW: Congratulations on publishing the 2019 Best Small Fictions Anthology! It's wonderful to hear you're growing and expanding. I think everyone in the writing world is happy to hear about journals and presses doing well. What's your selection process?
Elena: Our selection process is very straightforward—if we love it, we publish it. We certainly always consider the quality of the craft as the most important requisite for publication. I also try to keep an open mind towards potential—there have been pieces in the past which we've accepted and then go through extensive revisions before they are published. I want to showcase extraordinary writing and unique visions. Our human existence is a complex and fraught endeavor, and works which capture and explore that need to be heard.
WOW: There must be a jolt of excitement to see potential in a raw piece. Once you've found that, how do you approach the editing process with a writer?
Elena: Track changes is my best friend. We never want to publish a piece which the author is not 100 percent happy with, so we will go through as many rounds of edits as are necessary to truly showcase the work at its best. I look at the editing process as a collaborative conversation. No great work exists in a vacuum. As an editor, the best interest of the work is always forefront in my mind; and I try to give thorough explanations, and options, for each editing choice. It can be extensive, and at times exhausting, but we have been lucky to work with so many incredible authors who understand the importance and value of the editing process.
"I look at the editing process as a collaborative conversation. No great work exists in a vacuum."
WOW: Collaborative conversation sounds like a supportive approach to what could be a tricky process. There are so many prominent and incredible literary journals out there, what do you believe makes TSR stand out from other literary publications?
Elena: I hope our attention to the mechanics of each piece that we publish sets us apart. There are so many incredible publications and authors out there that I don't know that I hope to stand out so much as stand alongside other publications. I do think we offer a unique approach to the editing process and to the editor/author relationship in general. We are greatly invested from an artistic, and at times emotional, standpoint which allows us to bring each project to its full potential.
WOW: It's obvious how much you love your work. How did TSR come into existence?
Elena: I've always carried with me the sensation of looking from the inside out, and I think Sonder has really embodied that feeling. As a child, I remember lengthy car trips from one destination to another, observing the populace going about their daily, mundane routines—imagining the infinite complexities, similarities and unimaginable struggles, each observed, imagined life contained. The simultaneous connection to and unknowing of another existence is what I wanted to bring to life with Sonder.
WOW: With all TSR has achieved, what's your vision for the future?
Elena: I'm routinely amazed by how far we have come in the first place. As for the future, all I can hope for is that we are able to keep doing what we are doing. Honestly, it has been a dream come true to work with the phenomenal authors and artists that have graced our pages, and I hope to be able to showcase even more work as Sonder grows. I believe in the power of storytelling not only to educate, but unite people—to allow us to see ourselves in others—and I want to promote and perpetuate that with Sonder.
***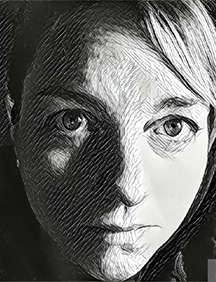 Christy O'Callaghan lives in Upstate New York. She works with incarcerated adults seeking employment. Her favorite pastimes include hiking, gardening, swimming, and collecting sea glass—anything outside in the fresh air. Her work has appeared in various publications, including the anthology Before They Were Our Mothers: Before Rosie Started Riveting and The Sonder Review, among others. You can find her on Instagram @christyflutterby or by emailing her at christyflutterby[at]yahoo[dot]com.