id you know Instagram has one billion users worldwide?
Do you want to build your audience as a writer? Considering using Instagram, but not sure if it's worth it? Let's look at why authors are turning to Instagram to build their online following.
Want to learn more? Keep reading to find out!
How to Use Instagram to Build Your Audience
You may already use Twitter and Facebook to reach more readers. But Instagram is proving to be a unique spot to connect with new followers.
Bestselling and famous poet, Rupi Kaur, is on Instagram with 3.4 million followers. She posts pictures and snippets of poetry on her feed. This engages followers and helps them feel more connected to her.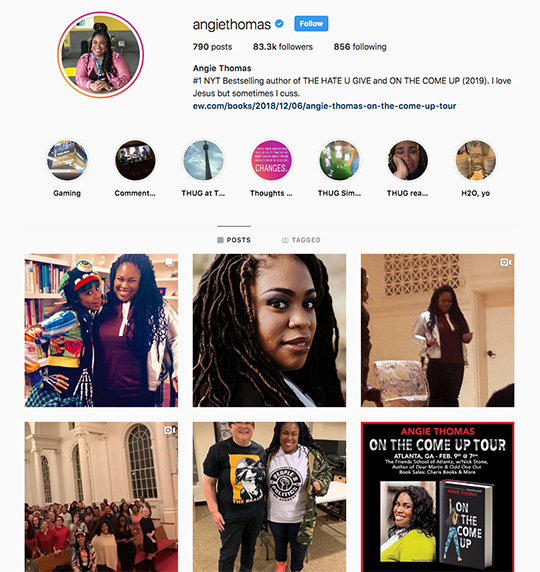 Angie Thomas, the bestselling author of The Hate U Give, uses Instagram to share books she loves. Her posts provide glimpses into her personal life.
Instagram is unique in the sense that you can share videos through the "Story" feature. You're able to share snippets from your writing life to what you ate at the local café. Readers will feel like they get to know you.
You're looking at building an audience, so you can connect with interested readers. Jane Friedman, an expert with over twenty years of experience in the publishing industry, says, "Your platform should be as much of a creative exercise and project as the work you produce. While platform gives you power to market effectively, it's not something you develop by posting to social media a few times a week."
Literary agent and author, Eric Smith, suggests that you shouldn't create a profile focused solely on your one book. He says, "Your online platform, as an author writing fiction or nonfiction, should (and can) do a few things. It should introduce the world to you, the writer. It should be a jumping off point for you, regarding networking and interacting with the community (i.e., writing blog posts!). It should help with buy-in, showcasing you as a person that's worth looking into. What are you like? What are you reading?"
Now that we know why Instagram is so useful, let's look at how you sign up and create a profile, and then what kind of information you should share with your followers.
How to Join Instagram
Joining Instagram is straightforward. Sign up on Instagram.com. Create a username that reflects the author name that appears on the cover of your books. You want to build your brand around your author name.
You will also need to download the Instagram app onto your phone. The app is the only way you can load stories and photos. You cannot add to the Instagram feed with the computer.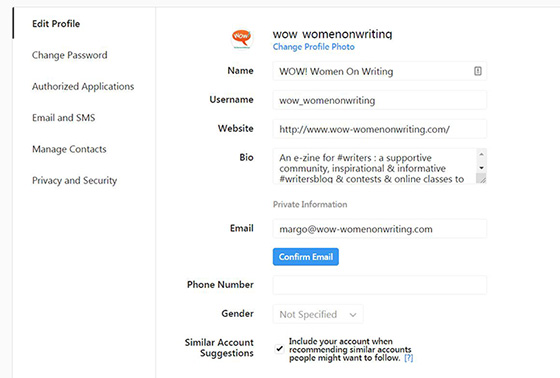 Completing Your Profile
You have 150 characters in your profile. Fill your bio out using some biographical details of your choice and interests. You can also insert some of your favorite hashtags in your profile to get more followers—for example, #writingcommunity or #writersofinstagram. Add your author website address as well. Click on the box next to "Similar Account Suggestions." Instagram will then suggest your account to other writers and readers who share an interest in the same topics as you do. When you're out and about during your day, snap pictures at the local café. If you walk through the woods, take a picture of beautiful farmland or evergreens. Upload these to Instagram and select a filter of your choosing.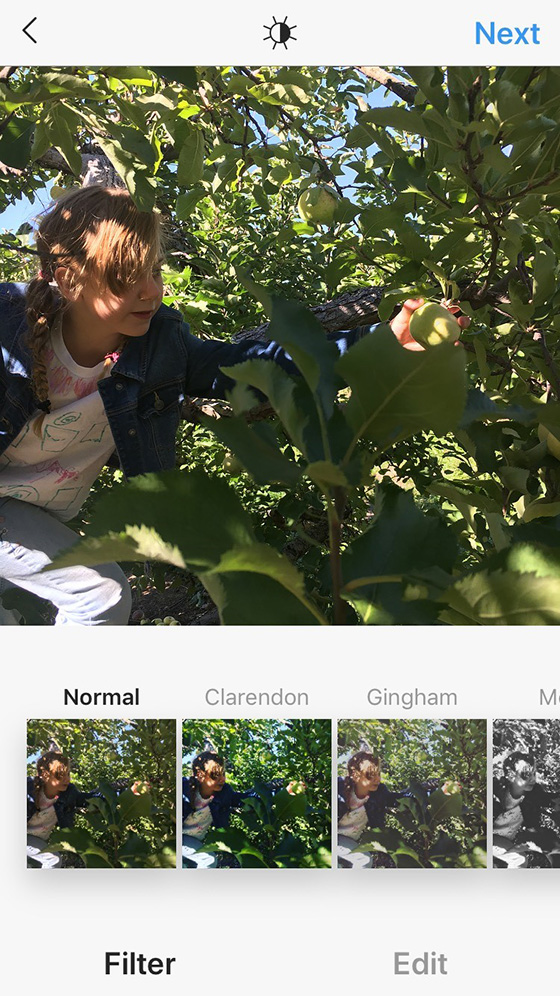 Make sure you post what's on your mind or an inspirational quote to go along with the image. You can simultaneously share this post to your other social media accounts.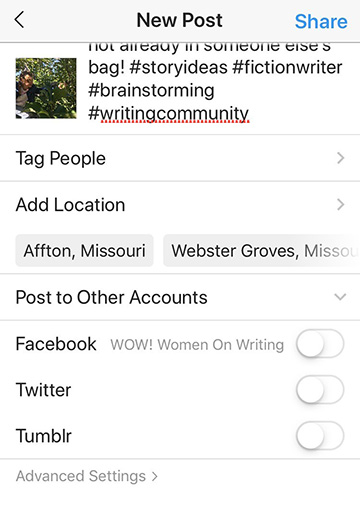 You can sync your Instagram (IG) account to your Facebook (FB) profile or page, so that when you post on Instagram you can simultaneously post on Facebook. All the hashtags and comments you wrote for your IG post will most likely integrate well with your FB profile. The image will also appear on Facebook. You can do the same with your IG account and Twitter; however, Twitter doesn't show the image when you share your IG post on Twitter. Your Twitter followers will get to read your comment from Instagram with a link to your posted IG photo.
What Content Should I Share?
What should you post? Most of the time, we're hunched over our computer or notebook, working. You'll have the chance to create intriguing content, so don't worry!
Don't just share what you ate that day. Flex your creativity muscles with Instagram. You'll get a chance to showcase your writing and what your life looks like.
For example, do you go to local book signings? What book are you currently reading? Are some of your followers posting pictures of your books? What do you do once the weekend hits?
All of these topics provide you with opportunities to snap a picture and post it with an entertaining description. Have fun with your profile! This is your chance to share a bit of your personality with your followers.
Find Your People on Instagram
One of the many benefits of Instagram is finding your writing people as well as your readers. On Instagram, just by sharing pictures and using the hashtag #writerscommunity or #writingcommunity, you'll quickly discover new writers and authors around the globe.
There are many "Follow Loops" for authors and writers. A follow loop is hosted by someone in the writing community. You have the chance to meet other writers and support them. They'll follow you back as well. This is a great step toward engagement and increasing your number of followers.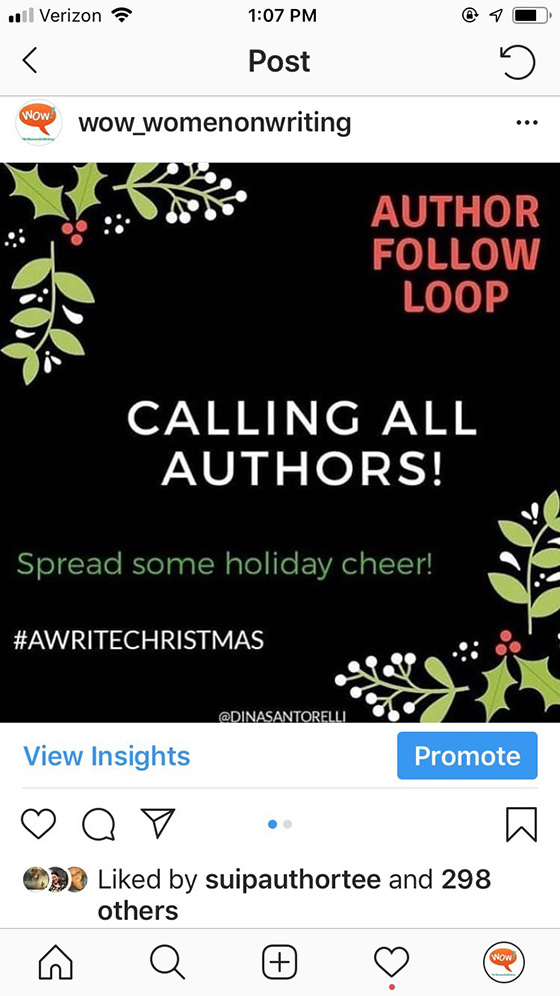 Make sure you comment on your new followers' photos and get to know them. You'll have an audience of interested readers and writers.
Author Anna Sullivan wrote a guest post on Jane Friedman's website and said, "Find out what other Instagrammers your ideal reader follows and engage with their posts. Strike up conversations with fans about shared passions, and you might just find yourself with new followers."
Build strong connections with your followers, and they'll be sure to share and help spread the word when you have a book release. It's essential to return the favor as well.
Writing may be a solitary occupation at home. The beauty of social media is connecting with other writers and getting to cheerlead them on their journey. You may feel alone on your writing journey, but in fact, you're not. What a comforting thought!
Don't Forget Hashtags
We spoke about a popular one already: #writerscommunity. Hashtags allow your Instagram posts to be seen by others who don't already follow you. There are various hashtags you can choose.
One way to find out what hashtags readers use is by looking through #bookstagram. Type this in the search box on Instagram, and click through some of the profiles. You may find fellow authors and discover more writing hashtags they use.
For example, if you're a fantasy writer, you may see several hashtags with fantasy in them, such as posts labeled with the hashtags #fantasyreaders or #fantasybooklovers. You'll find a ton of readers on Instagram who love fantasy novels. Click on some of the posts that come up from your hashtag search. Follow those individuals with shared interests who you could engage with.
Here are some popular reader hashtags on Instagram to find fellow book lovers and a possible audience for your book:
#amreading
#booklovers
#bookaddicts
#bibliophiles
#bookstagram
From there, you can choose to follow authors or readers whom you share similarities with. I like to look for writers who write fantasy, romance, and who are dog lovers! Connect with your fellow authors and get to know them along with some voracious readers, and build a wonderful community.
Exploring hashtags is a great place to start.
Host Quarterly Giveaways
Giveaways are a fun way to gain new followers. You'll also get to market your book at the same time. Include signed copies of your book with other bookish prizes and a well-known author's book. This author's established fanbase will hopefully come and check out the giveaway.
To post your giveaway on Instagram:
Take a picture of the prize, and post it on your IG account. Below the photo, add a description of what readers need to do to win the prize. One thing you can do is ask them to share your photo on their account or in their stories. Set the giveaway up, so entrants must tag a few friends in the comments. These friends may enter your giveaway and follow you. When the contest deadline has passed, gather the names of the entrants, and tally up the entries. Pull a name out of a hat or use an online tool, such as random.org.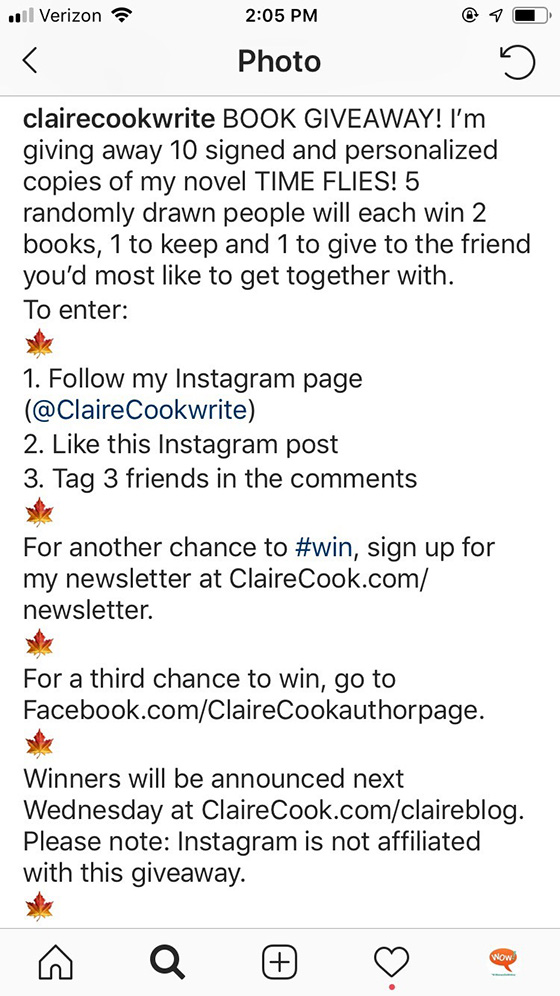 Generate Buzz Around Your Work
Did you know that by posting graphics with quotes, you'll generate excitement around your upcoming releases? Your followers will become invested in your career and end up liking and sharing your posts on their own feed. For example, debut YA Fantasy author, Kelly Coon, posted a graphic with a quote from her upcoming novel, Gravemaidens.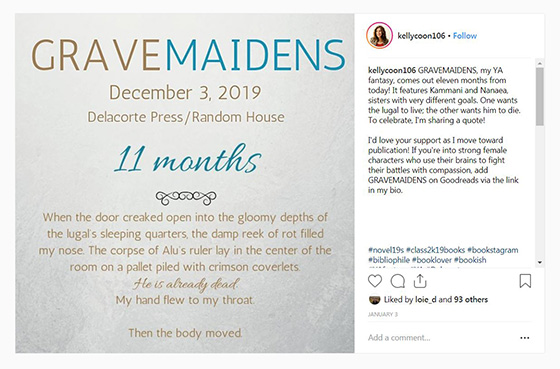 Instagram's story option allows authors to record short videos and post them.
Natasha Minoso, a consumer engagement employee at Penguin Random House, said, "In short, an Instagram story is a feed you can upload to, which lasts twenty-four hours on your Instagram profile page. You can include photos, videos, and boomerangs (mini videos that loop back and forth), as well as use the Live feature to talk to your Instagram followers in real time. Posting to your story is an easy way to give readers a glimpse into your life. Unlike Instagram posts, which should be high quality and serve a purpose, your story can be quick, simple, and spontaneous."
Make sure to promote your blog posts on your social media platforms, such as Instagram. You can do that by copying the blog post link directly onto your IG profile bio, or snap a screenshot of your blog and add that to your story. Finally, share the Instagram post on Twitter and Facebook, so your followers don't miss out.
Support Your Fellow Authors
When you build your platform, you'll have fellow writers, as well as readers, supporting your books and your career. You can do the same for them. Once you have followers on your Instagram, you'll grow your Twitter, Facebook page, and blog through cross-linking.
Simple ways to support your fellow authors are to like their photos, share their blurbs for upcoming books, and comment on their posts when they ask questions.
Reach out to authors and ask if they'd like you to host a giveaway for them on your account.
If they share any photos in their stories, take a screenshot and share it in your Story section. This way your followers will get introduced to authors you follow as well.
Happy Writing
Good luck building your audience through Instagram. Remember to think carefully about what kind of content you'd like to share and how you'll connect with readers. Support your fellow writers and give back.
Readers love learning more about their favorite authors. This is your opportunity to share a bit of your personal life with them.
Whether you're a published or upcoming author, it's essential to build your audience. Instagram is a great place to start.
***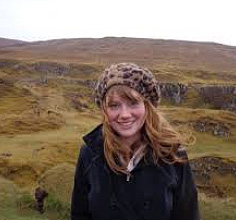 Loie Dunn is a full-time writer of fiction and articles. She lives in New Brunswick with her 17-year-old Jack Russell Terrier and barber. She's a fan of most things creative (crocheting, reading, any occasion to travel) and loves the ocean and forest. Currently, she is querying her YA seafaring fantasy and revising a Bluebeard retelling. Please visit her at loiedunn.wordpress.com and on Instagram at @loie_d. She loves to connect with fellow writers.
-----
Enjoyed this article? Then you might like: