you've been wanting to create a podcast to help increase your presence for your writing career, then there is no better time than now! Even today, podcasting is still one of the most underutilize platforms on the internet to promote yourself. As of 2018, there are about 630,000 podcasts out there on the internet.
Podcasting has been around since the early 2000s; and yet, there are so many people out in the world who have never even heard of the word "podcast," which means there is room to grow with this amazing platform.
The trend of podcasting has been increasing, as more people are using smartphones and other devices to access their favorite podcast shows with a click of a button. Even cars have installed a player solely for playing podcasts.
The best part about podcasting is that it doesn't matter if you're a seasoned writer or a newbie in the industry, it can still help you increase your presence for your writing career. It may not happen overnight; and it will take work on your part, but it's all worth it in the end.
Here are some important facts to know about podcasting.
What is a Podcast?
Not everybody knows what a podcast is, and that is okay if you don't know. By the time you finish this article, you'll be able to explain it to someone else!
Based on Wikipedia, a podcast is defined as:
"An episodic series of digital audio or video files which a user can download in order to listen to. It is often available for subscription, so that new episodes are automatically downloaded via web syndication to the user's own local computer, mobile application, or portable media player."
How to Get Started with Creating a Podcast
You might not know where and how to even start a podcast, so here are some tools, tips, and resources that can help you out:
Create a strong message: Before starting anything, it's important to create a strong message that will get people to listen to you. Most successful entrepreneurs have a strong purpose and message in life. When you can figure out this message for your podcast, it will make the process a lot easier for you. In my own experience with podcasts, I host one called The Tao of Self Confidence, where I interview Asian women about their inner journey to self-confidence. The show has almost one million downloads and has been such a success because of my message. The purpose of my podcast is to help women (especially Asian women because I am of Asian descent) build more confidence in themselves by hearing stories of other women who have been through what they have and can overcome it. The show has been a success because I have always led with my purpose.
Format of your show: Figure out if you will create a solo-hosted show, have a co-host, or create an interview-style podcast. Figure out the length of each episode and if you will be doing an audio or video podcast.
USB microphone: Investing in a USB microphone is necessary if you want to be taken seriously. Your voice matters and you want to be heard. This is your show after all, and there are some good USB microphones that cost under $100 (US dollar). A popular choice for newbie podcasters when it comes to USB microphones is the Audio-Technica ATR2100-USB (that's what I use), which you can order on Amazon.
Editing software: If you're going to edit the podcast episodes yourself, then you will need software to edit the show and put an intro and outro. There is a free editing software that you can download online called Audacity. There are paid software applications as well that you can research, but Audacity is good enough to get started.
Podcast hosting: Most people do not realize that you have to invest in podcast hosting. This is critical since your podcast hosting will give you a special RSS feed that you can use to send to podcast directories, check out your stats, and store all of your episodes under one roof. Some podcast hosting companies can get costly; but if you are just creating an audio podcast, then the most cost-effective podcast hosting is Simplecast because it currently costs $12 a month (US dollar), and you have unlimited storage.
Recording software: You will need recording software to start recording your show. If you're doing a solo show, Audacity or Zoom are both great software to record your content. If you're planning to interview guests, Zoom is still great to record interviews. Zoom is free if the interview is forty minutes or less. If more, you will have to upgrade to their premium plan. Another type of software you can use to record interviews is Ecamm Network that allows you to record Skype calls. Ecamm does have a one-time fee, but you can record unlimited Skype calls.
Podcast cover art: Podcast cover art is just as important as choosing a name for your podcast. It's the first thing your audience sees when scrolling through the Apple podcast directory or any other podcast directories. The most important requirement about your podcast cover art is the size of the artwork. The minimum size is 1400 x 1400 pixels, and the maximum is 3000 x 3000 pixels. Your podcast can get rejected or denied by podcast directories if you do not follow these guidelines, which has happened to many new podcasters. You can hire someone to create the cover art for you if you are not the artistic type.
Podcast directories: In order to get your show heard and downloaded by a larger audience, add your show to podcast directories, such as Apple Podcasts, Spotify, and Google Play. You can get a special RSS feed link from your podcast hosting company that will allow you to add to the various podcast directories. Check out which podcast directories will help you get more listeners in 2019 with the instructions on how to add your show through this article: www.podcastinsights.com/podcast-distribution-guide.
Benefits of Podcasting
There are many benefits of podcasting that can help you increase your presence in your writing career.
Here are some of the benefits:
It's a great way to connect and engage with your audience.
Listeners will know, like and trust you when they constantly hear your voice and listen to your message.
Customers often purchase a product and/or service that has been mentioned on a podcast.
Podcasting is a fast way to build influence with your audience.
Podcasting is a great way to get more traffic to your brand.
Having a podcast allows you to create meaningful relationships with your audience.
Podcasting can also help you become a better speaker.
Podcasting can help you get more writing work that you may or may not have been looking for. An example that happened to me was when Mindvalley contacted me to become a contributing writer for their blog. When I asked them how they heard about me, they mentioned it was through my podcast and how much they loved my message. I had never heard of Mindvalley until they approached me.
Stats on the Rise of Podcasting for Women
"The year 2018 will be remembered as podcasting's year of the women." This was said by Suzanne Grimes, executive VP of marketing for Cumulus Media and president of Westwood One.
Podcasting has been a man's world since the beginning, but slowly, more and more women have been creating their own podcast shows because they see the potential podcasting can have on their careers.
In 2008, the percent of women who listened to podcasts lagged behind men by 25 percent versus in 2018, when women podcast listeners only lagged behind men by 9 percent.
In 2013, research was done on the top 100 podcasts on iTunes. About 20 percent were shows that were hosted by women or had a woman co-host while the remaining 80 percent were shows run by men.
Along with more female-hosted podcasts, the number of women listening to podcasts has also been on the rise. We are catching up to men since podcasts are easily accessible now with the use of smartphones and other devices, such as car-connected entertainment systems.
When your female audience can relate to you, a woman podcaster, the chance that they will follow you on other social media platforms is greater because they either feel like they know you through your podcast, or want to know more about you. They will ask you for recommendations because they know, like, and trust you. They will recommend you to some of their friends and acquaintances.
Here are some 2018 stats on the rise of podcasting for women from adage.com:
About 45 percent of podcast listeners are women.
The number of hours per week women spend on listening to podcasts has grown from 4.6 hours a week in 2017 to 5.5 hours per week in 2018, which is about a 20 percent increase over the course of a year.
54 percent of listeners have used a promotional code that was mentioned on a podcast.
U.S. podcast ad revenue is predicted to grow to $660 million by 2020.
In over a year's time, the use of car-connected entertainment systems has also increased by about 27 percent.
Ways to Promote Your Podcast
Promoting your podcast is key since you want to get the word out while building your writing career. Here are some ways to promote your podcast:
Social media: Whether you love it or hate it, social media is a great way to promote your podcast. You can tell people when a new episode is up or create a live video of a behind the scenes version of your podcast. Almost everyone you know may have two or more social media accounts.
Promote it on your blog: If you have a Wordpress self-hosted blog, then this is a great way to point your audience to your home base. Having a blog is an added bonus to your podcast since people will be asking where they can learn more about you and what you do. You can have archived episodes, blog posts, products, or services that you sell and more.
Have your guests promote their interview: One of the many benefits of having an interview-style podcast is that you can ask your guests to promote their episodes on their social networks. After all, they are promoting themselves, too. It's less work on your part when you can have other people promote your podcast for you. I had a guest that shared her interview on my show to her Facebook page with over eight million followers.
Ask for reviews and ratings: When you have a high number of five-star ratings and reviews, your podcast has more visibility, or at least that's the rumor when your podcast is on Apple. It never hurts to have great reviews because you can also use those as social proof to attract more listeners to your show.
Join podcast networks: Another great thing about podcasting is the community. The podcasting community is really there for you when you need help. There are so many podcast networks that can teach you how to promote your podcast, do swaps to rate and review your podcast show, and even promote the show within the network. Before you do start promoting your podcast in the podcasting networks, please read the guidelines, so you don't mistakenly do something that gets you banned from the network. Be respectful of the podcast networks that you're planning to join. Two podcast groups that you can join on Facebook are She Podcasts and Podcast Movement.
Promote it in your newsletter: If you have already built a list of people you send email to on a daily, weekly, or monthly basis, then you can also share your latest episodes to your email list.
Get interviewed on podcasts: Another great way to promote your show is to become a guest on other people's podcasts. You can share your story and also promote your show, products, and/or services. A great way to have the opportunity to be on other people's shows is by joining the podcast network groups.
Podcasts Hosted By Women For Women
Some great shows that are hosted for women by women that you can check out are the following:
On my website, I have also created "The Ultimate List Of Podcasts Hosted By Asian Women" which is a list of great podcasts run by women of Asian descent or have an Asian female co-host.
Podcasting is one of the greatest platforms to start building more presence for your writing career. It takes work on your part, but the work pays off; and you never know where podcasting can take you in your career. The possibilities are endless. You are creating a positive impact on others and yourself while having the freedom to express your true self. Start creating your podcast today!
***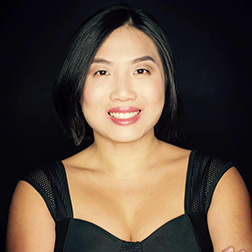 Sheena Yap Chan is the creator and host of the podcast, The Tao of Self Confidence, where she interviews Asian women through their inner journey to self-confidence. Her purpose of the podcast is to help Asian women build their self-confidence and create a stronger representation of Asian women. Sheena has also written for sites such as Mindvalley and Mumbrella Asia.
Connect with Sheena:
Website: www.thetaoofselfconfidence.com
Facebook: www.facebook.com/thetaoofselfconfidence
Twitter: @thetaoofsc
Instagram: @thetaoofselfconfidence
LinkedIn: www.linkedin.com/company/the-tao-of-self-confidence
-----
Related article:
The Digital Affair: Podcasting Marries Printed and Spoken Words