ou've got your first book of poetry. Congratulations! But now you have to turn your creative talents to marketing, and that can be a confusing or scary process for new poets. I sat down with poet and journalist Marybeth Niederkorn to discuss her successful book launch and how poets and authors can use the media in their marketing strategy.
Marybeth Niederkorn is an award-winning journalist for the Southeast Missourian with a master's degree in professional writing and publishing. It's safe to say she knows a thing or two about the publishing industry. Her first book of poetry, Times Knew Roamin', was released by Spartan Press in January.
***
WOW: Welcome, Marybeth. Thank you for joining me today and letting me pick your brain about media and marketing. You recently held a successful book launch for Times Knew Roamin', your first published collection of poetry. Book launches can be tricky, though, especially for a poetry book which doesn't always get the same kind of coverage that a fiction or non-fiction book might get. Can you tell us a little about yours?
Marybeth: Ah, yes. Poetry is a little bit niche. My book launch was held in the middle of February at the Cape Girardeau County History Center, in uptown Jackson, Missouri. I had thought about holding my book launch at a bar or at a coffee shop. I even flirted with the idea of talking to a gallery owner and seeing if I could hold it there; but the more I visited spaces the more I realized that I really wanted this to be in a space rich in history, in my hometown, close to my house with people I know and care about. And I thought, History Center.
And they were thrilled. Carla Jordan, who is the director there—I know her professionally through my work at the Southeast Missourian. I called Carla up one day, and I asked her if that was something she would be interested in hosting. She said, "Yes, absolutely." We talked about a date that would work for both of us, and I had in mind that I wanted it to be in the middle of the week in the evening.
I thought Tuesday night is as good as any night. Carla and a couple volunteers were kind enough to stay after regular operating hours. They set up chairs. They set up refreshments. They had a microphone set up for me. They just really went all out; and it was really cool, because all of the displays were up. The people who attended the reading were mostly friends, family, coworkers, with a couple city administrators thrown in there, which was hilarious.
WOW: Yes, you had the mayor come to it, too.
Marybeth: Yes, the mayor walked in just as I sold my last book. I only had about thirteen books with me because for one thing that was as many books as I had on hand; and for another thing, I thought: well, surely I'm not going to have thirteen people want to buy a book. So, if you're going to have a book launch, have more than thirteen books.
WOW: Always good advice to have enough books on hand at your book launch.
Marybeth: Well, I wasn't sure how many people were going to show up because the Facebook event I created had eight people who were confirmed coming, and six of those people didn't show up.
"If you're going to have a book launch, have more than thirteen books."
WOW: About how many people do you think actually did come?
Marybeth: There were about thirty people all together, and only two of those had RSVP'd. And I think I was one of them. But, it was really well-attended, and I was so thrilled that people came out on a rainy Tuesday night to listen to me read from a book of poems about me driving back and forth to teach people how to write sentences with commas in them.
WOW: Very niche there.
Marybeth: That's what I thought. I was anticipating selling three or four copies to my mom, who is wonderful and very supportive, and I was pretty sure she was the only person who was going to buy any copies. I just didn't think this book had that wide of an appeal. I was wrong, but I'm okay with that. Sometimes it's okay to be wrong.
WOW: Especially when it means you sell more books. What are things you did to promote your book that you would encourage someone planning their first book launch to do?
Marybeth: Write a press release. Put your contact information at the top: your name, your working phone number, your email address. This sounds obvious, but do that.
A press release does not have to be a terribly formal thing. The shorter the better, as long as it gets the information out. They're usually a paragraph, a paragraph and a half long. They can even be bullet points if that's more comfortable. You know the five Ws of journalism: who, what, when, where, why. Answer those five Ws. One bullet each. You're done.
Once you have that press release written and you send it to your beta readers, and they give you feedback, listen to it. They should be able to tell you if there are any gaps in explanations.
"A press release does not have to be a terribly formal thing. The shorter the better, as long as it gets the information out."
WOW: Once you have a press release written and edited, who do you send it to?
Marybeth: You send it to media outlets. This is very important. Think about your hometown newspaper and look at a radius of about thirty or forty miles—however long you'd be willing to drive to have an event. Look at all the newspapers, radio stations, television stations. Find out if there are any podcasts in your area. Facebook has a nice feature for that, where you search for podcasts in your area. Do an online search for podcasts to promote your book, and find your contact person.
I was pointed toward a local radio station host, Faune Riggin, KZIM-KSIM. She has a show where she spotlights local talent. It's a good idea anyway to familiarize yourself with the people in your local media who handle stories about local artists doing cool things. Those are the people you want to contact.
And I realize it can be fairly intimidating to send things to members of the media, but if you are polite and straightforward and don't waste their time, they're usually pretty receptive. By which I mean, in the email that you send to them (because their email should be readily accessible with a simple web search), your basic email is:
Dear Whoever,
I have this new book out. There is an attached press release. Let me know if you have questions. I'd love to talk about a feature if you're interested.
Boom. That's all you need. And then of course attach the press release. It's very important.
The media people will usually dictate things like: I'll need "this kind of publicity photo." And a publicity photo? One of the publicity photos I sent to a newspaper that did a story on me was: I used the timer function on my camera phone, put my phone in a tree, and took a picture of myself with my book and my car. So, it does not have to be fancy.
WOW: So, to summarize a little, the important thing is to be concise and polite in all your interactions with the media. As a media person, what do you wish you could tell artists, poets, and writers about contacting media?
Marybeth: I love to hear from people who are promoting their work, but I would strongly recommend that before you submit any of this information to anyone, you familiarize yourself with their body of work. It's just like any other publication, right? You want to know what they do to make sure that what you want fits with what they do.
WOW: So that the reporter or whomever will be more receptive to them?
Marybeth: Right. Well, media people have a lot of room to fill, and it can be very difficult to generate enough content to fill all that space. So, media people are usually interested in learning more about things people are doing locally.
That said, the newspaper that I work for, until March 29, the Southeast Missourian, did not do book reviews. We will occasionally profile a local author who has a new book out, but we don't do book reviews. I say this because there is a particular publicist who faxes books synopses to my newspaper and probably to every newspaper across the country. Every single one of these synopses gets thrown in the trash because we don't do book reviews. We don't do anything that doesn't have a local tie.
Some local newspapers are very interested in writing about you and your book. Some newspapers might not be, but you don't know unless you ask. I would recommend not being afraid to talk to media people because I promise you media people are in fact people.
It's very helpful, also, to do practice interviews with your friends, so that you get a little more comfortable answering questions that you didn't get to look at beforehand.
"Authors should do the types of promotion that they feel comfortable doing."
WOW: This is all really great advice. Besides traditional media outlets, what suggestions do you have for poets looking for ways to promote their books?
Marybeth: I think it's an important point to note that authors should do the types of promotion that they feel comfortable doing. There are some great tools out there that will post across multiple platforms for you. Say you have a Facebook, a Twitter, and an Instagram account. There are tools that will help you promote across all the platforms [Editor's note: Hootsuite is a good tool to check out].
For me, I have a Goodreads page as well. I rarely use Instagram, but I have an Instagram page. I have a Facebook author page (which you're welcome to come and like for updates and appearances). I do that, and I have an author website.
But I don't spend much time on Twitter at all. I'm not very comfortable on Twitter, and I think that comes across. I don't want people's impression of me to be one of deep discomfort. That's kind of my rule of thumb. If I feel comfortable on it, then I'll go ahead and do it.
Having business cards is generally pretty good, provided it has your name and ways to get in contact with you. But I would personally recommend against having your home address on them. The world is full of people who would happily use your information against you.
I've toyed with the idea of doing more, such as setting up an online store through Café Press or Zazzle that would allow me to put my book cover or my author logo (or what have you) on different products. Because everyone needs a pair of leggings that says MarybethNiederkorn.com across them. I think I'm going to hold off on that for a minute. Maybe that's the next book promotion.
WOW: On that note, why don't you tell me what you plan to do next?
Marybeth: Right now I am focused on promoting my book. I've appeared on a podcast. Sanesplaining, run by a friend of mine from graduate school, was a lot of fun. And I am going to be appearing on another podcast in the coming weeks. Those are a really fun way to get the word out about your book to people. The people who listen to a poetry podcast are looking for poetry, so you have a pretty good shot at landing at least somebody who might be marginally interested in what you're doing. Podcasts, good things.
I am working on a novel manuscript that I've been working on for several months; and between that, I am writing more poems that I hope will start to coalesce into another collection because that's kind of how Times Knew Roamin' happened. I started writing poems in 2016, as a response to the frustration I was feeling at the time. I had about ten poems in this collection, and I thought I'd make a chapbook and it'd be great; then a couple of poems in that collection were accepted for publication in a literary magazine called The Gasconade Review, up near Belle, Missouri.
The acquisitions editor for Spartan Press contacted me and said, "Hey, do you have a full-length manuscript?"
And I said, "I will." Three months later, I had written a full-length poetry manuscript, and my friend and colleague at the Southeast Missourian, Kassi Jackson, shot the cover and my author photo and—slap, bam, wallop—I had a book.
"You never know what career trajectory other people who are at your same level are going to be on."
WOW: So what I'm hearing is you really benefited from your networking.
Marybeth: Yes, I networked. Networking now is much easier than it used to be, but there are some things you need to keep in mind. For me, the networking I did started as an undergraduate in college. I took creative writing classes. We had workshop-style classes. I kept in touch with some of the people from some of those classes because their writing appealed to me and because they gave me useful feedback. Useful feedback. Useful feedback!
Anyone who has taken a workshop class knows that there are always going to be people who give standout advice. I didn't always agree with their advice, but I definitely saw the value in it and continued to keep in touch with them over the years. Back then, you pretty much had to workshop in a physical space because you had to do everything on hard copies. That's no longer the case, fortunately. Over the years, after my undergraduate degree, I joined a local writer's group, which met at the library, and I networked with several people there. I went to a state writer's guild conference and met a lot of people there. Including Margo Dill!
WOW: Who just happens to be one of the editors of WOW!
Marybeth: Right, and that's something that I have found that has remained true. You never know what career trajectory other people who are at your same level are going to be on. It's been my experience that surrounding yourself with people who are encouraging but only enthusiastically encouraging about things they believe in. You don't want to surround yourself with yes-men, but you also don't necessarily want to surround yourself with people who will do nothing but nitpick and criticize—harshly criticize. You have to be able to take constructive criticism but it's important that criticism comes from a place of respect and wanting to help each other grow.
WOW: For you, all that networking resulted in Times Knew Roamin'. What would you say to poets who are sending out their work and just beginning to build their networking contacts?
Marybeth: There is a school of thought that says you should always get paid for you writing. I think there's a lot of merit to that. I think it's very important for a writer's work to be valued. But, I also think there is value in finding people you trust, who are doing something that makes sense with your work, and it might lead to something that will lead to a paying market.
I think it's important to think very carefully about what publications you're submitting to and why. Not just: "Does my work fit in with this place?" But also: "Is this part of the overall picture that I want my work to be part of?"
The Gasconade Review didn't pay me anything—they paid in contributor's copies—but that led to a book deal. I think it's important to keep your options open, but I also respect people whose views differ on that.
"The Gasconade Review didn't pay me anything—they paid in contributor's copies—but that led to a book deal."
WOW: All right, to come back to when you've already got the book, what do you feel is important for a first-time poet to do after the initial promoting is done?
Marybeth: I'm kind of in that phase now. I've been promoting it for a few weeks, and I've gone to a couple events; I've done a couple podcasts. I think the important thing is to not stop writing. Carry forward on your own momentum. Keep working. Have as many projects going as you can reasonably sustain.
Don't be afraid to take chances either. The History Center had never hosted a book launch or poetry reading before. Just because they've never done it doesn't mean they wouldn't be interested in doing it. But if you're going to cold call a place, I'd suggest at least going in and visiting and introducing yourself before you have a book to promote. Make sure the owner of the place knows you and knows who you are. That way, whenever you are finished with your book in six months, and you want them to have a book reading, it's not going to be coming out of nowhere.
And obviously local bookstores. Talk to the people at your local Barnes & Noble, for instance. Sometimes they have the leeway to have a local author in for an event. It just depends on a lot of factors. It can't hurt to ask. Your local bookstores, your chain bookstores, don't rule them out.
If your book has to do with music, talk to record stores. If it has to do with art, talk to art galleries. If it has to do with sandwiches, talk to delis. Don't be afraid to think outside the box.
"Poetry is deeply important, now more so than ever."
WOW: Well, it looks like we're about to wrap this up here. Is there anything you'd like to say to the readership of this special poetry edition?
Marybeth: I think poetry is deeply important, now more so than ever. It's a great way to get thoughtful dialogue started, which I think is very important, especially when the online culture is everyone shouting and no one hearing each other. Poetry gives us a chance to meet each other on different ground, and maybe listen for a moment. I think that connection is so important, especially today.
That, and poetry is a much smaller emotional investment and time commitment than, say, a novel. So, read more poetry!
WOW: Maybe like Times Knew Roamin'. Thank you, Marybeth, for talking with me. It was an informative conversation.
*
About the book: Times Knew Roamin' will take you on a journey down the narrow, winding Highway 32W and along the way you'll visit Bugs Bunny in drag, the unpublished Rene Descartes musical, and students who just can't get their fonts right. You'll also experience the weight of broken lives being rebuilt, finding strength where there wasn't any before, and the joy of watching someone succeed. Times Knew Roamin' is a poetry collection made for someone who just likes to read, no poetry background necessary.
***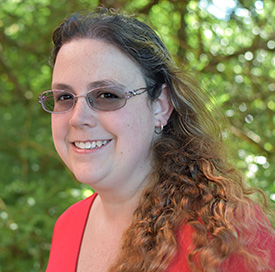 Shana Scott is a digital archivist and content specialist with a master's degree in professional writing and publishing. She's a member of SFWA, and her work has been published in magazines, anthologies, and podcasts, such as Escape Pod, Gothic Fantasy: Agents & Spies, and Wild Musette. Currently, she writes about the craft of world-building on her blog, Woman in the Red Room.