Note to Contestants:
We want to thank each and every one of you for sharing your wonderful essays with our guest judges this season. We know it takes a lot to hit the send button! While we'd love to give every contestant a prize, just for your writing efforts, that wouldn't be much of a competition. One of the hardest things we do after a contest ends is to confirm that someone didn't place in the winners' circle. But, believe it when we say that every one of you is a true winner.
Every writer has been a gracious participant through the whole process, from the beginning of one season to the next. We've written emails to authors, agents, and publicists who have donated books to our contest, and we've shared our delight regarding the true sportsmanship among our contestants. It doesn't matter if it's one writer who placed or another who tried but didn't; all writers are courteous, professional, and wonderful extensions of WOW! Women On Writing's team. Writers' essays and e-mails fill us with enthusiasm.
Kudos to all writers who entered, whether you won or not, you're still a winner for participating.
***
To recap our current process, we have a roundtable of 4-7 judges who blindly score equally formatted submissions based on: Subject, Content, Technical, and Overall Impression (Style). That's the first step of the process. If a contestant scores well on the first round, she receives an e-mail notification that she passed the initial judging phase. The second round judging averages out scores and narrows down the top 20 entries. From this point, our guest judge helps to determine the First, Second, and Third Place Winners, followed by the Runners Up.
As with any contest, judging so many talented writers is not a simple process. With blind judging, all contestants start from the same point, no matter the skill level, experience, or writing credentials. It's the writer's essay and voice that shines through, along with the originality, powerful and clear writing, and the writer's heart.
***
We've enjoyed reading your essays, each and every one of them. The WOW! Women On Writing judges take time to read them all. We recognize names of previous contestants, writers familiar with our style. We enjoy getting to know you through your writing and e-mailing. Remember that each one of you is a champion in our book. We hope that you continue to enter so we can watch you grow as writers and essayists, because each season is a rebirth of opportunity.
Now on to the winners!
Drum roll please....
1
st
Place: Adriana Páramo
Doha, Qatar
Congratulations, Adriana!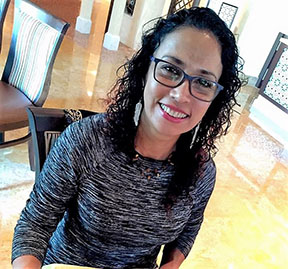 Adriana's Bio:
Adriana Páramo is a Latina cultural anthropologist, writer and women's rights advocate. She is the author of Looking for Esperanza, and My Mother's Funeral. Her essays have appeared in multiple literary magazines and been noted in The Best American Essays of 2012, 2013 and 2014. In 2014, she was named as one of the top ten Latino authors in the USA.
She teaches in the low-residency MFA program at Fairfield University and is an alumna of the travel writing workshop of VONA—Voices of Our Nations Arts Foundation—a community of writers of color.
She currently writes from Qatar, a place she considers home and where, oddly enough, she works as a yoga and zumba instructor.
She tries to keep a travel blog at:
www.paramoadriana.com/travel-blog
. Visit her website at:
www.paramoadriana.com
.
Let's Kill Your Grandfather Together
Dear Julie,
We are inside the studio where I teach yoga. After one hour of restorative poses, I ask the class to rest in Savasana—corpse pose. The studio grows quiet and everyone surrenders in complete stillness to their yoga mats, like milk spilled over marble.
I unfold a Mexican blanket and tuck you in.
I soak my hands in Navratna oil, I let its nine Indian herbs soak my palms and fingers, rub my hands vigorously to generate heat, place them above your nose, and let you inhale the oil to signal that I'm about to lay hands on your head. I start small and light, as if asking for your permission to proceed. I place my thumbs right at the center of your forehead and press your temples with the remaining fingers, I press and release. Move the thumbs to the birth of your eye brows. Press and release. I walk my thumbs towards the outer edges of your brows. Press and release. The oil smells of eucalyptus and flowers, of sticks and shrubs, of smoke and cinnamon. I pray the smells keep you grounded. Right here, on the mat, hearing each other's breath.
I study your face as I move my oil-soaked hands towards your neck. Your lips quiver. They do now, but you used to firmly press them together to stop the sobs from alarming the class. Who taught you to cry that hard without making a sound? From the first time I held your tears in my hands, I understood that you had been carrying a heavy cross all your life. You were wounded, scarred, and wounded again. I understood that you were in a perpetual state of mourning. That your loss, whatever it was, could never be compared to the sum of mine, that the arch of your pain included me and all the women laying quietly on their yoga mats around us, and the women in our past and present lives, and those beyond geographical mountains and spiritual oceans. That what you had lost at eleven years old robbed you of your ability to love and feel loved, to give and being gifted, to share and to receive.
And that's why you cry when I touch you.
You inhale the eucalyptus. I hear your breathing change from that frantic staccato that's its native language, to a succession of deep, controlled ins and outs. I knead the soft flesh of your nape. I infuse my love into you. I will my fingers to transmit more than physical comfort into your being. I distribute my fingertips evenly around your skull and make tiny circles, hard tiny, soft tiny, until the circles get bigger and bigger and concentric and frantic, and in an arresting instant I forget what I'm doing and let an infinite tenderness take over.
Don't be alarmed by my touch. Let me turn you on your left side and wrap my arms around you. I'm always warm. I'm not afraid of human contact. Don't be alarmed by my proximity. I'm going to lay there and glue my chest to the bones of your spine, let our hearts beat in perfect synch until neither of us can tell them apart. Your heart and mine. I'm going to hold you tight until the memories of the monster who destroyed your life fade into the mat, until the unspoken, unnamed, unrecognized anger in you disappears, like smoke. Let me be the sister you never had. Your partner in crime, and when I say crime, I mean it in every sense of the word.
Let's kill your grandfather together.
Let's get into the garden shed behind your grandmother's house and strike him down with the same iron rod he soaked in your blood forty years ago. Let's put him in a trance, so that he can watch and feel, but not move, as we peel off shards of his leathery skin, then feed it to the dog you were so afraid of. Let's tie your blond braids in knots around his neck while we sip champagne and watch silently until his heart nearly stops. Then we will let him live, only to kill him again. Let's put him on a raft at the edge of the Victoria Falls, let him see the drop, let fear burn his eyes like cigarettes, let him scream words of repentance and beg for your forgiveness. Then you'll say, "No, grandfather, too late, not enough," and push the raft off the cliff. Let's put him on all fours, against the wall, bent and humiliated over the work bench and enter him with the fury of the screams that should have left your prepubescent mouth but didn't. Let's force his jaws wide open, the way he did yours every Sunday; let's dislodge them, make them crack like twigs in the fire until his throat burns with the flames of his own bile. I will be there, still holding you in my arms. And I won't let up until he dies in your head. Until we both kill him with the sheer power of our embrace.
But of course, I don't do any of this. I'm just your yoga instructor, and this is neither my journey nor my fight; it's all yours. All I can do is watch you swim to the other side of pain and cheer you on. So, I revert to what I am, I slip my hands under the blanket, tap your hands lightly to remind you to let go of the fists. There is no one to fight off here. You are in yoga class, surrounded by other scarred women. Sweet, triumphant warriors. We are wounded war veterans. We have prolapsed bladders, and extra pounds, and age moles and grey hair. Breathe the way I have taught you; active diaphragm and quiet chest.
Keep your eyes closed.
The monsters are all in your head.
This, I promise you: You are safe.
***
What Adriana Won:
2
nd
Place: Aimee Carlson
Granger, Indiana
Congratulations, Aimee!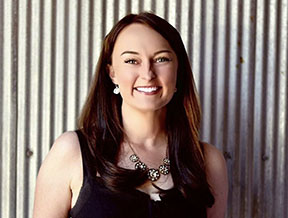 Aimee's Bio:
Aimee Carlson was born and raised in South Florida but she moved to Indiana thirteen years ago where she currently lives with her husband and three dogs. She loves life and strives to live every day to the fullest. Her favorite type of writing involves taking a difficult situation and helping others to find the humor in it. Forever the adventurist, her hobbies vary widely, including everything from writing to ghost hunting. She's always willing to try something new and never says no to a good time. This leads to many embarrassing stories which you can read more about on her blog, The Rant Farm. She has been a featured writer in The Mamalogues and has been a contributing writer on various websites. She is currently working on a new humor piece and is in the process of writing her first novel. Visit her blog at the-rant-farm.blogspot.com.
Inconceivable
A lot of couples struggle with infertility. It's frustrating and, oftentimes, humiliating. The only saving grace is that sometimes you just have to laugh at the absurdity of it all. My husband and I knew something wasn't right after years of trying to conceive without success. Our first step was to our regular doctor who suggested fertility medication and timed intercourse. If you've never tried this, I can tell you that there's nothing sexier than a bottle of lube and an egg timer. It became evident rather quickly that this avenue was not going to work for us. My husband was frequently out of town. He was adamant that the timed intercourse had to be with him so that significantly limited my options.
Since this was not going to be an option, the next step was to see a specialist. Living in a small city, our options were limited. As a result, our first appointment was via Skype. It wasn't the first time I had discussed my genitals on a webcam but this seemed slightly more awkward and clinical.
Next, we had to meet in person to go over details. The first thing Dr. Baby Maker did was pull out an anatomy book. I must have turned a little green and I looked at my husband.
"What?" he asked me.
"Is that what my vagina looks like?"
Not fully understanding my disgust, he replied, "Well, yeah."
"That's awful! Why the heck aren't you a homosexual?" I crossed my legs a little tighter.
The doctor explained that he believed I had something called polycystic ovarian syndrome and told me they could do a quick ultrasound to confirm the diagnosis. I climbed onto the table and pulled up my shirt, exposing my stomach, when I received another sigh of exasperation from our doctor. "No, ma'am, I'm going to need you to get undressed." I was confused but I've never really shied away from taking off my clothes for hot doctors. He put my feet in stirrups and pulled out a large wand. He didn't think it was funny when I asked if they had one with batteries. The experience was not as enjoyable as I thought but, in typical fashion, he probably just didn't do it long enough.
The diagnosis was as expected. I was left to get dressed and meet him back in his office. I hung my head, a little sad knowing that there was something wrong but I pushed it aside, pulled my pants on (making a mental note to bedazzle my vagina before our next visit), and marched back into the office. The first thing he told me was to change the way I was eating and to start exercising because weight played a role in this disorder. There was no better way to kick a girl when she was already down. "Don't worry; you could probably have babies if you were skinnier. Just eat a little more broccoli and a little less Ben and Jerry's." I fought the urge to kick him in the shin.
It was determined that in vitro was our best option. He went over the procedure using that horrific anatomy book. He then brought up the subject of frozen embryos. Basically, he wanted to know if we had remaining embryos, whether or not we would be interested in donating them to another couple. My mind jumped to the worst case scenario. What if they ended up in school together? What if they fell in love? What if they got married? Was I condemning my children to possible incest? My mind went through every soap opera episode that I had ever seen.
They sent us home with a prescription for hormones and an empty wallet. The hormones were a struggle. While I don't have a fear of needles, it felt wrong to be injecting something into yourself that you knew was going to make you crazy. And crazy I was. I cried at everything for no particular reason. I would actually laugh at myself while crying because I was crying for no reason. My husband would ask me, from a safe distance away, if I was okay. He would barely wait for an answer before rushing away to plot how he was going to get me to the hospital for a psychological evaluation and fitted for a straight jacket.
Luckily, the hormones leveled out in time for my retrieval. When they mentioned egg retrieval, I immediately thought of a bunny pulling brightly colored eggs from my ovaries. This turned out to be inaccurate. Instead, I got a world of pain and nausea while recovering from anesthesia.
My husband had stayed by my side through this ordeal, so I felt obligated to be supportive when it was time for his end of the bargain. He looked at me, cup in hand, and said, "I'm not sure how I feel about this."
I looked lovingly at him and then looked at my feet up in stirrups and the current small crowd that was forming between my legs with my vagina as the life of the party. With every ounce of sympathy that I could muster, I looked up at him and said, "I'm sorry you have to watch porn and have an orgasm. Seriously, honey, thanks for taking one for the team."
Before I knew it, the procedure was over. I apparently apologized to the doctor for falling asleep while he was talking to me and completely missed my head when trying to point to my big brain while telling everyone how smart I was. I'm sure I was incredibly embarrassing and my husband couldn't wait to get me out of there. So, he put me in the car and got to enjoy the three-hour ride home with a drugged up wife who thought she was a fantastic singer, impressionist, and comedian. We weren't successful but we made it through the ordeal together and even managed to have some laughs along the way.
***
What Aimee Won:
3
rd
Place: Jeanne Golden-Burke
Phoenix, Arizona
Congratulations, Jeanne!
Jeanne's Bio:
Jeanne Golden-Burke is a financial consultant in the healthcare industry and lives in Phoenix, AZ with her husband and 3 four-legged furry friends.
A deep fascination with the minds of serial killers inspired her to earn a Master's degree in Forensic Psychology from John Jay College of Criminal Justice, where she lived in NYC for two years.
She likes nothing better than sitting down with a good book. And enjoys a variety of topics ranging from history (especially prominent women in history) to a good gory zombie novel! When she's not snuggled up with a good book, she loves to write and paint in her spare time.
A creative writing class in her undergrad years (and an active imagination) inspired her to put her stories to paper. And she's been tapping away at the keyboard ever since.
Letters You Never Read
Dear daddy, I believed you when you said you were sorry, even though I didn't understand. I didn't understand why you weren't coming home with us. Why you were staying behind the ominous grey walls and the iron bars designed to keep you in and me out. Why we could only visit you and not stay. My only memories contain family photos of you in a drab grey uniform, while our sweet faces gaze at the camera, bedecked in matching outfits designed by mother to be just so. Are we smiling because we were told to? Were you happy to see us?
Dear dad, I forgave you when you told my mother I was a bitch. You didn't see the shy sixteen-year-old, navigating the horrors of high school, bundled up in a coat, protection against the world. You didn't see my tears when mom came home drunk once again, stroking my brow and telling me how sorry she was. You weren't there every time the dreaded 72-hour eviction notice came and the weight it added to mom's already stooped shoulders. You didn't know that even the smallest conflict caused a pit in my stomach, an ache that is still familiar to this day. You didn't see how hard it was to choose to leave at sixteen, the hurt in her eyes when I told my mother that I was choosing me. If you can't see me, do I even exist?
Dear dad, I believed you when you said you were sorry, even though I didn't understand why you weren't there to see me walk down the aisle tasseled and gowned. One of many in a sea of black and orange, bearing a diploma you never saw. Swelled with pride but still missing, always missing something.
Dear dad, I believed you when you said you were different. When I allowed you to walk me down the aisle, dressed in white and shining with happiness. Passing me off to the man of my dreams. Allowing you to give permission that you never had the right to give. Sharing in the happiest day of my life, pictures of which I can never erase. A moment in time I refuse to allow you to ruin.
Dear father, I couldn't believe you when you said you didn't do it. As the fear shown in a little girl's face. As she hid from caseworkers and trembled in fear every time she saw a white truck pass by. As you passed the blame on to others. As I watched the tears roll down my sister's face reliving your sins, horrors that no person should have to bear once, much less again.
Dear sir, I don't believe you anymore as the tears roll down my face. As my heart feels ripped from my chest, as the anger eats at my soul.
To whom it may concern, I am disappointed that you could never just love us. I am angry that you couldn't be a better person. I am embarrassed that I ever let you in.
To the man who stole my innocence, know this, I am better than any road blocks you set in my way. I am stronger than you believed me to be. You don't define me, you never understood me, and you don't deserve me.
Dear me, I cry with you when the pain pulls on your soul, I am here for you when you cannot find solace, I am the one pushing you past the dark places and forcing you to see the light. I believe that you can feel peace, I believe that you can feel love and I know that you will find laughter.
***
What Jeanne Won:
THANK YOU TO OUR CONTEST SPONSOR:
It is the sincere desire of our sponsor that each writer will keep her focus and never give up. Mari L. McCarthy has kindly donated a prize to each winning contestant. All of the items in her shop are phenomenal and can help you reach your writing goals. Write on!
Journaling Power Heals The Issues In Your Tissues
As writers, we know the importance of keeping a journal and committing to Morning Pages. Mari L. McCarthy, The Journaling Guru and founder of CreateWriteNow, also knows this firsthand. Over twenty years ago, she was diagnosed with Multiple Sclerosis (MS) and lost the feeling and function of the right side of her body. The doctors weren't helping, and neither were the prescription drugs, so she turned to journaling as a way to heal and recapture her quality of life. Her transformation was nothing short of radical. Over the years, she's helped thousands of people put pen to paper and transform their lives, too. Her self-paced journaling courses are incredible and will inspire your best writing and best self. Journal every day and the possibilities are limitless.
Visit CreateWriteNow and find out more: www.createwritenow.com.
Thank you, Mari! You continue to inspire.
RUNNERS UP:
Congratulations to the runners-up! It was very close, and these essays are excellent in every way.
Click on the titles to read:
An Ordinary Woman by Pennie Stasik O'Grady, Seattle, Washington
The Rule Breaker by Sue Gano, Damascus, Oregon
Freezing Points by Marlena Bergeron, Evans, Georgia
Stuck by Sharon Gerger, Waterloo, Ontario, Canada
The Deep-Down Tumble by Jackie Pick, Chicago, Illinois
Fighting Woman by Opal Gayle, Granby, Massachusetts
I Know What She's Thinking by Ashley Memory, Asheboro, North Carolina
HONORABLE MENTIONS:
Congratulations to our Essay Contest Honorable Mentions! Your essays stood out and are excellent in every way.
Living the Dream of Perfectly Matched Socks by Barbara Altamirano, Watertown, Connecticut
Pure Imagination by Elizabeth Maria Naranjo, Tempe, Arizona
In the Morning Light by Shelley Smithson, East Lansing, Michigan
A Small, Short, Unforgettable Life by Felicia Silcox, Truckee, California
Re-Imagining Through Grief by Taprina Milburn, Edmond, Oklahoma
The Sandwich Years by Jill Pertler, Cloquet, Minnesota
The Weight of Good News by Elizabeth Leis Newman, Chicago, Illinois
Why Dad is in a Diaper Bag by April Moore, Fort Collins, Colorado
A Very Mary Pat Christmas by Shannon Stocker, Crestwood, Kentucky
We're All Cockroaches by Isabella Gibb, Boulder, Colorado
What the Honorable Mentions Won:
IN CLOSING:
This brings the Q2 2018 essay contest officially to a close! Although we're not able to send a special prize to every contestant, we will always give our heartfelt thanks for your participation and contribution, and for your part in making WOW! all that it can be. Each one of you has found the courage to enter, and that is a remarkable accomplishment in itself. We're looking forward to receiving your entries for our next contest. Best of luck, and write on!
Check out the latest Contests: