elly Sundberg is managing editor of Brevity: A Journal of Concise Literary Nonfiction. Published quarterly, Brevity features extremely brief (750 words or less) essays by well-known and emerging writers as well as essays on craft and book reviews.
In addition to her role as editor, Kelly is an acclaimed author, a doctoral candidate at Ohio University, and the single parent of a ten-year-old boy. Kelly began her blog, Apology not Accepted, after receiving a court-ordered letter of apology from her abusive ex-husband. Her essays have appeared or are forthcoming in Gulf Coast, Guernica, Slice, Denver Quarterly, The Rumpus, Mid-American Review, Quarterly West, PANK, The Collagist, The Los Angeles Review, and many other literary magazines. Her essay, "It Will Look Like a Sunset," was anthologized in Best American Essays, and her memoir which is based on that essay, is due out with HarperCollins in 2017.
Kelly agreed to share some insights with Women on Writing about survival, balance, and writing short.
WOW: Hi, Kelly. Thank you so much for taking the time to speak with us today. Can you tell us a little bit about how you came to be an editor at Brevity?
Kelly: The managing editor position has historically been held by a graduate student at Ohio University (where I am currently a doctoral candidate). I applied for the position in my first year, and Dinty W. Moore gave me the job. I'm so glad that he did. I think we have made a good team. I've been at Brevity for two years, and my term there is slated to end.
WOW: Many of us probably have a preconceived notion of what a managing editor does, but what is the reality of that role for you?
Kelly: We receive thousands of submissions, and I read every single submission that comes through our slush pile. We have volunteer readers who read every submission in addition to me. I take their votes into account, then decide whether to flag the piece as a "maybe" for Dinty, and he and I make the final decisions (really, he makes the final decisions, but he gives my voice some weight).
"We look for pieces that have a certain kind of compression to the language. I think that Dinty and I both favor intensity and lyricism."
WOW: That's a lot of reading! What are some things you take into consideration as you cull through that pile?
Kelly: We get so many wonderful submissions that the process is very difficult. We read all submissions with care. We look for pieces that have a certain kind of compression to the language. I think that Dinty and I both favor intensity and lyricism. Personally, I'm always looking for a satisfactory conclusion. I think that, in flash, there can be a tendency to leave situations dangling. I love ambiguity, but there has to be some kind of resolution at the end.
WOW: I think many writers attempting flash for the first time struggle with that, with how to keep the piece extremely short while still satisfying the reader. Compression of language is a great way of thinking about that and necessary in all short pieces, whether they be fiction or nonfiction. Is there a huge difference between flash fiction and flash nonfiction?
Kelly: I think that flash nonfiction has more in common with prose poetry than flash fiction. Flash nonfiction is not necessarily plot-based. Often, it's imagistic or metaphorical in a way that I find very powerful.
WOW: Brevity's website boasts over 10,000 visitors a month. What is it that draws readers to Brevity?
Kelly: First and foremost, I think that Brevity's appeal stems from the quality of the work we publish. In addition to that, I think that Brevity appeals to a variety of readers because of the easy access to the work online. We have everything arranged with tags, and it's a great educational resource for writing instructors. I also think we have community at Brevity, and that is due to the hard work of Dinty W. Moore. We have the blog and the Facebook group, and I feel as though I get to know the regular submitters and contributors. I'm going to be sad for my term to end, but I fully intend on staying a part of the community.
WOW: You mention regular contributors. What should writers keep in mind as they seek out that coveted spot? Any tips on what to avoid?
Kelly: I'm spoiled in that our submitters are thoughtful and make my job easy. They follow the submission guidelines, and they write great stuff. I love finding a piece that sparkles by a relatively unknown writer. It's so joyful to feel like we might be a part of the beginning of a wonderful writing career. I would say that I'm drawn to writing that is similar to my own aesthetic, which is probably normal. I'm also drawn to writing that is very different from my own. I think I always assume that everyone else is smarter/more talented/better at something than I am, so I give a lot of credit to writers who are using novel forms or challenging structures that I'm not comfortable with in my own writing.
WOW: Yet, with the number of submissions you receive, you have to say no to many pieces.
Kelly: Yes, but a rejection from us does not mean that it's not publishable. I've rejected many essays that I have later seen appear in fantastic journals.
WOW: Is that the hardest part of your job? Having to say no to pieces that are really great but just don't fit with the current issue?
Kelly: In all honesty, the content of the essays is the most challenging aspect. There is a lot of sadness in the world and a lot of grief. I feel like, as a reader of nonfiction submissions, I bear witness to much of that grief.
"Abuse thrives in silence, so I think it's important that people who are abused share their stories."
WOW: That's one of the things that has struck me when reading nonfiction too, the responsibility of bearing witness. Carolyn Forché addresses this with her work on Poetry of Witness. Forché says that sometimes a poem might be the only evidence that an event has occurred, and you've alluded to that. You told Melanie Bishop that sometimes you want to tell people, "Don't worry about me because I'm telling my story. Worry about all of the women who aren't telling their story."
Kelly: Abuse thrives in silence, so I think it's important that people who are abused share their stories. After I left my ex-husband, I told all of my best friends about the abuse because I knew they wouldn't let me return to him if they knew. In the process, I received their support, and I started on the journey of healing. But I don't necessarily think that everyone needs to write their story down. That is up to the individual.
WOW: Writing about something so personal can be really intense. What advice do you have for writers attempting that for the first time?
Kelly: If someone is trying to write their story, I'd suggest finding a couple of trusted first readers. That's what I had with my first essay about abuse. They read it and offered constructive criticism. They prepared me for the process of editing and revision that followed. With their help, I was able to get a certain distance from the piece, which was necessary for publication.
WOW: How has writing about the abuse affected your process?
Kelly: I started writing while I was still in the marriage, and the writing I wrote during that time had a certain restraint to it. When my agent read the manuscript of essays that I had written during the marriage, she said that the best comparison she could think of was Raymond Carver; so in a way, I was working in the school of minimalism. When I started writing about the abuse, that changed. The change was organic, but I didn't notice it until a judge for a contest I had entered described a piece as "maximalist." I realized that my writing had grown much rawer and much more graphic. I have accessed a different side of my artistic self, and I like this new voice.
"The essay went viral and catapulted my career."
WOW: Your voice has resonated with many, many readers. In fact, your piece "It Will Look Like a Sunset" brought national attention to both you and the topic of domestic abuse when it was published in Guernica and then discussed on NPR. How has that affected you? Did you set out to be a voice for other survivors?
Kelly: That essay completely transformed my life (in more ways than one). The essay went viral and catapulted my career. Because of the attention the essay received, I'm now working on a memoir, which will be released by HarperCollins in 2017. Personally, the essay has changed me too. In a sense, I have become a voice for other survivors, and I didn't intend for that, but I don't regret it. There are many, many voices in the world of survivors, and I'm grateful to add mine to the chorus. I'm grateful for the people who have come into my life as a result, and I'm grateful for the opportunity to give voice to stories that are often left voiceless.
WOW: So, what's next for you?
Kelly: Right now, I'm fully immersed in writing my memoir; and at this point, I'm trying not to think too much beyond that (although that's difficult because I also have my doctoral comprehensive exams coming up!). I have a fantastic editor at Harper who is helping me through every step of this book, and I'm going to a writer's residency in Belgium in June. I love the feeling of immersing myself in a project. There is something indescribable and beautiful about that, and I'm trying to enjoy it as much as I can.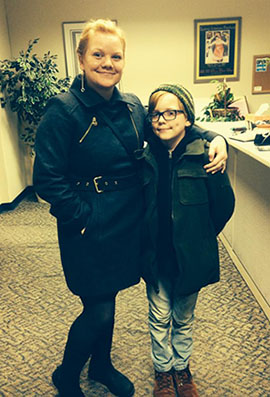 WOW: Congratulations on the memoir! It must be really rewarding to know that your story will be out there helping so many others recognize abuse in their own lives or the lives of those they care about. But it must be kind of scary, too. You've said before that you don't want the story of surviving abuse to be your only story or "the narrative that defines me."
Kelly: I think there is a certain stigma in the world of literary writing against writing about trauma. I've even heard people claim that having a trauma is some kind of privilege in the writing world. It's as if the writing can't be literary or sophisticated if it is about trauma. I'm not sure how a writer can combat the public's tendency to typecast them. I don't know that we have any control over the ways that people perceive us, so my personal goal is simply to work hard and be authentic. That's really all that I have control over.
WOW: Well, as a single parent who is working on a doctorate and a memoir, all while holding down the position of managing editor at Brevity, it seems you've really taken control of your life. You are certainly an inspiration to me. Thank you for taking the time to chat with WOW. We wish you the best with your upcoming memoir.
Kathy Higgs-Coulthard is founder and director of Michiana Writers' Center in Indiana, a fun job that provides just enough income to support her addictions: caramel macchiatos and frenzied bursts of caffeinated fiction writing. Kathy's debut middle-grade novel, Hanging with My Peeps, is available now through Amazon. You can visit her online at https://www.writewithkathy.com/.
-----
Enjoyed this article? Check out related articles on WOW!:
Talking Taboo in Memoir Writing
Strip and Go Naked with Lara Adair: Baring the Soul of the Personal Essay
Interview with Marcelle Soviero, Editor-in-Chief, Brain, Child