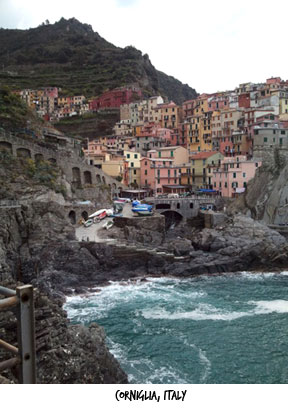 Dreams of Long-Term Travel—Closer Than You Think


he first thing visitors saw when they entered my apartment was a 5' x 4' section of wall that, with a few coats of paint, I had turned into a whiteboard. In teal, dry-erase marker I had written:
My Goal: To live without a permanent home for one year as of 7/7/11, doing things I've wanted to do for a while.
"One year?" friends asked. "You're not going to work at all? You're really moving out of your apartment? Where will you live?" I didn't have all the details worked out; but when you put a goal on your wall and tell everyone about it, prepare to be amazed.
During the next few months, I made a list of the "things I've wanted to do for a while." Return to Italy, visit friends along the east coast, take writing and blacksmithing classes, live someplace warmer for the winter, walk the Camino. I sold or gave away most of what I owned and let my apartment go. I informed my employers I'd be traveling for a year—and might not return.
This wasn't the first time I'd decided to leave gainful employment and comfortable housing to try something different. This was, however, the biggest venture yet. Through it all, the question few asked was, "How can you afford to do this?" Instead, they asked, "Two separate trips to Europe? How will you pay for that?"
"Frequent flyer miles," I answered.
"You've done a lot of traveling then?"
"No, but there are ways to get lots of miles without ever flying." I didn't know this when I set my goal. But I've learned that when I put my dreams out there, what I need starts to show up.
Intrigued? Wonder if you could do the same? You can. Here's how.
Set a Goal
Pick a place. Pick a date. Don't spend too much time debating. Where have you wanted to go? What have you always wanted to do? Write it down. Are the voices in your head saying, "You can't do that. Who will take care of the house?" Ignore them. Don't focus on how you'll do it. Those answers will come. Just write down the goal.
Save the Money
"Oh, but I don't have money to spare," some say. If you're absolutely sure that's true, stop reading. If you're willing to consider another idea, read on: You have the money; you just have to learn where to find two dollars a day. With that, you can go pretty much anywhere in three years. You'll have $2190 saved.
"That will barely cover my airfare to Thailand!" you might say. True, if you were going to pay full price for airfare, hotels, and food. But you're not. Want to get there in two years or less? Increase your savings. Here's how:
Make your own lunch twice a week. Savings: $14
Skip dinner out once a week. Cook instead. Or invite friends over for potluck. Or make sandwiches at home and have a picnic. Savings: $20
Going out for drinks? Have one instead of two. Savings: $6-10
Make your morning coffee at home. Savings: $1-4 per day
Invest in a reusable water bottle. Use it. Savings: $3-4 per week
Sell your stuff. I have yet to meet anyone that doesn't own something they don't need. Savings: Hundreds of dollars
Cheaper Flights
Earn frequent flyer miles without leaving the ground. I earned one hundred seventy-five thousand miles in one year (the average flight to Europe is fifty-five to sixty thousand miles). How? Delta had a dining program. Eat out, pay with a card you register with them (any card you already own), and they give you miles. Review the restaurant on their site? More miles. Buy Mother's Day flowers on their site? More miles. Check out travelhacking.org for more programs like these.
Credit card promotions can earn you thousands of miles, too. Check out cardsfortravel.com. I opened a card with Continental, used it once to buy gas, and earned myself forty thousand miles.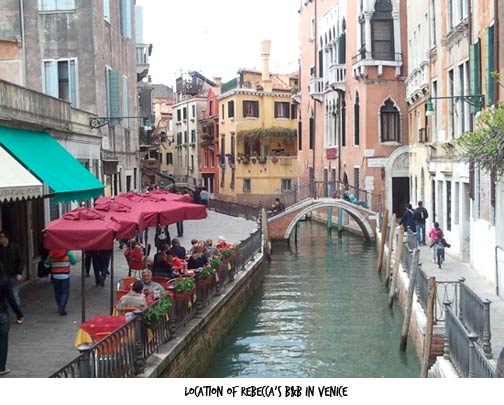 Alternatives to Hotels
Try B&Bs, Agriturismos, Apartments, Hostels. I just spent a week on the Italian coast. Hotel rooms cost $130/night, apartments $86/night. My hostel? $35/night. Hostels are not just for the young. I met people and families of all ages, taking advantage of this super-cheap alternative to hotels. Many offer private rooms with en suite bathrooms if sharing isn't your style. Be forewarned: You might meet an Australian guy traveling solo for three months, a pair of Hungarian filmmakers taking a vacation, a woman on her first solo trip in thirty years, or a young American couple two weeks into their month long tour of Europe.
Stay with the Locals. I've showed up on the doorsteps of strangers' homes and been welcomed in. To be fair, they knew I was coming thanks to the Internet. In Quebec City, I shared delicious meals on the patio with my host, while improving my French. I had my own room for two nights in Asheville—homemade puttanesca and dinner companions included. Servas and Couchsurfing.org match travelers with locals who want to open their homes to new people. If you're not Internet savvy or are curious, but a little leery of the whole idea, check out Servas. They interview all participants and still utilize paper communications. If you've used Craigslist, Facebook, or online dating to meet people, then you might find couchsurfing.org more your style. Set up a profile, add some pictures, and start searching for a host.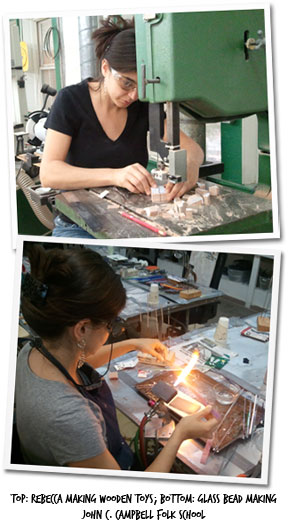 Look into a Work Exchange. Remember my goal to live someplace warmer for the winter? A friend offered the whole lower level of her house to me when she heard my desire. Bedroom, living room, kitchenette, screened porch. In exchange? I got to do what I absolutely love: decluttering. In this case, my rent was helping her organize a storage room. Tell everyone you know what you want to do, and watch doors open.
Want to try blacksmithing? Woodcarving? Glass bead making? Find a place that offers the classes you want, then see if they have a work-study program. I spent four months at a folk school taking all of the aforementioned classes—and ten more. I was given free room and board in exchange for working for the school. Cost to me? About $300 for materials.
Have an interest in doing some physical labor in exchange for free room and board and the chance to experience a culture through the eyes of the locals? Try WWOOF.org (Worldwide Organization of Organic Farms): Make cheese in Italy, birth sheep in Scotland, or build fences in Turkey.
Looking for a quiet place to write for a couple weeks, a month, longer? Check out caretaker.org: You'll get a list of people around the country and around the world looking for house sitters. Short-term, long-term, paid and unpaid.
Where to Sell Your Stuff
Clothes: I earned over $200 selling clothes I no longer wore. Bring your clean, still-in-style clothes to your local consignment shop. They'll sell them and give you a percentage of the sale.
Household items: There are consignment shops for these, too. Or hold a garage sale—easier to do if done with a friend.
Furniture: An ad on Craigslist can help you to sell bigger items (like that piece of furniture from your great aunt that's just not your style). Think it's valuable? Call an appraiser or your local antiques store and ask.
Save Money on Meals
Find an apartment or hostel that gives you access to a kitchen. Heading out to the tiny markets in town each day, I not only experienced the life of a local, but saved over $150 cooking one meal per day for myself. You can still experience the cuisine of your destination. But it's not necessary to eat out every lunch, every dinner, every day.
Don't sit down in a restaurant for every meal. In Italy, small shops sell pizza or foccacia or pastas-to-go. Grab something and sit in a piazza. Watch the people go by as you enjoy your meal. A slice of pizza for two Euros versus a sit-down lunch for upwards of ten can save a bundle in a hurry.
Choose a Different Destination
It might be more costly to fly to India, Southeast Asia, or South America; but once you get there, you can live like a king on a lot less than you'd spend for a few nights in Europe.
You don't have to write on your wall, sell most of what you own, or travel for a full year. Every journey begins with one step. What's your dream? Write it down. Then make it happen.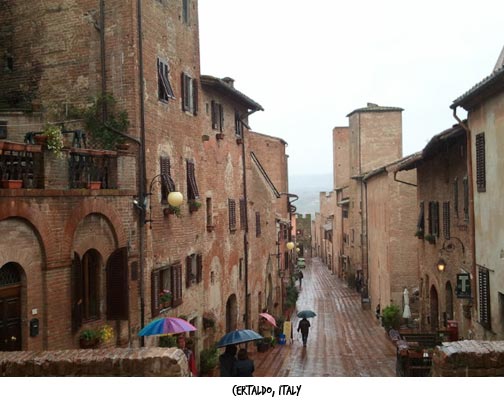 ***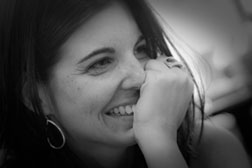 Rebecca Gallo has worked as a physical therapist, a park ranger, an anatomy and physiology instructor, and a computer consultant—sometimes all at the same time. She is currently a traveler who makes her home base in Hyde Park, NY. She's been published in the Wordplay Word-zine and blogs about her adventures at renaissancerebecca.wordpress.com.
---------------------------------------------------------------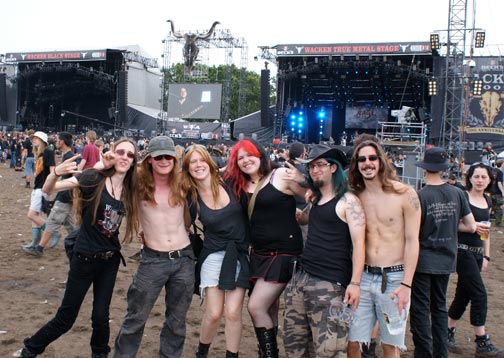 The Writer's Adventuring Toolkit:
Packing Essentials for the Traveling Writer

t's 2:00 a.m. I'm hunched over the table in a campervan in Northern Germany. Outside, a stampede of black-clad revelers return to their tents for the night, as the last, lingering guitar note fades into the distance. I'm at Wacken Open Air, the largest heavy metal music festival in the world; and I've spent all day chasing down bands, snapping pictures, and sampling German hot dogs. But now, I must write.
As a music/travel writer for my own heavy metal music and culture blog, I'm used to penning articles and crunching deadlines while I'm on the road. The life of a traveling writer can be exciting and adventurous, but it's also hard work. You spend your days experiencing a new culture, and your nights dissecting it on the page. You neglect your health, your sanity, and your favorite shoes to chase down a story; and you can't turn back if you forget something important. That's why, wherever I go, I pack my writer's adventuring toolkit.
The Writer's Adventuring Toolkit Includes:
1. A Notebook with Pouch
A notebook, the paper kind, is the obvious accessory for all traveling writers because you can take it anywhere you might not want to drag your laptop or smartphone. It's low cost and insanely portable; and if you lose it, you can usually find a replacement for a few bucks at a store nearby.
But why the pouch? Well, if you're working at festivals or press events, you'll spend a better part of your day shuffling various bits of promotional paper around your bag. Having a pouch to put them in is essential—otherwise you're pulling ticket stubs and record label catalogues from the depths of your purse for years to come. Need a mint next week? Without a pouch on your notebook, you'll get a crumpled festival program instead. Need a comb to style your hair before that big date? Here, have some museum exhibit pamphlets and a receipt for "currywurst und pommes frites."
The pouch also makes it easy for you to set aside receipts you need for tax purposes and store important documents like train tickets before you need them.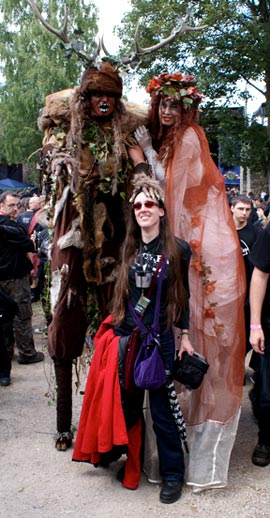 2. Sensible Shoes
Until you've actually attended a multi-day music festival, where the weather fluctuates from Sahara sunshine to downpours, causing gelatinous pools of mud in a matter of minutes; lived out of a tent or camper in a sea of unwashed metalhead humanity; or stood in front of a stage for seven hours, waiting for your favorite band to play, you might not appreciate the need for sensible travel shoes.
I've owned a pair of beaten-up steel-cap work boots for five years now, and those babies have traveled with me to nineteen countries and trekked through every kind of terrain imaginable. Yes, you have to take them off to go through airport security; but if a snake bites your toe or some burly German metalhead stands on your foot in the mosh pit, you're not going to be worried.
3. Non-Sensible Shoes
However, there are some occasions where my steel-cap boots just don't cut it. Sometimes a girl needs a pair of pretty heels—say, when meeting a writing client for lunch or attending a press or industry event.
Press events can be a cutthroat environment; and if you're the scruffy-looking chick standing in the back, you're probably not going to have much attention paid to you. No matter how long I'm traveling or how small my bag is, I make sure I have one outfit of tidy, presentable clothes and a pair of pretty shoes.
4. My E-reader
As a writer, I'm also a reader; and one of the luxuries of traveling is taking time out from everyday stresses to enjoy a good book (or twelve). E-reading devices like the Kindle and Kobo are beloved by traveling writers because we can carry around an entire sackful of books for under two hundred grams. Since I'm also legally blind, the ability to enlarge the print size is an added bonus.
I like to unplug as much as possible when traveling, even when I've got assignments to finish, so my Kobo doesn't have wireless. But I can store PDFs from clients to read as I travel, so I can keep up-to-date without having to switch on my laptop.
5. A Picture of my Cat
There are two reasons I always carry a picture of my kitty:
To remind me I actually want to go home.
When you're clamoring for space with twenty other media producers or you're the tenth writer interviewing a musician that day and he's about to launch into the same bored spiel, you can whip out that photo and lose him in a discussion about the antics of his various pets.
Sharing a picture of a cute kitty can be the ideal way to strike up conversation at a conference or gain that human connection to an interview subject—and it's this loveable element that makes the best writing.
6. Portable Clothesline
A portable clothesline is essentially two long pieces of elastic twisted together and tied with a hook at each end. You don't need pegs to dry your clothes—you either drape them over the line or push the corners through the twist, so the elastic holds them in place.
If, like me, you spend a lot of time hand-washing underwear and black t-shirts in hotel rooms, these lines are a must-have. You stretch them between window frames, drawer handles, and bed railings, giving you the instant ability to get clothes dry.
But the clothesline also has other uses. I've used it as emergency tent rope, bag-security device, shoelace replacement, and amusing booby trap. Just don't overstretch or overload it because this clothesline can really fly!
7. Postcard-sized Business Cards
Wherever I am, I've always got a stack of business cards in my wallet. But while I'm usually trying to cut down on bulky travel items, my postcard-sized business cards are definitely one oversized item that has to stay.
The truth is many people lose business cards. They amass stacks in their wallet and just throw them away. They drop them on the train. They leave them in their pockets when they put their jeans through the wash, and sometimes they make card castles that blow away in the wind.
Postcards are much larger, easier to read, and harder to lose. They create a visual impact that's hard to ignore. My postcards are printed with my artwork, my website and e-mail address, and a little about what I do. They double as a gift for kind strangers and a great networking tool for potential clients.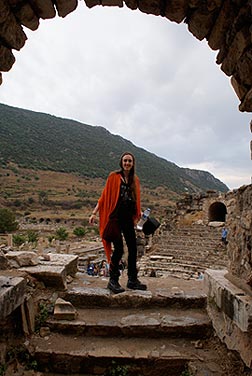 8. A Shawl
I am a light traveler, subsisting for long trips with nothing but a backpack. I am also a beanpole, which means I get cold easily. But when you've planned a long day of walking, you don't want to carry around a heavy jacket.
A shawl has several functions: you can spread it over you on planes or trains as a blanket, ball it up as a pillow, drape it over your shoulders to keep the cold off, jazz up any outfit with a bit of fancy knotting, tie it over your hair when entering religious establishments, and use it as a tent, if you're ever caught in the jungle with Bear Grylls (adventurer, and host of Man vs. Wild).
9. Adapter Plug
We writers carry around a few important devices: a Dictaphone, a smartphone, laptop, camera, portable printer, and a nostril hair trimmer . . . (Or is that just me?) You don't want to land in a foreign country and discover the plugs for these devices no longer fit conveniently into the wall.
Before you travel, make it a priority to find out the voltage and plug fittings of your destination, and purchase an adapter plug or voltage transformer.
10. A List of Handy Local Phrases
When traveling in countries where the majority of people speak a different language, I believe it's polite to try and learn a few words. This helps you communicate simple needs and gives you some, albeit small, means of striking up conversation. It also helps when interviewing people or trying to decipher onstage banter between musicians.
As well as learning the basics (hello/goodbye, yes/no, the numbers one to ten), I think it's a great idea to learn a couple of phrases that will make someone laugh. For the Wacken Open Air festival, I made sure to memorize the following German phrases:
"Guten tag!" – Hello! Good Day!
"Wenn kommt Morbid Angel?" – "When are Morbid Angel coming on?"
"Wo gibt es Bier?" – "Where is the beer?"
"Ich brauche mehr Bier!" – "I need more beer!"
"Gib mir mehr Bier!" – "Give me more beer!"
"Das war zu viel Bier. Wo gibts die Toilette?" - "That was too much beer. Where's the toilet?"
The writer's adventuring toolkit can be adapted to suit your own writing and traveling style. But wherever you are, whoever you're with, as long as you've got a pen in hand and a story in your heart, you're going to be just fine.
Writers, what's in your adventuring toolkit?
***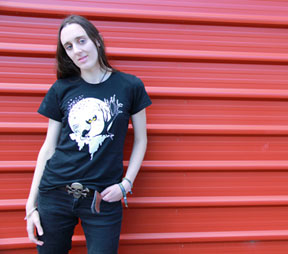 Steff Metal is a writer, blogger, and heavy metal maiden who travels the world stalking her favorite bands and questing after the perfect sausage rolls. She writes about heavy metal at Steff Metal; and her creative copywriting business, Grymm & Epic, helps creative business owners get their ideas off the ground. She's the author of the Grymm & Epic Guide to Blogging, which helps bloggers create engaging sites that attract like-minded followers.
---------------------------------------------------------------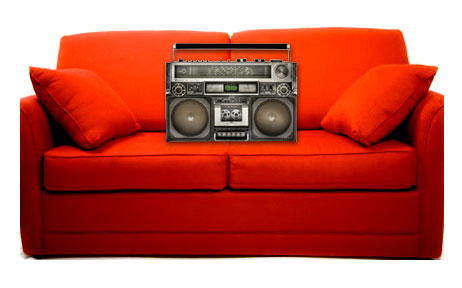 How Background Noise Becomes My Writing Soundtrack While Moving from Couch-to-Couch Every Week

've been on the road for over two years, moving to a new L.A. couch every week. If there's an award for "Writing with the Most Distractions on a Weekly Basis," I would win it. If you think you need complete silence to write, keep reading.
It started in the summer of 2009. I was finally living in New York City, a lifelong dream; script coordinating on a new TV show, which was sure to be a hit; had a great boyfriend; and the cutest walk-up apartment in the West Village. That winter, I lost them all. Plus, I had nearly $100,000 in student loan debt that could be deferred no longer, and I owed a few friends money to boot.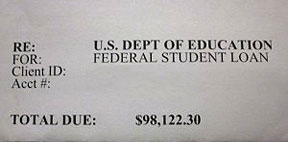 My only choice was to move back to L.A., where all my potential job contacts were, as I had worked in film and television there for the last decade. I may have been job/boyfriend/apartment-less, but at least I wasn't friend-less. At the time, these job contacts were among my 767 Facebook friends. In the past, whenever I needed something—from a phone charger to a laptop to a job—I'd post the request in my Facebook status and like magic, seemed to get it a moment later. I figured, why not do that for housing, too?
So I changed my Facebook status to: "Natalia Lusinski needs a couch to crash on for a few days" and hoped to find a new couch every week for a year, while I saved up money and paid off my friends and the Department of Education. Soon, I had so many housing offers, I could have sublet them out if I wanted to. As the weeks went on, I started writing a memoir entitled 52 Weeks, 52 Couches: How I Slept My Way Through Hollywood (Without Sleeping with Anybody).
Back when I had my own place, I would write late at night after work, usually from 12:00 to 3:00 a.m. I could write in silence if I wanted to, or I could blast the Sixteen Candles soundtrack. I preferred silence. But when you're staying with friends—and not paying them rent—you have no say in the amount of noise they do or do not make, intentionally or unintentionally; when it's not your noise, it's a whole other story, especially when the sounds vary week-to-week.
At first, it was easy to keep my late-night writing hours, as I found many of my couch hosts went to sleep before I did. So I would type in silence at a nearby desk or on the sofa, tiptoeing across the room now and then for water or procrastination.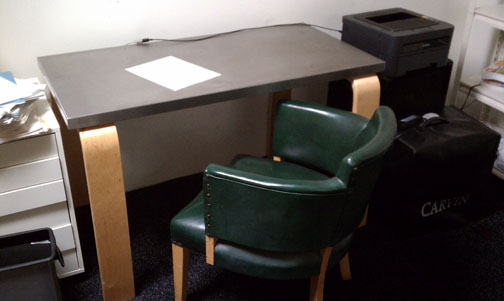 Not everyone had a desk to spare, and writing on the couch started to prove to be a challenge, since my body associated couches with sleeping. I had to be creative. I wrote at kitchen tables,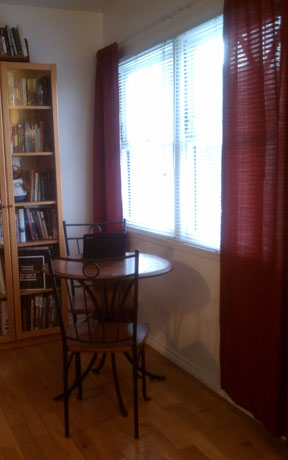 on balconies,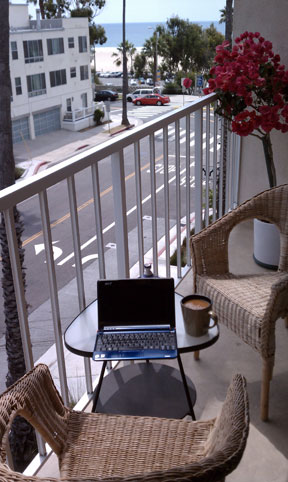 and made a makeshift desk with couch cushions on many a floor, an adult version of a kid's fort. And I even built one in a bathroom once.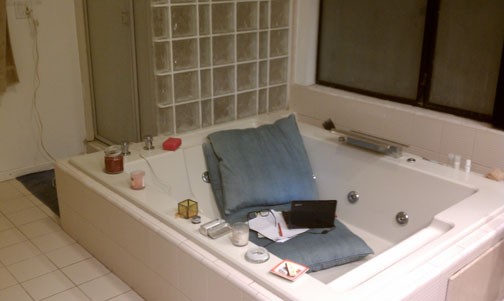 But all this changed when I stayed with a toddler. Apparently, he liked being up during my writing hours, too. And when I started to construct my fort, he wanted to play hide-and-go-seek among the cushions, instead of just letting me hide.
I knew his mother, Sofie, from graduate school ten years prior. Now, however, our lives were polar opposites—her townhouse filled with a husband, two sons under four, and Bob the Builder toys. When she offered me a couch—actually, a guest room—I was elated. And terrified. I knew couch-surfing at houses with kids would come eventually; I was just delaying it as long as possible. But when Sofie's husband was out of town for work, she said it was a good time for me to visit. How could I say no?
When I arrived, her two- and four-year-olds, Xander and Kai, looked pretty harmless, hanging out on the couch, no less.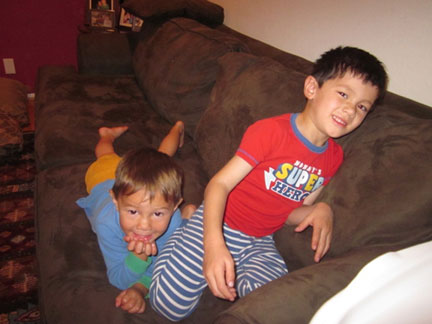 "Where do you live?" Kai said when I walked in.
"Um," I started, speechless.
Before I could answer, he moved on to more important things, like wrestling his brother. I watched as Sofie played the referee. Where am I? I kept asking myself. I have a writing deadline, and I am living in an Adventures in Babysitting sequel.
When the boys went to sleep, I turned on my laptop and then heard cries from the other room. It's not like I could ask the boy to stop or that he would understand me even if I did. The worst part was, he kept crying. I kept trying to type; but no matter how hard I pounded the keys, the cries only grew louder. I wondered where Sofie was. I tried to remember if she was the kind of parent who practiced the let-them-cry-it-out, sleep training method of parenting. Or if she was just sleeping very soundly.
Finally, I went into the crying room, no idea what I would do once I arrived. There, I saw Xander, alone on his mattress, screaming, contrasted against the soccer ball wallpaper and smiling stuffed Mickey Mouse.
I sat down next to him and grabbed the first book I saw, Curious George at the Fire Station.
When I heard his quiet snores, I snuck out of the room and saw the time: 3:00 a.m. I decided to skip writing for the night, though I knew skipping even one day was dangerous.
I considered packing up my suitcase and heading to my next couch early. But then I discovered "nap time." If the boys actually slept during it, I'd have writing time. Sure, I used to struggle with writing-on-demand, so to speak, but what choice did I have?
Pocket-Sized Tips to Take on the Road (or Anywhere)
Put your phone away. No excuses. Isn't the essay/short story/book you're working on worth it?
Disconnect your Internet. Many writer friends tell me they cannot do this, as they need it for "research," but you can always look up the "research" later.
If you couldn't do #2 or need to reconnect the Internet, do so only for five minutes. Take ONE, TIMED five-minute Internet/Facebook/Twitter break each hour.
Become a writing chameleon; train yourself to write anywhere. Now that you have taken care of the distractions you can control, what about the ones you can't: crying babies, late-night drum sessions, and chirping parakeets? Even if you think you can't do it, try writing amidst the chaos.
Do not believe in writer's block. One of the writing lessons I've learned by working in TV for a dozen years is seeing writers meet their deadlines; they cannot have "writer's block" when they need to rewrite a scene that is about to start shooting on stage, two hundred people waiting for it.
Listen to foreign music on your headphones. I find that the more I cannot understand the words, the less distracting it is.
When I am stuck and am not typing a thing, I read writers I love. I usually choose Hope Edelman, Susan Shapiro, and Jeannette Walls to get re-inspired.
Earplugs. As a last resort, if you really cannot acclimate to the surround sound(s) around you, use earplugs or noise-canceling headphones.
My week with the boys continued like this, their nap time being my most productive writing hours, even if they stayed up talking or arguing, instead; it became the backdrop to my writing. During non-nap and non-writing hours, we watched Bob the Builder's Christmas special about twenty times (even though it was summer); played Scrabble, watching as they spelled my name, N-U-T-E-L-L-A; and I even found myself not sleeping in the lovely guest room, but sharing their mattress, the boys on either side of me, having fallen asleep after reading them Curious George at the Fire Station yet again.
Staying with Kai and Xander helped get me out of my writing comfort zone and prep me for couches to come—like teenage boys.
My friend Mary had three sons. There was Tommy, twelve, the studious one with wispy hair that fell in his eyes. When he was not making me tea after school, he was playing the latest Super Mario Brothers video game—again and again (much louder than making tea). Calvin, sixteen, in a rock band, was always in skinny jeans and practicing his drums at all hours, the beats eventually punctuating my writing as I typed. And the rebellious one, Edward, eighteen, lived in tattoos and the garage (where I spied two couches, by the way, but thought it may be strange to ask Mary if I could share the garage with her son). His biggest noise flaw was the engine of his motorcycle. When not listening to a soundtrack of video games, drum beats, and a revved up bike, it was Adult Swim's Archer cartoons on a loop in the living room (i.e., my room). If I thought toddlers were loud, I was mistaken. Yet, oddly, I found myself craving the teenage boys ambience whenever it went missing. Yes, once again, I grew accustomed to writing to noise, to the sounds of life.
And, of course, these boys prepared me for more noise: going to live with my friend's pet bird.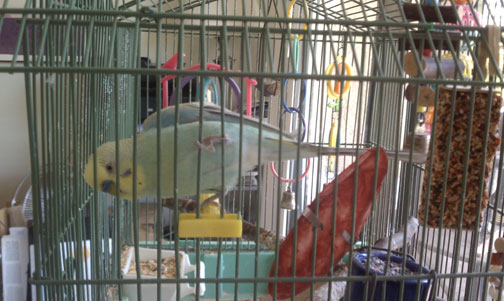 I wasn't sure which was worse: trying to telepathically get a baby to stop crying, a teenager to stop playing drums, or a bird to stop chirping. My friend's parakeet not only talked—a lot—but also "needed" the radio on day and night, set to the love song station with the program "Delilah After Dark." One night, after a staring contest with the bird and my computer screen, I tried to turn the radio off; I was convinced the bird was asleep—and what would he do, tell me to turn it back on? I then got a mouthful . . . from the bird, who chirped incessantly and actually did speak, "Turn it back on, turn it back on." I obliged. And, soon, I found it hard to write without listening to love songs.
What was happening to me?!
I had suddenly turned into a writing chameleon, changing with my surroundings, blending in with the furniture (or couch, if you will). I realized there would NEVER be a perfect writing environment, only reasons to procrastinate. Once I accepted that, my new ambient noise(s) coupled with my varying writing hours, and I became more and more productive.
If you are shaking your head, saying you can only write in silence or with a great pair of earplugs or headphones, think again. Once you grow used to writing in noise, learn to use the distractions to your advantage, and see how the sounds influence your writing through osmosis.
So I suggest you open the window and invite the daily noise of the world to be your inspiration. (If you need to borrow a chirping parakeet, I know just the one.)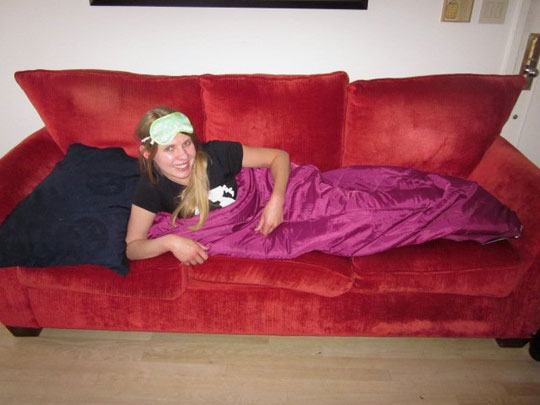 See where Natalia is sleeping this week via her 52 Weeks, 52 Couches Facebook page, her blog, or on Twitter.
Natalia Lusinski is a freelance writer/couch-surfer. Over two years ago, in an effort to reduce her gargantuan student loan debt, Natalia gave up her apartment and started couch-surfing through L.A., living with a different friend each week. In the meantime, she started writing a memoir about her journey, 52 Weeks, 52 Couches: How I Slept My Way Through Hollywood (Without Sleeping with Anybody). Her publishing credits include articles in CNNMoney, 99 Tips to Transform Your Business Today, and several Chicken Soup for the Soul anthologies, a few of which–Tough Times, Tough People, Count Your Blessings, and Campus Chronicles–recall surviving in today's economy by living within one's means. When not (physically) on a couch, she freelances in television, script coordinating from show-to-show. Her TV credits include Desperate Housewives and Hung.
-----
Enjoyed this article? Check out these related articles on WOW!:
Writing Through Distractions: Mothering, Time, Social Networking, Writer's Block