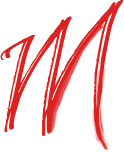 any foreign writers have launched their portable careers while living in Japan. Tokyo, alone, is home to several magazines and newspapers aimed at the foreign population. Due to a high turnover in the expat community, these publications are always looking for new writers; so it's relatively easy to break in. But a career in writing can go beyond the printed page or screen. The expats interviewed below have written extensively for a variety of print and online venues, but they've also parlayed their writing skills into jobs as public speakers, translators, editors, and producers of educational materials in Japan. Here they explain the ins and outs of English-language writing-related work in Japan.
"Once editors know you and your work, if they like you, they'll keep coming back."
(Photo: Louise George Kittaka)
The Education Expert
Longtime expat Louise George Kittaka's byline often appears in English-language publications in Japan. Among other assignments, she has written about the connection between KFC and Christmas for The Japan Times, interviewed expat author Holly Thompson for Eye-Ai, and written a column, "Gaijin Mama," for Tokyo Families, as well as served as editor. Additionally, she is the co-author, along with Ikuko Tobari, of two books in Japanese on raising children while using English. Recently, she published her first short story, "Just Wan-derful," in the anthology, Tomo: Friendship Through Fiction—An Anthology of Japan Teen Stories. Although she dreamed of being an author as a child in New Zealand, she got her start as a professional writer in Japan's lucrative and dependable educational publishing market.
"New Zealand is a very small country with a limited publishing industry," Louise says. "Most people who worked in journalism seemed to start straight out of high school by joining a newspaper. A friend of mine, an English major at college, was actually told she was overqualified when she applied for jobs in the media after graduation."
Although Louise won an award for her writing in high school, she decided to set aside her dream of being an author and pursue a career in international business instead. She graduated with a double major in Japanese and economics and came to Japan at the age of twenty for work training. While employed as assistant to the Japanese manager of a NZ-Japanese manufacturing company, she met her future husband, a Japanese national.
"I trained for six months at the Japanese headquarters, and then went back as planned to work at the New Zealand office for just over a year," Louise recounts. "I left to come and live in Japan after marriage, so my career as a writer really began here."
She quickly found work writing for the Bennesse Corporation, one of the leading producers of educational materials in Japan.
"I started off doing PR in the president's office, dealing with English visitors and correspondence and media enquiries," Louise says. "It was interesting, but not what I wanted to do long term. So, I asked for a transfer to the Tokyo office when my husband changed jobs. I was assigned to the publishing division, where I was helping to edit, produce, and market dictionaries and study materials. It was hard work and long hours. But I had a fantastic team of people with me, and it was rewarding to see our products finally make it into the hands of the end users—one of the perks of working in the publishing industry!"
Although she loved working for Bennesse, she quit to follow her husband to the U.S. when he was transferred for his job.
While in the United States, she and her husband started a family, and Louise took the opportunity to get a master of arts degree. When she returned to Japan, she looked up her previous contacts, who helped her find new editing projects.
"Once editors know you and your work, if they like you, they'll keep coming back," Louise says. "Staff may move from division to division, but will call or e-mail out of the blue with a new project. Sometimes I hear from people who have gone to work for a new company or set up their own business on their own. As a freelancer, to some degree, you are at the mercy of the editorial staff. So I always pretend to myself that each project is my first for that client; so I strive to keep to deadlines, establish good lines of communication, and provide a quality service."
Along with a good work ethic, Louise credits her success with keeping an eye out for opportunities and "being a little bit forward." Writing and editing jobs open to native English speakers are often listed in English-language magazines and newspapers, such as The Japan Times, Tokyo Noticeboard, and Tokyo Metropolis.
Louise was expecting her third child when she came across an advertisement for a full-time native English writer at Eiken, a firm that produces standardized English tests three times a year. These exams are taken by thousands of children, teens, and adults all across the country and are the most widely recognized English qualifications in Japan.
"Based on my previous experience, they offered me an interview, but were a bit surprised when I showed up six months pregnant. However, my gamble paid off when they asked if I was interested in working from home for them—exactly what I had hoped!
"After my baby went into full-time daycare, I started going in to the office several times a week to write for them and have been doing so ever since. I write long passages for the comprehension questions for two of the upper levels. I have become very savvy at searching for interesting topics that would make good passages."
English is a required subject for Japanese junior and high school students and essential for employees of many multinational companies. English teaching materials are frequently evolving and are constantly in demand.
"To get your foot in the door, you need some kind of experience, preferably at a well-known company or university," Louise said. "Having Bennesse Corporation on my resume has helped immensely. Along with Eiken, I have also applied for and been offered projects with a number of other publishing firms, where I had no particular connection.
"Knowing the various markets and required level of writing is also important. I have developed materials for English learners ranging in age from preschool to university and beyond, but the prime market is for teenagers and college students. When a client approaches me with a new project, I only need to know the target age range and English level to have a sound idea of the kind of writing that is required.
"You also really need experience in either teaching at a well-known institution and/or have practical experience in the educational publishing field already. A solid knowledge of grammar and being able to explain exactly why one expression is wrong and another is right is necessary. Finally, you need to understand the peculiarities of the way English is taught in Japan. While you can and should advocate for real, natural English, sometimes you have to compromise because 'that's the way it is taught' in the education system. It is sometimes a fine line to walk."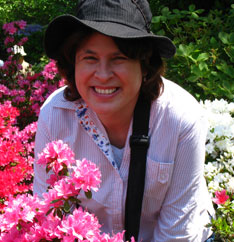 "You have to go out into the world, do other things, learn lots of culture and language, and THEN you can become a recluse and translate."
(Photo: Deborah Iwabuchi)
The Translator
American Deborah Iwabuchi also started out in the field of education in Japan, albeit as a teacher. She found that teaching wasn't right for her, however, and has since carved out a career as one of the leading translators of Japanese novels into English. Among her translations are the books of best-selling mystery writer Miyuki Miyabe, Translucent Tree by prize-winning author Nobuko Takagi, and The Poison Ape by Arimasa Osawa.
"Translation skills require cultural and linguistic fluency in the source language and an ability to write well in the translated language," Deborah explains. "I always loved learning Japanese, and I loved to write English. But I didn't really have an original thought in my head to write about. Translation was perfect!"
Deborah, who like Louise is married to a Japanese man, attributes her Japanese-language skills to living with her mother-in-law and raising Japanese-speaking children who were educated in the public school system.
"For many years, I had very few non-Japanese-speaking friends, no cable TV or English-language newspaper, no book stores, and no Amazon.com to relieve a completely Japanese lifestyle," Deborah says. "My parents sent me a subscription of the New Yorker, which kept my English writing abilities in shape because it gave me something good to read. I find that translation is often a second career for people, like it was for me. You have to go out into the world, do other things, learn lots of culture and language, and THEN you can become a recluse and translate."
She initially found translation work through personal connections. "The people who worked in companies that hired me tended to move to other companies and call me when they got there. This gave me a good slate of clients. My first book came from Yohan (no longer in business), where a former student of mine worked. She invited me to meet her boss, who asked me if I liked sumo. I knew nothing about sumo. I think I said something like, 'Yeah, sure!' I translated three books for Yohan about sumo and eventually learned everything there was to know about it."
She translated most of the first book, while commuting a few days a week to Tokyo by train. "I also knit a sweater for my husband," she says. "I loved being on the train because it was free time for me. In approximately 1998, all the middle-aged guys I worked for learned how to use e-mail; and at that point, I completely stopped commuting to Tokyo and ended up working mainly at home. Now that my daughters are grown up, I can make long trips back to the U.S. to visit family because I can take my work with me."
Being able to learn about new subjects and work anywhere are two things that Deborah loves most about her job. "You learn something from just about every translation job. It serves as nutrition for the brain (until the writer starts repeating things!). I have a lot of information that is not particularly useful, but I'm glad to know it! At the age of forty-six, I got my driver's license and bought my first car because I was so involved in the market research project I was working on. Did I mention that you can work in your pajamas?"
More recently, Deborah has set up a website to attract new clients. She also maintains a blog for Japanese English-language learners along with her sometime co-translator and co-writer, Kazuko Enda. The blog began as a supplement to their most recent book, "which is about finding English reading resources for free or almost free by using digital reading devices and the Internet."
"When we worked on the book, we realized there was a lot more to say than we could print, so we started the blog, One Chapter Reading Club, to add new resources we found. Traditionally, very few English books have been available in Japan, and they are expensive. Finding English reading materials is the story of my thirty-plus years here, and we thought Japanese English learners might be interested. Other than availability, I want Japanese to know that they can find English materials on topics they might be interested in. There is still a notion here that having a difficult text in one hand and an enormous dictionary in the other is the only right way to go about learning a language. I want people to know they can get a lot out of perhaps a single chapter that they may be able to download for free, and that online and digital dictionaries can make the task a lot less onerous. If they eventually learn to enjoy reading, who knows? They may end up buying books."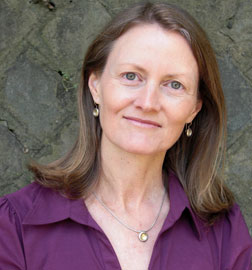 "Most of my students have been native Japanese speakers, so writing short stories or poems in English is a challenge."
(Photo: Holly Thompson)
The Writing Teacher
Fiction writer and poet Holly Thompson completed her most recent books: The Wakame Gatherers, a children's picture book; the award-winning novel, Orchards; and the anthology, Tomo: Friendship Through Fiction—An Anthology of Japan Teen Stories, while living in Japan; but all three were published in the United States. Her state-side writing success, starting with the publication of her first novel, Ash, has helped her to secure employment in Japan. For the past several years, in addition to writing fiction, she has taught creative writing to Japanese students at a university in Yokohama, been a featured speaker at a variety of events in Japan and other parts of Asia, and made presentations to English-speaking children at international schools in Japan, Thailand, and Cambodia as well as in the U.S. She also writes a column for All Nippon Airway's inflight magazine, Wingspan.
Many poets and novelists in the U.S. support themselves through teaching their craft in MFA programs. In Japan, however, it's a different story. Holly says, "Creative writing is not typically taught in Japanese universities. But when I was hired, there was keen interest from the hiring committee in my published novel, Ash, and the research I was then doing for a novel-in-progress. I was not initially assigned creative writing courses to teach, but was able to start with a specialization course—short stories—and weave creative writing courses into some of my other courses."
Later, when more courses were added for advanced students of English, she was offered the chance to teach creative writing—both poetry and fiction writing.
"Most of my students have been native Japanese speakers, so writing short stories or poems in English is a challenge," Holly says. "But the courses have been enormously popular, and the students are always amazed by the works produced."
Like many children's book authors based in the U.S., she supplements her income from university teaching and book royalties with school visits. In addition to sharing her books with students at some of the many international schools in Japan, Holly has visited schools in the U.S., Thailand, Cambodia, Singapore, and the Philippines. She has also presented and led creative writing workshops in schools, universities, after-school groups, and hospital wards in the U.S., Japan, Cambodia, Australia, Taiwan, Hong Kong, Singapore, and Mongolia. Holly maintains a list of descriptions of presentations on her website.
"Sometimes a school contacts me [to set up a visit]," she says. "Sometimes, I contact the librarians at schools in a particular area I know I'll be traveling in. In Japan, if I know I'll have a block of time for visits, I send word out to international school librarians. Librarians everywhere are on listservs, and they will spread the word for you, if you are hoping to have several visits in one area."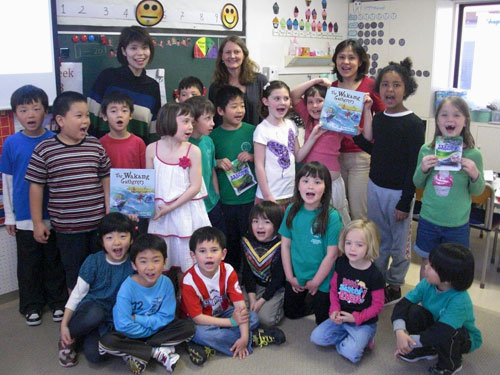 Connections and Credentials
Holly, Louise, and Deborah all agree that personal connections are important when seeking work in Japan. Holly suggests that expats join organizations in order to learn from others already in the field. In addition to being the Tokyo representative of SCBWI (Society of Children's Book Writers and Illustrators), she is a member of SWET (Society of Writers, Editors, and Translators). Both organizations maintain websites and listservs and hold frequent events, which are great opportunities for networking.
"I would also say that credentials are important," Holly adds, "and advanced degrees and certifications are especially meaningful."
Louise concurs. "Doing the MA while I was in 'career hiatus' during our time in the USA was also definitely the right move. I know it has helped me get certain jobs. As one client told me, 'When we're developing materials for college students, we need someone with a higher degree than the students themselves.'"
Thanks to an increase in distance learning programs, expatriates can earn advanced degrees in writing without leaving Japan. Some universities, such as Hong Kong City University, offer low-residency MFA programs.
When living in Japan, or anywhere else, studying the local language is also beneficial.
"Being able to communicate with my clients in spoken and written Japanese makes things a lot easier," Louise says. "Few of the people who work in English materials development seem to have the time and confidence to correspond in English. They typically work long days, and they appreciate the fact they can call me on their cell phones or e-mail me in Japanese with queries and know I will respond."
Advanced Japanese-language skills are especially important for aspiring translators. "To become good enough at Japanese to translate takes years and years," Deborah says. "It's also low key, nerdy, and intensive; and you must be available. Working weekends is normal, and most translators work all night sometimes. Another requirement is getting a job done on time; that's about 50 percent of the job, I believe. So I guess you have to be self-starting."
Wannabe expat writers would also be advised to build up a portfolio, even if it means occasionally writing for free. "Have samples you can show when someone asks, 'What have you done?'" Louise says.
She also recommends keeping up with changes in the English media industry in Japan. "Digital publishing is rapidly overtaking printed media. And Japanese society itself is changing quickly—there is almost a digital divide between people over thirty and those coming along behind. The way technology is being used is going to further impact the media."
While Japan's e-book market is in the early stages of development, certain areas remain solid. "In terms of English educational publishing, I foresee a continuing need for good, native English writers."
As technology evolves, new opportunities for English-language writers in Japan will no doubt appear. However, as these three expats have shown, with the right mix of imagination, motivation, and moxie, writers can develop multifaceted portable careers anytime and anywhere.
***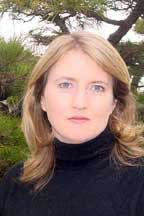 Suzanne Kamata lives in Tokushima, Japan with her family. Her most recent book is The Beautiful One Has Come: Stories. Her flash fiction has been published in The Mom Egg and Happy. Other short stories and essays have appeared in Real Simple, Wingspan (All Nippon Airways in-flight magazine) and the charity benefit anthology Tomo: Friendship Through Fiction: An Anthology of Japan Teen Stories. She's the author of the novel Losing Kei, and editor of the anthologies Call Me Okaasan: Adventures in Multicultural Mothering, The Broken Bridge: Fiction from Expatriates in Literary Japan, and Love You to Pieces: Creative Writers on Raising a Child with Special Needs (Beacon Press, May 2008), and the literary journal, Yomimono. She also serves as fiction co-editor of literarymama.com. For more information, check out her website, https://www.suzannekamata.com, or blog https://gaijinmama.wordpress.com.
-----
Enjoyed this article? Check out these related articles on WOW!:
The Art of Embracing Uncertainty: A Conversation with Leza Lowitz
Just Desserts: An Interview with Wendy Nelson Tokunaga
Something to Write Home About: Life as an Expat Freelance Writer
An Expat's Guide to a Portable Career: Interview with Jo Parfitt