he romantic version of being a writer includes sitting in a quaint coffee shop in the middle of a small European town, noshing on a pastry, while handwriting a novel. In reality, when I'm not in my office, my writing is done in parking lots, waiting for appointments, and at the library. Not the stuff of dreams, but the portability of my profession is a wonderful and sometimes necessary thing.
From castles to cafés, writers set up shop in many different places. Read on to learn about writers' favorite spots to work, and see if one might be a good fit for you.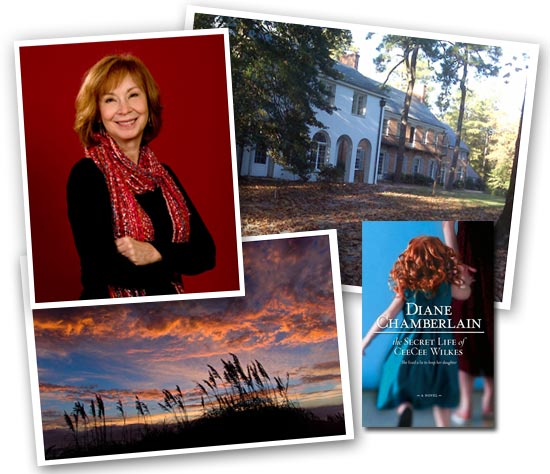 (Photos from Diane Chamberlain's website.)
Magical Places
Many writers fill their creative well by working in beautiful destinations. Whether by the sea or in the woods, stunning scenery can give way to great work.
"Many of my stories are set in coastal North Carolina," says Diane Chamberlain, best-selling author of twenty novels. "And after The Secret Life of CeeCee Wilkes became a Target book club pick a few years ago, I was able to buy a little condominium right on the beach."
Diane says the spot is her favorite place to write, whether or not the book she is writing is set at the beach. "I love being able to look up from my work and see dolphins leaping through the water or take a break by walking my dogs along the water's edge."
While water has inspired many writers, Diane has found her productivity skyrockets when she meets with six fellow published authors each spring and fall in a mansion that is part of an arts center in North Carolina.
"We meet in the morning to set our goals for the day. Then each of us finds her own 'special place' in the mansion and writes all day," says Diane. "We take turns making dinner; and in the evenings, we either brainstorm plot problems we're having, play a game, or try to contact the mansion's numerous ghosts!"
Lack of Internet, beautiful grounds to walk through, and being surrounded by friends who will hold her accountable make the mansion the perfect place for Diane. "If everyone around you is working hard," she adds, "it's impossible to slack off."
Diane's newest novel, The Good Father, was released in April.
Will writing in a beautiful location work for you? You'll have the chance to:
get firsthand details about a setting you plan to use in your writing
work in a relaxing environment that may inspire your writing
fill your creative well with new sights and sounds
But watch out! A breathtaking spot may:
cause you to get distracted from your work
get expensive if you have to travel and get a hotel
lack the Internet requirements you need to complete a project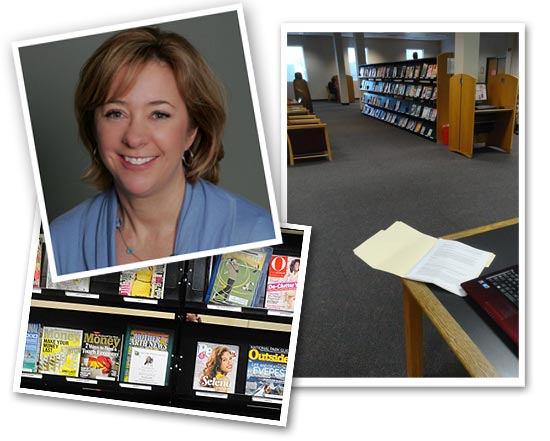 (Photo: Laura Amann)
Powerful Spaces
Being surrounded by the published work of others is another way writers are inspired to drive toward the finish line.
"Overall, I'm most productive at my local library," says Laura Amann, a freelance writer based near Chicago. "It's new and huge and beautiful, and it has big tables for me to sprawl over."
Laura adds that there is a gorgeous view of a park, and the space includes a coffee shop for deadline "rewards." But if she's on a tight schedule, Laura heads to a library in another town, where she won't run into anyone she knows and get distracted from her work. "The other library also has carrels, where I just sit and work," she adds. "And there's no coffee shop. It's like being velcroed to a chair."
Besides the library, bookstores are another favorite writing location among writers. When my townhouse left little room for a home office, I spent a lot of time at the local Barnes & Noble, where I could page through magazines to find article ideas and the latest mastheads. The conversations of patrons filled me with ideas; plus being surrounded by other successful writers' works was motivating.
Will writing in a library or bookstore work for you? You'll have:
access to free research materials and resources, plus Wi-Fi
positive literary energy
eavesdropping possibilities that may inspire your writing
But there is also a downside. This public location could be:
distracting because of the activity around you
noisy due to other patrons
crowded with people you know who may interrupt your work
Corner Tables
Do you rely on a cup of joe to bring your creativity to a boil? From Starbucks to Burger King, lots of writers equate productivity with procuring a coffee fix.
Laura turns to the local coffeehouse when she's brainstorming or doing research. "While I have trouble focusing on editing or drafting when there's too much noise and distraction, I find it energizing and stimulating when I'm in the conceptual phase," says Laura. "It's helpful to be around people and not be so solitary when I'm trying to research sources or get more info on a topic or even outline a story."
While decidedly less posh than the local Starbucks, even fast food joints have encouraged writers to put pen to paper. "Obviously, we can't always write in the perfect place, and moms with small children have to take what they can get in regards to writing time," says Siobhan Fallon, author of You Know When the Men Are Gone, who wrote part of her debut novel at Burger King. "My husband was deployed, and I had a baby daughter who despised sleep."
When Siobhan learned that the Army offered free daycare hours to families of deployed soldiers, she would drop off her daughter and run over to the Burger King next door, buy a huge cup of coffee, and start working.
"I started writing there out of necessity. But in the end, Burger King was incredibly inspiring, especially since I was writing about life on Fort Hood," says Siobhan. "The food court was the perfect cross section of the entire base, where I could observe everyone from young single soldiers watching basketball games to harried moms herding children into the play area."
Will writing in a café work for you? Maybe you'll really enjoy:
a constant stream of caffeine
the chance to people watch and gather ideas for your work
being surrounded by the energy of other people
But there are some downsides, like:
limited table space
a loud environment
the possibility of spending a lot on coffee and food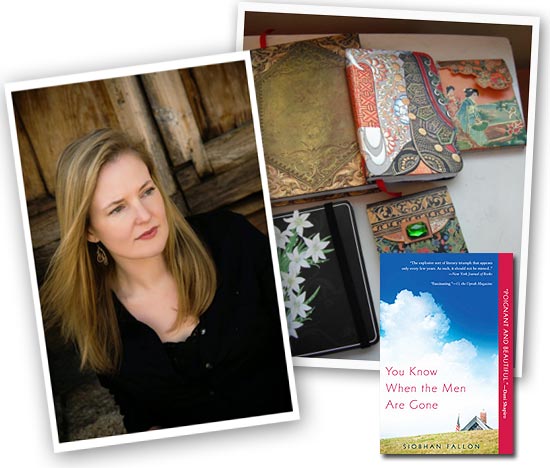 (Photo: Siobhan Fallon and her notebooks.)
On the Road
Whether traveling across the world or to the other side of town, capturing ideas out in the world is a part of your job as a writer. Snippets of note taking can lead to great details later on in your article or book.
"Usually it takes a couple of years before the experiences sink in enough and are ready to emerge as fiction," says Siobhan, who had an idea for a story set in Hawaii, where they lived, just as they were set to move. "I wrote the story when I was on the other side of the world, and I desperately wished I had more specific details of Hawaii than my murky memory or the random guide book descriptions."
Now, whenever she moves to a new place, Siobhan purchases a pretty notebook to keep in her purse. "(I) jot down all of the things that are startling or different in as much detail as possible," says Siobhan, who made sure she wrote about her travels through Israel, Oman, Saudi Arabia, and the United Arab Emirates—information that is incredibly valuable to her, as she writes about the Middle East at her new home in Virginia.
Whether you're vacationing in Rome or traveling on a bus across town, penning the perfect plot twist, stealing character detail from your fellow travelers, or expanding on a pitch you thought of during breakfast—these count as part of your work. So pack up your tablet, notebook, or recorder, and head out into the world. You're a mobile professional who is ready to write any place the day will take you.
Will writing on-the-go work for you? You'll be able to:
capture details that can be used later
document ideas before they are lost
use downtime to brainstorm
But always carrying a notebook may leave you:
feeling as if you can never get away from work
distracted from other activities going on around you
(Photo: Siobhan Fallon's home office.)
Back at the Castle
Forget dreamy libraries or the need for constant caffeine, some freelance writers are hardcore castle dwellers. While the home office may not seem to meet the definition of "portable," as someone who has moved nine times in the past thirteen years, I am very happy to report that my job and associated office contents moved with me.
"I like having everything I need all around me," says Jenna Glatzer, author of twenty books and hundreds of articles for magazines and online publications. "I'm just not the kind of writer who can pick up and write in a coffee shop. I'm mostly a ghostwriter, so that comes with more 'stuff' than novelists need. I rely on taped interviews, transcripts, and notebooks full of research."
In her book, Make a Real Living as a Freelance Writer, Jenna says that she wound up learning how to be a successful freelance writer because she was housebound with agoraphobia and didn't have any other way to support herself. Although she has since overcome her agoraphobia, the only time Jenna writes outside of the office is when she has to travel; then she packs up her notebook and recorder. Otherwise, she sticks to the workspace she's created at home.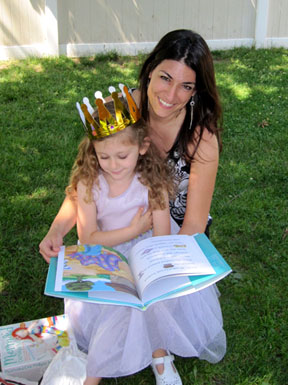 (Photo: Jenna Glatzer at the castle
with her fabulous princess, Sarina.)
"The walls are blue with white moldings, and my desk is under a window overlooking my backyard," says Jenna. "Hardwood floor with a black and gray area rug for some 'strong' energy under my feet."
She also keeps a few shelves for little things that make her happy, like pewter fairies, her daughter's Mother's Day present, and flowers. If she really has to focus, Jenna shuts the shades. Even at home, the outside world is always plotting to distract writers.
While you can't pack your home office in your pocket, cardboard boxes do keep books and papers neat when your most productive writing location needs to be moved to another castle.
Why does working from a home office work well for many writers? The writers I spoke to say they like having:
access to their materials and supplies
quiet space
a place where clients can easily reach them
However, it's important to escape the four walls of your office because it can:
get lonely
be noisy if anyone else is home
cause you to get easily distracted by all of the laundry piled up around the dungeon
Bonus!

Bright Idea: Rent Some Space

Writers who crave company can find the perfect workspace in a membership-based office location. Check out these flexible workspace options: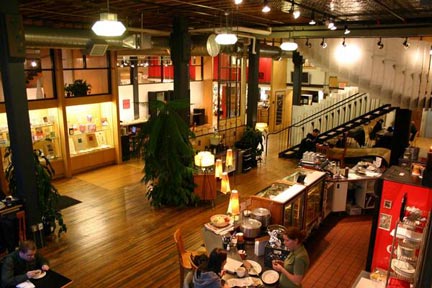 The Loft, www.loft.org, located in Minneapolis, MN, houses studio rooms furnished with a writer's desk, adjustable chair, rocking chair for reading, plus a view of the downtown skyline. There is also a shared lounge area. The studios work under a timeshare model, where you pay per month for twenty-four hour access to the area.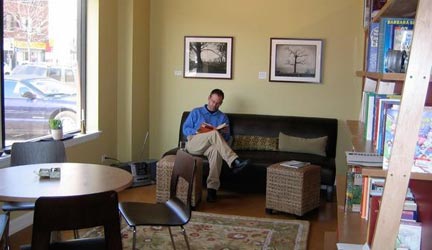 The Writers Workspace, www.writersworkspace.com, in Chicago, IL, includes a lounge, writing studio, conference area, kitchen, plus storage with Wi-Fi access throughout. They have a variety of memberships allowing writers access to the space, materials, and camaraderie of being surrounded by other writers.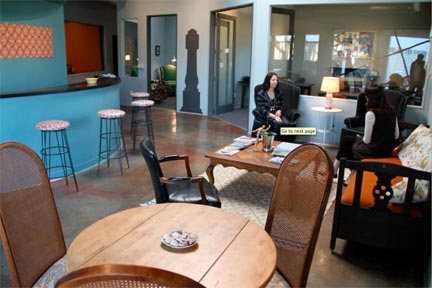 Writers Junction, www.writersjunction.com, located in Santa Monica, CA, offers affordable shared office space for writers. They provide both private and social areas, along with a library room with open seating, a conference room to reserve for meetings, and the "Deadline Room" with private desks.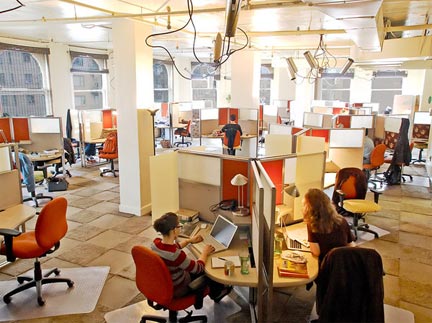 Writers Room, www.writersroom.org, in New York City, is a large airy loft with a view of the Empire State Building. It is open twenty-four hours, every day of the year. The space has lockers, where you can store a laptop and materials, free Wi-Fi, and access to Lexis Nexis along with a phone room.
If your community doesn't have shared rental office/creative space, recreate it by gathering with fellow writers on a regular basis at a local arts center or library, or attend a local writers' retreat to connect with others looking to recharge and network.
Depending on whether you're looking for inspiration, a place to finish a project, or have the need to feel connected to the outside world, where you work may vary by the day, month, or year. Be sure to try out a new location every once in a while. You may be surprised by how a new view can push you through the end of an assignment, bring a new character to life, or give you the details to create an even better story for your readers.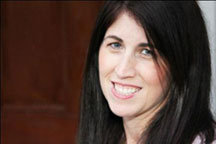 Janine Boldrin is a freelance writer who lives in Tennessee. Her articles and essays on military family life and parenting have appeared in anthologies, regional and national magazines, and newspapers. You can read her blog, Mom of Brats (about military families), or visit her website to learn more about what she writes.
-----
Enjoyed this article? More from Janine on WOW!:
Get Organized! Expert Tips for Tackling Messy Files and Piles that Make Writers Stress Out
Personalize Your Parenting: The Pros and Cons of Building a Niche on Your Family's Experiences
Related Articles:
Feng Shui for Writers: How to Create a Space You Love
How to Run a DIY Writers' Retreat
Writers On the Road: Financing Your Trip, Packing Essentials, Couch Surfing