erhaps you've noticed that more and more of us are acquiring citizenship in the e-reader universe. After the 2011 holidays, the Pew Research Center released a study that said the number of Americans owning at least one digital reading device "jumped from 18 percent in December to 29 percent in January [2012]." Perhaps you're part of this crowd. Somewhat technophobic, I was slow to join the e-reading brigade. But once I purchased a Kindle, I knew that I needed to revisit something else I hadn't yet embraced—NetGalley.
I can't recall exactly when I first heard about NetGalley. But as someone whose writing practice features a significant bookreviewing component, I know that it intrigued me from the start.
That's because for many reviewers and book bloggers, galleys and advance reading copies (ARCs), pre-publication versions of books slated for release, are essential. Publishers make galleys available to help promote coverage of their titles. Whereas finished copies may indeed be available before a book's publication date, galleys come first; and they're ready in time to allow editors and reviewers to do some long-range book-coverage planning.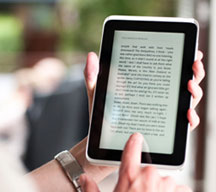 In the past, galleys were available only in print, which meant that publishers had only finite numbers of copies to distribute. It also meant that prolific reviewers might amass stacks and stacks of galleys. For those of us living in small spaces, that can pose a sheer storage challenge—never mind the difficulties of portability for those who travel frequently. And let's not forget the effect of all those print galleys on the environment.
Enter NetGalley. In its own words, NetGalley "delivers secure, digital galleys to professional readers. If you are a reviewer, blogger, journalist, librarian, bookseller, educator, or in the media, you can use NetGalley for FREE to read and request titles before they are published." For publishers, NetGalley provides "an inexpensive and green way . . . to share their digital galleys securely."
According to data NetGalley supplied for this article, nearly half of its members (47 percent) are, in fact, reviewers. Another 15 percent are librarians; 14 percent are educators; 12 percent are members of the media; 11 percent are booksellers; and 1 percent are publishers. Their genre interests are varied, with the categories of books for teens and YA, mystery and thrillers, romance, nonfiction, and history leading the pack.
I decided to reach out to these other NetGalley users and ask them to share their impressions of the service. More than seventy people took the time to respond to my questions.
Here's what I found:
Nearly two-thirds of my respondents cited convenience as an "extremely important" or "very important" factor in using NetGalley.
More than half (61 percent) read the titles that they receive via NetGalley on a Kindle or Kindle Fire device. The next most popular ways to read NetGalley titles, in a virtual three-way tie, appear to be on a desktop or laptop computer; via iPad, iPhone, or iPod Touch; and via NOOK or NOOK color.
About 95 percent of the respondents declare themselves to be either "extremely satisfied" (62.9 percent) or "moderately satisfied" (32.3 percent) with their NetGalley experiences.
When I asked respondents to explain what they like most about NetGalley, a few answers came up repeatedly. For instance, at least five reviewers described how NetGalley facilitates their work from afar, and how much they value the easy access to the ARCs. "I'm an international reviewer," wrote one, "and publishers don't send physical ARCs outside the U.S. and Canada. At least not often. But with NetGalley, that's a nonissue."
Respondents also praised the range of title choices—both in terms of the number of publishers represented and the variety of subjects covered—and the "one-stop shopping" convenience that NetGalley offers. More than one respondent complimented NetGalley's customer service (one described it as "phenomenal"), and several expressed appreciation specifically for NetGalley's e-mails and newsletters that spotlight titles and publishers.
As I expected, several respondents share my own fondness for the service's fundamentally user-friendly functionality, as well as for the way digital galleys help some of us (ahem) avoid "added clutter" on our real-life bookshelves. For some librarian respondents, the ability to read so many books in advance helps shape book-buying decisions in a time of ever-tightening budgets.
"Respondents praised the range of title choices—both in terms of the number of publishers and the variety of subjects covered . . ."
I also asked the survey respondents to list changes that they believed would most improve NetGalley. More Kindle users complained of formatting problems than other e-reader users. A few respondents offered ideas for improving site navigation and functionality, and several mentioned that they'd appreciate faster site-loading times.
But most of the unhappiness, where it exists, seems tied more to the participating publishers than to NetGalley. And that dissatisfaction stems from two major sources.
First, some publishers limit their galleys, releasing them to some NetGalley members who request them—but not to others. Several survey respondents, having had their galley requests declined, wrote that they would appreciate having publishers explain exactly why those decisions were made and clarify exactly what the publishers are seeking in reviewers. (But as one of these respondents acknowledged, that practice "could get messy.")
Second, several respondents seem to be struggling with publishers' archiving practices and galley expiration dates. This is less of a problem for those of us who send galleys to our Kindle devices immediately upon receipt, where the files don't expire. But for others, it can be tricky to track exactly when a galley may no longer be accessible, either because the file has expired or because the publisher has removed the galley from the NetGalley catalog. Beyond that, some participants noted that some publishers don't put all of their titles in the catalog and can be slow to respond to readers' requests. Still, most of these commenters seemed to agree with the respondent who observed that "NetGalley isn't responsible for publisher actions."
Like the vast majority of the survey respondents, I'm quite satisfied with NetGalley. I, too, appreciate the variety of titles and publishers represented, the ease of requesting titles and downloading them to my Kindle, and the savings of space and paper. Like others, I'm grateful to be able to locate so many forthcoming titles from so many publishers in a single place.
Yes, I have experienced some glitches here and there, particularly concerning how the files sometimes appear on the Kindle. (I have described the difficulties encountered with one short-story collection here.) But as much as I may have hesitated to try it initially—just as I hesitated to begin reading on an e-device in the first place—NetGalley is enriching my review practice and expanding its potential and portability at an unbeatable price.
***

Erika Dreifus is the author of Quiet Americans: Stories, which is a 2012 Sophie Brody Medal Honor Title for outstanding Jewish literature. A contributing editor for The Writer magazine and Fiction Writers Review, Erika reviews books for both publications. Erika blogs about writing and publishing at Practicing Writing and about matters of specifically Jewish literary and cultural interests at My Machberet. Visit her at her website: www.erikadreifus.com.
-----
More from Erika on WOW!:
Finding Creative Inspiration Through Prompts and Exercises
Related:
Breaking into Freelance Reading