efore you dress in the morning, you check in with the local weather forecast via Twitter. As you pay for your chai latte, you flash the Facebook fan page discount to the barista. Before you splurge on that outfit, you check Pinterest to see if there's anything cuter trending. That cute picture of your dogs at the park? Instantly public via Instagram. The fact that you're at the local watering hole? Already on Foursquare.
The saturation point is defined as the point at which no more of something can conceivably be absorbed. It's a chemistry term, although it looks as though social media is vying for a cut of the pie, too. The absolute ubiquity of social media in many of our lives is a reality that's probably not going to change tomorrow.
Instead of fighting this, the writer must decide to approach social media in another manner—a smart manner. Approaching social media in a smart way means taking a hard look at the ways that you need social support and using proactive planning to meet those needs. You can begin by acknowledging that you approach social media in two ways: as a consumer and as a marketer. Let's take a look at these two roles and how to meet your needs within each. In the process, we'll pull out some of the uses of the newer social media platforms and apps available out there.
The Writer as Consumer
Social media has a role in your writing life as a resource. You obtain some kind of takeaway or benefit from it. Writers planning their (consumer) social media approach should consider approaching it as a research and/or practice tool. Here are some unique and efficient ways to achieve both ends.
Research:
Find editors, agents, or clients' contact information using LinkedIn. Sure, Writer's Market says to direct that pitch to Editor A; but a quick search on LinkedIn might tell you that she's moved on, and Editor B will be impressed that you checked.
Twitter lends itself to audience research due to the potential for volume responses. Send two titles for your work into the ether, and see which gets the best response.
Twitter's hashtag system (in which topics and events use the #symbol to make them easily searchable) means that your topic research is easily found. See what people are talking about before you pitch that magazine article. Has it been covered? Over-covered?
Find the top writers, companies, or editors in your niche area using any of the platforms. Search your niche to see whose name constantly pops up.
Know who's interested in you via LinkedIn's "Who's Viewed My Profile." Send a friendly e-mail, asking if you can be of any help.
Practice:
Practice distilling your message and writing down to its essential message—one hundred forty characters on Twitter or as long as audience attention holds for other platforms. The inevitable tweaking of your tweet feeds your writing talents and helps you to put your thumb on the real point you're trying to make.
Practice engaging others for opinions. Your articles will need first-person research and attributable quotes from experts and laypeople. Introverted? Try out your questions on your social networks first.
Practice managing controversy. Before you publish your controversial investigative piece with Mother Jones or the New York Times blog network, you'll want to develop a thick skin for the inevitable e-mails, comments, and tweets that result. Throw your hat into the ring on a controversial topic on Facebook, and see how you manage in a pinch.
Practice being an expert in your niche. Joining groups on LinkedIn provides an opportunity to answer queries and give opinions on the trending topics in your field. Answer those questions authoritatively and efficiently, and you'll develop a known name in no time.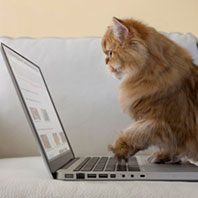 "Writers know that platforms are built and sales are made on that little silver screen."
The Writer as Marketer
This is the more common way to think of the benefits of social media when referring to professional use. Writers know that platforms are built and sales are made on that little silver screen. This is accomplished via connecting with potential readers, editors, and clients and through promoting your work. Connection and promoting are two different things, and the line can be quite fine! Here are some of the latest ways to achieve both.
Connection:
LinkedIn groups provide a place for authentic interaction with those who share your interests and niches. Before you publish that tome on the native trees in your state, establish yourself as an interested party with the right groups. That built-in audience will feel a connection to you when the time comes to buy the book.
Host extended interactions like launch parties or video chats via Google+, which is uniquely integrated with tools that make these things easy. For example, a co-authored article can be discussed in real time using the video chat, eliminating a trail of crossed e-mails between authors.
Promotion:
Pinterest is the newest promotion tool on the scene, allowing authors and writers to pin a graphic to a board. Followers can then click on the graphic, which (ideally) links back to the original work. Once your editor posts a final version of an article online, pin it using the Pinterest bookmarklet to pull the photo or copy art to a board. Consider using one board for all your work; it then serves as a kind of portfolio.
Again, Twitter lends itself to promotion by virtue of its access to volume. Book release dates, positive reviews, and other exposure are multiplied by tweets and retweets.
Since Google+ is part of the Google search engine, your posts on Google+ may be indexed, allowing for an exponential return of any mentions. Consider using well-targeted keywords when referring to your work on Google+.
Caveats & Tips
Implement a balanced use of all four of these areas: research, practice, connection, and promotion. Give and take—make yourself available as a resource to others as often as (or more often than) you push your products, articles, and ideas.
When you do promote, make it fun for your audience, too. Don't just peddle your wares; engage others in the process! How about a launch party on Google+ or a vote on a book cover design on Pinterest?
Be someone! Fill in all your blank spots. This not only gives your readers and audience a full picture, but also makes it easier for search engines and social platforms to figure out who you are.
Photo- and graphic-heavy sites are attractive to web users. Use graphics of yourself, your office space, and your work wherever possible.
Let your personality shine through. People will assign personality or characteristics to you based on your interactions. You may as well help them along by making these interactions authentic. They'll remember you better that way anyway.
Be hyper-aware of the level of privacy you want in your online endeavors and then find ways to implement it. Some authors and public figures maintain separate Facebook accounts for real life and work life. Google+ has taken care of this separation for you by offering their "circles" feature, which allows you to customize who sees what.
Avoiding social media overload is achieved with a steady approach. When you go into the process educated and with a known goal ahead of time, you're less likely to be lost in the process. From there, learn to play by the rules and be a good neighbor for maximum return. Lastly, think outside the box. The newness of social media is waning, and it takes more creativity and engagement to get the same level of return. Your own daily uses of social media are likely an excellent source of ideas for new and interesting ways to reach out.


Allena Tapia specializes in writing for the education market and Latino topics. She also provides editing and translation services. Find her at GardenWall Publications (www.gardenwallpublications.com) and About.com Freelance Writing (www.freelancewrite.about.com).
-----
Enjoyed this article? More on social media:
Time to Twitter: Using Social Media to Further Your Career
Blogs, Twitter, Websites and More: Connecting with Young Readers through Social Media
How to Net-Work It for Freelance Writers
Twitter, Facebook, and Tumblr: Writing Through Electronic Distractions