hether you are finishing your first YA manuscript, searching for your dream agent, or surviving waves of revisions, you're looking to grow your readership. Since 93 percent of teens are accessing the Internet, getting the word out online is key to obtaining bestselling readership numbers. There's only one problem: unless you're already a well-known YA author, teens aren't going to come to you. We've gathered a few social-media-savvy experts and successful YA authors to point you towards timesaving social media tools that have worked for them. Build your network now and who knows? It just may lead to your next book deal.
Social Media and Teens 101
Social Networking is all about building communities, especially for teens. According to a survey from Pew Research Center's Internet & American Life Project, 93 percent of teens aged twelve to seventeen use the Internet, and 73 percent are using social networking sites. That's great, but understanding how they use the Internet and social networking sites is essential to connecting with them. Lucky for us, someone has spoken to teens about social media, and she's willing to share what she's learned.
"93 percent of teens aged twelve to seventeen use the Internet, and 73 percent are using social networking sites."
Your new best friend is social media researcher danah boyd. (She prefers not to capitalize her name.) She's like the cool kid who's the first to know the latest trends, plus her academic credentials include an undergraduate degree from Brown, a master's from MIT, and a Ph.D. from UC Berkley's School of Information. When it comes to teens and social media, danah knows what she's talking about.
In danah's dissertation, "Taken Out of Context: American Teen Sociality in Networked Publics," she explains that teens are using social networking sites to connect with their peers, not with adults. "I found that teen participation in social network sites is driven by their desire to socialize with peers. Their participation online is rarely divorced from offline peer culture; teens craft digital self-expressions for known audiences, and they socialize almost exclusively with people they know."
That leaves you with room to connect with teens by providing the digital means for them to express their identities. The key to attracting teens online is to identify what teens like about your books and to use that information to shape your online presence. It's one thing to get teens to visit your website for the answers to their book report but another to get them to return. Then, after you've caught their attention, you need to create a reason for them to stick around.
From the success of YA authors such as John Green, whose YouTube channel has nearly 200,000 subscribers, and Maureen Johnson, author of six successful YA books and avid Twitter user with nearly 15,000 followers, we know that at least some teens are using social media to connect with YA authors on a regular basis. The difference is that both John and Maureen provide communities where teens can express themselves and connect to other teens who appreciate the same qualities.
Figure out what your teen audience looks for in your books, and use that information to target your own social media campaign. With a little finesse, you can use their desire to define themselves and join a like-minded community to build your YA readership and gain the kind of platform that lands agents and woos publishers. Connect with teens effectively by participating in an online community that they can trust—and don't waste your time on the rest.
"Figure out what your teen audience looks for in your books, and use that information to target your own social media campaign."
The Truth about Blogs, Vlogs, and Twitter
A personal website is the basic online networking tool that every YA author should have. From your website, you can get your readers involved with engaging blog entries, links to your micro-blogging feed, and connections to public communities you belong to. A site will foster teen attention if it is attractive and interactive, but your goal is to keep them coming back for more.
Your website should communicate professionalism, but you also want to draw in your target audience. Just as it is crucial to write in your genre, it is crucial to match your online presence to your genre. If you're not sure how to attract your target audience, visit the websites of successful YA authors to see what works for them.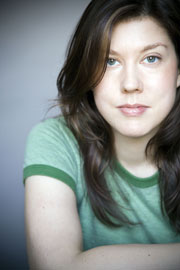 "Blogs are only as powerful as the content you provide. Steer clear of writing blog posts that focus on you, your day-to-day details, and other boring information."
(Photo of author Maureen Johnson by Heather Weston.)
Debut author Bree Despain tailored her website design to fit her novel's dark themes of love and the supernatural. The backdrop of her website is a gritty photo of her leaning against a crumbling brick wall, and the font on her site looks like graffiti. "Since I mostly write urban fantasy/paranormal romance," she wrote in an e-mail interview. "I really wanted my website to reflect an urban plus romantic feel."
For an example of the non-paranormal urban-youth feel, visit Maureen Johnson's website. The author uses sketches of New York City's skyline and a fuchsia-on-black color scheme to attract her young, hip (and not exclusively female) audience. Focused on teen romance? Give your site a light and romantic feel like Sarah Dessen's website. Sarah uses light colors and photos of her relationship-focused book covers to convey her genre.
Your website should provide basic information on you, your book (or works in progress), and your contact information. Bloggers will use this information for their contests, and it will save time if it is posted before they ask. If your book is already published, keep in mind that young readers may visit your site for book reports. A page with frequently asked questions will prevent you from answering the same questions time and again.
One of the most powerful website tools available to YA authors are blogs, or weblogs, which are collections of online journal entries posted on your website. Bree considers her blog the most effective feature on her website for connecting with readers. "I blog at least once a week," Bree wrote. "And host a contest almost once a month. I try to keep readers updated on what is going on and different events/activities that I go to."
Take Home Tips: Blogging and Micro-Blogging
Create a website that provides readers with engaging, interactive content. Read Annette Fix's WOW! article, "What Every Website Needs: A Checklist for Writers" to get started.
Become the connection between popular YA authors and their fans (your potential readers) through contests and book giveaways on your blog. Beginner bloggers can read Angela Mackintosh's WOW! article on the blogging basics, "Get a Blog, Get a Job: How to Start, Optimize, and Monetize Your Blog." Just one caveat: steer clear of ads since they won't help you build a community for teens.
Join conversations on Twitter to connect with industry members: #kidlitchat on Tuesdays at 9:00 p.m. (EST) and #yalitchat on Wednesdays at 9:00 p.m. (EST). If you're not ready to dive into a Twitter conversation, read Kathi K. Browne's WOW! article, "Time to Twitter: Using Social Media to Further Your Career," for a great crash course on everything Twitter.
Blogs are only as powerful as the content you provide. Steer clear of writing blog posts that focus on you, your day-to-day details, and other boring information. As Maureen puts it: "Only your friends and your mom will be reading this, and even THEY will be bored because it's pointless."
Melissa Marr—author of the bestselling Wicked Lovely series—offers giveaway contests, answers reader questions, talks about her life, and posts pictures from her book events on her blog. She's not only writing to give her current fans information; she's looking to attract new readers. "It's as much about providing the data people contact me asking for as it is about communicating with new people," she wrote. New readers who identify with the characters or the genre will want to visit her site to meet Melissa and to meet other teens who enjoyed Wicked Lovely as much as they did.
Micro-blogging through sites such as Twitter is a quick way to network, but it isn't the best way to reach young readers. The Pew Research Center's Internet & American Life Project found that only 8 percent of teens use Twitter. It is most popular among teen girls aged fourteen to seventeen, as 13 percent of them have started using Twitter, but isn't enough to justify a teen-targeted Twitter campaign. Still, Twitter is popular among adults and can be an excellent way to connect with your fellow YA industry members.
Bree recommends joining the weekly writers' conversations at #kidlitchat and #yalitchat on Twitter to connect with other YA professionals. The conversations may not attract young Twitter users, but they will build your professional network, which may help with your future blog contests and giveaways. Social media consultant Greg Pincus reminds writers that connections are what it's all about: "Building a platform—making connections with others who will celebrate your book release and mention you to their friends—can spread far and wide," Greg wrote. "Social media is the land of happy accidents for those who make connections and genuinely engage...whether or not they reach teen readers."
"To stand out from the crowd and catch the attention of teen readers, authors are using book trailers, audio files, and song lists that meet the desires of teen audiences."
Get Creative with Social Media
Blogs are one way to build connections with young readers; but if they are going to be successful, you need to get creative. To stand out from the crowd and catch the attention of teen readers, authors are using book trailers, audio files, and song lists that meet the desires of their teen audiences. By choosing the most efficient methods, you can focus your creative social media efforts.
One recurring theme with effective blog posts and tweets are interactive opportunities for readers such as contests and giveaways. These are excellent for both established YA authors and new YA writers. Authors gain promotion at the price of a few copies of their book, and new writers can leverage the YA author's success to attract their readers. Plus, as mentioned before, teens are looking for ways to project their identity with your genre and books. Offering them free stuff—items they won't have to talk their parents into buying—is a great way to give them the tools to promote your books for you.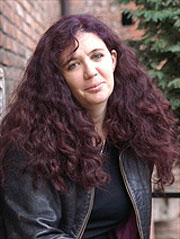 "It's more efficient to cross-post the data on various sites than answer hundreds of individuals asking the same questions."
(Photo of author Melissa Marr by John Marr.)
"The biggest thing I did to bring followers to my blog before my book hit the shelves was hosting a monthly contest [called the] 'Countdown to The Dark Divine,'" wrote Bree Despain. "I started [six] months before the book came out and offered fun challenges and prizes each month." Later, Bree turned to other bloggers to help promote her book. "I used my blog to recruit a 'street team' who helped promote The Dark Divine by featuring it on their blogs and by handing out bookmarks and other swag 'on the street.'"
Lisa Schroeder, author of four YA novels, blogged about the wonders of using Twitter for book promotion: "On release day, hundreds of #bookbday messages went out on my behalf thanks to @mitaliperkins and the @bookbday concept she'd created." Her recently released novel, Chasing Brooklyn, was a giveaway for multiple blog contests, and bloggers used Twitter to spread the word. "Contests are posted and retweeted and retweeted some more; and suddenly, many more people know about me and my books than knew about them before."
If all of this blogging and tweeting is starting to sound like a lot of work, then get creative. Melissa Marr employs cross-posting to save time and still communicate through a variety of social media tools. She uses Facebook, MySpace, LiveJournal, and Twitter to name a few, and cross-posting enables her to maintain her presence on each. "It's more time efficient to [cross-]post the data on various sites than answer hundreds of individuals asking the same questions," she writes.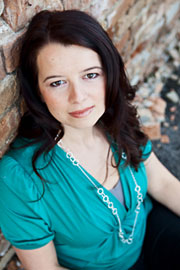 "Having a trailer is fun, but I don't know if it would really get a return on your investment."
(Photo of author Bree Despain by Chauntelle Janzer of OpieFoto.)
Book trailers sound like the next best thing, but are they worth your time and money? Bree doesn't think so. "Having a trailer is fun, but I don't know if it would really get a return on your investment," she wrote. Unless your publisher is covering the bill, Bree recommends putting your energy elsewhere. Besides, with your tech-savvy teen readers, you won't need to make your trailer; they'll do it for you. Bree's readers have created fan-made trailers that she links to on her blog. This is an excellent contest activity and one that will help teens get their creative juices flowing, while helping them with some of that digital self-expression.
Some YA authors post audio files of selections from their books on their websites. Greg Pincus doesn't believe that this will attract teen readers, but he doesn't think it will hurt since "having that file there can be a good selling tool. If the listener wants more, they might just buy the book." Greg points out that The Graveyard Book author Neil Gaiman offers audio files of his entire book on his website. Instead of spending extra time to record the chapters, Neil recorded the chapters at store appearances—a great way to maximize time and create another potential selling point for his book. Like audio files, some authors post song lists that are inspired by their books. This is another plus for current fans but is unlikely to draw new readers.
Social networking sites may not require creativity, but using them to connect with teens demands an inspired approach. The two most popular choices among teens are MySpace and Facebook. Although the adult traffic on MySpace is decreasing, the social networking site is still a major contender for teens. The Pew Research Center's Internet & American Life Project found that although 71 percent of teens have an online profile on Facebook, 66 percent still have one on MySpace. Both are good candidates for cross-posting; and by becoming a fan of YA author pages in your genre, you can connect with young readers.
After visiting the Digital Book World event, Alice Pope, managing editor of the Writer's Digest Children's Writer's & Illustrator's Market book, blogged about what YA book publishers are using to connect with young readers. Their latest marketing technique has involved meeting reader desires by creating online communities where teens can express themselves. "Writers can take a cue from them and do this on a smaller level with the fan bases they build," she wrote. "If readers respond on Facebook, interact with them there; if you can maintain an engaging blog that young readers respond to, go that way."
Take Home Tips: Get Creative
Host contests and book giveaways on your blog, and connect with authors and readers.
Think out of the box: ask readers to make fan trailers, post audio files of selections of your work, or add song lists to your website.
Save time by cross-posting to multiple social media sites.
For published authors: use a site like Ning to build your own reader network.
Use teen reader community sites such as Readergirlz, Lee Wind's blog, and InkPop to connect with readers (and maybe even get published!).
One site Alice mentioned in her blog post offers valuable networking and perhaps even publishing opportunities for YA writers and authors. InkPop, the self-proclaimed "Online Community for Rising Stars in Teen-Lit," was created by publishing house HarperCollins and now has over ten thousand users. The site works like another popular HarperCollins site, Authonomy. Readers review and vote on user-generated content—short stories, poems, and novel-length works—and HarperCollins uses this community-based screening process to find new authors. It's a win-win situation for both up-and-coming YA authors and HarperCollins. Even if you don't get a book deal out of it, InkPop is an opportunity to get feedback from young readers and make connections that may help propel your work in the future.
If you are a published author looking to build a reader community, one option is to use a service such as Ning. Ning enables you to build your own network where readers can create their own page and connect with others. For examples, visit Maureen Johnson's or Sarah Dessen's Ning network on their websites.
A viable option for new writers is the already existing reader communities. Recently, Greg blogged about YA readers and social media and mentioned two sites that have successfully created communities for young readers: ReaderGirlz and Lee Wind's blog, I'm Here. I'm Queer. Now What the Hell Do I Read? Become active on these sites, and become a part of the teen reader communities they support.
The Method You Need Most
You now have enough information to get your social media campaign started, but we want to help you make the biggest splash with the least time and energy. Keeping in mind the most important aspect of social media—creating a community for your young readers and helping them define their digital identity—the experts offer their pick for most effective social media tool.
"According to Alice Pope, Facebook is the social media tool every writer should use."
According to Alice Pope, Facebook is the social media tool every writer should use. "Facebook is a great networking tool for writers," she wrote. "You can friend other writers, editors and agents, librarians, and especially for YA authors, [your] audience/fans."
Bree Despain swears by blogging, but she considers Twitter her favorite. "It's easy and fun," she wrote. "I am a slow writer, so I only have time to blog once a week—but I can tweet several times a day because it only takes a few seconds." Plus, she can use her phone to update Twitter, which keeps her connected even while running errands.
Greg Pincus reminds writers to consider their goals when choosing social media tools. For him, blogging is the best tool to connect with his target audience. In terms of networking, though, he recommends Twitter: "I like Twitter a lot for building community and connection, driving traffic, and for its viral nature."
"Greg Pincus reminds writers to consider their goals when choosing social media tools."
Melissa Marr wrote that her current social media tool of choice is Twitter. "That will, inevitably, change," she wrote. "But I like the brevity and portability (it's on my phone)." She reminds YA writers to find the tools that work the best for their needs. "Do you need to do any of it? Nope. If it's not a pleasure, I wouldn't do it; but I like the random chats with strangers. I like the contact with people. My job is solitary: I'm in my office with a cat and a few dogs. Twitter, blogs, and forums keep me in touch with other humans but in tiny manageable bites."
Take Home Tips: Get started!
Join over five thousand members on the self-proclaimed "Leading Online Book Club for YA and College Readers" at the Book Divas forum.
Check out Free Book Friday if you are looking to do a book giveaway. This blog, started by Love Under Cover author Jessica Brody, has over twelve thousand e-mail subscribers.
YA Reads was founded by teens who met on a Twilight fan site. This review blog tends towards edgier YA fiction. A big plus is the site forum, which boasts nearly eight hundred members.
Reading in Color is a book review blog started by a dynamo teen blogger to highlight YA books about people of color. It's a niche but a must-use network if this is your genre.
Connect with the experts:
Alice Pope blogs regularly about topics related to her work as the managing editor of the Writer's Digest CWIM book.
Bree Despain's debut novel, The Dark Divine, hit bookstores December 22, 2009.
danah boyd is a social media researcher and frequent blogger on all things social media.
Greg Pincus is a social media consultant, poet, and a soon-to-be middle-grade author.
Lisa Schroeder writes YA fiction. Her most recently released novel is Chasing Brooklyn.
Maureen Johnson has written six YA novels and voted "The Most Interesting Twitter User to Follow" in Mashable's 2009 Open Web Awards.
Melissa Marr
is the author of the bestselling
Wicked Lovely
series.
***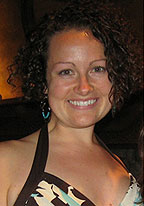 Author Bio:
Bridgid Gallagher is a freelance writer based out of Seattle, Washington. When she isn't querying magazines and looking for businesses to write for, Bridgid is working on her first novel, the story of how she survived a summer as the most unprepared park ranger ever. Visit her at Inky Fresh Press, a blog collaboration that strives to provide a fresh perspective on the craft and business of writing.
-----
Enjoyed this article? Check out these related articles on WOW!:
What Every Website Needs: A Checklist for Writers & Authors

Time to Twitter: Using Social Media to Further Your Career

Get a Blog, Get a Job: How to Start, Optimize, and Monetize Your Blog

The Digital Affair: Podcasting Marries Printed and Spoken Words

Blog Analytics 101: How to Use Google Analytics to Track Your Audience

Making Your Online Life Easier: Gadgets for Bloggers

Blogger for Hire

How to Craft an Irresistible Blog

Blogging Your Way to Writing Success

How to Further Your Writing With a Blog

Getting Your Author Brand On with Shelli Johannes-Wells

20 Questions with Penny Sansevieri, Author Marketing Expert

Real Stories of Authors on a Budget: Promotional Gimmicks

How to Create Quizzes that Sell Your Novel

Websites that Review Your Book