logging is something I'm passionate about. I love the parameters. The short-and-sweet word count, the catchy hook, and most of all, the search engine optimization (SEO) friendliness.
With the death of print publications, comes the birth of online journalism. To land writing gigs online, most editors want you to have a blog or a website—which, to them, equates a following (audience).
In my monthly research for WOW's Premium-Green Writer's Markets, I've noticed an increase in jobs for bloggers. It's quite a lucrative market and chock-full of opportunities, although somewhat of a mystery because there are no set standards of pay like there are in print. Most pay by posts and page-views, rather than per word. Some pay monthly salaries of over $700 for three posts a week, and some pay by post, anywhere from $5-$75. The highest paying market in blogging is keyword-writing. It's similar to copywriting, but you need to study SEO and repeat keywords or phrases.
How do you tap into this market? Let's start with the basics. I'm going to break this down for you in steps that I know work best from personal experience of taking a blog from 0 traffic to over a million page-views per month. I'm going to cut out all the clutter and give it to you straight. Even if you have a blog already, you will want to read the beginning steps just to make sure you've already hit on all these points. Grab a cup of espresso, settle into a comfortable seat, and dig in.
Step 1: Get thee a Blog!
Not just any blog. A blog with your own domain name.
If you have a blog that ends in .blogspot.com or .wordpress.com, etc.—quickly consider an upgrade by buying your own domain name through a site such as GoDaddy. A blog with your own domain name allows you to generate traffic, and track your traffic/unique visitors. Traffic = money.
Do not give your content away for free! Without your own domain name, that's exactly what you're doing—it's like writing for a publication for free. It's not really your blog if you don't host it. Hosting is a service that houses, serves, and maintains files for your website. We'll cover that in a following section, but before you pick a website host, you'll have to choose your topic.
Pick Your Topic:
When you start your blog, it should have one main theme or topic in general. Focusing on one area will definitely help your blog have its own niche audience. Being too general won't keep the readers coming back. I know what you're thinking... Our blog, The Muffin, has a plethora of topics, but they're all geared toward women writers. Your topic doesn't have to have a narrow focus, but you should consider your target audience. Who do you want to reach?
Is your blog about fashion? Art? Motorcycling? Okay, I know it's none of the above, but if it's about your journey as a writer, or a platform for your forthcoming book, then tailor it toward that. Make one blog for your journey as a writer, and the other for your book. Keep the topics separate to create unique and targeted content.
Register Your Domain Name:
After you create a topic for your blog, think of a snappy name. Make sure it relates to your topic, and think of it from a marketing standpoint. I know that may be vague, but try to think of your name both visually (What graphics you'll use to solidify your brand/topic?), and verbally (Which words are the best choice for your topic?).
There are tons of places to register your domain name, the most popular being: www.godaddy.com. I personally prefer using www.ipower.com for domain names because they have an extremely easy transfer system. Meaning, that if you wanted to transfer your website or blog to a different server/host, you could do it yourself without having to contact tech support.
Get Yourself a Host:
This can be done when you register your domain name, but honestly, it's better to have your domain name registered with one company, and your hosting with another. I know this may seem like a tedious task, but if you plan on growing big, this is standard practice with all webmasters, and highly recommended.
Step 2: Dress it Up
Give Your Template a Makeover:
Aren't you tired of seeing out-of-the-box templates that everyone has? If you are serious about this, hire a designer and give your blog that original look. But if you don't have the money, try to customize the standard template with your own logo and color scheme. Do what you can to make it unique.
Feed Her:
These days every blog comes with an RSS feed, so use it. Make the most of it by adding a custom signature. A custom signature is a place for information at the bottom, much like an email signature, where you can enter your desired text to be displayed below any posts you feed. If you don't know how to access your RSS feed, or your blog doesn't provide one, burn your own! Go to: https://www.feedburner.com. Decide whether you want to offer Full or Partial feeds.
Button Up:
Get your own buttons and place them in a prominent position on your blog (usually the sidebar), so readers can easily subscribe and read your posts on their own homepage or RSS reader. Use an RSS aggregator to make it easy on your readers. Here are a few:
One thing to remember is to avoid ugly button overload! Don't you get sick of seeing a blog with buttons and widgets all over the place? This also slows down the load time. Remember, you only have less than 30 seconds to capture your reader. Be spare, but make those buttons and widgets count.
Step 3: Write Blog Copy that Sizzles!
Get into the Mindset: Think "Purple Cow"
When my family and I were driving through France a few years ago, we were enchanted by the hundreds of storybook cows grazing on picturesque pastures right next to the highway. For dozens of kilometers, we all gazed out the window, marveling about how beautiful everything was.
Then, within twenty minutes, we started ignoring the cows. The new cows were just like the old cows, and what once was amazing was now common. Worse than common. It was boring.
Cows, after you've seen them for a while, are boring. They may be perfect cows, attractive cows, cows with great personalities, cows lit by beautiful light, but they're still boring.
A Purple Cow, though. Now that would be interesting.
(For a while.)
~ excerpt from Purple Cow: Transform Your Business by Being Remarkable by Seth Godin
As writers, we know everyone loves a story. When starting a blog post, think about how you want to angle your story. Do something different! Amaze them. There are many ways to start a blog post, but try to keep it dynamic.
Here are a few ways to start your blog post:
Pose a Question
You don't want to start off by asking a question every time, but readers like to become involved, so keep the dialogue in mind. Many of WOW!'s blog posts end with a question—that's because we really do want your opinions voiced. We love feedback!
Say Something Controversial
It could be an idea that you've been mulling over, something in the news, or something that relates to your personal life. I don't think you should straight-out try to shock readers just to create a stir, but don't be afraid to be yourself.
Start with the Conclusion
Use the popular journalistic approach to the inverted pyramid. Start with your point or conclusion and support your statement as to why and how this works.
Start with an Anecdote
People love to hear personal stories, so begin with an anecdote about something your audience will relate to, draw them in, and make your point. It's all about building connections!
Edit Before You Post:
Being yourself doesn't mean that you should write like you would in an email to a friend. Remember, you're still writing for the public, so be sure to rewrite and check for grammar, and other things you may not want getting out there. One thing I noticed is even if you delete a post, it's still live on the wires somewhere. And if you have full syndication, readers can still read that post in its entirety on some blog reader websites like www.bloglines.com or www.technorati.com.
A handy tool for editing is Microsoft Word's "Readability Statistics"—if you haven't explored this function in your word program, please refer to my blog post for complete details:
Hung Up On MS Word's Tools? You're Not Alone!
Write Like You Know the Whole World is Reading
Try to keep your entries short, yet detailed. Write for your readers and for search engines. This is possible! I prefer writing for readers, but you can do both. Just make sure the keywords you use are relevant to your content. Use relevant titles and tags. Make your titles leave the reader wanting more, because that's what will show up on search engines. Don't just say, "Welcome to my blog!" Think of it like you do the first sentence in your short story or article—hook that reader, reel them in.
Check your spelling. Use nice readable fonts in a standard size. Create unique stories. Other bloggers will be more likely to link to your blog if you have a story that sizzles. They may even quote it in their own blog with a link and create a viral effect—one person shares it with another, and so on, and so on.
Use Lists
Lists are an easy way to hold the attention of readers. They are fun, great for skimmers, and contain easy-to-pick-out points that can create a dynamic effect!
Here's a list of things you should do for your blog: (list from Seth's Blog: How to get traffic for your blog)
Use Lists.
Be topical—write posts that need to be read right now.
Break news.
Be timeless—write posts that will be readable in a year.
Be the first to blog on a topic, and encourage others to blog on that topic.
Announce news.
Write short, pithy posts.
Write things about your fellow bloggers, urging them to respond back to your posts.
Share link love.
Include polls, graphics, and other eye candy.
Use photos.
Do interviews with someone well known.
Encourage your readers to subscribe using RSS.
Take readers through a journey of a particular project/class you're attending.
Listen to others and feedback.
Post on weekends, because there are fewer new posts.
Edit yourself. Ruthlessly.
Give credit to those that have inspired you.
Write about the small stuff.
Write about the big stuff.
Write about only one thing in detail, so you become an expert.
Write in a different language.
Don't ever be boring.
Be patient.
Pose prompts, questions, and encourage feedback.
Start a new trend.
Start a contest.
Challenge your peers.
Write stuff that people want to read and share with others.
Juice Up Those Links
Link to other blogs in your posts. This is an easy way to make other bloggers learn about your blog when they've never heard of it. For instance, I do this every month: I check bloglines and technorati and type in our blog address to see who's chatting about us. I find the most interesting posts from readers that I never knew we had! Another popular way to check your links is through Google Alerts. Type in your name, blog URL, or topic of choice and let Google bring you the news through email.
Step 4: Traffic and Link Juice 101
Check Yourself with Alexa
Alexa is the web's global positioning system. It keeps track of all the sites in the world and how they rank in traffic. The lower the number, the better your ranking. For instance, Google is ranked "1"—and yup, that's in the whole world, folks.
Most websites start out ranking around 20 million. Some web appraisal sites even say that an Alexa ranking of 2 million is considered good. Now remember that you can only really check your traffic ranking if you have your own domain name. If you have a blog that ends in blogspot.com or wordpress.com then your ranking will reflect the ranking of the blog provider. So, to find out the true traffic ranking of your own site, you need your own domain name (.com, .net, .org, .info, .tv, etc.)
Not only can you check your own traffic ranking, you can check the ranking of every website you visit. Each site you surf to will show how that website ranks globally. Check it out, it only takes a couple seconds to install!
Get the Alexa Toolbar, it's free. Install it on your browser of choice:
For Internet Explorer go to: https://www.alexa.com/site/download?show=ie
For Firefox get "Sparky" here:
https://www.alexa.com/site/download?qterm=
Now, go check your website!
Give Your Website Some PR (Page Rank)
There's also a Google PR (page rank) toolbar, which doesn't have anything to do with traffic, but it does have to do with link popularity. It measures the amount of incoming links that point to your website, or that link to your website, usually with a text link. Page Rank is measured out of 10, so you can have anywhere from 0/10 to 10/10. Websites start with 0, then move up from there. Anything above a 2 is considered pretty good.
You can go to Google and get the tool bar for free and install it. Once you do this, you'll be more aware of how popular each page of your website is, and you'll see if it's being linked to.
How Links Can Help or Hurt Your Traffic Rank
If you really want to succeed in the search engines, you should focus on incoming links. Simply submitting your website to search engines can take weeks or months, but if you have other relevant and well-trafficked sites link to yours, you'll be up in no time. That's why you need the Alexa toolbar (you already installed it right? Wink.) so you can see which sites have more or less traffic than you. If you get a well-trafficked site to link to yours...bonus! Your traffic and page rank probably just went up.
Google explains, "The best way to ensure Google finds your site, is for your pages to be linked from lots of pages on other sites. Google's robots jump from page to page on the Web via hyperlinks, so the more sites that link to you, the more likely it is that we'll find you quickly."
How do you do that?
Inbound links (sites that link to yours)
Outbound links (sites you link to)
Find sites that are relevant to yours, and ask them to link to you. We get this all the time, but you have to be careful, too many outbound links to sites that are less trafficked than yours could be harmful. Plus, most sites will want to do a link exchange, also called "reciprocal links." While this used to be great, recent SEO trends show that Google is no longer counting these kinds of links. But no one really knows for sure—so when exchanging links, find well-established sites, the more similar (relevant) content to yours, the better.
Also, avoid link farms, or places that tout they'll bring you traffic for a price. This can be damaging to your PR rank and to your overall statistics. If you consider the "build it and they will come" method, your traffic will grow organically. Write interesting content and other sites will link to you.
Make a wish list of sites that you'd love to see link to yours. Contact them and ask them nicely if they'd place a link on their site—but before you do this, make sure you already have a link on your own website linking to theirs and provide them with the URL—this is polite.
Link Etiquette: When asking for a link:
Make sure they have a link page or blogroll.
Make sure you already have a link on your site to theirs before you ask. Provide them with a URL, so they are less likely to say no.
Provide your own link copy (like ad copy), and make sure you give them the exact link to use, even if you have to create it in basic html. A good website you can use to create basic html links is W3schools. Remember to use a hyperlink with a key word in it. For instance, if linking to our contest page, use WOW! Women On Writing Spring 2009 Flash Fiction Contest, instead of https://wow-womenonwriting.com/contest.php.
Give them all the info they need to make it easier for them, including reference to the page that your link would fit best.
Step 5: Monetize Your Blog
Tips to Make Money from Your Blog
With the economy the way it is, every little bit of extra money helps. You have a blog, so why not make money from it? Some bloggers tout a steady income somewhere in the six-figure range, but that's only possible if you have a huge following and a ton of traffic. You also have to be somewhat of a used car salesman. While that might work for some people, I prefer the natural route with a little kick-start. Here are some resources to get you started.
Sponsored Blog Content Networks
These are sites that connect you with advertisers who pay you to write about their product or website. The key to this is finding a product or website you like. You write about it, post it, and get paid for the content.
PayPerPost: https://payperpost.com/blogger_signup.html
Sponsored Reviews: https://www.sponsoredreviews.com/
Review Me: https://www.reviewme.com/bloggers.php
Pay Per Click Ad Networks
On Pay Per Click ad networks, advertisers bid for keywords. Words that are highly sought after get higher bids and bloggers whose content matches those keywords earn more per click.
Google AdSense: https://www.google.com/adsense
Yahoo Publisher Network: https://publisher.yahoo.com/
Microsoft Ad Center: https://adcenter.microsoft.com/
Adbrite: https://www.adbrite.com
Kontera: https://kontera.com
Product Based Pay Per Click
These are the same as above, but they focus on products. They match relevant products to the content you write.
Chitika: https://chitika.com/
TTZ Media: https://www.ttzmedia.com/
WidgetBucks: https://www.widgetbucks.com/
Affiliate and Associate Programs
Affiliate programs let you pick specific products you want to promote, and you make money from the sales. This works when you find a product you believe in and want to recommend it.
FruitFul Time: https://www.fruitfultime.com/fruitfultime_affiliates.php
Commission Junction: https://www.cj.com/
Clickbank: https://www.clickbank.com
Those are some resources to get you started. Of course, there's always selling your own ad space by putting up an Adrates page, which is probably the best way to go if you have a lot of traffic. That way, you can tailor campaigns to fit your advertiser's needs, and you're in charge of who advertises on your website or blog. But, if you don't have a lot of traffic, you can still make money from promoting affiliate products or using pay per click ads.
If you have a blog, why not make money from it? Try a few things and figure out what works best for you. There will be trial and error, as with anything, but you'll have a better idea of what your readers respond to, and you'll get paid to write what you love!
In Conclusion:
I know this is a hefty article with quite a lot of tips! Honestly, this is a topic I could talk for days and days about. By following these necessary steps, you'll be able to get your start in the lucrative world of blogging. Once you tackle this list, and begin to really think about blogging as a "career" and something more than "writing a journal," then you'll be able to garner the tremendous cash benefits.
There are many ways to make money by blogging, but before you can bring in the cash, you need to follow these steps and really understand the blogging world. It's really not that hard. Now, getting a book published—that's a lot harder. So, if you take time to learn a few basic skills, you can break into a whole new genre—one that's sweeping the web and dominating print publications. Get on the bandwagon now, and carve your path to success!
***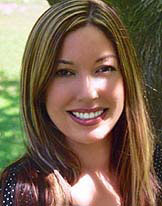 Angela Miyuki Mackintosh is founder and CEO of WOW! Women On Writing. Her work has been published in Transworld Surf and Skate, Transworld Biz, Vice Magazine, Thrasher, Automatic, Concussion, Footwear News, SGB, ASR LineUp, and numerous trade publications for the action-sports industry. She is an award-winning artist whose works have been commissioned by the city of Long Beach, and has received grants from Funds for Women, and the LB Arts Association. Angela lives in Placentia, CA with her husband Mike and her cat Noodle.