expatriate literary circles in Japan, Leza Lowitz is well known as an award-winning poet, fiction writer, and translator, and the owner of the Sun & Moon Yoga studio, which is frequently featured in Japanese magazines. She has just published her fifteenth book, America and Other Poems by Ayukawa Nobuo that she co-translated with her husband, Shogo Oketani.
Among her many honors are a PEN Syndicated Fiction Award, a translation fellowship from the NEA, a California Arts Council Individual Fellowship in Poetry, and, along with Oketani, the 2003 Japan-U.S. Friendship Commission Award for the Translation of Japanese Literature from the Donald Keene Center of Japanese Culture at Columbia University.
About a year ago, she and her husband adopted a Japanese toddler.
Leza graciously took time out of her very busy schedule to answer a few questions for WOW!.
***
WOW: : Let's start at the beginning. When did you start writing? Did you write as a child?
Leza: I began writing at around eight. I was a rebellious (read: mouthy) kid from a troubled family, and I was constantly being grounded. I didn't have a TV, and I could only read so much, so I started to write in little black and red one-dollar diaries I bought in San Francisco's Chinatown. I wrote lots of dark poems and gothic lyrics.
I had a fantastic Creative Writing class in junior high in Berkeley, taught by a woman named Addie. We'd get an hour to write whatever we wanted while listening to classical music, sipping herb tea, and eating graham crackers. She was so supportive, and the atmosphere was so peaceful and inspiring, it became my haven.
WOW: That sounds wonderful! So, when you did read; what kinds of books did you turn to?
Leza: I loved reading the Narnia Chronicles by CS Lewis, and I had a huge copy of The 1001 Tales of the Arabian Nights that I read every night. I loved Roald Dahl, Madeleine L'Engle, Harriet the Spy, the Nancy Drew series. I liked tales of strong women heroines, travel and adventure.
I was also lucky in that the elementary school I went to—Malcom X School in Berkeley, had visiting writers like Maya Angelou and James Baldwin come to talk to us. They were so powerful and inspiring. We were enthralled. Can you imagine seeing Maya Angelou dressed in a colorful daishiki reading her poems in a big booming voice at the age of 9? Unforgettable. These experiences really shape you, though you don't realize it at the time.
WOW: So let's talk about your writing. What was your first publication?
Leza: My first real publication was in a Peace and Conflict Studies Journal at UC Berkeley, where I published a poem about visiting Dachau when I was an undergraduate. I had turned the poem in for an assignment, and the teacher asked if they could print it in the journal. That poem later won a poetry award at UCB.
I got my "real" start at a magazine called MANOA, published by the University of Hawaii. I answered an ad in the back of the AWP News for book reviewers. I wrote my first review for the San Francisco Review of Books, which is now defunct, and also I wrote many reviews for the wonderful Short Story Review, which I was Fiction Editor of, also out of San Francisco and also now defunct, which had the wonderful claim to fame of publishing Amy Tan's first short story, pulled from the slush pile.
WOW: And then you came to Japan. What sparked your interest in this country?
Leza: I grew up in Berkeley in the late 1960s and early 1970s. It was a volatile time with the Vietnam War, and school bussing underway. I was bussed into a tough neighborhood, and I used to get beaten up a lot.
I finally realized that it was not going to stop unless I found a way to stop it. So, I started to take martial arts. I found the class in the local freebie magazine—it turned out to be an Okinawan form of karate called Shorin-Ryu, and the teacher had us meditate, do walking meditation (kinhin) and chant the heart sutra, which is, I later discovered, very rare for a martial arts class. We also had to count in Japanese while doing our kata.
My family life was in shambles, and I also, fortuitously, had a teacher at Berkeley High who introduced us to transcendental meditation when I was 17. Meditation, chanting, Tai Chi, and karate were places I found peace and escape from the chaos of my family life and the violence and upheaval of Berkeley. I didn't realize how long I'd been waiting to exhale! My introduction to Karate and Zen meditation sparked an interest in Japan. When I finally came here in 1987 for a hot summer in Kyoto, I felt as if I was coming home.
WOW: How did your first book come about?
Leza: I had just graduated from the Creative Writing M.A. Program at S.F. State and started teaching there when my then-boyfriend got a Fulbright to Japan. He sort of gave me an ultimatum, so I taught for a semester and then decided to quit. (Lucky thing in the end, as budget cuts did away with most of the new faculty later that year).
Kathleen Fraser, a fantastic teacher, poet and editor there, gave me the name of her friend in Japan, who was translating Adrienne Rich, and told me to contact her. She said since I was going to Japan, I should meet other young women poets, and what better way to meet them than to put together an anthology? I protested that I couldn't—didn't know the language well enough, didn't have a publisher, etc. She said that was nonsense and if I didn't do it, who would? And if I did do it, and someone didn't like it, they could always do another one….
Who could argue with that attitude? It inspired me. So, I contacted the woman, who was busy but introduced me to her young friend, Miyuki Aoyama, who was translating HG and Erica Jong. Together, we set out to make an anthology with no money, no publisher, and no prospects. About that time, Stone Bridge Press was just getting up and running, so I wrote to Peter Goodman at the suggestion of Susie Schmidt, an editor for whom I worked at Tokyo University Press. It was very much just word of mouth, following leads, trusting the process. Peter was interested.
Then I applied to the NEH as an independent scholar, and to my absolute dismay, I received the grant. (Getting a grant is a great way to get a publisher, it turns out!) Peter liked the book so much he decided to publish it in two volumes—one the traditional forms of haiku and tanka (A Long Rainy Season), the other free verse (Other Side River). The book went on to win the Benjamin Franklin Award for Editorial Excellence, and also a Bay Area Book Reviewers' Award. It has been used as a textbook at UC Berkeley and other universities, so we went full circle.
At the same time, a friend of mine in Tokyo suggested I translate some children's books by Gomi Taro (author of Everyone Poops) for a company called Metalogue, and at the same time, I was offered a job co-translating Japan: Spirit and Form (Tuttle), a huge art history book by Kato Shuichi. So, these three books all came out at roughly the same time. They were translations, and I longed to publish a book of my own poems. I had a full manuscript, but didn't know how to organize it. I saw an ad for a book editor in the back of Poets & Writers, and called the number. It turned out to be my friend Jeffrey Harrison, a poet I had met through another friend, the fiction writer Suzanne Berne. We were both kind of embarrassed, saying, "I've never done this kind of thing before," but he helped me shape the book into a cohesive whole (Old Ways to Fold New Paper) and was a fantastic editor. Then my friend from SF State, Nina Zolotow, started a small press in Berkeley called Wandering Mind Books, and it was their first publication. We later published more books, including translations of the Japanese pop art sculptor Yayoi Kusama.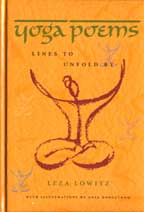 "When I learned to step away and look at my writing more objectively, I was able to become a better editor of my own work, and know when to abandon it."
(Yoga Poems: Lines to Unfold By)
WOW: At the Japan Writers Conference, which was held last autumn in Tokyo, you attributed your success to being open and letting the projects come your way. Could you expand upon this a bit for the WOW! readers?
Leza: At the JWC, I talked about embracing chaos and uncertainty. Keats ascribed poetic genius to a kind of anti-talent, or Negative Capability. "That is when man is capable of being in uncertainties, Mysteries, doubts, without any irritable reaching after fact & reason."
Early in my writing life, I tried too hard to make things happen, often before they were really ready—or even very good. Of course, I got a lot of rejections. When I learned to step away and look at my writing more objectively, I was able to become a better editor of my own work, and know when to abandon it.
As I mentioned above, I started projects I wanted to pursue, without a publisher, an agent, or any guarantee of the book coming out. I just soldiered on. Once my first books were published, I felt secure enough to continue to pursue projects that I really wanted to write, without thinking about the "marketplace." When I began to write what I wanted (and needed) to write, rather than writing what I thought would "sell," there was actually more interest from publishers.
For example, I just started to write the poems in Yoga Poems: Lines to Unfold By, as a result of my yoga practice. I never dreamed that Stone Bridge Press would publish it, as they had focused on Japan-related books until then. I was just casually talking to the Publicist there about it, and he said, "It sounds great. Why don't you let us publish it?"
Over time, I developed a closer relationship with Peter Goodman, my publisher at Stone Bridge Press, who began to suggest that I write particular books, such as the book on Kanji (Designing with Kanji) because so many people were getting disastrous tattoos in Japanese, such as "Wife" (fūjin) instead of "Wind God" (fujin) (which actually might not be such a disaster after all!), and the book on Sanskrit (Sacred Sanskrit Words: For Yoga and Meditation) because many yoga practitioners wanted to learn more about the ancient language and philosophy yoga was born from—not to mention all those yogis getting Sanskrit tattoos for Om, Namaste, and Shanti! None of this was planned, yet it all unfolded, and I learned so much from the process.
WOW: What are the challenges of being an American expat writer in Japan?
Leza: It's harder to send out your work, and you're somewhat removed from the "literary world" of the States, and can be considered a "niche" writer living in Japan. Also, when you have a book come out, it's difficult to promote it Stateside. But I think there are more advantages than disadvantages.
WOW: What are the advantages?
Leza: Well, you're a niche writer, so there's always someplace to publish your work, since there are not really that many women writing in Japan, although the numbers have increased recently. It's a wonderful time to be living and writing in Japan. The West continues to be fascinated by Japan, and Japan is always changing, so the culture is forever inspiring and challenging you to grow and shift your perceptions personally and creatively.
Living as an outsider, you notice things more, and even the everyday can be interesting. You're never at a loss for material to write about, and the writing community, such as our Japan Women Writer's Group on Yahoo and Four Stories, the fantastic new reading series in Japan and Boston run by Tracy Slater, are very supportive. There are so many opportunities here for writers to publish their work, such as your own magazine, Yominono, and Kyoto Journal, and online. Financially, you can survive by freelance writing or editing while doing your creative writing. Things are always happening here!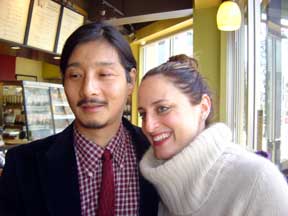 "Creative differences are signs that something new is trying to emerge… if you let it."
(Photo: Leza & her husband, Shogo Oketani)
WOW: You've collaborated with others on several projects, including your husband, Japanese poet and writer, Shogo Oketani. How does that work? How do you deal with creative differences? And do you have any advice on working together for those looking to collaborate?
Leza: The main key to collaboration is surrender. Keep an open mind, knowing that you are not always right, and be open to a more organic process that evolves as the work itself evolves, is key. When you let things evolve naturally, often the final product is much richer than what you had planned.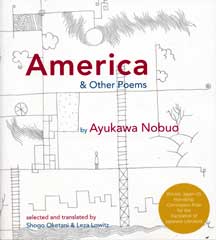 Creative differences are signs that something new is trying to emerge….if you let it. If you can't come to a compromise, then you are probably working with the wrong partner. Shogo and I wrote our first book together, Designing with Kanji: Japanese Character Motifs for Surface, Skin and Spirit (Stone Bridge) and our skills and approaches are different enough that we complemented each other—he did the research in Japanese, I did the English writing. Plus, Shogo has infinite patience, which is a necessity when collaborating. For a decade, we worked on America and Other Poems by Ayukawa Nobuo that just came out from Kaya Press this week. Translating poetry together is immensely difficult but very rewarding. It can make or break a marriage.
Finally, we wrote a novel together, an action-adventure saga about a female ninja, and we fought a lot through that process, but in the end, we were able to come up with a better story than either of us could have written on our own. (Again, our skills complemented each other's. He is strong on plot; I am stronger on character development.) This goes back to Negative Capability. As a writer and collaborator, you have to learn to embrace a liminal state. You have to trust the process and enter a space of the unknown and finally, the unknowable, where mystery can truly arise.
WOW: In addition to your many traditionally published books, you've successfully self-published a collection of poetry and a collection of short stories, which has recently undergone a second printing. What made you decide to self-publish these books?
Leza: Recently my friend, the painter Amy Trachtenberg, told me of a lecture she had taken her teenage son to by Chaim Potok. Her son, of course, hadn't wanted to go (not knowing who Potok was). But Potok was giving the keynote at a junior high to his graduating class in San Francisco. (Nice school!) Anyway, Potok said to them, "…Don't try to be popular in high school. Don't try to make many people like you, don't try to fit into the in crowd—because in the end, you'll water down your personality, you'll become mediocre, and you'll exhaust yourself in the process. Instead, be an outsider. Don't worry about being an outsider, a misfit, or socially unacceptable. All you need is one good friend to get you through high school—one person who gets you. Then you'll be okay." That one friend will last longer than the fickle crowds.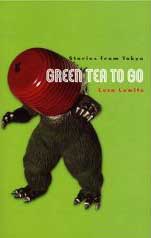 I thought this was really true. And in my publishing experience, this has been Peter Goodman of Stone Bridge Press, and also Joe Zanghi, of Printed Matter Press, the Fiction Collective in Tokyo where I self-published a book of fiction (Green Tea to Go: Stories from Tokyo) and a book of poems (100 Aspects of the Moon).
I didn't have the time or energy to send my poetry and fiction book out to contests, for publication, and I didn't have an agent, and at any rate, most agents can't sell a short story collection or book of poetry, no matter how many awards you've won or where you've published them, unless you've been published in the New Yorker. So, rather than exhausting myself sending my manuscripts out to various contests and small presses, I asked my friend Michele Weatherbee, who designs beautiful books for HarperSanFrancisco, Tuttle, etc., to design the book covers, then I got writer friends to write blurbs, and had the books published by PMP. PMP has been around for over 30 years, and has a fantastic reputation as a literary press and community.
At the same time, Donald Richie (whose Japan Journals: 1947-2004 Leza edited for Stone Bridge Press) was self-publishing his book of fiction with PMP—I figured if it was good enough for Donald, it was certainly good enough for me! The books sell well, were reviewed just as they would have been by a commercial press. I learned how to do the legwork of marketing and promoting with my books from Stone Bridge Press, and I apply the same effort to my self-published books. It's worked out really well.
WOW: You've also been awarded some very prestigious and well-paying grants. What advice do you have for those thinking of applying for grants?
Leza: I've been lucky, but my attitude was always, "Well, someone has to get these grants, and you never know if you don't apply." So, whenever I thought I had even a slight chance, I would apply. My advice is to spend a lot of time researching the grant, looking at your project objectively and getting feedback on it. Then if you can, call the granting agency and talk to them about what they are looking for. Take at least a month off any other projects and work exclusively on the grant application, arguing the merits of your project and why you are the best person out there to bring it to fruition. Choose a project that is truly important socially and literarily, and you will have better chances of it getting funded. And if you get rejected, just try again for another grant. But be realistic about your prospects.
"For a writer to have a good agent in your corner is like a boxer having a good manager."
WOW: I think it's amazing that you've published fifteen books without an agent. How do you feel about agents?
Leza: For a short time, I was a literary agent, and so I know how much work it is, and I have an enormous amount of respect for them. For a writer to have a good agent in your corner is like a boxer having a good manager. They can make an entire writer's career. It's an absolute necessity. I am currently looking for an agent for my new book. If anyone has any good leads, please let me know.
WOW: You've also written a screenplay. How did your screenwriting gig ("Milk") come about?
Leza: For years, Edgar Honetschlager (the director) and I lived in the same old neighborhood (Yanaka) in Tokyo, and would wander the streets and walk through the old cemetery, talking about how we should make a movie about the place.
Yanaka is the last remaining enclave of old wooden houses and merchant's quarters that was not destroyed by the earthquake of 1923 or the fire-bombings of World War II. Edgar is an artist and is a fantastic networker, and he managed to put together a grant proposal and got funding from some incredible sources to make the movie. I was actually surprised, as the film was "experimental" and the places that funded it were mainstream, like The Japan Foundation.
Anyway, we set about writing the script together, which was very difficult, as Edgar had never collaborated on anything and had very strong ideas about writing a film, which he had never done. (I hadn't really either, but I had studied scriptwriting at NYU for two years in the Dramatic Writing Program and had somewhat more of a clue). It was not an easy collaboration, and in the end, it is very much Edgar's film. It's kind of a cult fairy-tale about Tokyo. It was shown at the Berlin Film Festival and at Cannes Film Forum and at film festivals all over the world. We were really lucky that it got such a great reception, though it remains an underground film. Happily, we're still friends, and he's gone on to make many other quirky films about Japan.
WOW: In addition to writing poetry and fiction, y ou run a successful yoga studio, edit fiction for Kyoto Journal (and proofread for Kodansha International), and you are mother to a little boy. How do you find the time to write?
Leza: I don't watch much TV these days; that saves a lot of time to write. Actually, I haven't written anything new since Yuto came. I am waiting for him to go to school in April to have more time to write again. Before that, I just wrote all the time, and always have many projects going on at once, and all are very long term—I've been working on some of them for 20 years, since I was in my early 20s. And yoga really helps! Writing and yoga naturally feed each other.
Writing is a really solitary act, and one is always in the head, and yoga helps you to be in the body. I find that I can be more embodied as a writer, and more poetic as a yogi. I have become so much more productive since I started doing yoga. Running a yoga studio is another matter, but I love it and I love the community and energy it gives me. It's all food.
WOW: What are you working on now?
Leza: Shogo and I wrote an epic YA novel about a young female ninja that has a lot of action and intrigue, like "Indiana Jones" meets "Crouching Tiger, Hidden Dragon." I am writing a coming-of-age novel set in Berkeley, California in the 1970s, working on a sequel to Yoga Poems, and a non-fiction book about adopting a toddler in Japan.
WOW: Sounds great! Finally, do you have any further advice for aspiring writers?
Leza: Read everything you can get your hands on. Write, write, write. Have a support group of fellow writers who give each other constructive and brutally honest feedback. Send your work out. Don't take it too seriously, but take it very seriously. And don't give up on anything—a project you abandoned years ago could be resurrected when the timing is better. Persevere. Writing is the ultimate game of Survival.
WOW: Thank you so much for your time, Leza. You're provided plenty of food for thought.
Leza: Thanks, Suzanne, for the great questions, and thanks to WOW! for giving me such a wonderful opportunity to talk about writing and publishing!
For more information, see:
www.lezaLeza.com
www.sunandmoon.jp
https://www.hawaii.edu/mjournal/
www.kyotojournal.org
www.fourstories.org
www.printedmatterpress.com
***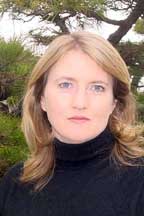 BIO:
Suzanne Kamata lives in Tokushima, Japan. She's the author of the novel Losing Kei, and editor of the anthologies The Broken Bridge: Fiction from Expatriates in Literary Japan, and Love You to Pieces: Creative Writers on Raising a Child with Special Needs (Beacon Press, May 2008), and the literary journal Yomimono.
Suzanne also interviewed Wendy Nelson Tokunaga for WOW!'s July issue, and Lucia Moreno, Editor of Topka Press, for WOW!'s March issue.