Note to Contestants:
We want to thank each and every one of you for sharing your wonderful stories with our guest judges this season. We know it takes a lot to hit the send button! While we'd love to give every contestant a prize, just for your writing efforts, that wouldn't be much of a competition. One of the hardest things we do after a contest ends is to confirm that someone didn't place in the winners' circle. But, believe it when we say that every one of you is a true winner.
Every writer has been a gracious participant through the whole process, from the beginning of one season to the next. We've written emails to authors, agents, and publicists who have donated books to our contest, and we've shared our delight regarding the true sportsmanship among our contestants. It doesn't matter if it's one writer who placed or another who tried but didn't; all writers are courteous, professional, and wonderful extensions of WOW! Women On Writing's team. Writers' stories and e-mails fill us with enthusiasm.
Kudos to all writers who entered, whether you won or not, you're still a winner for participating.
***
To recap our current process, we have a roundtable of 4-7 judges who blindly score equally formatted submissions based on: Subject, Content, Technical, and Overall Impression (Style). That's the first step of the process. If a contestant scores well on the first round, she (or he) receives an e-mail notification that she passed the initial judging phase. The second round judging averages out scores and narrows down the top 20 entries. From this point, our guest judge helps to determine the First, Second, and Third Place Winners, followed by the Runners Up.
As with any contest, judging so many talented writers is not a simple process. With blind judging, all contestants start from the same point, no matter the skill level, experience, or writing credentials. It's the writer's story and voice that shines through, along with the originality, powerful and clear writing, and the writer's heart.
***
We've enjoyed reading your stories, each and every one of them. The WOW! Women On Writing judges take time to read them all. We recognize names of previous contestants, writers familiar with our style. We enjoy getting to know you through your writing and e-mailing. Remember that each one of you is a champion in our book. We hope that you continue to enter so we can watch you grow as writers and storytellers, because each season is a rebirth of opportunity.
Now on to the winners!
Drum roll please....
1
st
Place: Tammie Burnsed
Paso Robles, California
Congratulations, Tammie!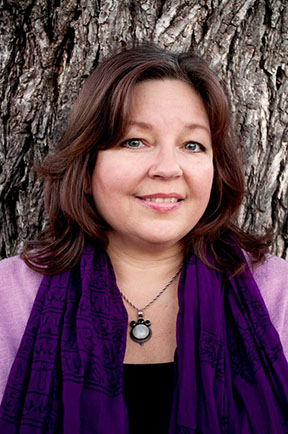 Tammie's Bio:
Tammie Burnsed is currently revising her third novel, Moonlight, Mugwort and Murder. Her work has appeared in Sage Woman Magazine, Tolosa Press, and Familiar as well as several online outlets. Tammie authored Writing Wild: Crafting the Pagan Memoir and The Ones Who Dance Alone: Full Moon Celebrations for the Solitary Witch under the pen name TJ Burns. After a 20-year pause in her education, Tammie returned to school and received an MFA from Goddard College in 2008. She especially enjoys writing stories about strong, flawed female characters who foster a deep connection to their environment. Tammie lives in California with her husband of 32 years. When not writing, Tammie enjoys creating mixed media art from her hoard of ephemera and making her four-legged friends happy. Connect with Tammie on Facebook at www.facebook.com/Tammie-J-Burnsed, on Twitter @writertjburns and www.writertjburns.com.
The Deer Tender
The people left with the water. Anya saw it coming years before she could walk the bed of the Great Dragon Lake, feet crunching the dusty bones of white bass and catfish with every step. She'd dreamed it.
In her dream, thirst drove a body of dried corn stalks to march from the Sierras to the sandy edges of every California beach. Their husks fell away as they advanced across the Golden State, trailing a spark-hungry veil of tinder behind. Leafless stalks held tight to their withered offspring, misshapen cobs no blessing of water could help. In the hazy way of dreamtime, a crescent moon tumbled from the sky and shattered like a broken mirror on soil gone hard as concrete.
Drought, Anya wrote in her nightstand tablet when she woke.
The next day she purchased a 1000-gallon water tank at the Farm and Ranch and hired day laborers from the Home Depot parking lot to bury the thing in her backyard. One thousand days of water if she used it well. She wondered if the men would remember her, this job, when the lakes turned to bones. Would they kill her in her sleep one night and steal the contents of her cistern? Because surely it would come to that, killing old women for a few gallons of water. For a single drink.
Let them come, Anya decided. If the world gets to that, let them come. What else could she do?
Home by home, the neighbors left, and to each she said goodbye. Anya lied to her friends, making much about the non-existent daughter who would come for her tomorrow or the next day. No family wanted one more thirsty mouth to worry about. Anya understood. She was glad to spare them the embarrassment of their neglect. Finally, the block was empty and then the town. Some gone north where deep winter snows still made water for the year, some to the Gulf to take their chances with monstrous tropical storms whose parting gifts were full reservoirs.
But what about the deer, Anya asked herself as neighbor after neighbor followed the rainclouds.
Back when the drought was bad but not bad enough for people to stop watering their lawns, Anya and a few neighbors began tending the small mule deer that roamed their greenbelt community at the edge of city limits. What started as an occasional deer sighting became cohabitation as the animals wandered farther and more boldly into front yards in search of food and a cool patch of grass in which to rest during the triple-digit days of summer.
"Where can they find a place to drink?" asked Anya's young friends Charlotte and Bowie one day as the three stood in their side-by-side driveways watching the deer on hind legs pluck apricots from the abandoned orchard across the street. Anya hadn't any good answer for the children and felt she should. After all, she had known them since they were born. She walked into the house and came out with her best galvanized cleaning bucket, filled it with the hose and placed it next to the Rosa californica the herd had recently begun grazing. "How 'bout here?" she'd said. The children smiled.
When spring no longer fulfilled its abundant promise in fields of tender oatgrass and lawns became parched memories of green, apple cores and carrot ends and bales of alfalfa and scattered pathways of deer feed bought at the Farm and Ranch and buckets of water, some old and trusty like Anya's, some plastic and colorful and looking like oversized flowers against the dead grass on which they rested, appeared in front yards up and down the block.
The Deer Brigade, Bowie named their effort.
Now the buckets held only air and the path of deer treats that connected the neighbors was gone. So much was.
A gallon a day for the deer—maybe less for her if she was careful and stayed out of the heat—gave them 500 days. More or less. Anya had already stacked bags of feed in the pantry along with home-canned beans and soup, pickles and peaches. A package of Chocolate Milanos, a parting gift from Charlotte and Bowie, sat unopened on the shelf. But a single gallon wouldn't be enough even for the shrinking herd. Might be kinder not to give them any water at all.
Two gallons then. And a portion of her peaches to the fawns.
***
What Tammie Won:
$400.00 Cash Prize
$25 Amazon Gift Card
Publication of winning story on WOW-WomenOnWriting.com website
Interview on WOW!'s blog The Muffin
2
nd
Place: Sinéad Creedon
Cork, Ireland
Congratulations, Sinéad!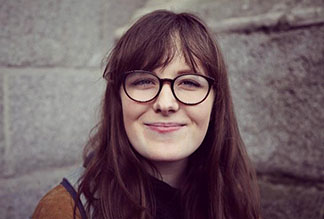 Sinéad's Bio:
Sinéad Creedon is a recent graduate of English Literature studies from Trinity College Dublin. She is known for reading horror and writing sad things. Sinéad is a vegetarian and a feminist and relates to Bridget Jones. Also published in Ireland's Zine and The Attic and currently at work on her debut novel, Sinéad is soon to take over the world. But most importantly, Sinéad is from Cork, Ireland. For more literary musings, contact her at Facebook, Instagram, and/or follow her blog at www.sonderful.wordpress.com.
Ssh
I've always let silence speak louder than me.
I clock out of the shop at midnight after two gruelling hours of listening to the Late Debate on RTE1. Domestic violence was the topic of tonight. My eyes rotated between the door and my lap, avoiding the security cameras where I knew he could see me. If he was in there. I was never sure.
My eldest daughter is up, as usual, when I get home. "I've put them to bed," she says without looking from the TV. The Handmaid's Tale. "Thanks, hun," I say, throwing my keys on the table. I rob the remaining, cold slice of Goodfella's from the plate beside her.
"Mum, what's up?" she asks when I don't hear her or the show. She had been asking me how work was. She had to ask me three times. "You've been acting strange lately."
I wrap my arms around her and pull her into me. "Absolutely nothing."
I was stocking beans by the office door. I could hear him coughing. I thought about the germs. I dropped a tin. "Shit." My hands shook as I cleaned up, scared I wouldn't make it. The door stayed closed.
Brenda came out of the office. She was crying. I had worked with her for the last seven years. She never came back. Brenda was middle-aged and fat.
Eoin was fired before Brenda. He was only eighteen years old and lived only over the bridge. He was working here since he was sixteen. Brenda and I bought him a naggin of vodka when he turned eighteen.
I hadn't left the house that weekend. I showered three times each day. I felt dirty. "Mum, what's up?"
"I'm not feeling well, hun."
She hadn't been awake when I got home. It was the one night I really needed her to be awake. I was crying. I had mascara on my cheeks. I have not worn mascara since.
"Can I see you in the office?" Derek had asked. I smiled at him and followed him into his office. "It's not great news," he said, leaning back against his desk while motioning at me to sit down. "We are going to have to start making cut backs. Let people go. Less hours. Almost everyone. No one can be favoured, unfortunately."
I looked at my lap. I didn't like showing emotion in front of people, especially my boss. I held my hands. "Derek, I have three kids. I've been here for eight years."
"I can't just take time into account. Even Brenda. I'll have to let her go."
"You can't do that. She just got her hip done."
"You know; I don't want to see you go." He put his hands in his pockets. I looked up quickly, trying to flatten my voice to hide the quivers, looking for hope in his eyes.
He went behind his desk and took a bottle of wine from a drawer. "Glass?" he offered. I shook my head. He looked disappointed. "Come on. Have a glass. Maybe you can change my mind."
He hadn't been my manager for long. He only came in two years ago. He was in his fifties. His belly protruded over his pants and his brown hair stuck to his forehead.
"How?" I asked.
"Just by having a glass of wine with me. Get to know each other a little."
I had a glass of wine. I drank it very fast. I looked at the little TV in the corner, showing the shop inside. It was empty, apart from Eoin, who was stacking the bottom shelves.
Derek talked to me about me. He told me he always thought I was prettier than other women my age. He told me I don't look like I've had three kids. He told me I couldn't expect anything else, wearing jeans that tight.
He put his hand on my lap.
I said nothing.
He unzipped my pants.
I said nothing.
I say nothing.
There are only two women in the shop now. Me and a nineteen-year-old with boobs. She's very quiet.
***
What Sinéad Won:
$300.00 Cash Prize
$25 Amazon Gift Card
Publication of winning story on WOW-WomenOnWriting.com website
Interview on WOW!'s blog The Muffin
3
rd
Place: Jamie Destouet
Houston, Texas
Congratulations, Jamie!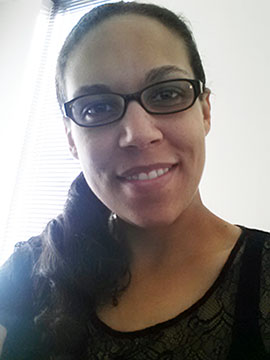 Jamie's Bio:
Jamie Destouet is a writer/editor for a publishing company and a graduate of the University of Houston Downtown. Her writing allows her to create worlds and characters that embody her passions, fears and ambitions. This is her first submission to a writing competition. A native Houstonian, she lives with her sister and her own personal Dragon (though those without imagination just see a black cat). She aspires to be a novelist, but for now lives a simple life working on writing projects whenever time allows. Perpetually a lover of exceptional stories, she indulges in all things Ray Bradbury, Stephen King, Christopher and Johnathan Nolan, Sherlock Holmes, Japanese graphic novels and story-driven video games. She was recently brought on to co-write a murder-mystery adventure game due for release in 2019.
A Little Request
"Make me a flower," said the little girl.
The blacksmith stopped his heavy striking, looking down at the small child who peered at him over the table by the door. Furrowing his thickened brows, he looked around at the tool-laden walls. He saw stacks of wagon wheels to move carts, watering cans to hold water, pumps to fill the cans and plows to till the soil, but nothing grew in the shop but the roaring flames.
Wiping the sweat from his brow, he grumbled deeply, "Sorry, this ain't no place for that. Go find a farmer; he'll grow you a flower."
"You can't make me a little one?" asked the girl.
"Not even a little one," the blacksmith answered and returned to his hammering.
Several days later, the girl returned to the loud blacksmith shop, calling to him over the incessant clanging of hammer against semi-molten steel. "Make me a dress, Mr. Blacksmith!"
The blacksmith again stopped his striking and looked around his shop. On the tables, he saw parts to make sewing machines, delicate needles with which to pierce fabric and heavy irons to press out wrinkles—but the only clothing in the shop was his sweaty outfit and heavy leather apron. "Sorry, this ain't no place for that. Go find a seamstress; she'll sew you a dress."
"You can't make me a little one?"
"Not even a little one," the blacksmith admitted and returned to his smelting.
A week passed and the girl returned to the shop, peeking around the barrels of water with wide eyes. "Mr. Blacksmith, make me a pony!"
The blacksmith looked up from the forge, his tired eyes red from lack of sleep and the late nights of continued work. Rubbing them with the back of his hand, he looked around at the vast crates full of bits made for bridles and horseshoes ready to fit to hooves, but the only animal in the shop was the stray dog that dozed by the entrance in easy reach of the warmth of the flames.
"Sorry, this ain't no place for that. Go find a rancher; he'll lend you a pony."
"You can't make me a little one?"
"Not even a little one," the blacksmith sighed and dunked the reddened metal into the slack tub.
Several weeks passed and the girl returned to the shop, looking in at the man whose hammer she heard all day and all night now.
"Mr. Blacksmith, can you make me safe?"
His face masked by soot and streaked by sweat, the blacksmith looked up, but though he heard her, he couldn't see the girl. All around him, the rifles stood at attention in racks, the pistols lined the tables by the hundreds and the knives were stacked every place in between, but the only safety in the shop—in the whole town—had long since faded from memory.
"Sorry, this ain't no place for that. Go find your parents; they'll keep you safe."
"Not even a little?"
"Not even a little," the blacksmith polished the knife until the metal flashed in the light of the flames.
A long month passed and the blacksmith sat before his forge, looking into the dark hole once alight with reddened coals, at the walls now bare of tools, the crates now full of webs and the tables laden with dust. Outside, the war-torn town was close to empty and even the stray, who had so long lingered at the door, knew when to move on. Behind him, he heard footsteps, but as he turned, he saw not a little girl, but a man.
The two spoke shortly, softly in the presence of the quiet forge and at the end, the blacksmith reached into the pocket of his apron and pulled the only thing he had left of value. Once known for his swords and his daggers, for his bits and horseshoes, for irons and needles and plows and pipes, all that remained of his tireless work was his heavy hammer.
And with an equally heavy heart, he followed the man out into the dusty, abandoned town to help make a coffin.
Just a little one.
***
What Jamie Won:
$200.00 Cash Prize
$25 Amazon Gift Card
Publication of winning story on WOW-WomenOnWriting.com website
Interview on WOW!'s blog The Muffin
RUNNERS UP (In no particular order):
Congratulations to the runners-up! It was very close, and these stories are excellent in every way.
Click on their entries to read:
Welcome to BrightLook! by Margaret Harmon, San Diego, California
Baby Steps by Tori Haring-Smith, Peterborough, New Hampshire
Limber Timber by Sharon Henriksen, Brownsburg, Indiana
Dandelion by Kristen Olsen, Minneapolis, Minnesota
Whiskey Friends by Robyn Russo, Austin, Texas
As for Adventure by Janelle Franz, Grand Rapids, Michigan
The Picnic by Rebecca Redshaw, Mount Vernon, Washington
What the Runners Up Won:
$25 Amazon Gift Card
Publication of winning story on WOW-WomenOnWriting.com website
Interview on WOW!'s blog The Muffin
HONORABLE MENTIONS (In no particular order):
Congratulations to our Spring Contest Honorable Mentions! Your stories stood out and are excellent in every way.
Worth of a Woman by Sherabim Joy Allen, Little Falls, New Jersey
Seeing Red by Robyn Russo, Austin, Texas
Chicken for Dinner by Susan Moffson, Boulder, Colorado
Wedding Day by N. Carey-Furness, London, England
The Painting by Ekta R. Garg, Savoy, Illinois
Kill Your Lights by Caitlyn Silver, Silver Spring, Maryland
Engagement Lasagna by Jamie Richardson, Royse City, Texas
Made by a Lesbian by Courtney Harler, Las Vegas, Nevada
Firefly Diaries by C.C. Warrens, Wooster, Ohio
Counting to Ten by Kim Brooks, Columbus, Indiana
What the Honorable Mentions Won:
IN CLOSING:
This brings the Spring 2018 Flash Fiction Contest officially to a close. Although we're not able to send a special prize to every contestant, we will always give our heartfelt thanks for your participation and contribution, and for your part in making WOW! all that it can be. Each one of you has found the courage to enter, and that is a remarkable accomplishment in itself. We're looking forward to receiving your entries for our next contest. Best of luck, and write on!
Check out the latest Contest: