or years, a classic red-and-white checkerboard cookbook adorned many kitchens across America, displaying a plethora of timeless recipes neatly arranged by soups, salads, entrees, and desserts.
Since the 1930s, when the Better Homes and Gardens Cook Book first entered the market, cooks devoured the culinary best seller. The enormous how-to book provided the latest features. Ring binding let the cookbook open flat on the countertop; and when the book was closed, the tabbed chapter dividers gave the book the appearance of a recipe file box.
Cookbooks have come a long way, baby, since those first all-encompassing tomes.
Now, cookbooks concentrate on a forte: cheesecakes, gluten-free cuisine, one-pot wonders, healthy fare for diabetics, Tuscany techniques.
Like an accurately measured recipe, cookbooks and their authors measure potential audience appeal and dole out dishes that satisfy specific appetites when pitching a cookbook idea.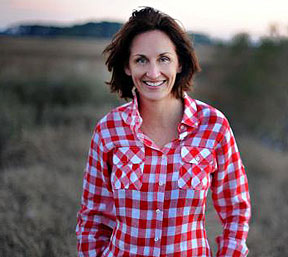 "...there's always the first runner-up that is standing right next to you waiting to take your pork queen crown and push you off the stage."
~ Libbie Summers
Appealing Appetizers: Tempting Readers
What makes a well-carved niche important for gastronomists?
"You have to be the expert," asserts Libbie Summers, author of The Whole Hog Cookbook. "If you can't live up to that role, there's always the first runner-up that is standing right next to you waiting to take your pork queen crown and push you off the stage."
Summers formal training centers on French baking. "That and two Euros might buy me a baguette."
She started cooking professionally on sailing yachts in 1996 and realized that preparing meals for guests from different cultural backgrounds required a vast culinary repertoire. When in port, Summers sought the best cook in town and claims she pestered them until they allowed her to shadow them in their kitchens.
"I found there really is no language barrier in a home kitchen."
For several years, Summers wanted to do a cookbook. The Whole Hog Cookbook was a natural fit. Her grandparents were hog farmers. She had experience developing pork recipes for clients. Summers's growing interest in Heritage breeds also gave her a gentle nudge.
"Most importantly, I wanted to do a pork cookbook that wasn't intimidating. You don't have to be a butcher to understand this book."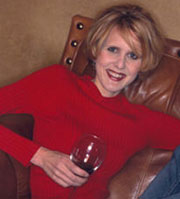 "To get to a new level, I knew I needed a book." ~ Amy Reiley
As a kid, Amy Reiley fell in love with cooking. Reiley is a Master of Gastronomy from Le Cordon Bleu and an aphrodisiac authority. She started her career as a food and wine journalist at age twenty-three.
Her interest in aphrodisiacs happened naturally. Reiley combined her love of Greek mythology and interest in nutrition; and she discovered that from a culinary perspective, aphrodisiacs were not hot.
She sparked the culinary world with the publication of Fork Me, Spoon Me: The Sensual Cookbook. Its sequel, Romancing the Stove, is scheduled for a January 2012 release.
Fork Me, Spoon Me looks at different ways to use aphrodisiacs to eat well and look your best, in addition to feeding your libido.
"Finding my niche is a typical and not too romantic story," Reiley declares. "To get to a new level, I knew I needed a book."
Reiley wanted to design a fun, gift market book with wide appeal. Fork Me, Spoon Me shares the history of several lusty foods and provides recipes using those ingredients.
But make no mistake: this isn't a book meant just for two.
"You can make these recipes for a dinner party. They're very easy, very approachable."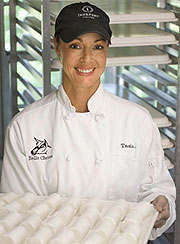 "I fell in love with the product and ended up buying the creamery!" ~ Tasia Malakasis
A 360-degree change in careers led Tasia Malakasis to the world of food—or more appropriately, Belle Chevre creamery.
Malakasis, an Alabama native transplanted in the Big Apple, discovered Belle Chevre cheese in a New York City store.
"I fell in love with the product and ended up buying the creamery!"
The life-long foodie returned to Alabama and convinced the owner emeritus that Tasia was the right choice to continue the Belle Chevre tradition.
Now, the former high-tech software marketer is an artisan cheese maker.
But it wasn't her brand-name product that led Tasia to write her cookbook, Tasia's Table.
"I am first and foremost a cook—a lover of food and the power it has to bring us together in both joyous and solemn occasions."
Tasia wanted an additional outlet to share her enthusiasm about spending time in the kitchen and around the table with friends.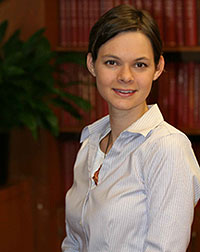 "...adapting larger recipes for one is a nuisance." ~ Stephanie Bostic
When Stephanie Bostic couldn't locate a simple, healthy, cooking-for-one cookbook for a friend, she realized she found an underserved niche: the solo cook. She introduced One Bowl: Simple Healthy Recipes for One in August.
Bostic, whose interest in nutrition led to a master of science in nutrition, says cooking is typically framed as a family activity, as a caretaking activity, or as a hobby.
"For novices or those who aren't enthusiastic cooks, that can be discouraging; and adapting larger recipes for one is a nuisance."
With over 160 million unmarried Americans in the population base, Bostic has an untapped pot of readers to cater to.
Bostic's gardening and sustainable foods blog readership has increased since her cookbook's debut in August.
"The blogger/blog reader relationship is an interesting dynamic," remarks Bostic.
"I think a niche that gains focus, just from the sheer fact that the light has shined on it, grows." ~ Tasia Malakasis
First Course: Defining the Focus
Can a niche or cookbook be too focused?
Perhaps.
Reiley, whose company Life of Reiley, publishes other niche cookbooks, can see how a niche could be too focused, but that hasn't been the case for her company.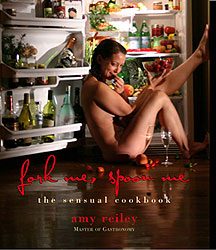 The only detriment for Fork Me, Spoon Me is the controversial cover. The classic cover features a bare-backed woman glancing over her shoulder at the camera. The limited edition cover shows an unclothed Reiley (appropriately staged) eating strawberries in front of a well-stocked refrigerator.
To accommodate readers, Reiley reissued the book with a more tame cover.
"It doesn't sell. Usually people will buy one with me on the cover for themselves and the other for friends."
Bostic sees a drawback to developing a niche. Although she's happy to continue writing about cooking, she realizes she is attracting an audience that shares a specific interest.
"Shifting into another genre means you need to collect a new audience." Bostic hopes a marketing tenet—a current client is worth eight new clients because of an established positive relationship—helps when branching out.
Conversely, Malakasis wonders how a niche changes.
"I think a niche that gains focus, just from the sheer fact that the light has shined on it, grows."
Summers thinks sometimes authors limit themselves; but by expanding the focus a smidgeon, you expand your reading base.
"I expanded Whole Hog to so many things I love that go along with pork—amazingly fantastic condiment recipes, side dishes that will work with other proteins, and the best part...desserts!"
"I'm not competing with Paula Deen." ~ Stephanie Bostic
Main Course: Competing in a Foodie World
But in a seduced and savvy foodie world, where Paula, Giada, and Rachael enter our homes on a daily basis thanks to Food Network and The Cooking Channel, how can a food expert earn name-brand recognition and sell books?
Malakasis doesn't know if it is difficult to break into the cookbook market without a TV show. She adds that she had a desire to write a book and was naïve enough to think someone would publish it.
And there was someone who said, "Yes."
Getting the book into readers' hands is important. Bostic said that outside of a small circle of family and friends, book sales have been to people who flipped through it or who have read positive reviews from bloggers.
But Bostic also believes she's filling a truly empty niche.
"I'm not competing with Paula Deen."
It might boil down to self-promotion.
"It isn't easy," asserts Reiley. "You have to be relentless with PR."
Reiley credits her marvelous PR team for developing a formula that works. Plus, Reiley believes in the power of social media. While she admits it is time consuming—she spends two hours a day promoting her work—her Twitter audience has grown from two hundred to eleven thousand in the last six months.
"Now when I tweet, I get fifty hits and people retweeting my messages."
Reiley believes Facebook posts get the most reaction from readers, and LinkedIn reaches a more professional audience. Reiley's company has connected with several gift shop vendors via LinkedIn.
The power of networking is evident for Summers.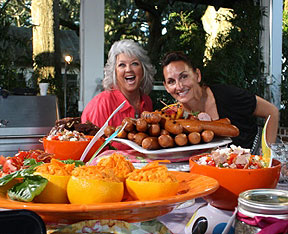 For the past two years, Summers has served as the culinary producer for Paula's Best Dishes, The Real Women of Philadelphia, Jamie Deen's pilot, and a multitude of other online and print work.
Her most visible daily job was the senior food editor of Paula's website. Libbie says her team at Paula Deen Enterprises took a basically non-existent website and turned it into one of the top celebrity food websites in the world.
But for Summers, the personal relationship she developed with Paula and her family will always be the most important work and be close to her heart.
"The rest...it's just a job, a great job nonetheless, but still just a job at the end of the day."
Summers recommends networking for building a niche market. Since her work and interests are food and lifestyle related, she has friends all over the food and design world. They support each other's endeavors.
"It's important to connect with people who love what you do. What's important is to be supportive of what others are doing as well."
"The difference between the trend and the general book is that the trend will end up in the thrift shop or a garage sale in two years..." ~ Stephanie Bostic
Delectable Desserts: Satisfying the Sweet Tooth
While the average home cook may never star in her own cooking show, she may discover what's not being whipped up by walking through the cooking section of the local bookstore.
There, you'll notice mouth-watering covers touting bacon for more than breakfast or thirty-minute dinners or creative cupcakes.
With all the hot trends in cooking, should these delectable developments dictate new niches?
Bostic thinks that to some extent, trends determine what's spicy and popular—both in the kitchen and the bookstore.
"The difference between the trend and the general book is that the trend will end up in the thrift shop or a garage sale in two years, whereas basic, all-purpose cookbooks, like One Bowl, will be used often."
One trend that appears to be growing faster than a batch of friendship bread starter is the use of narrative alongside recipes.
Reiley believes authors need to strike a balance between sharing information and offering advice in that small amount of space. The use of narrative depends on the type of book and the market it focuses on for Life of Reiley publications.
"We find it's more popular with people looking for gift books than food books."
Malakasis believes there is a "knowing" that happens in storytelling, and it translates to cookbooks, too. When a bond forms between cook and reader, it's magic.
"I fall in love with people I have never met after reading their stories and appreciate them and the food even more."
"Have fun cooking!" ~ Libbie Summers
The Nightcap: Combining All Elements
In the end, the connection that forms is thicker than country gravy, helping the author accomplish her ultimate goal.
Tasia hopes readers gain a new or renewed passion for cooking after reading Tasia's Table.
Reiley wants people to enjoy the reading experience as well as the food. After Fork Me, Spoon Me was released, she met people who didn't necessarily cook more often but instead, relished her insight and expertise.
Summers wants to give readers and cooks recipes and techniques that are approachable and give people courage to use parts of the pig they never would have used before.
"Have fun cooking!" Summers responds.
Once a cookbook author determines a niche and tests the recipes, the rest of what follows is presentation.
And the ultimate place setting—a cook's countertop.
***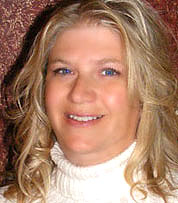 LuAnn Schindler is a full-time freelance journalist living on the eastern slope of the Nebraska Sandhills on a dairy farm with 200+ Holsteins. She currently blogs for The Muffin, the WOW! Women On Writing daily blog. Her work has appeared in the Pregnancy, 2: The Couples Magazine, Denver Post, Rural Electric Nebraskan, Absolute Write, in addition to other publications. LuAnn is a member of the International Food, Wine, and Travel Writers Association. She won a 2010 Nebraska Press Award for feature writing.
-----
Enjoyed this article? Check out these related articles on WOW!:
How to Turn Your Hobby into a Writing Niche
Julie Powell Dishes On Her Latest Book Cleaving
Interview with Shirley Jump: Romances with Recipes
On the Steamy Side with Louisa Edwards: The Queen of Culinary Romance
Interview with Laura Schenone, author of The Lost Ravioli Recipes