uthor Shirley Jump has managed to successfully blend three of her favorite ingredients—romance, food, and humor—into a bestselling series. Her Romances with Recipes novels combine perfectly imperfect female leads, gorgeous leading men, and a dash of humor that all feature food as a central theme. And her fans, quite literally, eat her words. Besides her five books in the popular Recipes series—The Bride Wore Chocolate, The Devil Served Tortellini, The Angel Craved Lobster, The Bachelor Preferred Pastry, and Pretty Bad—Jump has authored over twenty books for Harlequin and Silhouette. Her most recent romance, A Princess for Christmas, was released in October 2009, and Just Married!: Kiss the Bridesmaid/Best Man Says I Do, a collaboration of two linked books with author Cara Colter, was released in January 2010. She is also branching out into young adult fiction. Her first thriller, The Well, was written in collaboration with her daughter under the pen name A.J. Whitten. Shirley lives in the Midwest with her husband, kids, and two dogs. She sat down to talk with us about food, romance, and of course, writing!

WOW: Hello, Shirley, and welcome to WOW! You've written a number of books in the romance genre, both the traditional "love story" and lighter romantic comedies. What attracted you to writing romances?
Shirley: I used to be a reporter and covered everything from suicides to hit and runs. After a few years of that, though, I realized I hated writing stories that didn't have happy endings. I wanted to write stories that made people smile. I segued into writing profiles and parenting pieces for other publications and started writing romance at the same time.
WOW: Your books in the Romances with Recipes series combine three important ingredients—food, romance, and humor! How did the series come about?
Shirley: When I started developing that project, I sat down and made a list of the three things that were most important to me and food, romance, and humor made up that list! Sometimes, the order is reversed (meaning love first); but you add cookies or pasta into the mix, and food shoots right to number one. (smiles) In addition, I have always enjoyed books that had something "extra," so to speak. Whether it's an interview with the author, a little note on how the book came to be, or a wealth of historical facts in the appendix, I love getting that "bonus." To me, having the recipes created a nice bonus for my readers and gave me an excuse to cook A LOT and test them all out.
WOW: Besides all of the recipes that appear in your series, you regularly post them on your blog, Eating My Words. Are they all your own creations? What's your favorite dish to make or eat?
Shirley: I love, love, love pasta. Fettuccini Alfredo and macaroni and cheese are tied as my favorites to make (and order in a restaurant). If it's not pasta, it's dessert. But I'm really more of a person who likes to cook as opposed to bake. I like the creativity and flexibility in cooking, whereas baking is a very exact science.
The recipes in the books are all mine, and many have been tested over and over again (especially the cheese ones). (laughs)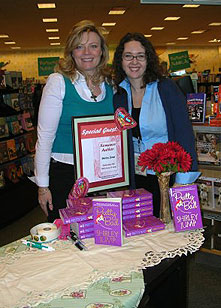 "I think the recipe for a good book is the same regardless of genre. You start where the trouble starts and make things worse on every page."
(Photo: Shirley with Becky Ashcroft at a Barnes & Noble book signing in Valparaiso, Indiana.)
WOW: The recipes all sound really delicious and relate to their respective books—desserts, pasta, seafood, etc. Since we're on the subject, what's your "recipe", so to speak, for a good romantic comedy?
Shirley: I think the recipe for a good book is the same regardless of genre. You start where the trouble starts and make things worse on every page. The only difference with a romantic comedy as opposed to say, a thriller, is that you create a plot that has a lot of humor and create characters who are funny. Often, it's my secondary characters who provide the most "jokes" because my hero and heroine have a lot of issues to work through before they can find love; and it's hard to do that and make them funny. So I use characters or situations to add the humor and try to make the writing tighter, faster-paced, and deliver, like a good joke, on a strong punch line.
WOW: It's often hard for writers to be funny and come up with humorous situations for their characters. Do you find it hard to write funny? How has your sense of humor influenced your work?
Shirley: In the beginning, I found it very hard to write funny. I didn't start out as a comedy writer—my first books were angsty, dramatic, tissue-wringer things. But an editor at Silhouette read what later became The Virgin's Proposal (my first book) and saw the humor potential in the book. She asked me to retool it as a romantic comedy.
All of a sudden, I had to learn to write funny. I started reading funny books, watching funny shows, listening to comics on the radio, and taking notes on how the writers created funny out of ordinary situations. I also started working on my own humor abilities. I'm seriously not funny in real life—my own family doesn't laugh at my jokes, and I get so talkative telling a joke I can't ever seem to get to the punch line.
So I started "cultivating" my funny bone by taking things that happened in my life that were humorous and taking the time to tell the story. I would muddle over an e-mail about a llama incident at my son's birthday party and really work it until the story sounded as funny as it was in real life. That forced me to work on my timing, my delivery, and finding a way to make the most out of every part of the story. That, in turn, influenced my writing and helped me make them funnier.
WOW: Switching gears for a moment, romance is definitely popular these days, although it seems there's a new twist to what most people would consider a "typical" romance—i.e., paranormal, etc. How do you feel about the new trends in the genre?
Shirley: I think it's great to add a new twist, especially when it brings in readers or retains readers we already have.
WOW: How did the writing process differ for the Recipes books from your Harlequin titles?
Shirley: My single titles are much more involved books with multiple plots, so I had to do a lot more planning ahead of time in my head and be sure I tied up all the plot threads when I revised. At heart, the stories are the same—the trouble starts in the first few pages and gets worse on every page—but the level of other character involvement and the ability to add multiple subplots made them more complex.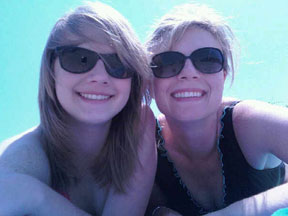 "I am very much a 'jump off and see where it gets me' kind of writer. I start with a what-if situation..."
(Photo: Shirley with her daughter, who is co-author of The Well.)
WOW: Do you do an outline before you get started on a new book, or do you just see where the stories and characters take you?
Shirley: I am very much a "jump off and see where it gets me" kind of writer. I start with a what-if situation (what if a mother and daughter are forced to make a cross-country road trip together, and each has secrets to hide from the other—which is the premise behind Around the Bend, March 2010) and then go from there. The companion book in the twofer release of Around the Bend is The Other Wife, where the what-if situation is "what if a woman finds out her late husband had multiple other wives and had been traveling the country with Harvey the Wonder Dog?"
Then I start writing. I get about a third of the way into the book, then go back and start fleshing out the characters, answering all those "why" questions for myself. I used to be much more of a planner; but as I wrote more, I found more of that process happened in the back of my head while the book is "cooking." And if I knew the ending, I wasn't as interested in writing the book. So I take off and write, with no real idea how the book will end; and the discovery process is as fun for me as it is for a reader.
WOW: Every writer has a different method that works for them. Do you have a regular writing routine? What's your typical process like?
Shirley: I wish I had a regular routine and try to stick to some kind of a schedule every day. But I have two kids; and invariably when I think I'll be able to write from 8:00 to 12:00 that day, one of the kids ends up coming home from school sick or forgetting their lunch or something, and my day gets interrupted. So, my process is to write as much as possible when I have three or four hours I can string together. And if I can't get that much time, then to work with the hours I have.
That said, I almost always have either a notepad or printed manuscript pages with me when I'm on deadline. That way, I can work in those odd moments while I'm waiting to pick up a kid or at a doctor's appointment, etc.
WOW: How do you come up with your ideas? Do you find it challenging to keep coming up with new storylines?
Shirley: Ideas are never a problem for me. I have so many and only so much time to write them! The ideas just...come. I never really know how to answer that question because they're just there. I think my brain reads this, sees that, remembers this, and jumbles all those varied experiences together and pops out an idea. Thank goodness because I'd hate to wake up one day and not have an idea!
WOW: Do you belong to any writing organizations? How have they helped you?
Shirley: I belong to several—Romance Writers of America, Sisters in Crime, International Association of Crime Writers, and Novelists, Inc. RWA was most instrumental in providing workshops that taught me almost everything I know about writing and providing great access to editors, agents, and other authors via the conferences.
Novelists, Inc. has been great for the professional networking and advice available there. You have to be a published author with two books under your belt to join Ninc, and that creates a group where we're sharing the been-there-done-that kind of advice and resources.
As for the other two, I joined those to gain knowledge about forensics (the horror YA books required research into murder/dying) and to explore the suspense genre. I don't write suspense yet (except for a short story of mine that won an honorable mention this year), but I've always loved it.
WOW: Along with your romance titles, you're also branching out into YA with your new book The Well, which you wrote with your daughter. You wrote that under a pseudonym—can you tell us a little bit about how that book came about, and why you decided to use a pen name?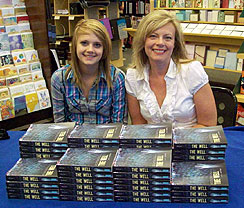 Shirley: In my "spare" time (I write about five books a year, so there's not a lot of spare time, (laughs)), I write in other genres to flex my writing muscles. It just gives me new ways of stringing words together, creating characters, etc. One of the genres I tried was YA. I had about eleven pages of this novel that I thought were pretty good and told my daughter about it one day. We were in the car—she was keeping me company while I went to a book signing on the other side of the state—and ended up talking out the whole book and plotting it while we were together. I realized she was really good at that and asked her if she'd like to help me. As we worked together, she wanted to write more and got more and more involved—to the point where I thought we could really do this as a team. So far, it's worked out pretty well!
WOW: As if all of your fiction titles aren't impressive enough, you've also written quite a few articles and a nonfiction book, How to Publish Your Articles: A Complete Guide to Making the Right Publication Say Yes. Are you planning to go back to nonfiction anytime soon? What are some of the biggest differences in writing fiction versus nonfiction?
Shirley: I do a few articles here and there, but very, very few compared to the 3000 or so I wrote over my nonfiction career. I actually have two nonfiction books—a biography of a children's television star from Boston, which was my very first book, and the How to Publish Your Articles book. I'm busy enough with the fiction that I'm not planning on any nonfiction in the near future.
It took me a long time to learn how to write fiction (I wrote ten books in eight years before I sold my first one) because I had a hard time transitioning between the two types of writing. Nonfiction is very linear, like algebra. Connect dots ABC, include some quotes to verify your facts, and prove XYZ by the end of the article. It's very much written from your brain, with certain defined parameters that make it very straightforward. Fiction, however, is written from the gut. You have to get in touch with your deepest feelings, your emotions, your life experiences in order to write good fiction. It's much more spatial, like geometry, and less defined. You can take chances with fiction, think outside the box, create something that is uniquely yours—not modeled after a newspaper or magazine's style. It took me a long, long time to learn to write from my gut instead of my brain and to really trust my gut when it came to creating fiction.
"You have to write all the time, on a regular basis, and push through that awful middle and get to the end."
WOW: What advice would you offer to women authors who want to try writing romances?
Shirley: Read, read, read and write, write, write. A lot of people try to write romance because they hear it's the most lucrative of the publishing genres. But truly, you can't write what you don't love, so you have to love the genre. Love the books. Love the authors. If you do, then you'll read a LOT, particularly in that genre. Reading a lot teaches you how to write because you gain a feel for a book's pace, its story arc, and the elements that define a romance as opposed to a suspense for example.
Also read widely. I read everything I can—horror, suspense, thrillers, historicals, romance. I read the newspaper, magazines—heck, billboards. I love to read and love to see how other authors have strung together stories, phrases, plots.
Secondly, you have to write. It's like learning to play basketball. You can talk about playing basketball, read books about playing basketball, watch videos on playing basketball, but NOTHING will teach you how to play basketball better than actually playing basketball. You have to write all the time, on a regular basis, and push through that awful middle and get to the end. Just getting from the beginning to the end of a book will teach you more than anything else. It may not be a good book; it may never sell; but actually creating a plot, characters and carrying them through to the end will teach you a tremendous amount. I have an online (free) Yahoo group where I talk about writing and give mini-workshops when I'm between deadlines. It's called Just Write It—because in my opinion, the best thing you can do is just write it.
WOW: What's next for you?
Shirley: My next women's fiction release is out in March (Around the Bend), and I have several romances out next year starting in January. My second YA book (written with my daughter) should be out at the end of 2010.
To find out more about Shirley, visit her website
www.ShirleyJump.com, and her blog Eating My Words.
***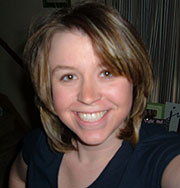 Sara Hodon is a freelance writer based in Northeast Pennsylvania whose work has appeared in History, Harrisburg Magazine, Young Money, and WritersWeekly.com. She discusses the trials and triumphs of the writing life on her blog, Adventures in the Writing Life.
Enjoyed this interview? Check out Sara's interview with Katherine Ramsland, Author & Forensic Psychologist on WOW!.