ith multiple books that have graced the New York Times Bestseller List, it's obvious that author Nalini Singh knows how to create great romantic tales of paranormal proportions.
Nalini began writing paranormal romance in 2006 with her Psy-Changeling series: Slave to Sensation, Visions of Heat, Caressed by Ice, Mine to Possess, Hostage to Pleasure, Branded by Fire, and Blaze of Memory. In 2009, she launched into another series with Angels' Blood, and the newest release, Archangel's Kiss, the second book in her Guild Hunter series.
Born in Fiji and raised in New Zealand, Nalini spent three years living and working in Japan, during which time she took the chance to travel around Asia. She says writing is her passion, but along with travel, she also loves reading and chocolate (vast quantities of which are consumed around deadline time).
I caught up with Nalini for a brief interview, right before the launch of her newest title. So, grab a cup of tea, and join us to find out what it takes to churn out a romance series that has readers clamoring for the next book.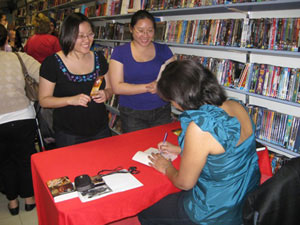 (Photo: Nalini at a book signing in Sydney, Australia.)
WOW: When did you first begin writing? And when did you decide you wanted to do it as a career?
NALINI: I knew I wanted to write from a very early age. But it was the summer of my 18th birthday that I decided to write a full-length novel.
WOW: How did you "break in" to have your first book published?
NALINI: After I wrote the above-mentioned book—that very summer—I sent it off to the publisher. It was rejected quick-fast, but I was already writing another book by then. The fact that I'd completed one book gave me so much confidence—I knew I could write more.
And so I kept on writing and trying.
I was eventually picked up out of the slush pile (at Silhouette Desire in New York) by an editorial assistant who'd been keeping an eye on my submissions, and who, after asking for revisions, bought what became my first published book. The day I got The Call is one I'll never forget!
So it was all about persistence and determination sprinkled with a dash of luck.
Nalini Singh's
Vital Stats
Bestseller lists:
New York Times
Publisher's Weekly
USA Today
Hobbies:
Reading, chocolate, travel and Bollywood movies
Quote I love:
"Many people hear voices when no-one is there. Some of them are called mad and they shut up in rooms where they stare at the walls all day. Others are called writers and they do pretty much the same." ~ Meg Chittenden
Current TV Series I Enjoy:
The Mentalist
Bones
Author I haven't met but would love to:
Jude Deveraux
WOW: Your early romances like Desert Warrior, Awaken to Pleasure, and Craving Beauty are in a completely different subgenre than your current books. Do you consider it maturation in your storytelling? A change of interest for your muse? Or are you planning to explore writing in other romance subgenres during your career?
NALINI: Though I wasn't first published in the paranormal subgenre, I've actually always had an interest in it—many of my first short stories were very much paranormal, as were a number of unpublished books I wrote while working on my short contemporaries. So it's been a love of mine from the word go.
As to what I might explore in the future—the possibilities are limitless. Who knows what might catch my fancy!
WOW: Why/how did you choose to write paranormal romance? Or did the genre choose you?
NALINI: I guess I've answered that above, but speaking specifically about my first published paranormal Slave to Sensation, I think it was a case of everything coming together at the right creative moment—my thoughts on psychic abilities, my interest in science fiction, my ideas about shapeshifters and more. It all just gelled and I wrote the first draft in a frantic three weeks.
WOW: Many women writers create heroines who have characteristics of them. Are any of your characters a little or a lot like you would be in their situations?
NALINI: I am a very character-based writer, so I start with the characters, and for me, they are unique individuals. I think they must be—no heroine (or hero) can be interchangeable with another. From that viewpoint, I don't see pieces of myself in them, because they are so much their own people.
WOW: Archangel's Kiss, the second book in the Guild Hunter series, is came out February 2nd. Can you give our readers a peek into what Elena Deveraux is up against this time?
NALINI: I won't spoil things for people who haven't read the first book, Angels' Blood, but I'll say that something pretty unexpected happens at the end of that first book.
In Archangel's Kiss, Elena must learn to deal with the consequences of that event, and more, the interest her circumstances arouse. Not only in "ordinary" angels, but in the lethal, powerful archangels. Including Lijuan, who is the oldest and most inhuman of them all.
WOW: How far will the Guild Hunter series continue? Have you already begun writing the next installment of battles for Elena and her Archangel Raphael?
NALINI: Currently, the series is contracted up to book 4, plus a novella. I'm at work on the third book and starting to get into the heart of the story, which is exciting as I'm finding out all sorts of secrets!
WOW: How do you decide when a series runs its course? Do new characters and story ideas draw you away? Or do you tire of creating new adventures for your established characters?
NALINI: Prior to beginning the Psy-Changeling series, I'd never written a series before, so it's a learning curve for me. I think I'll know instinctively when it's time to stop. As long as there are stories to tell in the world, stories that excite and interest me and my readers, I'll continue to revisit it (and the Guild Hunter one as well).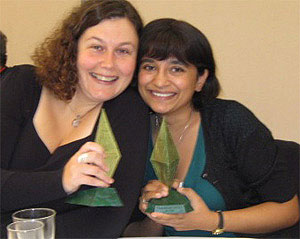 "New writers sometimes ask me for advice about writing faster, but I believe it's much better to work to your own optimal speed."
(Photo: Nalini with fellow writer Sally McClennan, holding their Sir Julius Vogel awards.)
WOW: You are wonderfully prolific. Eighteen books in seven years! How do you keep up a writing schedule like that?
NALINI: I write every single day and I think that's critical. It's all about exercising your writing muscles. Being organized in terms of writing goals is also important.
Plus, this is my natural speed—this pace is good for me. New writers sometimes ask me for advice about writing faster, but I believe it's much better to work to your own optimal speed—and to build on that foundation if you want to stretch yourself. Some people are faster, some are slower, but that doesn't mean one way is better or worse.
WOW: When you decide to begin a new series, do you plot all the books in advance? Or do you write the first book and then begin plotting the rest of the series?
NALINI: I'm not really a plotter as such. For example, the Psy-Changeling series has an overarching story arc and has had from day one—while I keep detailed notes on the continuity elements in the series, that arc is in my head.
I don't think it matters so much if everything is plotted out on paper, so long as that as the writer, I know where things are going.
WOW: Take us along in "A Day in the Life of…." What does your daily schedule look like?
NALINI: It's supremely flexible, which is one of the things I love about writing. Sometimes I work 'til late at night, other times I'll finish everything in the afternoon and have time off. Whatever works best for the story.
I do tend to answer emails, update my blog, run errands, etc., in the morning, and do my writing/editing in the afternoons. That's a very general "rule" however.
WOW: The first time you hit the NYT Bestseller List, what was your reaction and the first thing you did?
NALINI: I don't think I can describe the intensity of my reaction—it was just a phenomenal feeling. I think the first thing I did was sit there completely shocked for several minutes. And then there might have been screaming. And crazy dancing around the house. Maybe. Possibly. (grin)
WOW: You seem to have quite a wanderlust with your travels that have taken you to Ireland, Japan, Germany, Malaysia, China, and Australia (a stone's throw from your home in New Zealand). Do you work on writing your books when you are in these exotic locations? Or do you take notes and use specific setting in your stories? (Like Beijing in Archangel's Kiss)
NALINI: Yes, I quite often am writing or editing while I'm away. Recently, I even worked on a long-haul flight (it's actually a very good environment to get a lot done, especially if you're on a night flight and everyone else is asleep!)
And yes, no matter where I go, I always, always take a lot of notes and tons of photographs for future reference as I never know when I'll decide to utilize a location.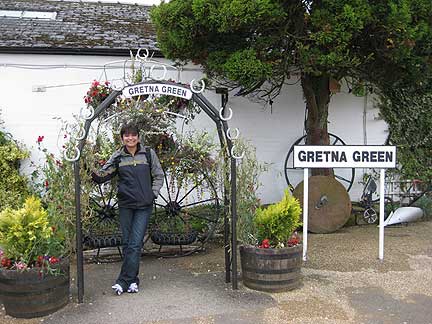 (Photo: Nalini in Gretna Green, Scotland.)
WOW: As a NYT bestselling author who has been on the list multiple times, you've reached the level where your books sell themselves to your story-hungry fans, but what book promotion advice do you have for new authors?
NALINI: My first advice is to focus on the book. Writing a good book, then another and another is the best form of promotion.
When you do decide to do promotional things, do what feels right and comfortable for you—there are so many things out there. Choose what works for you.
And there's no need to spend a massive amount, especially if you're a debut author with a modest budget—there are lots of free opportunities, from being able to submit your book for review to any number of sites, to networking on Facebook, to keeping up an interesting blog.
One thing that I do think every author should have is a good website—easy to navigate, with links to your booklist and excerpts. Even this can be done at a very reasonable cost, so shop around.
WOW: As you look back on your experiences building your romance writing career, what bits of sage advice you would you say are crucial for an aspiring romance writer to know?
NALINI: Write, just write. Everything else—workshops, how-to books, conferences—they might help, but in the end it comes down to the words you put on paper. Keep putting them down, keep honing your craft, and believe in your voice, your vision, because that's what makes you unique.
Thank you, Nalini, for giving WOW! readers a dose of inspiration and an insight into what it takes for an author to capture the hearts of readers.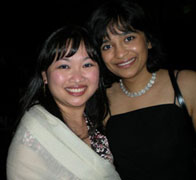 Readers, you can catch up with Nalini in-person:
RomCon (Denver), RWA Nationals (Nashville), the RWAustralia Conference (Sydney), and the RWNew Zealand Conference (Auckland) in 2010.
(Photo: Nalini with her editor, Cindy Hwang, at the Penguin Cocktail Party, RWA Conference, San Francisco.)
And find her online:
Website: www.nalinisingh.com
Twitter: https://twitter.com/nalinisingh
Myspace: www.myspace.com/nalinisinghbooks
Blog: www.nalinisingh.blogspot.com
Facebook: www.facebook.com/nalinisingh
***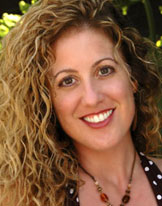 Annette Fix is the author of The Break-Up Diet: A Memoir. She speaks at national writer's conferences and hosts online and in-person workshops: "Online Author and Book Promotion," "How to Get the Right Agent for Your Manuscript," and "Memoir 101: Drawing from Your Life to Create Your Story."
Annette blogs about writing and book marketing at www.annettefix.com. She is the former senior editor of WOW! Women On Writing.
-----
Want more on the paranormal? Check out these related interviews on WOW!:
Walking the Hot-Blooded Tightrope with Shannon K. Butcher
Red Hot Romance Author Gena Showalter
20 Questions: Candace Havens, Paranormal Romance Author
Stella & Audra Price: IM Paranormal Novel Collaboration
Take a Walk on the Dark Side with Katherine Ramsland, P.h.D.