housands of historians, preservationists, and yes, authors begin their published careers writing pictorial histories. Some writers move on beyond this niche while others find themselves at home relaying the histories of their communities, counties, regions, or highways indefinitely. The largest publisher of this niche market is Arcadia Publishing, although there are others.
There are challenges with writing to the image, but with a few guidelines in mind, caption-writing can be a fine-tuned skill. Through writing six books for Arcadia Publishing and over a hundred historical articles with captioned images, I have learned a little bit about what editors (and readers) want in their captions. Arcadia Publishing editor Jeff Reutsche advises, "Be concise, informative, and a little creative."
How to write short and tight
Cut extraneous words and description, particularly description that the reader can see for herself in the photo. Take the following caption, for instance: "In a circa 1920 photo, Mrs. Smith is enjoying her flowers in front of the two-story Smith home." Your reader can clearly see that. Instead, tell your readers something they can't glean from the photo, such as: "During the 1920s, Mrs. Smith carried her love of flowers from her home garden to serving as president of the local garden club for two terms." Make every word count. As Jeff Reutsche says, "Avoid redundancy vis-a-vis the image. Readers already see what's going on, so there's no use in sacrificing words to the obvious."
Don't digress. As tempting as it is to tell all you know about a certain type of automobile shown in an image, don't neglect facts about the place or people, and write only about the automobile.
You may find yourself telling an anecdote that doesn't seem to fit within your allotted maximum text. What are your options? Do your best to boil the story down to two or three sentences. If you are including more than one photo of the same place, this will give you an additional caption. However, you cannot simply flow text from one caption to the next; state your main facts about the second image and then tell another point of your anecdote.
"Do your best to boil the story down to two or three sentences."
Why to start with the lead
Capture your audience right away with the main point. Remember that some of your pictorial history readers have chosen this type of book because they don't want to read a full text! As with most newspaper articles, it's usually best to present the most important information first, in case the rest is not read.
Begin your caption with the main point to set the stage for secondary information and/or anecdotes that follow.
Include people with your places
Although your book is about a place, some of your most valuable images will also include people. A photo with one or more persons helps to identify your time frame and gives your book personality. If given a choice between two similar place photos, the one with people is almost always the better choice.
"If given a choice between two similar place photos, the one with people is almost always the better choice."
How to identify people and places
Research, research, research! Utilize libraries, historical and genealogical societies, and museum and historical site archives. Look for information on backs of photos and postcards and in city directories, newspapers, scrapbooks, and census records. Try an Ancestry.com family tree and one of the "I grew up in" Facebook groups. Ask around for the "old timer" or "people's historian" in the town or neighborhood.
To identify places, particularly buildings that have been demolished, you might also need to become a detective and employ Google Maps or Google Earth, county property records, plat maps, and/or one of my favorite resources, the Sanborn insurance maps. Keep in mind that you may have a building that has been so severely altered that it's very hard to determine whether or not it's the original building or a newer one. Don't let those layers of siding, different windows, additions, and other add-ons fool you.
Location, location, location
When your reader visits the community that you have written about, I can practically guarantee that she will want to visit some of the locations in your book...and not have to do all the research to find them. Be helpful to your reader by including, at a minimum, a street or road name, if not a full address. In my books, I also like to mention if the building is still standing, has been repurposed, or has been demolished. It can be irritating to spend time driving to see a particular building, only to find that it was razed decades earlier. In the following example, imagine that you are a fan of vintage restaurants as you read the first version of a caption.
Gus Belt's Shell Inn Restaurant and gas station in Normal was struggling until he turned it into the White House Steak and Shake in 1934. Gus adopted the slogan "In Sight it Must be Right" because the beef was ground in front of the customers. Franchising began in 1945. The original location was sold to a pizza chain.
Now you can't wait to check out the original Steak and Shake location in Normal. But with the above caption, you'd need to ask around or Google it to find out where it is. In the final version, you wouldn't need to because we rewrote the caption as follows: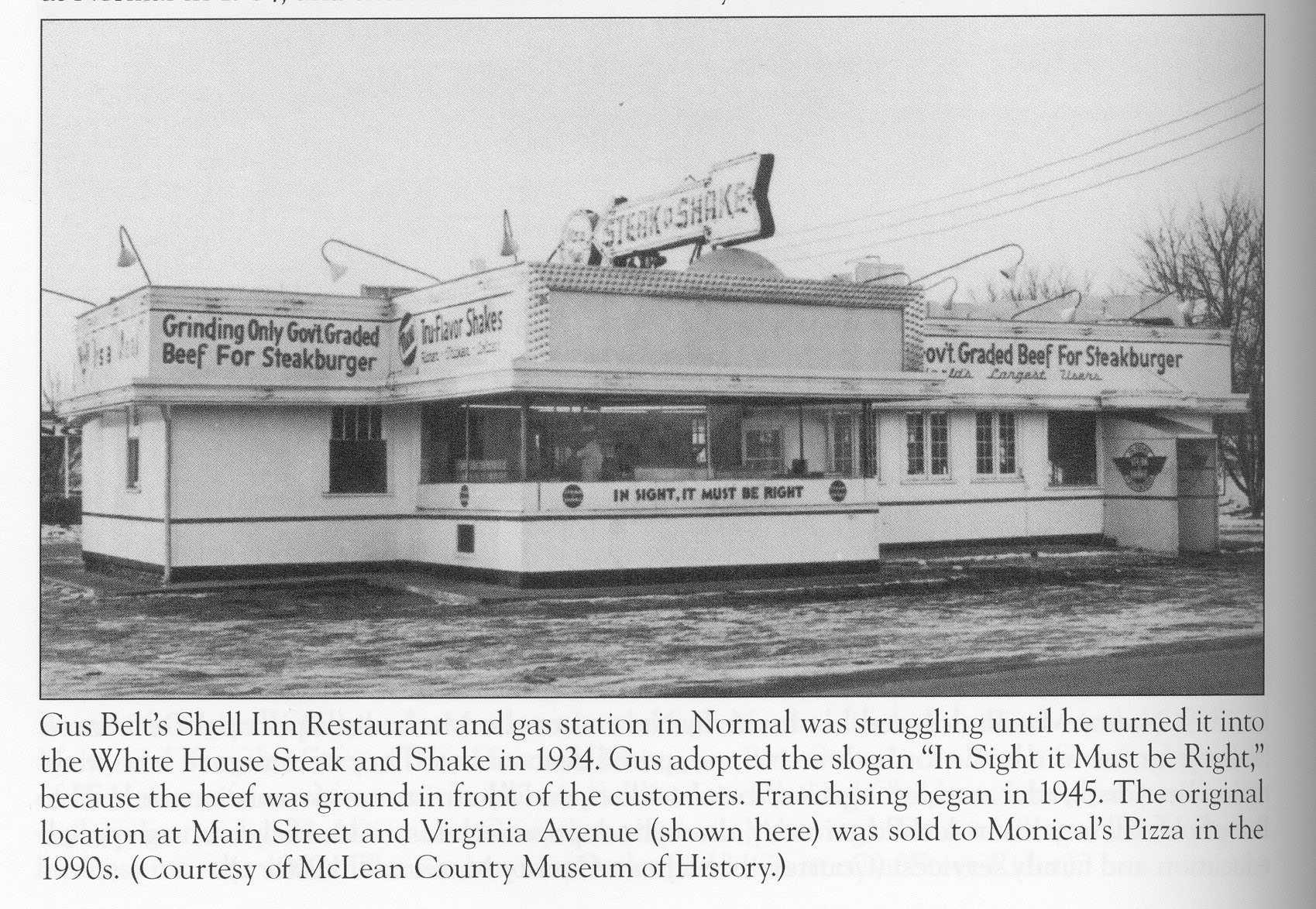 Image and caption of Steak and Shake is from Route 66 in Illinois.
Watch for things that don't match
Watch for facts that you include in the caption but disappear when a photo gets cropped by the publisher. When my co-author and I went over our proofs for Route 66 in Kansas, we found that the following photo had been cropped, deleting the electric car tracks we had mentioned in the caption. A simple request to our editor resulted in the earlier version of the photo being restored to the manuscript, bringing back our tracks.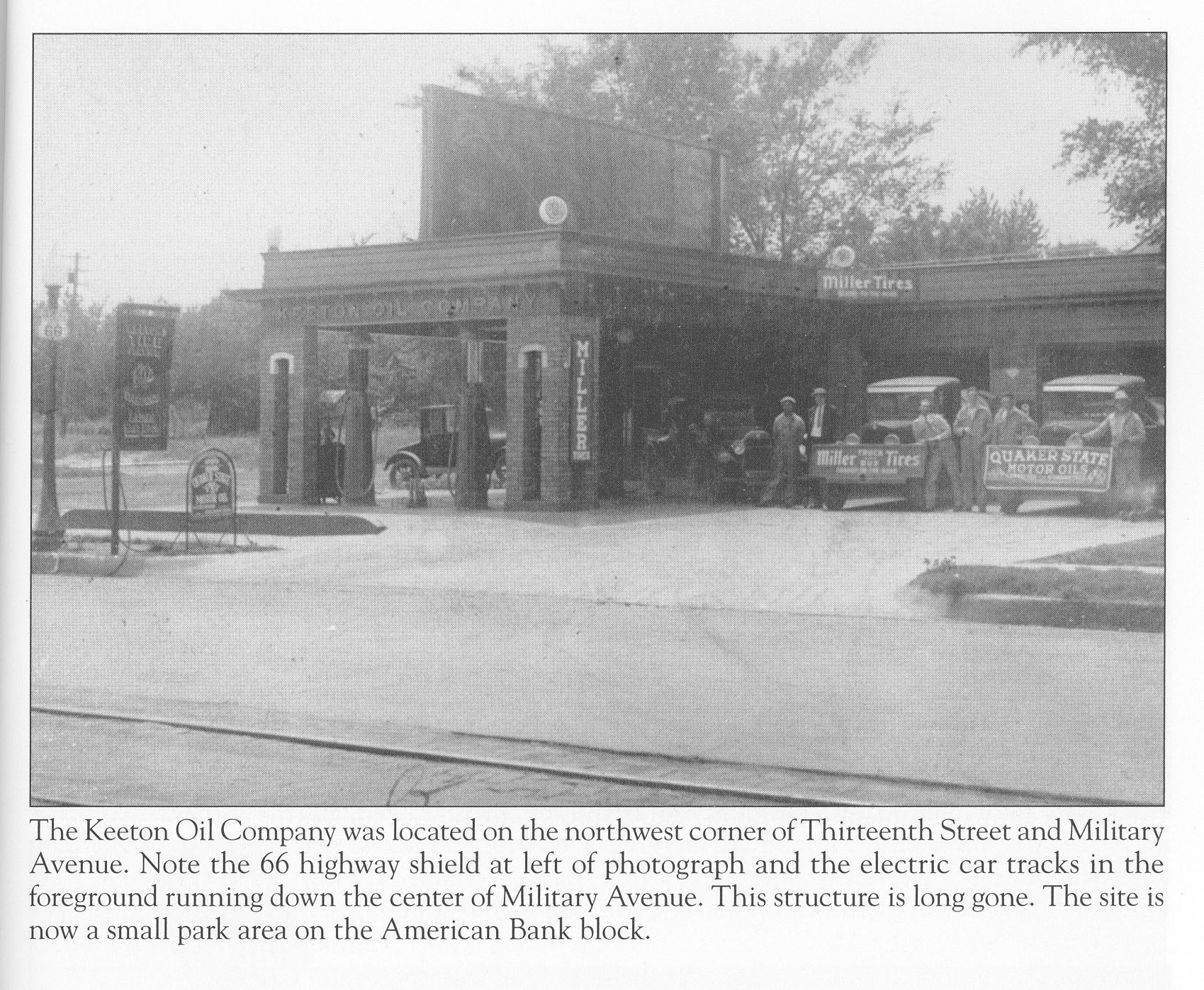 Image and caption of Keeton Oil Company is from Route 66 in Kansas.
If you have a group of people identified left to right in your caption and the photo gets flipped, suddenly your people are in the wrong order. Be on the safe side and double check everything before going to publication.
If you identify a woman as "Betty Jones" in one photo, don't call her "Mrs. B. Jones" in the next and "Mrs. James Jones" in yet another. Be consistent with naming. The same rule applies to buildings. Don't call it the "Jones Building" in one photo and the "Arthur Jones Institute" in the next, unless there's a business change, which then necessitates an explanation.
"Nostalgia trumps erudition every time."
Why nostalgia always wins
Your reader will most likely buy your book because she is nostalgic or partial in some way to that community, neighborhood, or highway. Maybe it was her home town, or her grandmother grew up there. Perhaps that neighborhood is famous for her favorite style of architecture. Or maybe your reader just really likes your book cover. Whatever the reason, do not waste words on a laundry list of not-so-relevant facts if you can find a charming anecdote, quirky fact, intriguing newspaper headline, or sweet inscription on the back of a postcard.
For example, the following is a reasonable caption for the Nationally Famous Chicken Basket, a historic and still-popular Route 66 restaurant:
Irv Kolarik ran a gas station and lunch counter in Willowbrook, but decided to focus solely on food. His restaurant business on Route 66 grew, and Kolarik soon needed more room. In 1946, his Nationally Famous Chicken Basket moved into the former Club Roundup and Triangle Inn next door. A big neon sign attracted business to the large, modern building. Dell Rhea and his wife, Grace, bought the restaurant in 1963. Their son Patrick took over in 1986.
But with the addition of two quirky tidbits, the revised caption gives the reader insight into Irv Kolarik's personality: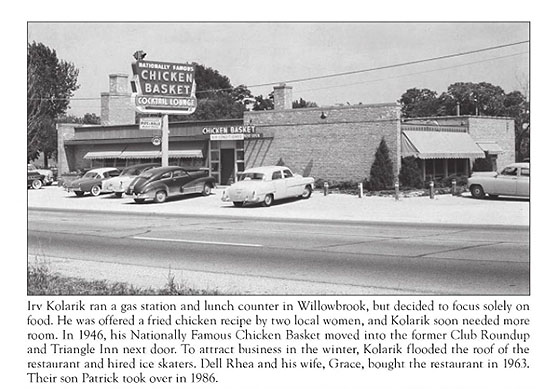 Image and caption of Nationally Famous Chicken Basket is from Route 66 in Illinois.
As Jeff Reutsche advises, "Find the little-known anecdote or curious historical tidbit behind the image, and write about that. Nostalgia trumps erudition every time."
Pictorial History Publishers
Arcadia Publishing is the main publisher of pictorial histories in the U.S. In this niche market, they (along with their History Press imprint) have a library of more than 12,000 titles. Combined, the two imprints publish 900 books each year. If you're interested in publishing with Arcadia, a background in history, a history degree, and/or an affiliation with a local historical society or museum will win you points. The submission process includes a detailed book proposal, marketing information for your locality, and your own resume or CV. The newly-designed Arcadia Publishing/History Press website includes a page entitled, "Make Me An Author," which features an easy form to fill out and submit for your initial contact with the publisher.
Voyageur Press also publishes, but not exclusively, pictorial histories. Their interest is in "American heritage and authentic American life, including...regional travel, railroad history, Americana, and...popular culture." Voyageur Press recently become an imprint of Arcadia Publishing and can be contacted via the same contact form above.
Schiffer Publishing also publishes, but not exclusively, pictorial histories. Schiffer Publishing is a family-owned, independent publisher of nonfiction books on a variety of topics, including military history, folklore, and pop and fringe culture. You can submit a book proposal to them at proposals@schifferbooks.com and find proposal guidelines on their website.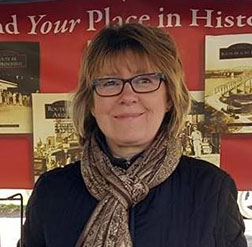 Cheryl Eichar Jett is the author of six books (four of them on Route 66) published by Arcadia Publishing. Her newest title is Route 66 in Kansas. She is a regular contributor to several regional publications and has published 100+ historical articles. She is currently working on a book about women on Route 66. Readers can follow her research and travels at www.route66chick.blogspot.com. Her monthly column, "Along Route 66," is available online at www.thebuzzmonthly.com.
Cheryl lives in Edwardsville, Illinois, and holds undergraduate and master's degrees in history from SIUE. She promotes Route 66 tourism as a board member for Illinois Route 66 Scenic Byway and as president of the (Illinois Route 66) Blue Carpet Corridor Coalition. Cheryl has presented numerous programs for a variety of audiences on Illinois and Route 66 history. When not researching, writing, promoting, or traveling Route 66, she works on adding to her family tree or honing her fiction skills.
-----
Enjoyed this article? Check out these related articles on WOW!:
It's Not Easy Being a Historical Fiction Writer: Experts' Insight Into the Genre
5 Historical Fiction Pitfalls and How to Avoid Them