you haven't heard all about Pinterest, it's time to plan a long lunch with a tech-savvy girlfriend. If she's already a member, she may be serving Nutella cupcakes from a DIY-decoupage tray—two projects inspired by her virtual pinboards.
As an active scrapbooker, creative hobbist, and social media professional, Nicole M. Miller got the Pinterest pitch from artsy-craftsy friends shortly after the site launched in 2009, but didn't see how it could help her as an author until it emerged as one of the fastest-growing social media sites in history.
"In 2011, when it started to really explode, a writer/blogger friend of mine, Caitlin Muir, made a comment, 'What if you created pinboards to create your characters and story worlds?' and I took off with the idea," she says. "Then, I couldn't get enough Pinterest, and it has become a great organizational tool."
And she's far from the only addict. Pinterest hit 11.7 million unique monthly U.S. visitors in January 2012, according to ComScore, and attracts more than 1.36 million visitors each day. Pinterest also reached the 10 million monthly visitor mark faster than any other independent American site and boasts more than 23 million members as of July, also according to ComScore, the digital business analytics clearinghouse.
That number is likely to rise since the site dropped its invite-only requirement for members and rolled out new mobile applications in August. The rapid growth has made Pinterest an obvious outlet for authors looking to promote blog posts, collect inspirational ideas and images, and build a community of readers and other industry professionals interested in their writing world.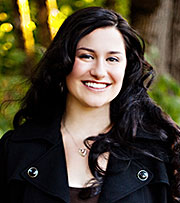 "For me, it's drastically increased my blog traffic . . . by almost 200 percent."
(Photo: Nicole M. Miller)
One More Social Media Time Suck?
For writers promoting themselves and their work, it's become impossible to ignore the marketing benefits of social media sites. You may already be blogging to build your author platform, making contacts via LinkedIn, using Twitter to share pithy prose 140 characters at a time, or expanding your Facebook fan base through compelling content and reader contests. And if you're like most authors who aren't lucky enough to have help from a publicist, you're doing it on your own.
But Pinterest doesn't have to be yet another social network that demands attention at the expense of precious writing time. Instead, it can serve as a source of inspiration, another way for fans to connect, and a powerful referral engine that drives people who have never read your work to your other online offerings.
Indeed, Pinterest's greatest potential might be as a source of referral traffic. Each time you add a "pin," or image, to Pinterest from another website, the pin links back to the original website, and research shows people are following those links. In September, Shareaholic reported that Pinterest is now the fourth largest traffic source in the world. This means that it drives more traffic to websites and blogs than sites like Google Plus, LinkedIn, YouTube, and Twitter!
So how can you harness the power of Pinterest to direct traffic to sites that market your books, products, and services without alienating friends and potential customers with obvious sales pitches? What's more, could Pinterest be an effective way to inspire both you and your fans to build a robust creative community that shares much more than cupcake recipes and cute cat pictures?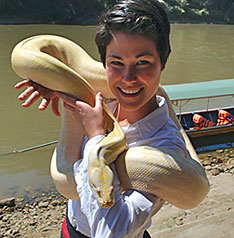 "You want to establish a reputation as someone who is interesting to follow."
(Photo: Morgan Siem)
A Natural Fit
That doesn't mean there's no room for cupcakes and cats on a pinboard particularly for authors who specialize in those topics or others that lend themselves to beautiful visuals. Although Lulu.com has found ways to market a wide variety of its titles on Pinterest, some eye candy-heavy books are a natural fit for the site.
"Photo books are an obvious connection, followed by cookbooks," says Morgan Siem, social media manager for Lulu.com.
Wedding and inspirational books with poignant quotes are also popular. And authors who write for a female audience are finding a following by highlighting the most quotable girl power lines from their books. Although Pinterest's demographic profile is expanding, more than 68 percent of members are women.
"So if you can create some little image and link it to a quote, that works really well," Morgan says.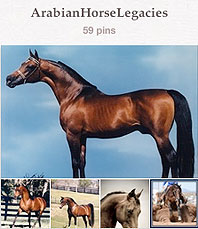 Pinterest has worked well for Nicole, who writes about history and horses. She uses her Pinterest account to collect ideas, inspiration, and links to books she has read or wants to read. Most of all, the former rodeo queen uses it to showcase stunning images of horses.
"It is a good tool in niche markets," she says. "My sorts of topics lend themselves very well to an image-heavy outlet like Pinterest."
Nicole, who works as the social media coordinator for a university when she's not writing, says choosing powerful pictures is critical when building pinboards to attract new followers. She selects the most dynamic, vivid, and clean photos to add to her boards, often using her own pictures to create original pins. "The really visually stunning ones have been getting the most repins," she says. "With Pinterest, you end up seeing repinned items by people who may have never heard of you otherwise."
A Caution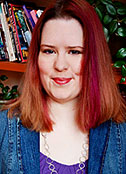 Pinterest recommends pinning photos that link back to the original source of the image rather than a secondary source like a Google image search. The site makes it easy for copyright owners to file infringement complaints and also encourages users to leave comments on pins that aren't sourced correctly, so the original pinner can update the photo to reflect the original source. That's why blogger and website designer Michelle Shaeffer (pictured left) always checks sourcing before she repins a photo or clears things with clients before sharing something she created for them. "Pinterest can be a great tool for sharing your images and videos and connecting to others with similar interests," she says. "But as with any website or network that allows users to upload content, be sure you have the rights to share any content that you upload." Review the site's terms of service and copyright laws before you get started.
Building Connections, Creating Community
So how can you incorporate Pinterest into your author platform and attract new followers? Experts agree one of the best ways to start using Pinterest as an author is not to market at all. Instead, sign up, create boards, and collect pins that reflect your personal interests, some of which might relate to your writing.
"See what other people are doing. Watch and respond to them. See what works in the community," advises Morgan. She says those who jump right in with the hard sell or inundate new followers with boring content could be relegated to the ranks of the ignored. "Think about those people you tune out on Facebook," she says. "It's the same idea for Pinterest. You want to establish a reputation as someone who is interesting to follow. Every time you are going to pin something or post something, think, 'Does this add value?'"
An easy way to gauge value is to follow people you admire, including other writers who already have a Pinterest presence. Perusing pinboards created by the likes of Jennifer Weiner or Sarah Dessen can provide ideas for creating content and offer a window into other writers' interests and creative processes. For example, both authors have pinned photos that give followers an inside look at the clothes, art, quotes, places, and spaces they love. An increasing number of companies are also on Pinterest, and it makes sense for writers to follow outlets that publish their work or agents they hope to work with in the future.
Pinterest offerings from firms like Scholastic Inc., which features boards including "Authors on the Road" and "Summer Reading Picks," are a particularly good source for ideas on how to promote without turning people off.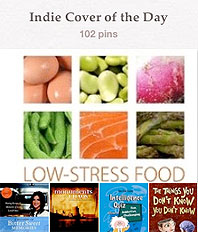 One idea that's worked well for Lulu.com is a pinboard that features a new indie book cover each day. The book cover collection shows off how professional and polished independently published books can be these days while subtly featuring some of Lulu's authors. "The idea is that indie book covers can be beautiful," Morgan says. "So we are really promoting an idea, not a product."
Not only can following companies, agents, and writers help hone ideas, it can build connections that transcend boring business banter.
"We're talking about shared interests, recipes, and books we might have in common," says Nicole. "And that's a really unique way to connect with other industry professionals."
It's also another way to connect with readers and get free feedback. Nicole has known some writers who've posted pictures of well-known stars to represent characters they've created, co-opting some fans' carefully-constructed mental images. Instead, she suggests soliciting character and setting ideas from readers as a great way to get them involved in the creative process and invested in reading, and buying, more of your work.
"You can start a real dialogue and conversation about it. Social media-wise, you always want to engage and respond to your readers." That doesn't always mean writers need to spend hours responding to each Pinterest post, she says. "Just acknowledging that you are there, and you are reading comments is sometimes enough."
But, since Pinterest is one of the few social networks in which people can see pins and boards created by users they don't already know, it is important to acknowledge potential new readers who discover through Pinterest's search engine that you write about one of their favorite topics. Morgan always makes time to post a thank you comment on Pinterest when another user repins one of her photos. "That's a good way to start building community."
Boosting Web Traffic
It's also proven to be one of the most effective ways to increase an existing fan base. Pinterest makes it simple to add "follow" buttons to websites and blogs. It also offers a "pin it" button that makes it easy for users to pin images from your other sites. You can even link your Pinterest account to Facebook, Twitter, and other social networking sites. Many writers and industry professionals have capitalized on the social media synergy by blogging about their Pinterest activity and pinning images that link back to their blogs.
"For me, it's drastically increased my blog traffic . . . by almost 200 percent," says Nicole.
Others are using contests advertised on their websites or Facebook pages to drive traffic to their Pinterest page. Lulu.com ran an Independence Day caption contest in which entrants wrote a caption for an image and repinned it for a chance to win book cover design services or a $300 credit on the company site.
"Just from that, we saw a 28.8 percent increase in Pinterest followers," Morgan says. "The reason we decided to focus on Pinterest is that Pinterest drives sales."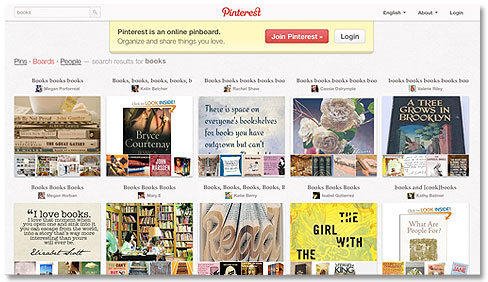 Getting Started
Today, anyone can sign up for Pinterest. Registration is easy and can be completed with a Facebook, Twitter, or e-mail account. Once you register and choose a user name that best reflects your brand as a writer, Pinterest will ask you about your interests and suggest some other Pinterest users with common interests whose activity you might want to "follow." It will also suggest a few topics for boards, which you will use to group individual pins. Users can create their own boards, but a few popular default topics for writers include "Books Worth Reading" and "Quotes." Once you've created boards, which you can also open up to multiple collaborators, you can begin adding pins from existing websites or using images from your own computer to create new pins. You can also repin, like, or comment on other people's pins.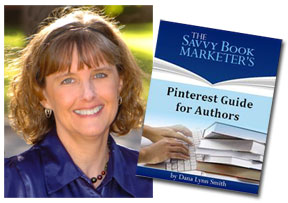 Finally, if you plan to use Pinterest as part of your professional social media persona, you may want to change some of your account settings. Float your mouse arrow over your user name and click on "Settings" to include your work-related e-mail address, upload a photo of yourself, change notification preferences, and pen a profile for the "About" section that mentions your writing and links to your professional websites, says Dana Lynn Smith in her e-book, The Savvy Book Marketer's Pinterest Guide for Authors.
Top Tips
Here are a few ideas for using Pinterest as a promotional tool from Nicole, Morgan, and Dana:
Create boards related to your books' topics:

Nicole's "Arabian Horse Legacies" board features images and stories that inspire her work.

Promote your Pinterest activity on other social media sites:

Nicole and Morgan have penned blog posts about how authors and others can use Pinterest for profit.

Pin your book covers:

Jennifer Weiner's book cover board includes international versions, redesigns, and funny commentary from the author.

Pin video trailers that promote your writing:

To make this work, you may need to create your own pin connecting a video with a large image rather than grabbing a link to an existing video.

Suggest books as gifts, especially around related holidays:

If you add a price to the description, the pin should automatically appear in Pinterest's "Gifts" area, which is prominently featured on the main page of the site.

Create coupons and contests:

Encourage coupon users to share the savings by repinning the coupon to their Pinterest page. Require contest entrants to repin images that link to your sites.

Showcase book reviews:

Be sure to link back to the original source of the review.

Pin images of colleagues' books:

Encourage them to do the same.

Invite collaborators to your pinboards:

Planning a writers' retreat? Pinterest could be a great way to iron out details with co-planners.

Teach a class:

Use boards to collect lesson plans, show off project results, organize inspiring ideas, or facilitate collaboration between classmates.
So whether you want to drive traffic to your other online offerings, promote contests and coupons for book buyers, curate content for your next project, connect with other industry professionals, or create a community for fans of your work, Pinterest can work for you. Just don't get too distracted by the cat pictures and cupcake recipes.


Charlene Oldham is a Saint Louis-based communications professor and freelancer who has written for SUCCESS and Eating Well. She blogs about writing and life at www.charleneoldham.com.
More from Charlene on WOW!:
Freelancers: Shed Your Pajamas and Share Your Passions
-----
Enjoyed this article? You may also like:
Facebook Best Practices for Profiles, Pages, Groups and Posts
Social Media SLAM: There's a Reason They Call It Social Media, and Online Reputation Tips for Writers: How to Be Your Own Publicist
Smart, Not Saturated: Social Media Solutions for Writers