loggers dream of creating a site where thousands of readers visit each day, leaving comments and soaking up knowledge. Many of these bloggers also plan to earn some cash from their hard work, so they're building a community and a full-time income at the same time.
This doesn't happen very often—if you dream of your blog earning enough money to support you and your family, you have to put the work in. Even if you hope to earn a few hundred dollars each month from your blogging efforts, it'll still be work. But it's possible. Like freelancing, it helps to have your eggs in more than one basket by creating multiple streams of income through your blog.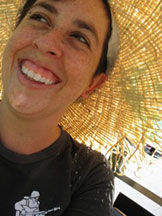 "I am very, very clear about who this website is designed to serve, and who it isn't."
(Photo: Catherine Caine)
So where should you start?
Bloggers everywhere seem to agree that before you can worry about monetizing, you need to blog consistently, work on building your audience, and drive new readers to your blog. Your blog also needs a focus and if possible—a unique slant. You should not just decide one day, "Hey, I'm going to start a blog," and then post about how you don't know what to say, but your literary agent said you needed a blog.
Instead, figure out the type of audience you want to reach—are you promoting your books? Then you need to attract readers. Are you blogging about parenting issues to start a platform and brand? Then your blog needs to reach parents. Once you figure out your audience, then you can create a focus, slant, and posts that reach this audience. Create a schedule of blogging and stick to it. The more frequently you can blog, the better—but if you can only blog a couple times a week, that's fine. Just stay with your schedule. Finally, use social media, your contact list, and other bloggers to create a "fan base."
Catherine Caine, whose blog Cash and Joy provides marketing and business strategies for small businesses with big dreams, says, "It [monetizing my blog] works because I am very, very clear about who this website is designed to serve, and who it isn't. The tone, style, the topics, the occasional cussing . . . they're all specific and deliberate choices to welcome my bestest clients . . . And I know that I only attract clients who will be a great fit for me at my best."
Lewis A., who blogs at Backpacking on the Cheap and makes enough money through his blog to fund his travel adventures, agrees. He says that the most important thing to focus on first is not monetizing. "Your primary focus should be on these two: Does your blog have easy to read and useful information? . . . Is your blog beautiful? . . . Keep designing and re-designing until you are happy with how it looks."
Once you have your audience and several posts, now you're ready to monetize. Which methods seem to work best for today's bloggers?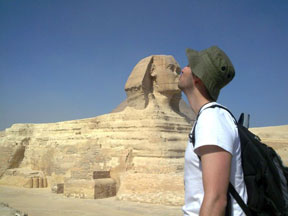 "What I have learned over the years is that readers don't like straight up advertisements."
(Photo: Lewis A.)
Monetizing Strategies that Work Well
If you are serious about making money from your blog, an excellent resource on the web is Problogger. Darren Rowse is a full-time blogger, and his posts are detailed, honest, and easy-to-follow. He read an article in 2002 about blogging, started one, and then became obsessed. He has several blogs, but Problogger is dedicated to providing articles about making money from blogs and the strategy that goes into it.
He often updates his top ways that he makes money from blogging, as the Internet is an ever-changing marketplace. Some of his top ways currently are: Google Adsense (which is an ad network), affiliate programs like Amazon Associates, e-book sales, continuity programs like site memberships, ad sales, and services such as speaking or coaching.
One of the points that Darren makes in his posts and articles is that he has worked hard to build several successful blogs, and he is always trying new methods and ways to create income streams. Just by clicking on his "Make Money" section on Problogger and reading the first page, any blogger can see that creating a full-time income from blogging is not going to happen overnight. But if he can do it, you can, too, if this is a goal of yours.
Lewis, whose travel blog was eventually picked up by Lonely Planet, has found that the way he makes the most money is through being an affiliate for companies that he has used and liked during his travels. Being an affiliate means that he promotes a company's products or services, such as Hostel Bookers, and he gets a percentage of the sales that result from his blog readers booking a hostel stay through his website.
"What I have learned over the years is that readers don't like straight up advertisements," Lewis says. "If, however, you have had an experience with one of these products and can write an honest review about it, they respect that. If I don't like the product, I don't put it on my site."
He has a few words of warning about affiliate programs out there. "Be careful when choosing an affiliate program. Do a lot of research on their credibility and also what are their minimums before they pay you and how often do they pay you. I came across one recently that was offering to pay me once a year, which is crazy. Most of them should pay you when you reach a certain minimum every month."
A very common affiliate program that many bloggers use is Amazon Associates. (Many independent bookstores also have an affiliate program, if you prefer those.) Basically, bloggers post Amazon links to books and other products on their blog—either in a post or on the sidebar—and Amazon has assigned the blogger a special code to keep track of sales that result from that blog. Then readers click on the links; and if they make a purchase, the blogger gets a small percentage of the sales. The more a blogger sells each month, the bigger percentage of the overall revenue he or she receives. Then bloggers can decide to have this money sent to them in a check or directly deposited into their bank accounts. The method of payment chosen affects the minimum amount that a blogger must reach before being paid.
Kimberly Gauthier who blogs for dog and cat lovers at Keep the Tail Wagging uses Amazon affiliates to monetize her site. "I noticed a recent jump in income when I started actively promoting products within the blog posts," Kimberly says. "For example, if I write about dog training, then I share a link to my favorite dog training books . . . I also created an online pet store using Amazon tools."
Besides being an Amazon associate, she is an affiliate for two businesses that make sense for her audience: 1-800-Pet Meds and Trupanion Pet Insurance. She gives this advice to other bloggers about being an affiliate, "Be aware of your state's laws. Some states don't allow the affiliate links with Amazon . . . It's also very important to have an affiliate disclosure and a privacy statement on your site. Let your followers know that links on your site are affiliate links."
Steph Calvert, who blogs at Hearts and Laserbeams with an audience of moms, art lovers, and people who love to laugh, agrees that putting a disclosure statement on your blog is very important. She has a great example of one at the bottom of her home page, and she says that it's important to put one on every page of your site, where it is easy for your readers to see.
Being an affiliate is obviously not the only way to monetize a blog. Catherine finds that selling her own products and services on Cash and Joy is the number one way she makes a full-time income on her blog. "Almost exclusively, I make my money by selling my own products and services. The blog is a tool for me to prove I know what I'm talking about and to connect with amazing future clients," she states.
So what type of products and services is she talking about? She sells one-on-one coaching sessions for small business owners, memberships for online groups of small business owners, and products such as CDs and a workbook that help business owners to "DIY Magnificence." And if you visit her site, don't be surprised to find a few four-letter words hanging around in the middle of her inspirational and motivational messages—she's building her brand, and it works!
Many bloggers are selling products like Catherine does in the form of e-books that they have created themselves for virtually no cost. The e-book usually has extra and valuable content that corresponds with the blog, but cannot be found anywhere else. WOW! online instructor Karen Cioffi writes on The Muffin, "You can create a valuable e-book as a freebie on your site, and you can also create e-books to sell. You can even take an excerpt from a 'for sale' e-book and turn it into a 'freebie' offering."
She suggests getting people to your blog by offering a free e-book; and then when readers are there, you can let them know about the books that you have for sale. For example, Karen offers SEO Marketing Tips to Help Increase Sales in the sidebar of her blog, Karen Cioffi Writing and Marketing. She also sells e-books from her site, including How To Create an E-Book for under $5.00.
Steph sells her e-book, Easy SEO for Bloggers, for $10 from Hearts and Laserbeams. "Come up with a topic you know really well, something that would benefit others—then go for it!" Steph says.
Finally like Catherine, if you are a writing coach, speaker, workshop leader, life coach, or any other service-oriented profession, your blog content should reveal this to your readers, and information about your services can be listed on a separate page of your blog with pricing information and easy-to-find contact information.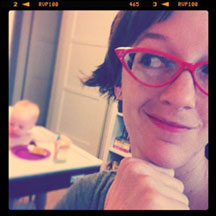 "Come up with a topic you know really well, something that would benefit others—then go for it!"
(Photo: Steph Calvert)
More Strategies to Try
Besides becoming an affiliate for a company or selling your own products and services, there are several other ways to monetize. Depending on your audience and how much time you have to dedicate to these methods, these strategies could make a decent income. Here they are for your consideration:
Selling Ad Space
You have a sidebar that has some open space. You have the ability to create separate pages on both Wordpress and Blogger blogs. You can sell this space to companies that are looking to target your readers. Most bloggers who sell advertising on their sites create banners or place pre-made banners for the company on their site. The company pays a monthly fee, based on the site's traffic and maybe placement, to keep the ad up.
One question bloggers often ask is how much to charge for an ad. There are several variables to take into consideration before selling ads, and one of them is to do your research. Look around at other blogs in your niche, and see if the owners are selling ad space. If so, what are their terms? You should use something comparable. You also need a page on your blog explaining how ad sales work. For a good resource if you are interested in direct ad sales, visit Entrepreneurs-Journey.com and search for direct ad sales.
Ad Networks and Links
If handling the ad sales yourself sounds overwhelming and like something you would rather not do, then you can join an ad network. One of the most popular and well-known ad networks is Google Adsense. Companies buy an advertising package with Google Adsense, and bloggers join the program, agreeing to post ads on their blog that match content. Google Adsense tracks content and distributes the ads. The bloggers get a small percentage of the advertising revenue based on whether or not people visit their blog, click on the ad, or make a purchase.
Several bloggers, including Darren from Problogger, make a huge income from Google Adsense, and he shares how he does it on his blog. Mostly, the strategies have to do with placement and traffic, but the good news for you is there are resources available to help you learn how to use this ad network to make the most income you can for your blog. One resource is short, concise, and available on Kindle for only $0.99, How to Make Money Online with Google Adsense . . . in Five Easy Steps.
Google Adsense is not the only ad network. Other networks you can check out to see if they are appropriate for your blog are Social Spark, Chitika, Adbrite, and Tribal Fusion, to name a few. Some ad networks require you to have a certain amount of unique visitors a month; but if you are interested, each of these have information and guidelines that you can check out to see if they work for you and your readers.
Besides banner ads in your sidebars, some ad networks will highlight text and provide links. You've probably seen this before on websites or blogs, where several words are highlighted; and when you scroll over them, an ad pops up. If you click on the link, it may take you to a new page, where a product is advertised that may have nothing to do with the blog content, but it matches the keyword that was highlighted. Many bloggers don't want to mess with link ads, and readers can find them annoying. They are probably the least popular way to monetize a blog. But if you are interested about learning more, here are two ad networks you can check out: Kontera and Infolinks. As with any ad network or advertiser, make sure to read the guidelines and requirements carefully, so you know exactly what is expected of you and you can expect from them before you sign up.
With my blog, Margo Dill's Read These Books and Use Them, advertisers have contacted me and offered to pay a flat rate if I put a link ad in a popular post. Because these were past posts and not currently showing up on my home page and because I thought the company was worthwhile, I agreed.
Continuity Programs
A continuity program is a membership program run on a blog, where people pay a monthly subscription fee, and then they receive extra information or services from the blogger. For example, on the free Problogger site, interested bloggers can join his Problogger.com community for $5.95 a month. Instead of a blog full of Darren's advice on how to make money on a blog, people join the community, which is "an opportunity for bloggers to come together to collaborate, learn, and network in a private forum. Areas of discussion include finding readers, making money, writing content, blog design, collaboration, tech issues, blog critiques."
Catherine has continuity programs on Cash and Joy, too. These are her group services, such as The Provocateurs, which is a Ning forum for "a group of people who want to make squoodles of cash and joy by building a business from their best self. This community, like the pool, isn't about one person pushing everyone along. It's a joint effort, baybee, forged by what the members want and need." Business owners can join Cash and Joy's continuity program for $25.00 a month.
Does your subject matter lend itself to people who need or want to discuss ideas with each other? Can you facilitate a group where people learn from each other and provide extra information or challenges/exercises for people to do each month? If so, then a continuity program might work for you.
Donations
Some people do it the old-fashioned way and simply put a donation button on their site with a note in the sidebar, asking for donations if the content is useful. PayPal has an easy and fairly inexpensive way to create a donation button for your blog, although you do have to pay them a transaction fee for each donation you receive.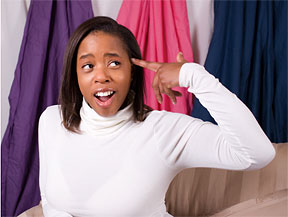 "Don't stress about numbers."
(Photo: Kimberly Gauthier)
Final Thoughts Before Cashing it All In
One thing to watch out for—if you have a free Wordpress.com blog instead of a Wordpress.org blog, where you have paid for a domain name, then you have to be very careful on how you choose to monetize. Free Wordpress.com blogs have rules set up to discourage monetizing. You cannot be an affiliate, and you cannot join an ad network or have links that connect to ads on your blog. For all of the official rules on what you can and can't do with a Wordpress.com blog, check out https://en.support.wordpress.com/advertising/. It is important to read the rules before you do anything—your Wordpress.com blog can be shut down and content lost if you monetize when you are not allowed to.
Kimberly sums up well what most bloggers have found to be their experience when building a blog and monetizing. "Don't stress about numbers . . . Just continue to provide great content, promote your blog, and have fun with your followers—the money will come." She also gives this advice, "Don't compare yourself to other blogs. It's great to look to other blogs for inspiration, but don't be too hard on yourself. Instead, connect with other bloggers and trade ideas and tips with them." She says that she currently offers free and inexpensive consulting to other bloggers because people did the same for her when she was starting out.
Concentrate on your readers and your content, look for authentic ways to monetize your blog, including products and ads for companies that will help your readers, and work hard. As most of the bloggers said, "The money will come!"
***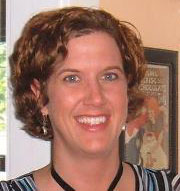 Margo L. Dill is a freelance writer, editor, speaker, and teacher, living in St. Louis, Missouri. Her work has appeared in publications such as Grit, Pockets, True Love, Fun for Kidz, Missouri Life, ByLine Magazine, and The Chicago Tribune. She is a columnist, instructor, and contributing editor for WOW! Women On Writing. She is the memoir and children's/YA novel editor at High Hill Press and the assistant editor for the Sunday Books page in The News-Gazette. Her first book, Finding My Place, a middle-grade historical novel, was published by White Mane Kids. Her children's picture book, Maggie Mae, Detective Extraordinaire: The Case of the Missing Cookies, was published by Guardian Angel Publishing. Caught Between Two Curses, her young adult novel, was published by Rocking Horse Publishing. High Hill Press will publish her children's picture book, Lucy and the Red Ribbon Week Adventure. She blogs on Tuesdays at The Lit Ladies, and is a regular blogger at The Muffin. She owns her own copyediting business, Editor 911, and is an instructor for the WOW! Women On Writing Classroom. She loves speaking to writing groups, teachers, and young writers and has presented several workshops to all ages. When she's not writing or speaking, she loves spending time with her husband, stepson, daughter, and dog—Chester, a boxer. You can find out more about Margo by visiting her website: https://www.margodill.com.
-----
Enjoyed this article? Check out these related articles on WOW!:
20 Answers from Website Owners: How to Monetize Your Website or Blog
Get a Blog, Get a Job: How to Start, Optimize, and Monetize Your Blog