ost fiction writers need some sort of writing group whether it's for support, networking, critiquing, or brainstorming. Writers need other writers to keep up creativity and productivity. Writing groups can come in all forms and sizes from national organizations to state guilds to local critique groups.
I belong to the Society of Children's Book Writers and Illustrators (SCBWI), which is a national organization. This national membership gives me automatic membership to the state chapter (Illinois) and local programming. I am lucky because in my area, there are three different types of writing programs that happen throughout the year: critique groups, critique-nics, and shop talks.
You don't have to belong to an organization like SCBWI to start these programs or groups in your area. All you need are some writers like you who are looking for other writers.
Critique-nic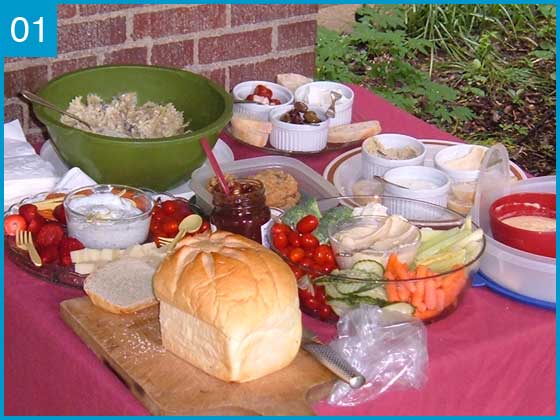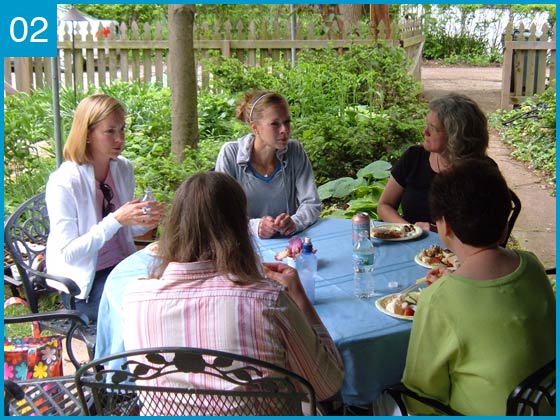 A critique-nic is a picnic and a critique session all in one. In my area, we hold these twice a year in the fall and spring at a park or in someone's backyard. Writers from any critique group in the area (or even if they're not in a critique group already) can come with a manuscript, usually around five double-spaced pages, and a dish. Photo one shows the typical dishes people bring for the critique-nic and the easy set up in someone's backyard.
At the beginning of the critique-nic, it's all about eating as you can see in photo two. We share our successes or rejections, personal stories, and even some of our writing goals and current projects while we enjoy the potluck dishes people bring.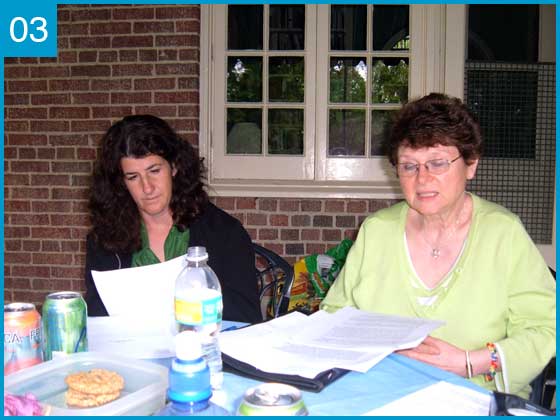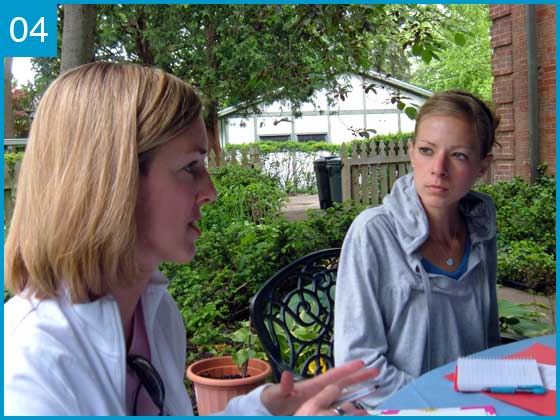 Then it's time to work. Writers can bring copies of their manuscripts to pass out while they read their work out loud. Depending on how much time your group has for the critique-nic, you may have to limit how long writers are reading their work, so there's time for critique, and everyone gets a chance to share their stories. In photo three, Maria is reading her story while other members follow along. When she finishes, Terrill explains what she liked about the story and offers some suggestions for revision in photo four. At a critique-nic, you will not get an in-depth analysis of your work, but you will get suggestions that will strengthen your story. If there are a small number of attendees, writers can stay in one large group for the critique portion. If there are several critique-nic participants, then you can divide into smaller groups based on genres or some other criteria, so there's enough time for everyone to receive a critique.
Sometimes, you need just one comment from another writer to get your creative juices flowing and find the spark that makes your manuscript shine. A critique-nic can provide just that.
Critique Groups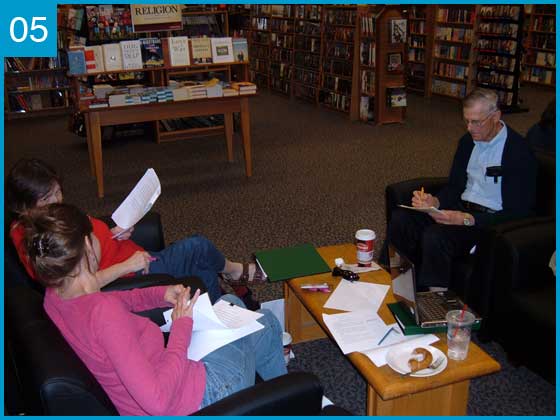 Many writers belong to critique groups, and these are run in several different ways. My critique group pictured in photo five meets at Borders book store every three weeks. We send our work to each other through e-mails before we meet. This way, each member has a chance to read and think about the work before we discuss it. Critiques are more in-depth. Most of the members of my group are working on novels, and we critique sections of a novel at one time as well as the entire manuscript if someone has a short story or picture book idea.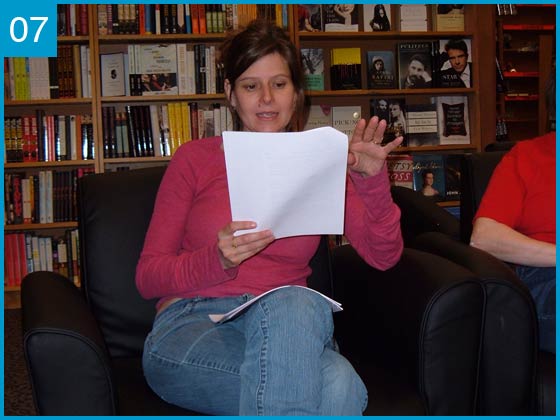 When we meet, we have some sharing time, and then we choose a person's manuscript to discuss first. As you can see from photo six, people record their thoughts on paper and on their laptops. (That's the great thing about meeting at some of the major bookstores now—they have free Wi-Fi services.) When we give our critiques, as Darcy is doing in photo seven, we start with positive points—what worked for us and what we think the writer should keep doing to have a successful manuscript. Then we go through and make suggestions about improving the work or ask questions about the manuscript. We don't spend much time on grammar or punctuation since we give each writer a copy of our critique, and she can review the line edits at home.
Critique groups help fiction writers see areas in their manuscripts that need revision and encourage them to keep working on their dream.
Shop Talks
I had never heard of shop talks before I moved to Illinois, but I think these are brilliant. The name comes from the expression "talking shop."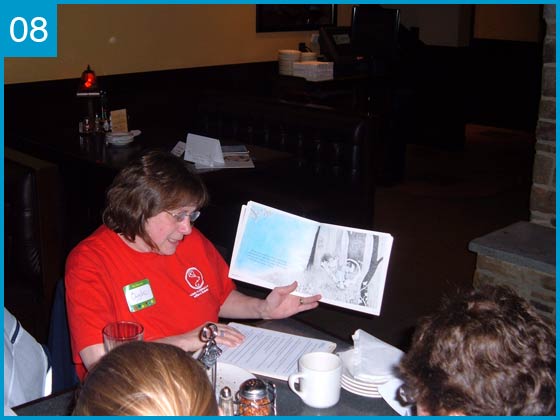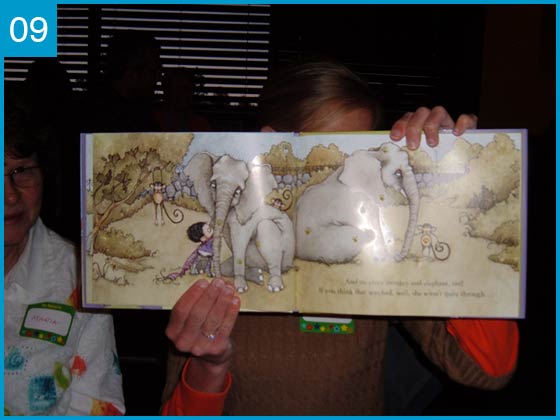 In our area, shop talks are held once a month at a local restaurant. Anyone can come who is interested in the discussion topic that month. At these meetings, no one is critiquing work—writers are discussing or learning about a subject that relates to the writing craft. Shop talks have included tours of book stores and local libraries, authors sharing their publishing journey, an illustrator discussing the process that goes into creating a picture book, and topics such as writing for magazines or finding an agent. In photo eight, Clyde shares one of her favorite picture books with the group when the shop talk topic was analyzing picture books. In photo nine, Kelly shows us how the illustrations work with the text to tell the story of Felicity Floo.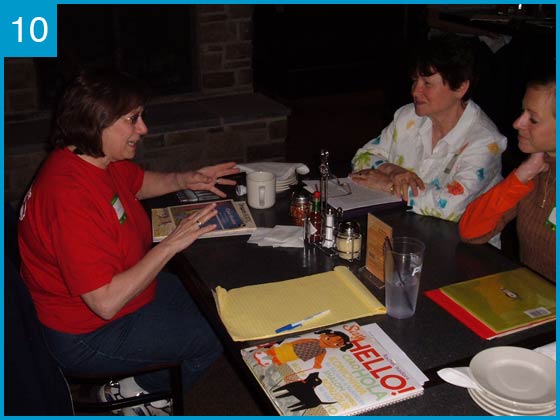 At this particular shop talk, each member brought a favorite picture book and talked about the word count, illustrations, patterns in the text, and vocabulary as Clyde is doing in photo ten. Aspiring picture book writers learned how authors need fewer words and to rely on the illustrator as a team member to tell the story.
Shop talks can be on any subject. Many times, each attendee will bring in markets to share, contest guidelines with an approaching deadline, or information about editors and agents. To start these in your area, you need to find a group of writers, create programs around writing topics, secure a place to meet, and schedule dates. Our shop talks are free, and we use local authors and writers, who will work for pizza, to lead discussions. The local restaurant allows us to meet for no extra charge because writers order dinner and drinks.
As a fiction writer, you may find yourself writing more (and better) if you have a supportive group of writers that you meet with on a regular basis for networking and a chance to improve your writing craft. It doesn't matter which format you choose: critique-nics, critique groups, shop talks, or some other group or program you've heard about. All can be helpful and useful for building your career!
***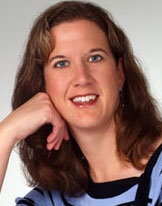 Margo L. Dill is a freelance writer, editor, speaker, and teacher, living in St. Louis, Missouri. Her work has appeared in publications such as Grit, Pockets, True Love, Fun for Kidz, Missouri Life, ByLine Magazine, and The Chicago Tribune. She is a columnist, instructor, and contributing editor for WOW! Women On Writing. She is the memoir and children's/YA novel editor at High Hill Press and the assistant editor for the Sunday Books page in The News-Gazette. Her first book, Finding My Place, a middle-grade historical novel, was published by White Mane Kids. Her children's picture book, Maggie Mae, Detective Extraordinaire: The Case of the Missing Cookies, was published by Guardian Angel Publishing. Caught Between Two Curses, her young adult novel, was published by Rocking Horse Publishing. High Hill Press will publish her children's picture book, Lucy and the Red Ribbon Week Adventure. She blogs on Tuesdays at The Lit Ladies, and is a regular blogger at The Muffin. She owns her own copyediting business, Editor 911, and is an instructor for the WOW! Women On Writing Classroom. She loves speaking to writing groups, teachers, and young writers and has presented several workshops to all ages. When she's not writing or speaking, she loves spending time with her husband, stepson, daughter, and dog—Chester, a boxer. You can find out more about Margo by visiting her website: https://www.margodill.com.
Find out more about the workshops Margo teaches by visiting WOW's
Classroom Page
.