ne jolly spring, I met a local magazine publisher at a printer's warehouse not 2 miles from my home to proofread some mock-ups of an upcoming issue. Imagine my chagrin when he asked if we could meet afterward at my home office—a space I knew wasn't in shape to welcome clients.
Although I was able to convince him I needed a macchiato, it was still apparent to me that I could make great use of an office that would welcome clients. Thus, the home office makeover project was born!
"Before"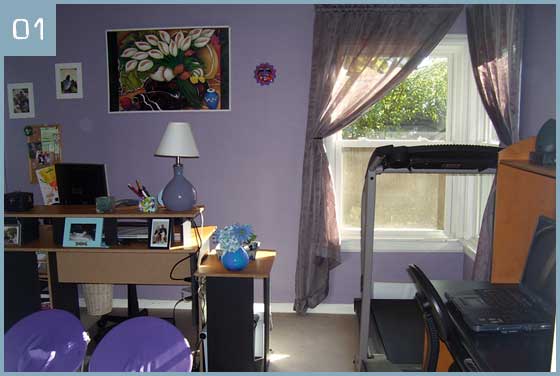 (Photo 1) Problem: The old office's use as a multi-purpose room (note the treadmill and children's chairs), and the availability of only two small desks cancelled out any possibility of meeting and working with clients, subcontractors or employees. In addition, its dual purposes make it harder to take the home office tax deduction—a significant savings.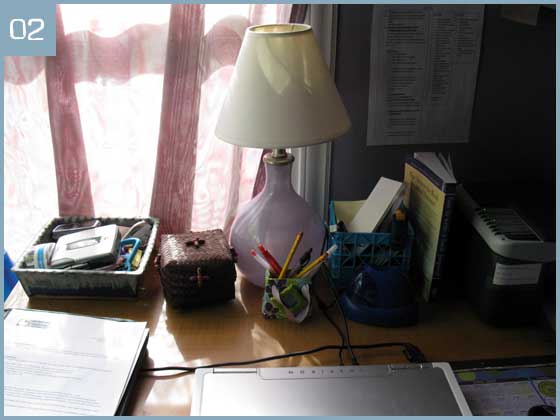 (Photo 2) Problem: This small desk space left no room for spreading out references, editing print materials, or storing writer's tools.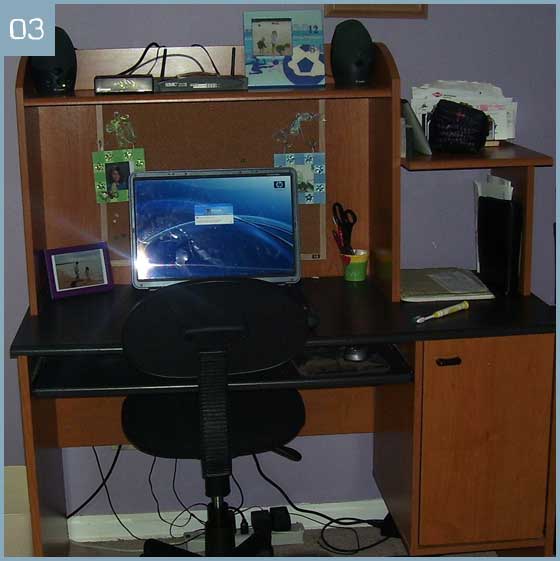 (Photo 3) Problem: Although this second workstation was kept available for clients or collaborators, the hutch configuration made the workspace dark, and the style and condition of the desk was dated.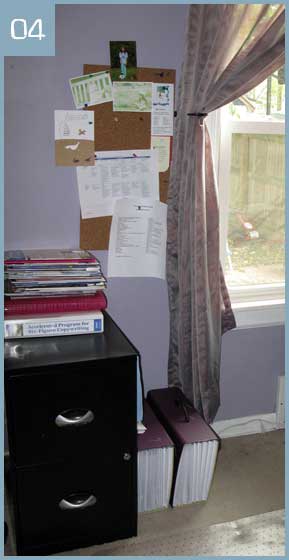 (Photo 4) Problem: File cabinets, bulletin boards and other storage areas were scattered throughout the office. Leaving papers stacked on the desk was so much easier than wandering around trying to find the "right" file.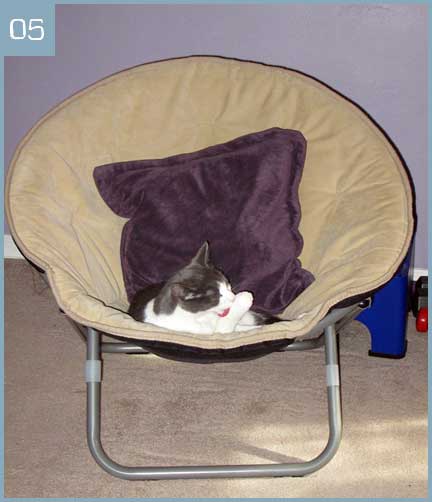 (Photo 5) Problem: Seating areas leave much to be desired. When reading reference material, or reviewing books, I often choose to get out from behind the desk. But the old office had a definite dearth of seating spaces, and the few pieces available were often occupied by "co-workers" such as this one.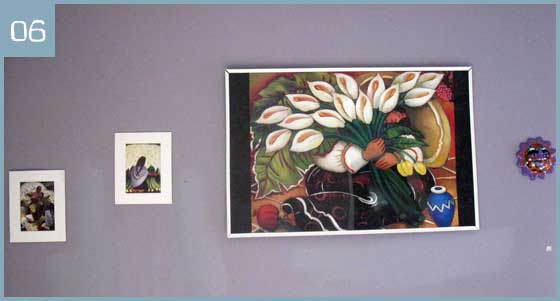 (Photo 6) Problem: Although the art in the room was carefully selected, this back wall area behind the desk was in need of some TLC. The cheap frames on these pictures were falling apart, and the whole area was in need of additional lighting and a paint job. My office décor needed to reflect the professional that I am.
"After"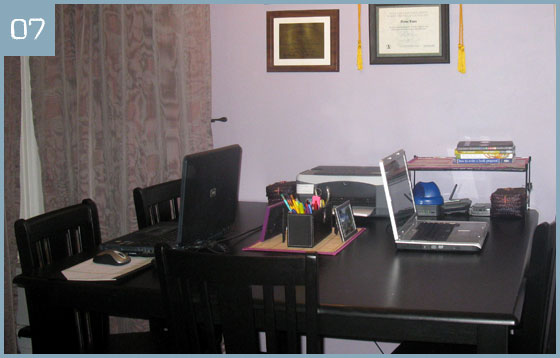 (Photo 7) Solution: The small, old desks were replaced with one large, library-height worktable. This table provides up to 6 seating spaces when used for collaboration and meetings, or one large area for spreading out. The ability to take this area from one workstation to a meeting table forces the space to do double duty, and the counter height means that I can occasionally stand up to edit and read. Extra space means that printed pages, reference material, and hard copy galleys can be spread out and looked at all at once.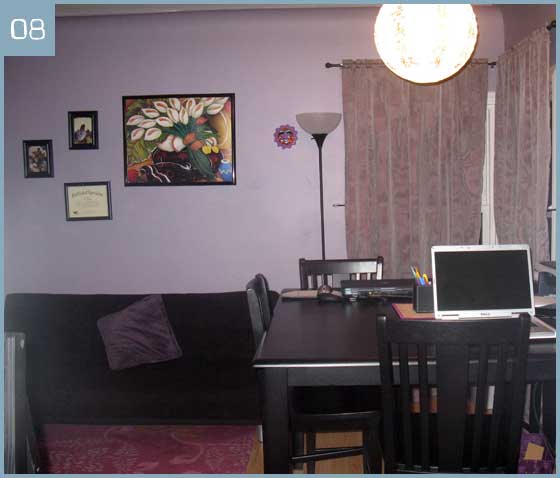 (Photo 8) Solution: The room was emptied of non-work related furniture, in order to make this a truly dedicated home office.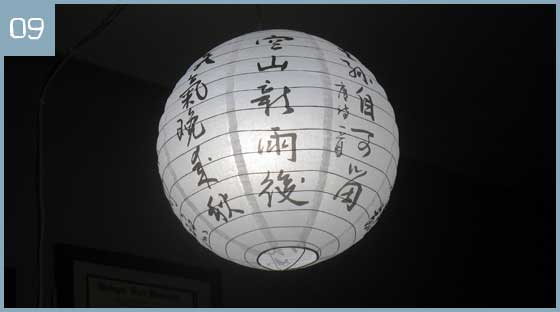 (Photo 9) Solution: Instead of being "relegated" to the extra desk, with it's dark hutch and lack of lighting, collaborators, colleagues and clients are now treated to a wide open table with bright, decorative lighting hanging directly above it.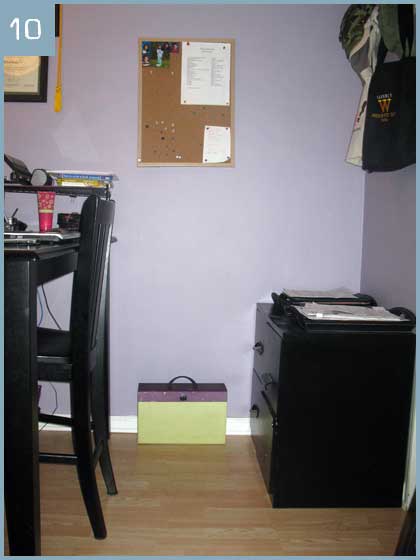 (Photo 10) Solution: The two file cabinets and multiple accordian files were reduced and redistributed. All organizational/storage pieces were fit into one area, which is easily accessible directly from the main workstation.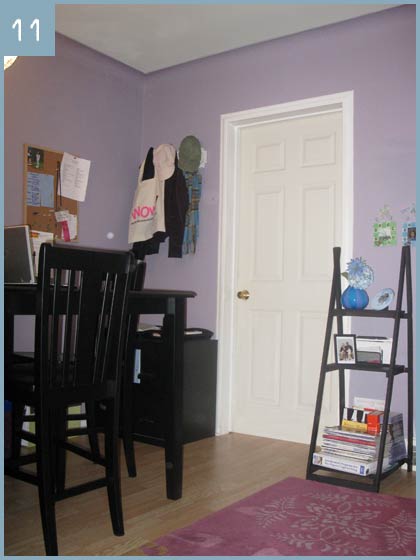 (Photo 11) Solution: So that the file cabinets could hold actual files, a small ladder-style bookshelf was added. This shelf also flanks the main work area, making all storage and shelving within arm's length.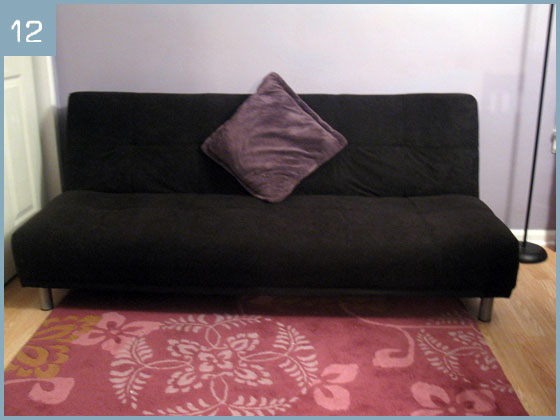 (Photo 12) Solution: In addition to the seating added by the conference table, this futon is used for reading, reviewing books, and just an overall break area. Frequent breaks and changes in seating and position improve ergonomic function.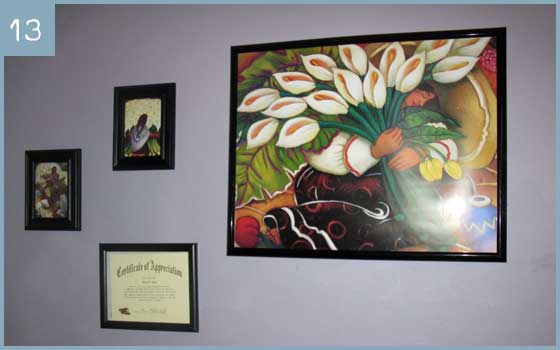 (Photo 13) Solution: The main décor wall was repainted, and new frames were added to the existing prints which matched the matte black finish of the rest of the room.
Final Pointers
Ergonomics
In general, writers are advised that the back should be straight, feet should be flat, and elbows flexed at a ninety-degree angle. A pub height table can provide an ergonomic setting when additional supports such as chair cushions and footstools are added.
Moving around throughout the day allows both your mind and muscles to feel fresh and limber. Take your printout or laptop to a favorite chair, couch or futon, or, stand up to do that next batch of proofreading.
Having several sources of light both directly over your work area and in strategic corners throughout the room allows the writer to adjust as needed. Of course, bright sunlight is welcome, too!
Meeting and Work Space
Meeting in cafes and libraries can get expensive; an office space saves time and money. A large worktable provides the same convenience that collaborators look for at the local Starbucks. Look for a modern or neutral dining table, craft table, or library table to meet this need.
Writers and authors may need to work with notes, flowcharts, references, or even 11 x 17 inch printed galleys. Find a table that gives you the square footage you'll need both now and in the future!
Organization
Calendars, printers, and mouse pads get top billing in your immediate vicinity.
File cabinets become useless if they're not within close reach. In order to guarantee minimal disruption, place them within arm's length.
Aim for décor that is both personally attractive, but also professional and relevant. Hang degrees and other credentials in your office space to remind you of your past accomplishments. Then, get writing!
***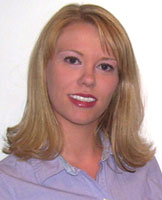 Allena Tapia is a freelance writer and editor, and owns her own firm, GardenWall Publications: www.gardenwallpublications.com.
She has contracts with Sharpe Reference, the New York Times' About.com, and is a longtime contributor to Latino Leaders magazine. She teaches a class on freelance writing through Lansing Community College in Lansing, Michigan, and plans to retire to Mexico on the proceeds from her first novel.