olly Sherburne is the Editor and Publisher of Downeast Dog News, a newspaper with a circulation varying between 14,000 and 17,000 copies per month. She is also the author of The Ultimate Guide to Dog Parks, Beaches and Trails in Maine, which grew from the tremendous success of Downeast Dog News.
Ironically, being a writer was never a goal for Holly. She's been a microbiologist, working for the U.S. EPA and answering their pesticide hotline. Ever the Renaissance woman, she even worked as a web designer and developer for several years prior to starting her newspaper.
As WOW! readers will learn, each of Holly's experiences contributed significantly to the skill set required to launch and run a successful niche newspaper business. Sit, stay, and read on to learn more about Holly's success and how to apply her experiences to your own 2010 (and beyond) goals.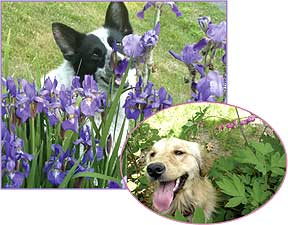 WOW: Welcome to WOW!, Holly. It's a pleasure to be 'barking' in the New Year with you. Our issue is all about new beginnings and starting 2010 with a bang (er, bark). What exactly is Downeast Dog News?
Holly: Downeast Dog News is a monthly newspaper for people who love dogs. Founded in May 2006, each issue of the newspaper contains news, information, articles, a calendar of events, dogs for adoption and more. The goals of the newspaper are to provide the latest in dog-related news and information, encourage and support dog-friendly businesses and Maine-made pet products and services, cultivate a community of responsible dog ownership, and support animal welfare causes.
WOW: No pun intended, but wow, that sounds like a lot of fun, effort, and homework. What inspired you to start this publication and why?
Holly: I've always wanted to start and run my own business, but I just couldn't find the right fit. I pined for something fun and enjoyable but also that I would not be bored with after a year or two.
During my time living in Oregon, I discovered a free dog newspaper called Dog Nose News. After moving back to my home state of Maine, I thought I might like to start a dog publication. My own research results found no publication that catered to Maine's dog community, so it seemed like it might be a good fit. It wasn't until a couple of years later that I finally decided to make the leap.
WOW: So many of us can relate to that leap of faith required and just taking the plunge. What steps did you take to make your dream a reality?
Holly: First, I did some soul searching. My gut and my head both needed to be in the same place. Research is the key to a successful publication. I found only one other publication similar to what I planned to do; it was a free monthly newspaper encompassing pets and domestic animals. I figured that was a good model for my idea to work. Not only was there a dog newspaper on the West coast, but there was a similar—but more general—publication locally. Why not narrow in on the niche market a bit more?
I wrote a business plan over about a month's time and submitted it to a local nonprofit that offered start up loans to small businesses in Maine. I heard back about month later and the loan amount I requested met with approval! Looking back, the process was much easier than I ever expected—and could probably expect again. I was extremely fortunate. However, I also think that submitting a well-researched, well-written and well-organized business plan contributed to my success.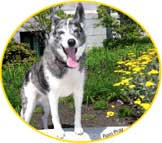 "Research is the key to a successful publication."
WOW: Your efforts obviously rewarded you with a successful niche publication. Are people really traveling with their dog(s) in amounts large enough to justify a newspaper like Downeast Dog News?
Holly: The answer is yes—after all, Maine is known as "Vacationland." In 2008, Downeast Dog News produced The Ultimate Guide to Dog Parks, Beaches and Trails in Maine. That publication grew out of the large volume of questions I received over and over at the newspaper, "Where in Maine can I go to walk my dog at a dog-friendly park/beach/trail?" I finally decided to compile a guide to answer all of these questions, and we've sold thousands to date. But, Downeast Dog News isn't just about people traveling with their dogs. It's for everyone—all dog lovers, who are looking for information to live happier, healthier lives with their pets.
WOW: So is all content of Downeast Dog News Maine-oriented or are there other non-Maine oriented articles?
Holly: The content in the newspaper is broad enough to be of interest to all dog-lovers, regardless of where they live. Ongoing topics include health-related articles such as Lyme disease and senior dogs, and fun articles about dogscaping and April "Stools" Day. Many of our newspaper subscribers live outside Maine. However, that being said, we do focus on content that is Maine-related whether a local story or the author is a Maine resident, because while Downeast Dog News is a dog-themed niche newspaper, it's also a community newspaper. I believe that a large part of its popularity and success comes from the fact that the news and information within the paper each month has local ties—whether it is about a Maine person or dog, or written by a Maine author.
WOW: This really sounds like the perfect niche publication. Is it possible to do this full-time?
Holly: It certainly is possible, but it depends on a number of factors including whether you have the skills, desire and stamina to start a business from scratch. It isn't just about having the technical skills—knowing how to write or knowing how to design and layout a publication. It requires a much broader array of skills such as sales, marketing, administration, managing people and more.
It's important to realize up front that simply having a love of writing (or a love of a niche area such as dogs) isn't enough to create a successful niche publication as a business. Ultimately you may not be the one doing the writing. You may be the one hiring the freelance writers or even supervising the editor who is hiring the freelance writers. To run a niche publication as a business, a strong focus must be on your revenue source whether from advertising sales, retail stand sales or both. If someone doesn't enjoy sales or managing sales people, running a niche publication as a business should be reconsidered.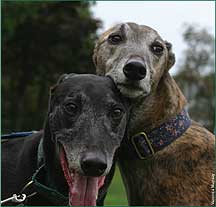 "If someone doesn't enjoy sales or managing sales people, running a niche publication as a business should be reconsidered."
WOW: Those are definitely elements outside the typical writing realm. We can get so wrapped up in the desire and passion to write, those aspects can be overlooked. Who helps you along in the process of publication?
Holly: I have one part-time employee who serves as an office manager, bookkeeper and administrative assistant. I also work with several independent contractors that fill roles such as ad sales representatives, graphic designer, copy editor and distributors.
WOW: Since we're on the subject of helping out and having someone by your side to assist, let's talk best friends. Do you find the nation becoming more dog friendly? Are dogs allowed in restaurants? Stores?
Holly: I can't speak for whether the nation as a whole is becoming more dog-friendly, but I would say that the northeast is certainly becoming more dog-friendly over time. Because so many people have dogs as a part of their lives, they are traveling with them—both on short and long trips. As such, restaurants, hotels and other businesses are continually becoming more dog-friendly out of necessity.
Legally I don't believe the state's health codes allow for dogs in restaurants. However, you will find a number of eating establishments in Maine that informally "allow" dogs on their outside patios and decks. They might be take-out restaurants or lobster pounds on the coast with outside eating areas. But, there are always the drive-thrus and drive-up restaurants! There are a fair number of stores in Maine that allow dogs. Most pet supply stores are allowing dogs inside now. In Midcoast Maine you'll find a lot of businesses that have a resident dog and many of them will allow well-behaved dogs inside.
WOW: I suppose this presents challenges, finding out the logistics of what works and who allows dogs and where. What is the most challenging part of your job?
Holly: As with any job, there are enjoyable aspects and parts that are more challenging. In the beginning, the most challenging parts of the business for me were the technical aspects—gathering content, designing the ads, newspaper layout, and distribution—all on a monthly basis by deadline.
As I became more experienced with the technical aspects, they became easier—more routine—and I had to focus more attention on generating income through advertising revenue. Finding and training quality sales representatives is a challenge for every business; a niche publication is no different.
Then as the business grew, I brought in people to handle various aspects that I just didn't have time for anymore, including bookkeeping, writing, design, etc. With growing overhead costs comes the pressure to bring in additional revenue. At that point in a business, less time is spent on the technical aspects such as writing and designing and more time is spent managing people. Ultimately, for a business to grow and succeed it helps to be a good manager of people.
WOW: With all of this responsibility and time commitment involved, how do you subsist and get advertisers?
Holly: The newspaper is supported by advertising revenue. It's a common model here in Maine, as well as in many other places I imagine. It's not an easy model, especially for a free publication whose circulation is monthly and statewide, but it can work. And one of the reasons it does work is because the paper fills a niche—it has a very specific target audience. For many of the advertisers, Downeast Dog News is the only place they advertise. For many others, especially the mom and pop businesses, it is their first experience advertising in print because they see and understand the value.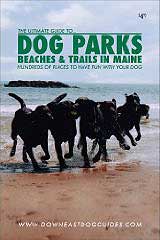 Two years into the business I developed a special supplementary publication called The Ultimate Guide to Dog Parks, Beaches and Trails in Maine. This is a 56-page full color, glossy guide that lists more than 300 places to take your dog in Maine. In addition to selling advertising within that guide, it is available for retail sale and wholesale. This is a product I could also market in the newspaper to generate additional revenue.
Finding advertisers is really no different than for any other publication that contains advertising. It still requires hard work such as networking, cold calling, attending events and visiting people at their place of business. It's about being able to clearly define the advertising in terms of economic potential. The key is research and understanding clients' needs and explaining how advertising in the publication will set them apart from other options available in the marketplace. Publishing a niche paper can make it easier to approach a customer, but it's still a tough business. Surviving on print ad sales alone isn't easy in these tough economic times.
WOW: If WOW! readers wanted to pitch your publication, do you accept freelance writers, and if so, what sort of pieces are you looking for? Strictly Maine based?
Holly: Submissions from freelance writers are always welcome; however, we do focus primarily on Maine-based on Maine-themed articles. We look for articles that will be of interest to readers—those about health issues, travel topics, dog sport or those focusing on the human-canine bond. If someone wishes to become a regular freelance writer for Downeast Dog News, you will be asked to submit a couple of writing samples and brief statement of interest. If you have a completed article that you'd like to submit, you are welcome to do so. Keep in mind that most of the articles published in Downeast Dog News are 600 to 800 words, with feature articles running 1,000 to 1,400 words. We generally do not accept articles that are written as first person accounts. [Writer's Guidelines: https://www.downeastdognews.com/writing-guidelines.php]
WOW: Great information. What if a WOW! reader wanted to start her own niche publication. What advice would you give her?
Holly: Starting and running a niche publication as a business takes a wide variety of skills and lot of perseverance. Do your research to understand the niche. Is there a large enough market to have a broad readership? Does a solid advertising base exist? For example, according to the U.S. Humane Society, nearly 34 percent of U.S. households own a cat. That's a lot of potential readers, but are there enough businesses interested and willing to advertise in a cat newspaper to support a profitable business?
It is important to realize that publishing as a business involves more than writing. While I initially did a lot of my own writing for Downeast Dog News, as the newspaper grew, I did less and less writing. I had to become more involved in the operations of the business—overseeing operations such as advertising, bookkeeping, distribution and more. While having good writing and editing skills is extremely important, it is only one aspect of the business. If your first love is writing and you have no interest in selling advertising and managing people, you might be better off focusing on freelance writing or finding a position as an editor. If you enjoy finding and cultivating good writers, marketing, networking and the challenge of growing and managing a business, then starting a niche publication may be for you.
WOW: So outside of the writing aspect, this sounds like a very responsible and very busy position to maintain. Is being the publisher/editor of Downeast Dog News your main job?
Holly: Yes it is. That surprises people sometimes, but publishing a newspaper every month is a full-time job. As owner of a small business I'm involved in all aspects of the operation. Not only do I have the role of publisher and editor, but also a little bit of everything else—ad sales representatives, designer, bookkeeper, marketer, delivery person and more.
WOW: With all that responsibility, is it still fun? After all, so many of us writers are following our passion and wanting to have fun along the way.
Holly: It sure is fun and equally gratifying. The networking and connections that have formed in Maine's dog community as a result of the newspaper are so very rewarding. After 3- ½ years of publishing the paper, watching the dog community connect in ways they might not have otherwise has been extremely satisfying. Previously there had been no single source of dog news and information in Maine. Now the paper serves that role. The stories, the advertising, the calendar of events—they all provide a venue for professionals as well as the dog loving public to meet and learn about each other.
Another rewarding aspect of publishing Downeast Dog News is knowing that it helps homeless dogs find forever homes. Each month we publish a page of dogs for adoption from various shelters and rescue groups. These dogs tend to find homes quickly as a result of being featured in the paper.
Finally, having a platform to publish important stories that reach an audience of thousands is very rewarding. For example, in 2007 my sister lost her dog as a result of the side effects from a common pain medication. The following year she wrote an article titled, "The Painful Truth—The Importance of Blood Work and Knowing the Side Effects of Medications" [Downeast Dog News, November 2007]. Her article reached thousands of dog-lovers and potentially saved the lives of many dogs. She received a writing award for that article from the Dog Writers Association of America the following year.
WOW: As a member of Dog Writers Association and fellow dog lover, that is quite an honor. The ripple effects of Downeast Dog News are far reaching. There are so many of us who are keeping our day jobs and trying to establish a writing career and maintain a sense of self. Is it safe to say then that you are living your dream?
Holly: Ironically, being a writer was never a goal of mine. Even today I have a difficult time considering myself a writer—a publisher perhaps, but not a writer. I guess ultimately I'd call myself an entrepreneur. I have a Bachelor's degree in Microbiology and a Master's degree in Environmental Health with a focus on toxicology. I've worked as a food microbiologist. I spent three years answering calls on an Environmental Protection Agency (U.S. EPA) pesticide hotline. I conducted community programs and training sessions in environmental health and toxicology. Before starting the newspaper, I worked as a web designer and developer for several years. Each one of these jobs and experiences has contributed significantly to the skills I've needed to start and run a newspaper business.
WOW: That is very encouraging to hear, Holly. With 2010 here in full swing and a time of new beginnings, what does the future hold for Downeast Dog News?
Holly: I'm happy to announce that Downeast Dog News was purchased in December by dog-lover and publisher, Wendi Smith, and her business partner. Wendi will serve as the managing partner and publisher of Downeast Dog News. I'm excited to hand over the reigns to a fellow Maine businesswoman who can lead the newspaper to the next level of success. Wendi has been involved in the sales and marketing fields for more than 20 years and the publishing industry for four years. Her company also publishes the popular annual travel guides travelMAINE, dineMAINE and gayMAINE.
WOW: It's been a pleasure to interview you, Holly. Here's to happy beginnings and tails wagging in 2010 and beyond!
Holly: This has been wonderful and the pleasure is all mine. I am happy to answer these types of questions, as I often receive inquiries from people in other states who are interested in starting similar niche publications.
To find out more about Holly visit: www.downeastdognews.com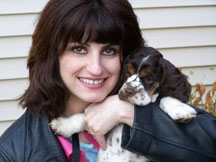 Carol Bryant is an accomplished freelance writer/editor and Managing Editor of FIDO Friendly magazine. As a writer/editor for one of the nation's largest online learning institutions, she authors original educational content for thousands of students worldwide in an e-learning capacity. Her prose can be found in magazines such as FIDO Friendly, Downeast Dog News and VESTITURE, while her short stories and flash fiction have won numerous awards. Autopsies, medical terminology, dog-related issues and women's interests are all topics on Carol's resume of life. In her spare time, her passions include working on her first fiction novel and being involved in dog fun and rescue. "I view the world through a cocker spaniel's eyes—spunky and full of life." Learn more at www.carolbryantwriter.com and her soon-to-be-released blog.
-----
Want to know how to write for pet magazines? Read How To Write for Pet Magazines by Moira Allen.