ave you ever felt that your office was too messy to be productive? Or perhaps you broke up with a live-in boyfriend and everywhere you turn you see reminders of him—the jewelry box he bought you, the loveseat in front of the TV, the cocktail set you purchased together on one of your many jaunts downtown? Or you're a busy mom with a houseful of youngsters who leave their toys everywhere, and you're finding it hard to separate your workspace from your family space? As much as we'd like to think our surroundings don't affect us, they certainly do! Reminders of a painful past can weigh us down, and even a messy office or home can suck the productivity right out of us and keep us from writing.
That happened to me. I had reached the point where my space was draining my energy and I had trouble focusing. This is what happens when you have constant deadlines and allow the paperwork to pile up. Then, a wonderful thing happened. I received Jill Butler's new book, Create the Space You Deserve, in the mail. I had no idea what it would be about, other than the title, so I curled up on the couch with a glass of ice tea and began to leaf through its pages.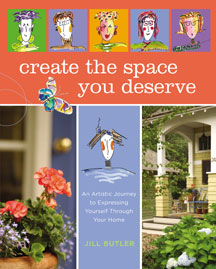 As a graphic artist, I was immediately impressed with the layout—full-color pages loaded with gorgeous drawings, paintings, sketches, diagrams, and photos. And then I started reading—stopping to make notes, writing down quotes I loved—and quickly discovered why I was feeling so bogged down. Talk about inspiring! Following Jill's advice, I came up with a game plan to take charge of my messy office and my life. I'm still in the process of decorating, but the hard part is out of the way, and I'm getting closer to creating the space that I deserve. And you can too!
Jill Butler is a self-taught artist, illustrator, designer, and creativity coach. Her designs appear on collections of home furnishing products; her collages are shown in U.S. and European art galleries. Her creativity workshops are a recipe for living.
Jill's most recent creations are the Birds of a Feather now known as JillsBirds'nWords™. The venture started as a fundraiser for her brother who was fighting cancer. To quote Jill, "I never thought this body of work would turn into my next creative expression and life's work." Her family's experience in entrepreneurship guided Jill to this new business model of creating, sharing, and giving back, all rolled up in this unique package, JillsBirds'nWords and The York Butler Fund. The flock of birds, both men and women, are now winging their way into collections of giftware, paper goods, gift books, and home-related products.
Jill loves to travel, especially when she can move in and set up home, whether it's a hotel room or another kind of space. Her most extensive move-in was 16 years in Paris which gave birth to three books about France: Paintbrush in Paris; Rendez-vous with France: A Point and Pronounce Guide to Traveling, Shopping, and Eating; and Wandering Paris: A Guide to Discovering Paris Your Way.
Jill's return to the U.S. created another kind of journey, as chronicled in her new book, Create the Space You Deserve: An Artistic Journey to Expressing Yourself Through Your Home. No matter where she is, she is creating...and "no matter where I go, the who I am goes too."
Join us as we chat with Jill today and discover how you can transform your personal space into a unique and inspiring nest, room by room.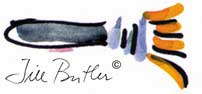 WOW: Welcome, Jill, we're thrilled to be chatting with you today. I just read your book, Create the Space You Deserve, and I am seriously inspired! While reading, I felt as though I were on an artistic journey with you—from the first spark of inspiration to the completed masterpiece. How long did the renovation process take?
Jill: Exactly two years, stem to stern with a good start on the gardens and landscaping.
WOW: Now that's dedication! Many times life changes help us grow as individuals. So, what inspired you to make this big life change and take on such a monumental project?
Jill: Life wasn't working, or might I say, not emotionally working. I was married to a Frenchman and living in Paris...all that looked idyllic, even enviable. The monumental piece of the "project" was to take courage and leave the marriage, move back to the U.S., and begin again. The cottage renovation gave me focus and something that was just for me; it was absorbing, creative, and ultimately nurturing.
WOW: That must have been a very hard thing to go through, and yet, you handled it in such a positive way. One of the first steps in your book is "clearing the crud"—getting rid of unneeded possessions. Why is this step so important to us mentally?

Big Picture Questions
What do you...
Want
Need
Feel you must have
Think you would love to have
Know you absolutely can't live without?
Jill's advice:
Write. Rewrite. Cross off the things that are no longer true. The clearer the picture of what you want, the more likely you will find it.
Jill: The benefit of clearing the crud is an emotional clearing as well as a mental one. All the excess, like noise that never stops, renders us guilty. It's a reminder of things past that are painful, or a reminder of our unwillingness to bite the bullet. Ultimately, the crud gets bound up inside, creates blocks, and doesn't allow the opportunity for the new to emerge.
WOW: I totally agree—that's exactly how I was feeling with my messy office. So, after we clear the crud, you advise that we create a written picture. In one exercise, you mention writing your "housing history." What is a housing history, and how does writing about it help us identify what we are seeking?
Jill: This was a surprise to me when this idea came. I found a black and white childhood photo where I'm sitting on my chenille bedcover with my friend, Becky. The sun is pouring in across the bed. This photo prompted my curiosity about other rooms and houses I had lived in. So, I wrote my "housing history" and discovered reoccurring themes of things I've loved, and not loved, about the homes I've lived in. It was all material for my soon-to-be new nest. Why wouldn't I still want that screened-in porch from Kalamazoo, Michigan and Girl Scout camp?
WOW: That's true...if we create a space from good memories, or the things that made us comfortable in the places we lived, we have a better chance at discovering what we want. But sometimes, as women, we have a natural tendency to put everyone else's needs before our own.
I love the section on Big Picture Questions because it allows us to explore what we want and need. In your opinion, why is it such an important step to self-growth? And what would you say to women who think they don't have time to put their wants and needs first?
Jill: I believe it is our responsibility to find our voice. No one else is responsible except us to ask for what we need, nor can they be expected to be our mind reader. That's not fair play. We need to give ourselves permission and create the habit and discipline of asking over and over again. What do I need? What do I need? What do I need? Writing it down, answering the question, and listening to ourselves is an investment worthy of a few minutes each day... Think of it as a muscle to be developed.
WOW: I love this quote from your book: "Once you've identified the "what," the "how" will show up in ways you could never have imagined." Can you give our readers an example of this from your life?
Jill: Oh my. That's another book. The first obvious one is the manifestation of the cottage. A more recent example: the "arrival" of new man in my life. Then, there's the client that came in answer to: "What next?" I write my vision, even when it seems completely ridiculous and improbable. I don't talk about any of it to anyone. I enjoy the privacy of my dreams and desires. I rewrite them as I'm "trying" them on for size. The idea is to get it as close to your ideal as possible. Then, let it go and be prepared for when "it" arrives. How things and relationships come is what's really fun...you may even be surprised what the "package" looks like.
Here's an excerpt from Create the Space You Deserve (Page 38):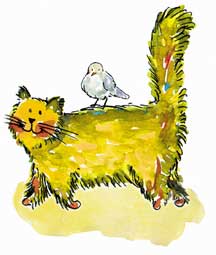 Carrot, more like a dog than a cat, came to the car to extend his hello. He continues to do so for all arriving guests. This is a great example of how when you know what you want, the how will take care of itself.
Having lost my cat to the coyotes while living in my previous home, I told friends over and over again, "I'll get a new cat when I get a new house," in answer to the query, "When are you going to get a new cat?"
It was love at first sight. Did I fall in love with the cottage or Carrot? Both.
Carrot would be at risk in the woods where the sellers were moving, and I showed up needing a cozy cottage and a cat. The Universe is so generous when we get out of Her way and let Her be.
WOW: I love that excerpt! Things always work out in unexpected ways. Another thing I love about your book is the multitude of fantastic quotes from women across the country sprinkled throughout the pages. How did you go about gathering all the quotes for use in your book?
Jill: Actually, that was quite easy. I put out the word to my editor, my assistant who was from the South, my cousin from the Midwest, and friends in the California area; I asked them, who do you know with a story about her experience of creating her nest...and in poured the answers to my questionnaire.
WOW: That's a super idea. So, did you write during the renovation process? And what is your typical writing schedule like?
Jill: I write every morning, even if I can't spend "real" time writing that particular morning. I'll write a word or two just to keep me connected. This morning, I wrote at the lake before swimming. I seldom get to the office/studio, which is an 8-minute drive from home, before 10. So, my window for writing is 6:30 - 9:30.
WOW: When did you decide to write this book? Did you write a book proposal first? Or did you write the book throughout the process and then pitch it?
Jill: For the book, it started as journaling, a pouring out of the angst: the decisions to be made, the fears about the decisions to be made, the fears about the answers to the questions. All of that writing gave me the idea that others might be going through this process and welcome the encouragement.
I had two early ideas for my editor and they kept leaning toward a decorating book, which isn't really my thing. I let it rest for a while until I realized I could share my process while offering hope and encouragement. I like that in the end, the how-to ideas keep the book grounded and useful, aren't style-specific, but are more about nudging, guiding, and sharing in order for each of us to arrive at what we want to create for ourselves. The cottage serves as just one example.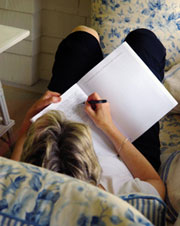 "I write every morning, even if I can't spend 'real' time writing that particular morning. I'll write a word or two just to keep me connected."
(Photo: Jill Butler writing her "Morning Pages")
WOW: You've also written a series of French Guide books—Wandering Paris: A Guide to Discovering Paris Your Way and Rendez-vous with France: A Point and Pronounce Guide to Traveling, Shopping, and Eating. How did writing Create the Space You Deserve differ from the others?
Jill: As my editor mentioned one day, "Jill, congratulations on your first 'chapter' book." My French guide books are more short bits, tips, and few, if any, paragraphs. The guides are very visual and that's what carries the message with few, but poignant words. So, now I write chapters and columns and still surprise myself.
WOW: That's interesting... I was just thinking about how art and writing relate. I'm a bit like you in the sense that I love words and visuals, but not necessarily at the same time. For instance, when I'm painting or working on graphic art to accompany an article, one side of my brain disconnects and I can't edit or relate to the words on the page, and conversely. How are you able to connect the two harmoniously?
Jill: I totally get that... I always make spelling errors in the art when I'm on an art piece with words. And...I can't live with one without the other. I just go ahead and work the two and correct it all later.
Sometimes misspellings create a whole new word or idea...and off we go!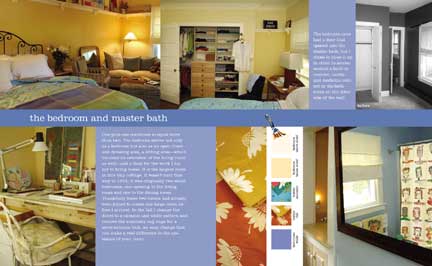 (Spread from Create the Space You Deserve)
WOW: Jill, you are a true artist. In your book, you mentioned that you've never taken any art classes or studied art. That's amazing, considering how extremely creative and talented you are! How did you develop your keen artistic sensibilities?
Jill: Time cures all! Actually, when I left my NYC job to go to Europe to learn how to live, I had lots of time. I barely spoke French, had no friends and few contacts. I sat in cafés and watched, wrote, and eventually, with a good pencil and a fat eraser, I figured I could draw something faster than I could write about it. I noticed having spent the time to draw something, even the most rudimentary drawing, it could encapsulate a memory that is never to be forgotten.
WOW: I agree; drawings have a way of capturing some of the nuances that even words can't. When did you realize that art was more than a hobby and something you wanted to pursue seriously?
Jill: When I returned to NYC after my first two year stint of living in Paris (eventually I spent 16 years), I couldn't imagine working for anyone else, so I created a business licensing designs into the home furnishings manufacturing world. Eventually, I couldn't resist getting my hand in it even though we had artists working for us, and I was handling the marketing end.
WOW: I'm so glad you did! I know that being a professional artist is a hard field to break into. How did you start your career as an artist?
Jill: Whenever I've decided I wanted to do something new or something I don't know much about, I've started by creating "it." Whatever "it" is. For years, I created handmade books; I even collected them as an art form, which they are. When first in Paris, I collected stuff that appealed to me: the bits and pieces of life, or found things at the flea market, and started pinning them to my rented apartment walls. Next thing I knew, I was creating collages. I guess my enthusiasm has always opened doors. And I love the challenge of figuring out how to get from A to Z—and how to combine and create the unexpected out of "apples and giraffes."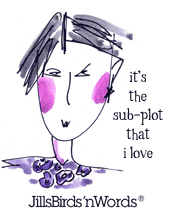 WOW: I love that. Enthusiasm opens doors. One of your most recent creations is the Birds of a Feather, now known as JillsBirds'nWords, which includes wonderful designs on plates, placemats, and other items for European-style entertaining. I'm sure our readers would love to know where they can find your creations.
Jill: We are just beginning with manufacturers and media services with whom we will be collaborating. One collaboration is with a web company called www.bestfriendny.com. The Birds will host the site and soon offer related products. Stay tuned.
WOW: I certainly will! At the end of your book, the butterfly emerges from the cocoon and you say, "I reflect on these life journeys. They seem to be more transformational than goal-directed. They seem to be about the process that moves us toward our next version of 'I am.'" Considering that quote, who are you now that your home and your book are complete?
Jill: There is a wonderful French phase I will quote in answer to your question. It is quite simply, "Je suis bien dans mes pompes." "I am well in my shoes."
Thank you so much for this opportunity to talk with your readers. Can't wait to meet them.
WOW: Jill, you are a true inspiration. I thoroughly enjoyed reading your book and am already applying your sage advice to my life and home. Do you have any parting words of wisdom to share with our women writers/readers?
Jill: We are strong, we women, we can no longer hang back in any aspect of our lives. We are needed to speak, for our voices to be heard, and to stand solid as pillars of positivity.
WOW: Well put. Jill, thank you for a wonderful interview!
Ladies, to find out more about Jill Butler and her fabulous creations, please visit her website: www.jillbutler.com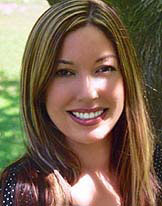 Angela Miyuki Mackintosh is founder and CEO of WOW! Women On Writing. Her work has been published in Maxim, Transworld Surf and Skate, Transworld Biz, Vice Magazine, Thrasher, Automatic, Concussion, Footwear News, SGB, ASR LineUp, and numerous trade publications for the action-sports industry. Her short fiction has been published in Amazing Authors, and various zines in the SoCal area. She is an award-winning artist whose works have been commissioned by the city of Long Beach, and has received grants from Funds for Women, and the LB Arts Association. Angela lives in Placentia, CA with her husband Mike and her cat Noodle.