Special Note to Contestants:
We want to thank each and every one of you for sharing your wonderful stories with our guest judges this season. We know it takes a lot to hit the send button! While we'd love to give every contestant a prize, just for your writing efforts, that wouldn't be much of a competition. One of the hardest things we do after a contest ends is to confirm that someone didn't place in the winners' circle. But, believe it when we say every one of you is a true winner.
Every writer has been a gracious participant through the whole process, from the beginning of one season to the next. We've written emails to authors, agents, and publicists who have donated books to our contest, and we've shared our delight regarding the true sportsmanship among our contestants. It doesn't matter if it's one writer who placed or another who tried but didn't; all writers are courteous, professional, and wonderful extensions of WOW! Women On Writing's team. Writers' stories and e-mails fill us with enthusiasm.
Kudos to all writers who entered, whether you won or not, you're still a winner for participating.
***
To recap our current process, we have a roundtable of 4-7 judges who blindly score equally formatted submissions based on: Subject, Content, Technical, and Overall Impression (Style). That's the first step of the process. If a contestant scores well on the first round, she (or he) receives an e-mail notification that she passed the initial judging phase. The second round judging averages out scores and narrows down the top 25 entries. From this point, our guest judge helps to determine the First, Second, and Third Place Winners, followed by the Runners Up.
As with any contest, judging so many talented writers is not a simple process. With blind judging, all contestants start from the same point, no matter the skill level, experience, or writing credentials. It's the writer's story and voice that shines through, along with the originality, powerful and clear writing, and the writer's heart.
***
We've enjoyed reading your stories, each and every one of them. The WOW! Women On Writing judges take time to read them all. We recognize names of previous contestants, writers familiar with our style. We enjoy getting to know you through your writing and e-mailing. Remember that each one of you is a champion in our book. We hope that you continue to enter so we can watch you grow as writers and storytellers, because each season is a rebirth of opportunity.
Now on to the winners!
Drum roll please....
1
st
Place: Leigha Butler
Highland, New York
Congratulations Leigha!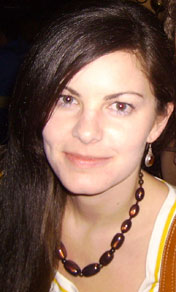 Leigha's Bio:
Leigha teaches and writes in New York's beautiful Hudson Valley region. Her stories and non-fiction are inspired by the landscapes and waterways she has encountered—from the Long Island Sound to the Yellow River to the forested kids-only diving holes of her childhood. She teaches Writing and Environmental Literature as an adjunct professor at two colleges in the region. She earned her masters degree in Literature & Environment from the University of Nevada, Reno where class was often conducted on a hiking trail or over a potluck supper. In order to polish several stories and essays that sit, dusty, on her hard drive, she plans to attend Chatham University's Nature Writing MFA program in the fall. When she's not agonizing over a sentence, she's likely reading, kayaking, doing her sun salutations or catching up on the worst of reality TV (one has to be versed in the culture of her students, after all).
You can find her work at: https://www.everydayfiction.com/riding-in-circles-for-love-by-leigha-butler/ and https://gloomcupboard.com/2010/01/03/prose-113/. Or submit a story to her community-writing blog: https://talesfromthedomicile.blogspot.com/.
Kayana's Secret
The jump from Neversink Crag into Devil's Hole is a foolish one. Depending on the season, it's about a 10-meter free fall into mysterious topography. We have a vague idea that a jump too far to the right is certain death, but we take it on faith that we will not be skewered by underwater stalagmites if we send our weight leftward.
When my little sister Kayana, peach fuzz connecting her strawberry-yellow eyebrows, stood out on the lip, the crowd of kids below took an inhalation together.
"Isn't she too little?" someone asked.
***
If you are looking up at Neversink Crag from the icy pools of Devil's Hole, you will see what looks like the upper lip of a vengeful stone giant. His bluestone eyebrows are set deep in the rock face, his lower lip protruding in a pout about six feet beneath the upper crag. If you are standing on the lip itself, you wonder what the giant has in mind for you.
If you are sincere and brave when you jump, once will not be enough. As you descend, Devil's Hole will glitter beneath you, brighter than you expected it to be, so bright it hurts your eyes. Closing your eyes, you will fall through one of the sun's rays and you will feel a momentary warmth. You will open your eyes again, and in the periphery, you will see your friends in their towels, sitting on stones, sipping from beer cans, and you will not believe they are apart from you. You will think of a bird diving for prey. You will think you are just a stone falling. You will imagine the icy pool beneath you and you will not believe that you are not all the stones in all the world falling into all the icy reservoirs on earth.
When you emerge, catching your breath, seeing that you are still alive, you will resolve to make an offering to the stone man. You will tell your friends and neighbors and even your little sister to go jump from the Neversink giant's lower lip.
***
One slow inhalation causes Kayana's belly to swell and stretches her pink one-piece taut. She clamps her nose with a thumb and fore-knuckle. Her weight is hinged at the knees.
A first flight.
To the left, the crowd breathes.
In her descent, Kayana's eyes are shut. Her body seems to tumble, shedding any grace that girlhood grants. Her weight, falling left, wobbles around a lopsided axis, until at long last she finds her space, an airborne eddy all her own, like a silkworm's glistening trail, descending to a dragonfly prize. Her eyes open, and I think she looks at me. What can she know? That we are all just birds descending on our prey? Just stones among stones?
Head first, she plunges. Her dive has force, a fearful fact since the hole's depth is a matter of childhood conjecture. We can only wait on our towels, synchronizing breath.
Up, she is born from the pool, gasping and swallowing life anew. At first, she gulps too hastily, but she reaches land and crawls out onto the rocky perimeter. By the time I reach her, the jagged edges of her breath have been smoothed by wear. Her knees knock and clatter, but her eyes know a secret.
"I'm jumping again," she announces. She is not asking for permission.
This time, we climb the crag together, Devil's Hole shimmering beneath our shivering legs.
Kayana knows now what her big sister has known. The stone giant breathes his spirit into those who jump, and this is a secret we will be keeping from Mother.
***
What Leigha Won:
2
nd
Place: Arlene L. Walker
Cerritos, California
Congratulations Arlene!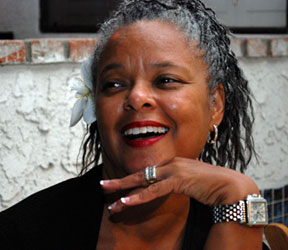 Arlene's Bio:
Arlene L. Walker is passionate about the written word. Her friends tell her even her Emails are writ full of drama. For years, she worked as a stenographer writing other people's words until one day she was forced from the workplace. She decided to pursue her lifelong dream of becoming a writer. She enrolled in the UCLA Writers Program to pursue a Certificate in Fiction. She began to enter first one short story contest, then another, and another. She was thrilled to finally garner an Honorable Mention in a publication last year, but being in the top ten of the WOW! Women On Writing Fall 2009 Flash Fiction Contest is her highest achievement to date. When she's not spending time with her family, Arlene is either reading, writing, or working on her blog about her Bucket List escapades, Adventuresalon.blogspot.com. Her favorite quote is by Ayn Rand who said, "It isn't who is going to let me; it's who is going to stop me." Next stop for Arlene is penning the Great American Novel.
Colored Girl Movie
I am a colored girl movie, starring an ill-gotten child, and a no-count man.
Produced by God.
Directed by the devil.
Music by Motown.
Love Child, the Supremes' latest hit, playin' in the background. Flat on my back, I raise my head, look down between my legs, and all I can see is the top of the doctor's scalp. He pop his head up like he a groundhog checkin' is it spring yet. He got slanty eyes and buttermilk skin. He look like the peoples my brother Junior always talkin' about since he got back from Nam. Calls them gooks. If Doc ain't one, he could play one in the movie that is me. Hmmph. And they say we all look alike.
Doctor Nam got my essence splayed open with some contraption, and he act like he cain't believe what he see. I pull the covers tight around my neck. Mirror Motel is cold. Then I remember: my covers is really my grandmama's coat. Got it last Christmas. She die on Christmas Eve; I receive my inheritance on Christmas day.
I'm gettin' tired of all this pokin' and proddin' going on down there. Finally, Doctor Nam look up at me. First time since I got here he look me in my eye. He say, "You no hab a sex befaw?"
No, I think. I no have sex before, but before the words can find its way from my mind to my mouth, the movie in my head skips. Turn the horizontal adjustment knob. The picture settles on Jimmy B., and the B don't stand for boyfriend. Not no more.
I sees Jimmy B. half naked layin' on top of me, one hand over my mouth stifling my doubts, the other hand full of my boobie. He gruntin' and grindin' so much he work my skirt up and my panties down with his thing. It feel kinda good, too. I cain't lie. But before he can jig hisself up in my kitty cat, he spit. And there it is. I am still a virgin at 15.
Pregnant one, though.
Picture skips again.
Doctor Nam done brought two new co-stars into the one-window room. Look like the same two mens was on guard outside the door. A narrow Negro, with a process and a Kool menthol hangin' from the corner of his mouth, is the one I give my money to. The other one is a greasy-haired, shifty-eyed white guy in a blue velvet jacket, but I can tell he just a no-count like my ex. Dogs don't know no color lines. They really is colorblind.
I'm wishin' Thin Man's cigarette ignite all the chemicals in his hair and he explode like a stick of dynamite. Only at the end of my movie...when the credits are rolling...after I'm done here. I leave them in my wake like Clint Eastwood do in those spaghetti westerns. Cain't figure out why they calls them that, cause they never eat no spaghetti.
Back from commercial break, they gawkin' at me like I'm the Ape Lady. I hear words like "hymen intact...get the ether," and I wish I could turn the volume down.
Instead, I look up at the mirror on the ceiling, and then I feel it while I see it. A knifing pain, hot and sharp, burning up one side of me. Now I know what a stuck pig feel like. Mr. Blue Velvet put his handkerchief over my mouth so the neighborhood don't know our business. Smells like some concoction from chemistry class. My eyes rollin' back in my head slow and easy. I wish...I wished I woulda just jumped off the roof twenty-five times like my friend Doretha. Baby blob just come out in the toilet after that.
Oh, God, the pain. Bring that goddamn handkerchief back here. Sticky stuff trickling, stomach cramping. Owwwaahhh, my heart hurts. I know Doctor Nam can feel my spine by now with that metal rod. Somebody coulda mentioned it was gonna hurt like hell.
Feel like all my insides gushin' out now. It's like...aghhh...pain and satin, steel and love, hate and beauty wrenched outta me. Wretched joy cut from my core with a loop-shaped knife; broken up, ripped apart, torn asunder. My baby's soul, red and angry, hovering like a cloud. And finally...gurgling relief. It's like the end of a bad movie. I feel nothing inside. A big old hole.
Fade to black.
Roll the credits.
Carry the blame.
***
What Arlene Won:
3
rd
Place: James Tipton
Chapala, Jalisco, MEXICO
Congratulations James!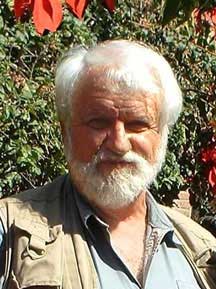 James's Bio:
James Tipton lives in the tropical mountains of central Mexico where he writes short poems and short fiction. He is also a columnist for and Associate Editor of El Ojo del Lago and El Ojo del Mar, monthly magazines published in Mexico for the English-speaking community. He is also book review editor for Mexico Connect, the largest on-line source for "all things Mexico". He has published more than 1,000 short stories, poems, articles and reviews in North American magazines, including Esquire, The Nation, Christian Science Monitor, American Literary Review, and Field.
His book of poems Letters from a Stranger (with a Foreword by Isabel Allende) won the Colorado Book Award in 1999.
His most recent collections of short poetry are published in bilingual (Spanish and English) editions: Washing Dishes in the Ancient Village/Lavando platos en el antiguo pueblo and All the Horses of Heaven/Todos los Caballos del Paraíso. He is currently completing a collection of short stories set in Mexico, Three Tamales for the Señor.
Washing Dishes in the Ancient Village is available through Bread & Butter Press/1150 S. Glencoe/Denver, CO 80246, $10.95 plus $3.00 shipping & handling. All the Horses of Heaven is available through www.themetpress.com, $12.95 plus $4.00 shipping & handling.
Getting to the Bottom of the Girl in the
Blue-Jean Cut-Offs
The twenty years of his adult life had been a series of false starts.
Mitchell Parrish was sitting at the bus stop in front of Weminuche Community College. He was waiting, as he did each day, for his wife Myrna to pick him up and take him home after he finished his part-time teaching duties. He was thinking about his future and about his highly developed inability to focus on a single thing long enough that that thing might lift him up into a "career."
Today was the last day of the summer term at WCC. Three months ago, when he first began waiting here, Mitchell decided that this iron bench, bolted so firmly into the concrete, would be where he could dedicate twenty or thirty minutes of each day to get to the bottom of things.
Mitchell's wife, by nature content, was satisfied that her duties as a dental hygienist held meaning as well as income and benefits (for both of them). Myrna had always been considerate of Mitchell and what she called his "job luck." Mitchell began each job only to lose it, through a fluke, like the company itself closing, or the product line he was responsible for moved to China.
Mitchell knew, though, that it was more than that. He knew that he began to lose focus after the first day of every new job.
Now, teaching a single course at the local community college, Mitchell was no longer earning any significant money. Still, that strange luck, that problem of focus, that lack of useful ambition, that inability to decide "what to do," that easy tendency to be distracted, bothered Mitchell. He needed something so simple, so clear, that it became obsession.
Each day while he waited, Mitchell studied the other people, mostly students, getting on, getting off.
Today a woman, with the rich copper-brown skin of a southwestern Indian, so common here in western Colorado, was waiting as well.
Just above her waist and below her white shirt, on the delicate skin at the small of her back, he saw two bewitching snakes, tattooed, reddish-brown, intertwined like two lovers as they rose out of her jeans to stretch leisurely along the length of her spine. He thought he would be healed if he kissed them. Mitchell wanted his wife Myrna to want a tattoo like that.
At the very moment when he was staring most intensely at those tattoos and contemplating what joy might lay further down beneath the blue fabric, she whirled, as if it were part of her exercises, bent low toward Mitchell...and looked him directly in the eye.
"You're Professor Parrish," she said.
Mitchell, who at best might be called Instructor, said, "Yes, I'm Professor Parrish. Do I know you?"
"My name is Karma," she said.
"Karma," Mitchell repeated.
"'Karma' was my mother's idea. She's a Mexican Apache. She liked to call me 'Karmacita.'"
"You go to school here?"
"Yes, but today I'm tired, the term is finished, and I'm going to head south to Taos."
Taos, he thought. He had always loved Taos, and before meeting Myrna he had wanted to move there.
"I love Taos," he said, not knowing what to follow that with. He wanted to say, "I also love your incredible ass. It reminds me of Taos after a rain." Mitchell shook his head. He couldn't get her ass out of his mind. He tried to focus on how he would force Myrna to want that tattoo.
He saw their familiar Dodge Intrepid, two blocks away, waiting at the light. He stood up, satisfied to be back into his routine. Soon he would be home and he would be grilling Atlantic salmon, brushed with orange juice and finely chopped ginger. It was Myrna's favorite. He fixed it for her at least once a week.
The girl was standing now, half turned toward Mitchell, half turned toward the bus that was just opening its doors.
Mitchell wanted to say something romantic like, "I wanted to meet a woman like you my whole life," but he knew it wouldn't sound true. What he really wanted was to be meeting the same exotic woman over and over, each time in a different way, until something began to spiral out of each of them that was bigger than life itself.
Two blocks down the light had turned green. Mitchell stood up and half waved.
Then Mitchell followed Karmacita onto the bus.
***
What James Won:
RUNNERS UP (In no particular order):
Congratulations to the runners-up! It was very close, and these stories are excellent in every way. Enjoy each one's story!
Click on their entries to read:
The Fifth Rider by Georgia Allred, Colorado Springs, Colorado
Twist in the Wind by Stacy Post, Danville, Indiana
Get a Fresh Killed Chicken by Martha Katzeff, Bronx, New York
Last Friday by Lori Strauss, La Canada Flintridge, California
Peace Still and Blue by Catherine E. Jones, Tiskilwa, Illinois
Ten Past Midnight by Pamela Allison, Dallas, Georgia
The Hair by Jacquelyn Malone, Lowell, Massachusetts
HONORABLE MENTIONS (In no particular order):
Congratulations to our Fall Contest Honorable Mentions!
Your stories stood out and are excellent in every way.
One Potato, Two Potato by Patricia Winton, Rome, ITALY
Trained by Alessia Brio, Morgantown, West Virginia
The Winter Coat by Wayne Scheer, Atlanta, Georgia
Two Lovers Point by Michelle Lemons, Westminster, Colorado
The Sunday Night Beach Club by Cheri Downie, Sarasota, Florida
Three Inches Closer by Michele Roach, St. Louis, Missouri
A Good Walk by Dee Blackwelder Marley, Carrboro, North Carolina
Anticipation by Jenn Gibson, Chicago, Illinois
Good Intentions by Tammy Blackwell, Benton, Kentucky
Kant You See, Mill? by Sarah Becker, Chicago, Illinois
Like Father Like Son by Serena Helriot, Glendora, California
Silver Linings by Corinne Mahoney, Hillsborough, North Carolina
Sixty Seconds by Carolyn Crowell, Alameda, California
Up Close and Personal by Kathleen M. Redmond, Delray Beach, Florida
Why Plaid is the New Black by Sandra Cook, Buffalo, New York
What the Honorable Mentions Won:
IN CLOSING:
This brings our Fall 2009 Flash Fiction Contest officially to a close. Although we're not able to send a special prize to every contestant, we will always give our heartfelt thanks for your participation and contribution, and for your part in making WOW! all that it can be. Each one of you has found the courage to enter, and that is a remarkable accomplishment in itself. We're looking forward to receiving your entries for our next contest. Best of luck, and write on!
Check out the latest Contest: