WOW! NEWS AND UPDATES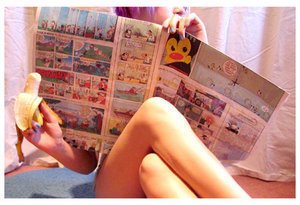 Ladies, there is a lot going on behind the scenes at WOW

!

, so I thought I'd post a bit of news to keep you in the loop.

SPRING FLASH FICTION CONTEST UPDATE

For all of you who are dancing around in anticipation of the contest results, we know you are excited and we look forward to revealing the winning stories soon. We've had so many amazing entries this quarter! As you may know (and for those of you who don't), the critique option was a new feature we offered to contestants. Unfortunately, we underestimated the amount of time it would take to do all the critiques--so it has put us a tad behind schedule. I'm sorry we don't have a set time line for you, but just know that we are running like manic hamsters in a wheel to bring you all the wonderful WOW

!

content. When the results are posted on the site, we will send out a notification email to everyone. Be sure to sign up for the newsletter (in the upper right corner of the WOW

!

home page), so we will have your email address and you can receive the newsletter and contest updates.

NEW PRODUCTS AND SERVICES

WOW

!

Classroom Workshops
Within our community, WOW

!

has so many talented and diverse professional writers who teach others how to navigate the writing and publishing world. Whether you are searching for an agent, looking to break into freelance writing, wanting to learn how to perfect your query letter, or planning to take that first step to novel writing, WOW

!

wants to provide you with the resources to reach your goals. So, to do this, we will be launching the WOW

!

Classroom in September! We have many wonderful instructors already on the slate and once their curriculum is finalized, we will be announcing the list in a special email blast, so make sure we have your email address! Class sizes will be limited, so if you see a workshop you want to take, you'll have to jump on it! We do have a few spaces available for additional instructors, so if you teach a professional course for writers and would like to join the WOW

!

team, feel free to submit a query and your course description for consideration.

Holiday Gift Guide
We are always looking for ways to bring you useful content and products that will help you with your writing, publishing, and promotion journey. But we also know there are ways to combine what you love (books) with the other aspects of your life. So, we've come up with a new product we think will be a great resource and time saver for the upcoming holidays when you will be looking for great books to give as gifts or buy for yourself.
It's never too early to get a jump on your gift shopping--or wish list making!

This holiday season we will be publishing a free Holiday Gift Guide as a downloadable PDF from the WOW
!
site with information about great books in 15 different categories of fiction and nonfiction from male and female authors.

And One for You – novelty gift books
Business Minded – business books
Dark & Stormy Night – mysteries, thrillers, suspense, crime
Food Festival – cookbooks, entertaining guides
Funny Bones – humor books
Heart Sleeves – romance, chicklit
Help is Here – advice, how to
Inside/Outside – health, fitness, nutrition, spirituality
Kid's Corner – picture books, middle grade, young adult
On the Road Again – travel books
Picture Perfect – coffee table books, photography, film
Story Weavers – mainstream and literary fiction
Tech Deck – computer books
Trend Setter – fashion, music, pop culture
Who, What, Where – history, biography, memoir

The Holiday Gift Guide will be available in the November issue and will be the perfect resource for finding the hottest titles on the market to add to your wish list or give as gifts.


2009 Surprise Announcement Preview
It's in the planning stages, so all I can say is two words to give you a hint: WOW

!

Retreat. It's going to be the must-attend event in 2009. And one you definitely won't want to miss!

Stay tuned for so many wonderful things we have planned for you, our loyal readers.

OH, YEAH...
And it has recently come to our attention that many readers don't know how to navigate the WOW

!

site to find all of the back issues of archived articles, interviews, etc. If you haven't had a chance to read and explore the back issues, you are definitely missing out! Go to the WOW

!

home page and look in the left sidebar above the fold. Find the gray button that says "Quick Links"--it will give you a drop down menu that will allow you to find everything by column and issue. Happy reading!

Have a great Sunday!


Labels: new wow products and services flash fiction contest update, wow news