The Birth of the Digital Newsstand
Did you know that digital magazines are booming?
It's a market that has been out for less than five years, but it's just now beginning to take off, and I can understand why. Have you ever wanted to read a magazine right now, at the very moment you think about it, but you can't get to the bookstore, newsstand, or market? I know I have. Well, now you can go to a virtual newsstand and purchase that publication to view immediately. Not only can you read your favorite magazine right away, you can also interact with the content. Some magazines even go a step further--adding video and audio to the mix. I know nothing beats sitting down with a magazine and leafing through the glossy goodness, but it's great to have that option available at your fingertips.
One of those sites is
https://www.zinio.com
, which calls itself "The World's First 24/7 Global Newsstand" and has over 850 titles from 20 countries to choose from. Readers can purchase single issues or subscriptions, and read the magazines anytime, from any location, and in any language. Here's a screenshot: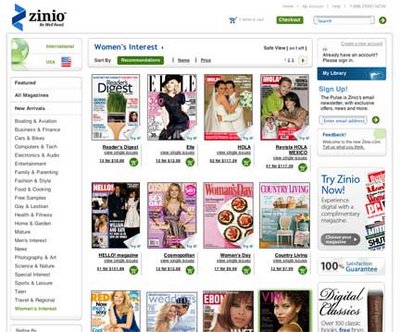 What does this mean to freelance writers?
In my opinion, I don't think it will affect us at all. In fact, it may help. Statistics from "Digital Magazine Study" show that readers are more likely to visit advertiser's sites on a digital version as opposed to print. That means that publishers can track the effectiveness of ads in real time--and we all know that a magazine with a lot of ads has more money to spend on freelance writers. In addition, writers may also receive extra payment for publishing the same piece online. Bonus!
What does this mean to publishers?
By going digital, publishers lessen print and circulation costs, gain real time statistics, interactivity, and strengthen their brand. They also have the ability to tap into markets that may have been out of their reach before, such as international. On the production side, it's not that much different than putting out a print magazine. There are companies that will take the print files that are done in programs such as InDesign, and convert them to a web friendly version, complete with analytics, rich media, and social capability. Sites such as:
www.nxtbookmedia.com
www.olivesoftware.com
www.texterity.com
www.imirus.com
www.editionduo.com
www.advancedpublishing.com
www.pressmart.net
But are readers willing to make the total switch?
I still enjoy curling up with a good book or magazine, but like the idea of being able to view something immediately if I'm researching information. What do you think?
Labels: digital magazines, digital newsstand, freelance writing, freelance writing for magazines