arketing a book has definitely fallen into the hands of the author. Everywhere you turn in cyberspace, you'll find an author promoting her books—from creating business pages on Facebook and tweeting with hashtags on Twitter to freebies on Amazon and giveaways on Goodreads. The days of traditional book signings are becoming fewer and fewer, as authors create new opportunities to attract loyal readers online or during presentations in classes and at workshops.
But all of these marketing ploys have to cost some bucks, right? What about the revenue authors lose when they give away free copies? Should you still spend money on bookmarks, postcards, and business cards? What types of events create the most sales—virtually and in person—and what do you do if you only have e-books? Should you still hold book signings or be a guest speaker at an event where you can sell books if you have to pay your own travel expenses?
I asked eight successful authors to share which marketing strategies they thought were worth the money they spent, which free ones worked the best, and which should find authors running the other way because they just don't work.
Their answers may surprise you. While I'm preparing for a middle-grade novel and a picture book to come out this year, these eight ladies have given me plenty to think about, as they shared their experiences for us all to learn from.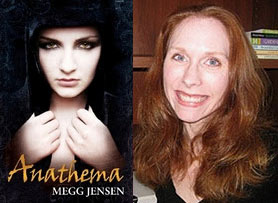 "I am now making more in one week than what I was making in all of 2011 combined."
(Photo: Megg Jensen)
What Works
What works the best according to these authors is free copies. YA author, Megg Jensen, who's written the successful, self-published YA fantasy Cloud Prophet Trilogy and The Swarm Trilogy, said that giving away the first book as an e-book in the Cloud Prophet Trilogy, Anathema, worked the best for her.
"I spent no money on giving Anathema away for free. Now, I know people are shaking their heads and thinking: But imagine all the revenue you gave up by not charging for it," Megg states. "I am now making more in one week than what I was making in all of 2011 combined."
This strategy works for Megg and her books because she has a series for an audience who is into e-books; so giving away the first book will hopefully hook readers, who will then pay to read the rest of the series and her new ones, also.
Cheri Lasota, author of Artemis Rising, a YA historical fantasy novel, agrees. "Going free works brilliantly well for series books. I personally know about two dozen authors who are pulling in thousands in royalties a month because they've set book one in their series to free and left the rest of the series at paid," Cheri says. "You can also do the same with Kindle Singles. Set a prequel short story free as an introduction to your writing and make your longer novels paid. Experimentation is key."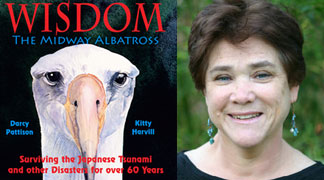 "You must give away some to seed the market."
(Photo: Darcy Pattison)
What if you don't have an e-book or a series, or you are a children's picture book writer? Darcy Pattison, author of Common Core ELA Activities and Wisdom: The Midway Albatross, believes giveaways work even for picture books. She gave away Kindle copies of her picture book about Wisdom, published by Mims House, through Kindle's Direct Publishing Select program. Through this Amazon program, authors agree to only sell e-books through Amazon for ninety days, but you can sell physical copies anywhere. During this ninety-day period, you can offer five days of free downloads, according to Darcy.
She offered free downloads at two different times for Wisdom—once for the anniversary of the Japanese tsunami in March and once for Earth Day in April. "During this time [the free promotion around the anniversary of the tsunami], I promoted to librarian listservs, educator listservs, Facebook, articles on EarthSky.org, my blog, and more," Darcy says. "There were 1776 downloads of the free book. Because they were e-books, my costs were zero, except for lost revenue; however, you must give away some to seed the market. It resulted in eight e-book sales that month, and ninety-five paperback sales."
This strategy worked for her because not only did she giveaway copies, but she advertised to her main audience—parents, teachers, and librarians—that she was giving away a book. When she did the giveaway again on Earth Day, she sold some more copies, but not as many. She shared the lesson she learned from this experience—that during the ninety days for the Kindle Direct Publishing Select program, you should have a different target audience for your free giveaways.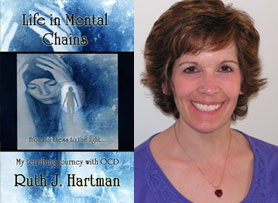 "My favorite new marketing tool is book giveaways on Goodreads."
(Photo: Ruth Hartman)
Giving away free books was mentioned over and over as a marketing strategy that works! All eight authors have given away free books—physical and electronic copies—and feel that these giveaways result in either more book sales from interested readers, reviews on Amazon, or invitations to speak to groups or participate on blogs.
Ruth J. Hartman, author of several books including her memoir Life in Mental Chains, has been using the social networking site, Goodreads, for her giveaways. "My favorite new marketing tool is book giveaways on Goodreads," she says. "You pick how many winners you want and how long the contest will last. You can advertise your contest; but even if you don't, Goodreads does it for you. Because of this, you can end up with several hundred readers who sign up to win your book."
Besides giving away your books to entice new readers and get possible speaking and blog engagements, which other marketing strategies work well and equate to sales?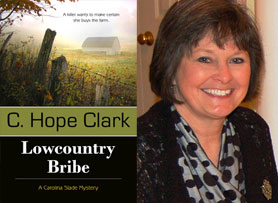 "I can average twenty books at such small events."
(Photo: C. Hope Clark)
C. Hope Clark—author of Lowcountry Bribe, a mystery, and The Shy Writer and editor of the popular newsletter Funds for Writers—feels the best venues to sell books are speaking engagements to smaller groups, where she is one of the only speakers. She purchases her books at half-price from the publisher, and then she sells them at full price at the event.
"It's [a small speaking engagement] more informal, and everyone is eager to purchase, with a greater return on investment per book than placing them in local bookstores. I can average twenty books at such small events," Hope says.
She also suggests signing up with Square Card Reader, so that you can accept credit cards at any events you are attending and selling your books. Hope explains, "It [the square card reader] hooks into my phone or notepad, swipes the card, and a receipt is instantly in the buyer's e-mail. Not everyone has cash; and at an event where there are multiple books, some run out of cash. This little tool has sold many books, 2.75 percent charge per sale, no monthly fee." To see an example of a Square Card Reader and sign up for yours, visit the website.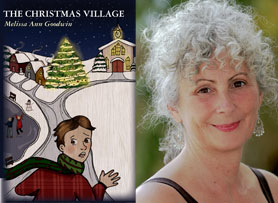 "Throughout the blog tour, sales were steady."
(Photo: Melissa Ann Goodwin)
Melissa Ann Goodwin, author of the middle-grade novel The Christmas Village, and Chynna Laird, author of several books including her memoir White Elephants, paid for blog tours with WOW! Chynna admits that some people may not have it in their budgets for someone else to arrange a blog tour, but she believes it is well worth it.
A blog tour is when an author guest posts or is interviewed on several blogs in a short period of time. Sometimes, bloggers also post reviews. Usually a book giveaway accompanies the posts, where interested readers are invited to comment on the post, and one is chosen to receive a free copy.
"For my memoir, White Elephants, I had had little or no sales [when it first came out] . . . But after the kick-off to my blog tour, it leaped under one hundred thousand on Amazon and stayed there for practically the entire tour," Chynna states. "I don't have exact figures, but the book now has amazing reviews, is the top recommended book for recovering from childhood trauma on Goodreads, and I have had countless opportunities since. Great investment if you can afford it."
Melissa agrees. "Throughout the blog tour, sales were steady. I'd notice an uptick after guest posting on a blog that had a very active and engaged followership. What was especially nice was that several times, a host who had just agreed to having me do a guest post liked my book so much that they did a review, too . . . I definitely saw book sales when that happened."
Megg feels that authors without marketing budgets can still take advantage of blog tours. They just need to organize them on their own, which means finding bloggers in the book's genre, contacting them, and asking them to host the book. She has successfully scheduled three blog tours on her own and mentioned that she has experienced bloggers being happy to hear from authors.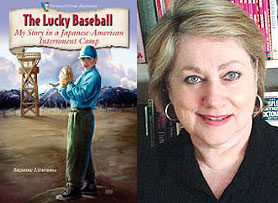 "I continue to get speaking engagements from these listings and from my blog."
(Photo: Suzanne Lieurance)
What does Suzanne Lieurance, author of several children's books, including middle-grade historical fiction novel The Lucky Baseball, and founder of the Working Writer's Club, feel gave her the most bang for her buck?
"I spent around $200 for a website (I now have a Wordpress blog, which I created myself). I also had to send a copy of at least one of my books to Drury University in order to get a listing at America Writes for Kids. But those were the only expenses. A few months after I got these listings and my website up, I started getting booked for author visits and other paid speaking engagements in Missouri. Today, I continue to get speaking engagements from these listings and from my blog," Suzanne says.
Then she adds this advice. "It doesn't cost anything for an author to set up a blog these days, and I think it's the best free way—or almost free way if you choose to pay for your own domain name and hosting for your blog (as I do)—for any author to get the word out about his books. Unlike a website that might only be updated every few months, a blog is updated regularly, so it gives readers a more immediate connection with the author."
Besides a blog, these authors said that getting free accounts on popular social networking sites and using them to promote your work was also a good idea. The two sites mentioned the most were Facebook and Twitter, followed closely by Goodreads.
"I have found Twitter to be incredibly beneficial for getting word out about my work to a much wider public audience," Cheri said.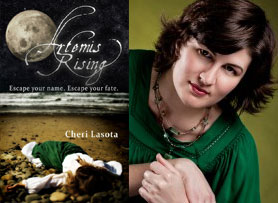 "I've literally sold one of my e-book cards on a three-minute ski lift ride."
(Photo: Cheri Lasota)
Old Favorites
Besides the wonderful and fairly inexpensive marketing strategies the authors offered as their best examples, they also stated that some of the old favorites still work. These would be bookmarks, business cards, and other swag items that draw attention to you and your books. Most of these hard-working and creative ladies offered suggestions for the best ways to use these items to attract readers.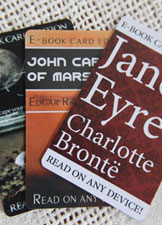 Cards for E-Books
A majority of the books that Megg and Cheri sell are e-books. So, what do they do when they're invited to an event where they could sell hard copies of their books? They have solved the problem with e-book cards.
Cheri explains, "Our e-book cards have been the single most versatile piece in our marketing strategy. I've literally sold one of my e-book cards on a three-minute ski lift ride. Since they are the size of a credit card, they're incredibly mobile. . . I specifically wanted to use them at my e-book launch party, and it worked out beautifully. My publisher creates them now for other authors through his sister company, Greenerside Digital."
Megg agrees and uses e-book cards from Greenerside Digital also for her YA books. "My Cloud Prophet Trilogy compilation cover is on the front; on the back is the tagline for the trilogy and a unique e-book code that allows the purchaser to download a copy of the entire trilogy in any e-book format they prefer. I sell these at book fairs and on my website. I have also used them in giveaways."
If you are an e-book author, you no longer have to feel like you don't have something to take with you and even sell out of the trunk of your car.
Suzanne said that she uses postcards and bookmarks as giveaways during book signings and at school visits. When she is speaking at a conference, she will often put a special offer for her writing coaching services, the list of topics she speaks about, and book information on the back of the postcard.
Melissa also purchased postcards, and she wrote notes to everyone she ever knew who might care that she published a book and invited them to come to events such as book signings. She also gives out postcards when speaking at schools, so children can take the card home to parents.
When Chynna gives away free books in connection with a blog tour or other event, she sticks postcards for her other books in the giveaway copy. She also uses postcards to write thank you notes to anyone who helps her with her books.
Hope has a different type of swag to giveaway to attract readers. "I've also offered my $15 paid subscription service, TOTAL FundsforWriters, for free to those who send proof of purchase of either book. I've sold dozens of both books using this method; and since the books are $15, the deal feels like a buy-one-get-one-free to readers. I receive thank-yous for this opportunity all the time. It not only sells books, but it also introduces writers to my paid subscription they might not ordinarily purchase."
Cheri tried different swag items, such as her book cover on t-shirts, coffee mugs, a mouse pad, and pens; but she said she was not overly happy with the quality. She said in the future she will most likely spend that money on business cards and e-book cards (see sidebar) instead.
Another strategy that authors have been using for many years is donating a portion of their royalties to a favorite charity or one that is connected to the topic of the book. Authors who do this are not doing it only to sell more books. But sometimes when readers feel like their hard-earned dollars are not just buying a book, but also helping others, they may be more willing to spend.
Melissa said that she has donated a portion of her royalties on several different occasions, but she feels like there's a strategy for doing this successfully. "I think it works best to target this locally and coordinate it with a signing event, so that your book and the cause are both getting visibility. At the local level, people will feel strongly connected to a cause; and if you are right there in front of them with your book, supporting that cause, they are likely to purchase."
She offers this example. "In my sister's town, I donated a portion of sales to the eighth grade field trip to Washington, DC—and boy, did the people in her town buy books! And the middle school principal liked my book so much that she's invited me to visit the school this fall. So in addition to sales, I gained new marketing opportunities."
Marketing can't get much better than that—helping others, selling books, and getting new speaking opportunities where more books will be sold.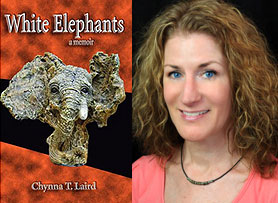 "I advertise it on all of my blogs: When you buy Chynna's books, you help a child in crisis."
(Photo: Chynna Laird)
Chynna donates a portion of the profits from White Elephants to a local charity called Zebra Center, which is a child protection center for children who have been abused or otherwise victimized. "I advertise it on all of my blogs: When you buy Chynna's books, you help a child in crisis."
Megg is not sure if giving actually helped her sales, and neither is Darcy. But neither one regrets it. As a matter of fact, Darcy mentioned how giving to charity led to more opportunities for her book. This leads us to . . .
Thinking About the Long-Term
Not all marketing strategies pay off in immediate sales. Sometimes, they lead to bigger and better opportunities, which sell more books. Darcy participated in AuthorsforEarthDay.org and donated a percentage of her speaker's fee. "Indirectly, it resulted in an invitation to help with a collaboration between Arkansas Audubon Camp and the Central Arkansas Library System," Darcy reports. "And the library bought $200 of books to give away to kids. The education director of Audubon Arkansas also made sure that my book reached national Audubon officials with her recommendation." That kind of publicity may be priceless.
Hope is always thinking about what she can do to build a readership for the long term, especially since she's planning more books in the Carolina Slade mystery series. She also takes advantage of opportunities that present themselves through her marketing strategies. For example, she scheduled a library event in Iowa, as she traveled between Pennsylvania and Oklahoma City. She was staying with family in Iowa, and thought: "Why not capitalize on a small event while I was in town? It proved to be one of the most enjoyable events this year, plus the librarian was a huge mystery fan and asked me to come back whenever I came to town to visit family . . . She ordered the book for her shelves, and the event was splashed across the county in the newspaper."
Ruth agrees with Hope. "Establishing yourself as an author over the long haul is what it's about for me." She discusses how she has given away print copies to previous readers who've let her know how much they liked her books. "Over time, this can create sales down the road by word of mouth . . . These fans will become valuable assets as they spread the word to their friends and families."
Ruth also works in a dentist office, where she put copies of her children's book, Murphy in the Paw-Paw Patch. Children are excited to hear that she wrote the book and is planning a sequel.
What Doesn't Work
The authors didn't have many bad strategies to report. But one that was mentioned consistently was purchasing a Facebook ad. Darcy, Megg, and Cheri have all tried this without much success. Megg says that she wouldn't do it again; but Darcy thinks that with the right combination of ad dollars and the right project, it might work for some authors. She mentioned a website where you can check to see if an ad on Facebook might work for you and your books: https://www.IsFB4Me.com.
Final Thoughts
All eight of these ladies are inspirational and full of creative ideas to get their books into readers' hands. They're full of stories of how one sale led to a speaking engagement, which led to someone purchasing more than one copy of a book, and so on.
Suzanne sums it up well. "Make a marketing plan that includes promotional activities you will begin even before your book is released . . . Get active on social media sites and network with other writers. You'll get lots of marketing ideas!"
And Darcy gets us all going in the right direction. "In other words, start with who you are and what your book is and do something, anything. Then, take the next logical step toward your audience and then the next logical step. Don't wait for the world to come to you."
If you have a book out, your mind is probably reeling with possibilities of what to do next. So stop reading and start planning your next successful marketing strategy.
***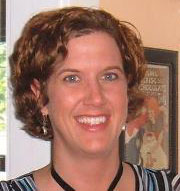 Margo L. Dill is a freelance writer, editor, speaker, and teacher, living in St. Louis, Missouri. Her work has appeared in publications such as Grit, Pockets, True Love, Fun for Kidz, Missouri Life, ByLine Magazine, and The Chicago Tribune. She is a columnist, instructor, and contributing editor for WOW! Women On Writing. She is the memoir and children's/YA novel editor at High Hill Press and the assistant editor for the Sunday Books page in The News-Gazette. Her first book, Finding My Place, a middle-grade historical novel, was published by White Mane Kids. Her children's picture book, Maggie Mae, Detective Extraordinaire: The Case of the Missing Cookies, was published by Guardian Angel Publishing. Caught Between Two Curses, her young adult novel, was published by Rocking Horse Publishing. High Hill Press will publish her children's picture book, Lucy and the Red Ribbon Week Adventure. She blogs on Tuesdays at The Lit Ladies, and is a regular blogger at The Muffin. She owns her own copyediting business, Editor 911, and is an instructor for the WOW! Women On Writing Classroom. She loves speaking to writing groups, teachers, and young writers and has presented several workshops to all ages. When she's not writing or speaking, she loves spending time with her husband, stepson, daughter, and dog—Chester, a boxer. You can find out more about Margo by visiting her website: https://www.margodill.com.
-----
Enjoyed this article? Check out these related articles on WOW!:
20 Answers from Authors: How to Promote Your Book
Cha-Ching! Selling E-Books: 5 Authors Share Their Marketing Strategies
Real Stories of Authors On a Budget: Promotional Gimmicks
How to Tell Stories that Draw Publicity