ou can combine mystery, mayhem, and murder to create a literary roller coaster ride. The mystery genre contains specific characteristics that every reader expects, and every author should include...or should they? Five female authors in that wide-reaching genre that includes everything from cozies to capers, police procedurals to psychological thrillers offer to tell us all they know about mystery writing.
If It Bleeds, It Leads
It's all about the crime, usually a murder. So shouldn't the recently departed "star" of the book show up on page one? Don't the readers expect it? Betty Webb (no relation), author of the Lena Jones and Gunn Zoo books, agrees. "I usually DO have a body on the first page, mainly because of my journalism training, which taught me, 'If it bleeds, it leads.'"
But the ladies warn against blindly following any random rule and instead, rely on the more universal writing advice of leading with a hook in your first chapter—but not always a body. Jassy Mackenzie, author of the Jade de Jong thriller series, explains, "While there doesn't have to be a body sprawled on the floor, there must be something to get your pulse racing. A bloodied knife, a crumpled blackmail note, the sound of a scream from another room."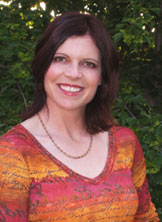 "While there doesn't have to be a body sprawled on the floor, there must be something to get your pulse racing."
(Photo: Jassy Mackenzie)
Introducing Your Crime Solver
After "the crime puts the story wheels in motion," as Cara Black, author of the Aimée Leduc series, describes it, you can move on to your living characters. With publishers encouraging series as opposed to stand-alone mysteries, authors have to be prepared to work with their crime solver for two, three, or a dozen books. Don't be a modern Agatha Christie who, despite writing over thirty books featuring the detective Hercule Poroit, confessed in later years that she couldn't bear him, but kept writing Poroit books at her readers' insistence.
So how do you create a character you could enjoy writing for an entire series? Mirroring the genre they populate, many of these characters have "mysterious" pasts. As the author, you can develop an extensive biography, but don't put all your cards on the table in the first book. Although you can drop a few hints, as subtle as a photograph on a desk or speaking a second language, save some revelations for (fingers crossed!) book two.
For many main characters, learning about their history or dealing with damage resulting from their past forms an important subplot. After all, people—even in books—can't spend every hour solving crimes. That's why most mysteries also include a subplot involving romance, whether it's true passion or unrequited love. The pursuit of love also gives the characters another realistic facet.
Leaving some blanks in what you reveal also allows you the freedom to develop your main character in directions that haven't even occurred to you yet. Gayle Trent, author of several series, lets the Rule of Plenty shape her characters: "I try to give them plenty of personality, plenty of issues, and plenty of friends (and maybe enemies)!"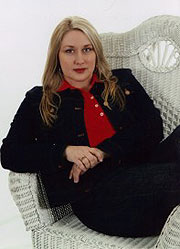 "I try to give them plenty of personality, plenty of issues, and plenty of friends (and maybe enemies)!"
(Photo: Gayle Trent)
In a Supporting Role
So what about those friends (and enemies) that populate your hero's world? How do you keep them from becoming mannequins just taking up space? Dedicate just as much time to developing a biography for these minor characters and giving them their own individual motives. As Mackenzie advises, "Involve them in the conflict—by figuratively giving them an axe to grind rather than just having them turn up in order to pass the hero his axe."
Trent warns against using a character solely as comic relief, Prince Charming, or another caricature. "Myra in the Daphne Martin cake decorating series is a comedic character. She says the funny, outlandish things that would sound weird if spoken by just about any other character...but I put on my Myra hat to better understand her actions and motivations." Turns out Myra isn't a wannabe stand-up comedian. Instead, she uses her funny lines to bat away her loneliness and jealousy. So ask yourself—why do my secondary characters act the way they do?
Even villains deserve a well thought out life. And keep in mind that even murderers don't live lives full of gray areas. When creating characters, Black says, "Even a villain needs dimension, not to be cardboard; and even if the roots of the murder stem from greed, jealousy, revenge, or love, it's semi-understandable in a way—not that the crime is condoned."
Jackson laughed when quizzed about how she kept her secondary characters real. "Sometimes secondary characters start to take over the plot. In Devious, Reuben's brother, Cruz, rode into town (and the book) on his motorcycle, and it was all I could do to keep him from stealing the show."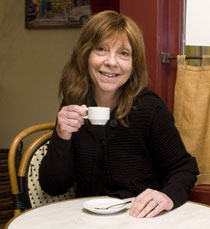 "Even a villain needs dimension, not to be cardboard..."
(Photo of Cara Black by Laura Skayhan)
The Character Who Never Leaves
One of your characters makes an appearance on every page—your setting. Setting is more than descriptions of famous landmarks or street names; it is everything from local slang to cultural traditions to weather. To convey a "sense of place," Mackenzie encourages writers to include not just "the ugly underbelly and all the pretty little areas where the tourists like to go," but also the social issues and challenges that make that place unique.
Setting is much more important than what your characters see outside their window because, as Webb says, "Our environment has an impact on our behavior."
Mackenzie embraces Johannesburg's unofficial title as "crime capital of the world," with its prevalence of heavily armed gangs and ease of obtaining firearms, as she constructs mysteries punctuated by gunshots. Shaped by their environment, her characters—both the heroes and the villains—are all gun owners.
Do your research because deviations that seem minor to you will loom as giant mistakes to those familiar with your book's setting. Black, who bases each of her books in a different Paris neighborhood, remembers: "One time, I thought I had the perfect site to knife someone in the Gore du Nord, a busy train station; and then three armed CRS—riot police—came around the corner on their usual patrol. Not a place to murder someone, I discovered."
Instead of trying to make your chosen setting fit your book, adjust your book to fit the setting. When Trent learned that the Oregon setting of her embroidery mystery series slogs through extremely rainy springs, she used the dreary weather to create mood throughout the story.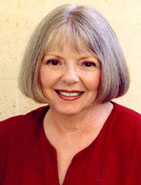 "Our environment has an impact on our behavior."
(Photo: Betty Webb)
Murder by...?
As a fan of murder mysteries, I've read about hapless victims killed in all sorts of unusual ways. How creative do your murderers have to be? Always practical, Webb sticks to the facts. "Nothing beats a good bullet wound or fractured skull...because they adhere pretty closely to real life—and bullets and beatings are the usual ways people get murdered these days, with stabbings running a close third."
To Lisa Jackson, author of the To Die series, a gun isn't just a gun. "I see the weapon not as just a way to knock someone off... It's more interesting to me to see what kind of statement the killer is making with the death and the means of death." Consider hiring a sniper to shoot someone compared to injecting the victim with a vial of poison that will lead to a slow and painful death. Two very different murders and one can only guess, two very different murderers.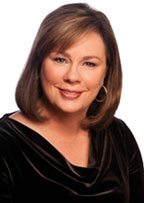 "You have to play fair—no pulling the killer out of thin air!"
(Photo of Lisa Jackson by Kimberly Butler)
The Queens of Plotting
"A crime novel contains a structure, a framework on which to hang a story," says Black. "There's the inciting crime or murder, the investigation, the characters impacted by the events, the people often seen through the detective's lens...there's resolution that we don't often get in real life." In order to get from Point A, the crime, to Point B, the solution, mystery writers must construct detailed plots, involving the actions of the victim, murderer, suspects, witnesses, and investigator. How else could it all "work out"?
After listening to the authors who contributed their experience to this article, it seems mystery authors are less the Queens of Plotting and more the Queens of Revision. Some choose to just settle on one or two key points: who did it, why they did it, or even where they did it. Then they jump in and see where the characters lead them. Even those who take the time to plan aren't often very loyal to their outline. "I recently finished Desert Wind, the seventh Lena Jones novel," says Webb. "And when I looked back over my original detailed outline (which I junked), I discovered that the book went in much more interesting places than I'd originally planned. Characters know best, I've discovered."
Some authors have even found adhering too closely to the outline and not being open to changes can cause problems. "I was struggling terribly with the ending, which just wouldn't work out and didn't feel right," Mackenzie says. "Until I realized that a minor character, who I'd decided was a goodie, had to be a baddie. That was what he'd been trying to tell me all along; and as soon as I recognized his dark side, everything fell into place perfectly." So remember that outlines are just that—an outline, not a final version.
"Writing by the seat of your pants" may eliminate the lengthy outlining step at the beginning, but it adds a revision step at the end. "It takes a surprising amount of work: rewriting, devious thinking, and going back to plant clues to get the perfect plot twist," says Mackenzie.
Jackson describes it as a game she plays with her readers. "Give them the obvious, which they cast aside, then have a backup potential killer or two, and finally reveal the true villain. And you have to play fair—no pulling the real killer out of thin air!"
So what are the rules of mystery writing? The authors interviewed seemed to agree on three Cs for all budding mystery authors:
Crime—and make it a doozy.
Characters—make certain they're real and interesting.
Clues—give your readers a fair chance to figure out "whodunit."
If you are interested in learning more about our five expert authors and their work, you can check out their websites listed below. You won't be disappointed when you study these ladies and the mystery, mayhem, and murder they create.
Betty Webb: https://www.bettywebb-zoomystery.com/index.htm
Lisa Jackson: https://www.lisajackson.com/
Jassy Mackenzie: https://www.jassymackenzie.com/
Cara Black: https://www.carablack.com/
Gayle Trent: https://www.gayletrent.com/
***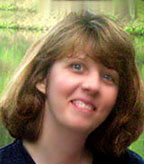 Jodi M. Webb lives in Pottsville, Pennsylvania with her husband and three children. She has written hundreds of articles for publications such as The History Magazine, Pennsylvania Magazine, and Christian Science Monitor. She has also contributed to anthologies on baseball, gardening, pop culture, married life and the military. Pennsylvania Trivia (Blue Bike Books), a book she co-authored, was released in September 2008. In her spare time, she works on her first novel—the story of a group of women on the home front during World War II.
Jodi is also WOW! Women On Writing's Blog Tour Manager. You can email her at jodi[at]wow-womenonwriting[dot]com.
-----
Enjoyed this article? Check out these related articles on WOW!:
Avoiding Plotholes by Gayle Trent
Tips for Making Dialogue Stronger by Gayle Trent
Real Stories of Authors on a Budget: Promotional Gimmicks (Featuring Betty Webb)
Breaking Out of the Mystery/Thriller Slushpile
Southern Charm: An Interview with Kathryn R. Wall, Mystery Author of the Bay Tanner Series
Interview with Marcia Muller, Author of the Sharon McCone Mystery Series