athryn Wall is the author of the Bay Tanner mystery series and has published nine books in as many years. She's not only a prolific writer, but she's an officer in the Southeast Mystery Writers of America and Sisters in Crime professional organizations. From her Hilton Head home, she's community active, writes daily, and strolls the beach. It doesn't get any better than that. Let's welcome Kathy and see what makes her tick so successfully.
***
WOW: You've been writing mystery novels for around a decade. Let's stroll back in time and talk about how you started. Is it true you self-published your first two books before being "discovered" by a traditional press? That's like the cliché dream-come-true amongst new writers.
Kathy: I spent the two years after I finished In For a Penny, the first Bay Tanner mystery, trying to attract a traditional publisher. Despite several requests for partials and a couple for the complete manuscript, I struck out. I read about iUniverse in a brochure at B&N [Barnes and Noble] and gave it a shot. I was in my fifties and figured I didn't have decades to wait; plus, the cost was surprisingly low. I went into it blind and encountered a lot of problems, especially with bookstore placement. Thank God for the independent bookstores that were receptive to it. The chains came on board when sales took off.
In For a Penny became a local phenomenon in the South Carolina Lowcountry, fueled by tourists. The book had been out about eight months when the regional press, Coastal Villages Press in nearby Beaufort, gave me a call. They offered to publish both the first and newly completed second book in the series, And Not a Penny More. They had traditional distribution channels that eliminated the POD woes and seemed an answer to my prayers. Both books went into a second printing within two months of release.
THE CALL came a few weeks later. An editor for St. Martin's Press, visiting her parents in the area, found both books on her mother's shelves, liked them, took them back to New York, and presented them to the acquisitions committee. She called to offer me a two-book, hardcover deal for the third and fourth books in the Bay Tanner series. I've been with them ever since.
WOW: The comparison of self-publishing to traditional publishing can light a fire under writers. You've walked on both sides of the line. Do you suggest a struggling novelist start out as you did or attempt traditional from the start?
Kathy: I don't think it's possible in today's climate to replicate the path I've taken. My admonition is that self-publishing should be the last choice, not the first. I get a lot of arguments from people who've been successful at self-publishing, who like having control of the process, and who claim to make a lot more money at it than a midlist author. The trouble is you have to want to devote your life to being a publisher as well as a writer, and I wasn't willing to do that. I'm fortunate my writing doesn't have to put food on my table, so it's never been about the money. I have been successful at running my own business, but I won't let it suck time away from writing.
Perhaps, as some zealots claim, the climate in publishing is shifting in favor of the self-, small- and e-published and away from the traditional. They could be right. But the huge self-publishing success stories make headlines because they're not the norm. It's damn hard work being in business for yourself. I find the promotion merry-go-round exhausting enough without having to be in charge of it. I strongly advise giving traditional publishing your best shot—persevering until you've exhausted all the possibilities. Having that imprimatur of a traditional publisher still carries weight in the industry. At least for now.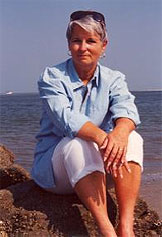 "A novice writer needs an agent to navigate those tricky financial and rights waters, especially in the beginning, as well as to be an advocate for her work."
WOW: There are so many myths and scams about agents, and budding writers wonder how much an agent can do for a writing career. How did you find your agent, and did he/she make your author life much easier?
Kathy: This is another of those instances in which my experience is different. The publisher called me; I had no agent. I had my first contract vetted by an intellectual property attorney. I met my first and only agent at the Las Vegas Bouchercon mystery conference. I approached her after a panel, handed her a copy of the book and a packet of information about me, and walked away. By the time I got back to Hilton Head, there was a message on my answering machine saying she wanted to represent me. I asked for references, read the books of authors in her stable, and decided we fit.
I already had a publisher, so my agent, Amy Rennert, didn't submit my work. What she does is clean up my subsequent contracts, getting me more favorable terms in regard to rights sales and reversions. She's my intermediary in contract talks, my sounding board, and trusted advisor.
A novice writer needs an agent to navigate those tricky financial and rights waters, especially in the beginning, as well as to be an advocate for her work. A good agent is priceless. I've heard enough horror stories to know that a bad one can be a nightmare. I think it's a matter of doing your homework—not just accepting the first offer, tempting as it may be. I'm lucky in that my first time was the charm.
WOW: Wow, you've had luck rain all around you. Let's talk about finding fans, though. Have you consciously created a platform? What methods of developing a readership did you use?
Kathy: When I started out, platform was something you stood on. Because of my business background, I devised a marketing plan. It involved becoming a presence in the local community by speaking to any group that would have me. I placed my books in non-traditional venues like the nature museum, hotel gift shops, other gift and stationery stores. I even did a signing in the hardware store where my husband worked part time! My goal was to get tourists to buy. It seemed logical that they could influence a lot more people in a lot more places than I could ever reach on my own.
I sought interview opportunities, attended mystery conferences, helped found a local writers' group, and talked to any book club that invited me. It took a long time and a lot of effort, but every one of those contacts proved helpful in building an audience.
The Internet wasn't a factor in those early years, other than having a very crude website linked to the Hilton Head site. Over time, I bought a professional site and subscribed to listservs. I thank God every day for e-mail because that's how I interact with fans. I love the immediate feedback and interchange with people who've read my books.
WOW: Do you use social networking in your self-promotion? If so, what venues do you use (i.e., Twitter, Facebook, Blogger, Wordpress, MySpace)?
Kathy: None of the above. Shocking, I know, but I don't have time. I'm contracted for a book a year with St. Martin's, and that's approximately 95,000 words per annum, plus rewrites and revisions. I belong to several listservs, to which I contribute only occasionally; and I blog about every two months on a southern authors' site. I've toyed with the idea of the venues you've mentioned, but I'm not sure (as my dad used to say) that the view is worth the climb. I've yet to have anyone demonstrate to me that all this tweeting and facebooking sells a significant number of books. I could be off base, but I don't see an efficient cost/benefit relationship. It's akin to spending $5,000 on an ad in a major publication. Will I derive enough additional income—or exposure—to offset the cost? I feel the same about investing time.
I guess I'm selfish. I'm retired, living in paradise on Hilton Head Island, have a wonderful husband who deserves a large slice of my time, and I love to write books. I'm on the boards of Sisters in Crime and Southeast Mystery Writers of America, and I volunteer for adult literacy and work with schools. If someone can show me that social networks will prove a better use of my time—and sell a ton more books—I'll listen.
WOW: The mention of cost/benefit leads me to the fact you were an accountant before you donned the hat of an author. Did you write while pursuing the nine-to-five, or did you leave the day job to start writing? How was that adjustment for you?
Kathy: Yes, I was an accountant in my other life. During that time, I began a historical mystery set, strangely enough, in the SC Lowcountry, which I had never visited. This was the pre-Internet days, so research was a huge investment of time. Over eight years, I completed eleven chapters. I didn't write in earnest until we sold my accounting practice and retired to Hilton Head. I never had to make the difficult decision to give up my other career to pursue this one.
WOW: Please don't take offense, but about what age (decade is fine) did you take your writing seriously, i.e., seek to publish? Do you feel maturity helped you in writing your books and dealing with the obstacles of the profession? Did it garner you more credibility?
Kathy: I was almost fifty when we retired to Hilton Head; and a couple of years later, I began writing In For a Penny in a community-ed class at the local technical college. When it published in January 2001, I was fifty-five. I definitely think I write differently than I would have had I pursued this career in my thirties. I think you need some life behind you—at least I did. There are plenty of young people who write terrific books, and I don't mean to take anything away from them; but I shudder when I think about what I didn't know in my distant youth. In addition, I think my experience in the business world helped tremendously in understanding the industry and its foibles. Credibility? I don't know about that. But demonstrating that I understand business, have an established work ethic, meet deadlines, and deal professionally with my publisher hasn't hurt.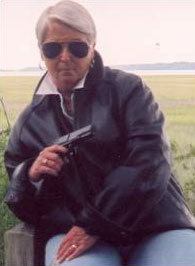 "I'm drawn to the tension, the puzzle, and the ultimate triumph of the good guys over the bad guys."
(Photo: From Kathryn's website. She writes, "No, I haven't gone over to the other side. As a national board member for Sisters in Crime, I was asked to provide a photo for the cover of Crimespree Magazine. In honor of Sisters' 20th Anniversary, they had a special issue with some of us on the cover." Note from WOW: We love it, Kathy!)
WOW: Your protagonist, Bay Tanner, seems to be a very together lady. Is she quasi-autobiographical? After all, she has an accounting background. And why mysteries?
Kathy: To answer the second question first, I grew up reading mysteries and never gave a thought to writing anything else. It's what I look for the moment I step foot inside a bookstore or library. I could go into a lot of psychobabble about what that says about me as a person, but let's just leave it at this—I'm drawn to the tension, the puzzle, and the ultimate triumph of the good guys over the bad guys.
Bay Tanner is, after nine books, in her early forties. She's 5'10" and has long reddish-brown hair, green eyes, a pretty good figure, and is financially well-off. Autobiographical? I don't think so. Check out the pics on my website. However, we do share a lot of personality traits: a hatred of injustice, a smart mouth, an almost pathological need for order, and an accounting background, which may explain that last quirk. We both smoked and quit, don't drink, swear occasionally and mildly, and are uncomfortable with praise or undue attention. Nah, we're nothing alike.
WOW: Yet Bay is southern, and you are not. Yet your books ooze the Lowcountry's nature and culture. As a southerner, I know that's a hard feat to master. Why the South, and how did you bridge that culture gap? Fess up. Do you have southern friends who keep you on course?
Kathy: I grew up in northern Ohio, so I'm honored by that praise. I have no idea where the fascination for all things southern came from. Maybe my dad's Civil War interest (The War of Northern Aggression or The Late Unpleasantness for you real southerners). We spent vacations at battlefields and monuments. In high school and early college, I was a French major, and I've always had an ear for imitation. Maybe that makes me attuned to the inflection and cadence of speech more than others. I don't have a cadre of native southern speakers who vet my dialogue and cultural references. I just listen a lot to those around me. I love the South with all its warts and history. I should have been born here. I don't know what my parents were thinking.
"The pure joy of the writing is, for me, the discovery, as I type, of what's going to happen next."
WOW: Mysteries require twists and turns. Are you a detailed outliner or a fly-by-the-seat-of-your-pants writer? Your ninth Bay Tanner book is on bookshelves now. How much time passes between books? Is it getting harder to find new story lines?
Kathy: I am a dedicated fly-by-the-seat-of-your-pants writer. I think it's Julia Spencer Fleming who calls it "organic" writing. Outlining stifles me. I tried it once and found that I lose interest in telling the story. I have an idea of what the book will be about but nothing that even rises to the level of a theme. I have my established cast of characters and setting. I plunk them down in the middle of a situation and see what happens. Because of the genre conventions of mysteries, I find myself backtracking to lay clues and red herrings; but the pure joy of the writing is, for me, the discovery, as I type, of what's going to happen next.
Time-wise, it takes me eight to nine months to complete the first draft, which is usually pretty solid. Then come the rewrites and revisions before it's ready to send to NY. Book time is different. Usually, my stories unfold within a week to ten days of action. Then, anywhere from a few weeks to a few months elapse before the next book takes up the timeline. In 2001, Bay Tanner was thirty-eight years old. In the new manuscript, Canaan's Gate, she's just turned forty-three, so book time and real time don't coincide.
Story ideas are all around us. I've gleaned some things in the local paper—quirky happenings that seem intrinsic or representative of the region. Canaan's Gate was inspired by an article I clipped out four years ago. Of course, a fictional plot has to be much more organized and believable than real life, but I'm constantly on the lookout for strange news or human interest stories to provide the germ for a plot.
WOW: You are treasurer of Sisters in Crime, a professional organization that "promotes the professional development and advancement of women crime writers to achieve equality in the industry." As an accountant, the fit of treasurer makes sense. But what attracted you to be so active with Sisters in Crime? How important is it for a writer to belong to professional groups?
Kathy: Belonging to the top organizations of your profession shows that you take your career seriously whether it's in mystery writing or accounting. I was drawn to Sisters because of its emphasis on leveling the playing field for women mystery authors. I entered the business world in the late sixties at a time when women began to stand up for themselves in the workplace. While not an ardent feminist, I did observe firsthand the double standard of more work for less pay. Sisters in Crime seemed like a perfect fit. I'm also treasurer of the Southeast chapter of Mystery Writers of America, an organization that advocates for authors and professional standards. To be taken seriously, keep up with the organizations in your chosen profession. They help you advance your career. I almost always end up being treasurer of whatever group I belong to. I think I should start saying I used to be a flight attendant—except then they'll want me to serve coffee.
"You must have a thick skin for rejection and an unwavering joy in the process."
WOW: You're a seasoned author now. What should aspiring writers avoid in their efforts to write and publish?
Kathy: Wow, that's a big hairy question. Advice is everywhere, but let me talk about some positives. If you want to write, you have to do it. Butt in chair, fingers on keyboard. My teacher at my tech college writing class put this on the board the first day: "The work will teach you how to do it." You can read books, take classes, and attend panels about writing; but the learning process happens while you're staring at that screen, rereading a clunky sentence, and figuring out how to fix it. It's hard. It's frustrating. You must have a thick skin for rejection and an unwavering joy in the process. It isn't for the faint-hearted. If you're easily discouraged, it's probably not your profession. And read books in your chosen genre by authors you admire. Read, read, read!
Getting published is even harder. But don't take the easy road. Learn to edit your work, perhaps by offering to edit others'. Join Sisters in Crime or whatever organization represents your genre. Talk to successful people. Network. Take criticism, and use it to your advantage. But if you truly desire to see your name on the spine of a published book, you must pay your dues. Don't be lulled into thinking it's as easy as uploading your unedited manuscript to an Internet site. Learn about the business, its pitfalls, and requirements. Be professional if you want to be taken seriously.
WOW: What is the best positive advice you'd like to leave with our readers?
Kathy: Find joy in the writing, in the process. If you don't have that, it's like working for a miserable boss. Even if you never get published, if you gain fulfillment from the mere doing of a thing—and doing it well—you've already succeeded.
Learn more about Kathryn Wall at www.kathrynwall.com. Her 2009 release is Covenant Hall, published by St. Martin's Minotaur Press.
***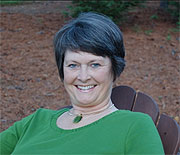 Bio:
C. Hope Clark is editor of FundsforWriters.com and a closet mystery writer. She currently pens the third in her mystery series, and she has idolized Kathryn Wall for years.