ow! is excited to chat with the incredibly hilarious psychiatrist-turned-author Doreen Orion. Queen of the Road was nominated for the Colorado Author's League Top Hand Award and was named a Target Breakout Book this summer.
Doreen started writing humorous material at a young age. She didn't realize she could make a living from it at the time. And, after a college professor dampened Doreen's creative spirit, she transferred to George Washington Medical School, earning a degree in psychiatry.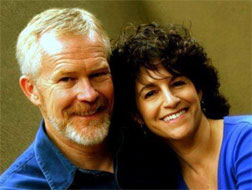 A fellow psychiatric resident, Tim, tricked Doreen into going on a date. The couple hasn't been apart since, even though the motor home and year-long furlough, may have threatened their wedded bliss.
Several years after the couple moved to Boulder, Doreen penned her first novel, I Know You Really Love Me, which won the Colorado Author's League Top Hand Award for nonfiction.
I had the chance to visit with Doreen about her writing life and what it felt like to pack up for a year and travel across the lower forty-eight with her husband, who was in the midst of a mid-life crisis. Get comfy (because Doreen would expect you to), grab a handful of bonbons, and venture down the road less traveled with Doreen Orion, the Queen of the Road.

WOW: Welcome, Doreen. Thank you for taking time to talk about your romp across America with WOW! readers. Queen of the Road is such a fun read, but I'm curious. I've seen your book classified as a travelogue and as a memoir. In which genre do you place your book, or have you created a new style of writing?
DOREEN: It's a travel memoir. But since Elizabeth Gilbert, Bill Bryson, Susan Orlean and many others have written in this genre, I can hardly take credit for creating it—as much as I'd like to.
And, as if we needed to add another genre, when my agent first read the manuscript, she commented, "You know, this isn't a travel memoir. It's a love story."
WOW: It certainly contains love story elements. I'm classifying your book as a memoir. And it is hilarious! I caught myself laughing out loud so many times. Which came first: the blog or the book idea?
DOREEN: I started blogging during the trip, mainly as a form of therapy, since I really didn't want to go at all. In fact, when my husband first proposed the idea that we "chuck it all" for a year to travel the country in a converted bus, I demanded to know, "Why can't you be like a normal husband in a mid-life crisis and have an affair or buy a Corvette?" I then informed him I would "never ever" live on a bus. We're both psychiatrists, but he's obviously the better shrink.
WOW: (Laughs) Or maybe you used reverse psychology on him? That's very sly, Dr. Orion. Seriously, if you would have approached Tim and said, "I want to...", and he perceived it as a mid-life crisis you were experiencing, how would you have completed the sentence? And would Tim have agreed to your request?
DOREEN: At the time, my idea of bliss was to sit in bed all day, eat bonbons, and read or watch TV. (Actually, that still sounds pretty good.) I never would have asked my outdoorsy, Type A husband to do that—it would have killed him.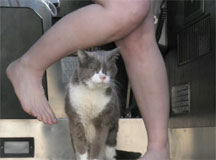 "You haven't lived 'til you've done naked karaoke."
(Photo: Doreen and her cat at a nudist RV park!)
WOW: I can relate. My idea of roughing it is a five-star hotel and spa, but my husband loves camping and fishing. Sometimes, it is difficult to find middle ground, but couples eventually find it. You visit so many spots along your journey. What was your favorite destination? My favorite involves time at the nudist RV Park. (smiles)
DOREEN: We learned a lot from our year-long journey. I think part of the reason I didn't want to go is that my life beforehand was comfortable, and I was content. But I learned that maybe content isn't all it's cracked up to be. Going to the nudist resort taught me the importance of challenging and stretching myself. It brought a spark back into my life I didn't even realize was missing. So, while I wouldn't say it was necessarily our favorite destination (although it was fun—you haven't lived 'til you've done naked karaoke), it was certainly a very important one. If anyone wants to see a funny video about the nudists, there's one on my website. Just don't all crash it at once.
WOW: Oh, I watched that video and couldn't control the laughter. On a somewhat serious note, life on the road can offer a person so much freedom in attitude, in making choices. What can others learn from your book?
DOREEN: I hope what people take away from the book is not to give up on your dreams. It took Tim several years to convince me to do "the bus thing," and I'm so glad he did. It changed our lives. Everyone always says the most important thing is to spend time with the people we love, but I don't think most of us really put this into practice. Spending 24/7 together in 340- square feet for 365 days with our 60-pound dog and 2 cats, Tim and I discovered we were happier than we've ever been. That's why we recently put our home on the market and are planning to live in the bus full time. Without a lifestyle to support, we can spend more time together, doing what we enjoy.
WOW: Making time for the people we love is such a powerful lesson worth learning. So is sharing activities you both enjoy. Along your journey, you and Tim read a lot of books. You include a list at the end of your book. Which are a few of your favorites?
DOREEN: Actually, I'd love to tell you about a few books I've read since Queen of the Road came out, so they're not on that list: The Fiction Class by Susan Breen, Matters of Faith and Catching Genius by Kristy Kiernan, and Matrimony by Joshua Henkin.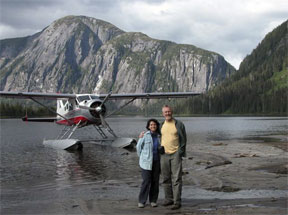 "It's wonderful to see your spouse in new situations, and share new experiences with him."
(Photo: Tim and Doreen after a flight in Ketchikan, Alaska.)
WOW: I've read quite a few on the list in your book. I will check out those suggestions. We seem to have several things in common. I'm a shoe fanatic, too! I'm sure I couldn't squeeze all of mine in your bus. Share about how you decided what items to take along on the trip and what needs to be left behind.
DOREEN: We both took way too much stuff. All we really needed were each other, our pets, and a full tank of gas (you can go a long way on 179 gallons). I would certainly never take as many shoes as I did. I only wore six pairs the entire year with one being sneakers and another, hiking boots. That was another important lesson the trip taught us: everything is replaceable.
WOW: Maybe I need to learn a lesson from the good doctor and weed out a few unnecessary items. I'm sure my husband would appreciate it. (smiles) As a psychiatrist, what do you think the "pampered Long Island princess" discovered about life and love?
DOREEN: While Tim and I were close before the bus thing, having all the adventures and misadventures on the road (fire; flood; armed robbery; and yes, the nudist RV park) brought us even closer together. It's wonderful to see your spouse in new situations and share new experiences with him.
I don't want to give you the wrong idea, though. My husband has often observed that I'm the only able-bodied person he knows in danger of developing bedsores. While I'm still essentially a homebody, I do enjoy getting out more and experiencing things. Maybe that's why I came to love bus life so much: how else can you travel in your pajamas?
I also don't shop anymore; in fact, I now hate to. After we got back from our trip, we unpacked boxes and boxes of stuff I hadn't thought about—let alone missed—the entire time. That and some of the more, shall we say, life-threatening disasters we had, really taught me what's important.
WOW: The two of you have a wonderful understanding of each other. Tim's rebuttal in the book is pure genius. Was Tim receptive of your blogging/book experience all along?
DOREEN: Tim is the one who suggested I write a book about our trip in the first place, but I did start with blogging. His rebuttal at the end of the book, which consists solely of "I am not an idiot" (well, in addition to the martini recipe that begins every chapter) came about because every time we had yet another disaster on the road (from the front door flying open with me attached to getting the bus stuck in the mud until a farmer with a tractor pulled us out), I'd blog about it. As a guy living his dream, he felt responsible for all our mishaps. So, every time I'd post one of them, he'd say, "People will think I'm an idiot."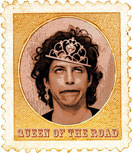 "There's just one essential element of humor writing: to be funny."
WOW: No, the antics from your trip just made great fodder for reading material. And Tim is not an idiot. What do you think are the essential elements of humor writing?
DOREEN: There's just one: to be funny.
WOW: Excellent recommendation. For writers interested in penning a memoir, what advice would you offer?
DOREEN: Everyone thinks her story is unique and interesting. To make sure other people think so too, get a critique before you send it out. There's a link, "So, You Wanna Be A Writer?" on my website with some (hopefully good) advice and useful resources.
WOW: I completely agree. Having other eyes see your work is so critical for any writer. Book promotion is another important element of the writing process. What kind of response have you received from your audience, book clubs, and online following? Do you find that most identify with the theme of finding what makes them happy?
DOREEN: I've been calling into book clubs all over the country since Queen of the Road came out, and it's so interesting to me that people take different things from the book. Certainly, finding what makes us happy is a big theme; but we also discuss all aspects of relationships, how to challenge ourselves, and the way we view material things. The book is in its sixth printing, so I'm very happy to say it seems to have struck a chord.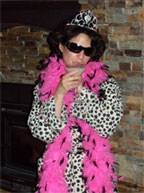 "Most important to me was that the website reflects the book, i.e., it be wacky and fun."
(Photo: Doreen in her everyday attire.)
WOW: Congratulations! That's definitely a testament to your story and style. An author needs a strong readership and a superb editorial team. Could you share how you connected with an agent and landed your book deal?
DOREEN: It took me 2 years and 113 rejections before I landed my fabulous agent, Mollie Glick. The comment I heard most often was, "I love this. I just don't think I can sell it." I really couldn't understand why it would be hard to sell a story about two psychiatrists on a bus, traveling the country for a year; but what do I know?
I wish I could say I always knew the book would get published, but that's not the case. I was truly on my last round of query letters when Mollie offered representation. However, I don't want anyone to think she was my last choice: the only reason it took me so long to get to her was because I'm essentially lazy. At that time, she was only accepting snail mail queries, so she went to the bottom of my list.
Mollie pitched Queen of the Road to the incredibly talented Stacy Creamer, who was then a senior editor at Broadway, an imprint of Random House. (She's now vice president and publisher of Touchstone Fireside at Simon & Schuster—see, I told you she's talented.) Stacy made a pre-empt offer (again, told ya!). I was then fortunate that the book received some great reviews (my favorite: "Eat, Pray, Love—without the depression"). Queen of the Road was also chosen as a Borders Featured Book Club pick and Target chose it as a breakout book.
So, I guess the people who actually sell books could sell it. (Look, as a psychiatrist, my favorite of the Freud brothers has always been Schaden.)
WOW: Amazing reviews and from some big name sellers. Fantastic! Establishing a brand is important for a writer. One way to connect and promote your brand is through a website. Your site is great! I feel like I'm getting a postcard of every journey. So clever! How does your website promote your brand?
DOREEN: I spent months and months with my web designer on my website. Since Queen of the Road is a humorous travel memoir, we knew it had to have a lot of photos, videos, and humor. Most important to me was that the website reflects the book, i.e., it be wacky and fun. I spent a lot of time looking at websites of other humor writers; and while the content of the websites was funny, the websites themselves didn't really reflect the tone of the books. I like to think that's something we achieved, and Publisher's Weekly did include my website in an article it did on author websites.
WOW: That's wonderful! I understand you have screenwriting experience. Will Queen of the Road ever be optioned for the silver screen? And who should be cast as Tim and Doreen?
DOREEN: Since you've seen my author photo, I'm surprised you had to ask. Angelina Jolie is obviously the only one who could ever possibly play me. Yeah, I know what you're thinking—she'll have to lose some weight first. Although he doesn't look anything like him, I think Bill Murray should play Tim— he has the same mellow, ironic quality as my husband.
It hasn't been optioned yet (still keeping fingers crossed), but I think Queen of the Road would make a great TV series, sort of like X-Files meets Touched by An Angel: two polar opposite, married psychiatrists travel the country and every week, either help people (if it's a drama) or muck up their lives even more (if it's a comedy). My agent disagrees with me about Angelina by the way. She says Debra Messing should play me "because she does neurotic so well." Thanks, Mollie!
WOW: I agree with your agent. Debra Messing would be a great choice. I would tune in! A writer's job never ends. What projects are you currently working on that you'd like to share with the WOW! audience?
DOREEN: Unfortunately, I discovered that to be a travel memoirist, one has to travel. Until we sell our house, that's probably not in the cards. So, I'm adapting one of my romantic comedy screenplays and turning it into a novel.
Once we do sell our house, Tim's next harebrained scheme—er, dream—is to live on a boat. We know nothing about boats. Yet, I've caught him surfing for sailboat sites on the Internet several times. Why can't I have a normal husband who just surfs for porn?
WOW: (Chuckles) Because Tim isn't a typical husband. Thanks again, Doreen, for prompting so much laughter among WOW! readers. Your story offers such a unique glimpse at love and relationships, and I appreciate your candor about traveling in a bus with your husband and fellow psychiatrist.
For more information about Doreen and her upcoming projects, visit
https://www.queenoftheroadthebook.com, on Twitter at
https://www.twitter.com/queenoftheroad, or on Facebook.
***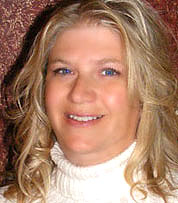 LuAnn Schindler is a full-time freelance journalist living on the eastern slope of the Nebraska Sandhills on a dairy farm with 200+ holsteins. She currently blogs for The Muffin, the WOW! Women On Writing daily blog, and is a columnist for Premium Green. Her work has appeared in the Pregnancy, 2: The Couples Magazine, Denver Post, Rural Electric Nebraskan, Absolute Write, in addition to other publications. LuAnn is a member of the National Federation of Press Women and Nebraska Press Women.