Free eBook Manifestos!
If you haven't heard of
ChangeThis
, you should definitely check it out. It's great on so many levels. If you are an author looking to promote your book, you should consider submitting a proposal for a manifesto to buzz your book. If you are someone like me, who simply enjoys free ebooks, then you'll delight in the variety of topics the ChangeThis e-books provide. They're not your typical run of the mill stuff. Yes, they are fairly short, about 5-18 pages, but they are chockfull of information/arguments presented in a gorgeous package. The designers are awesome! I can see why they get a lot of proposals.
ChangeThis
encourages readers to pass it on. Their manifesto states they don't have a business model. Their goal isn't to make money. They state, "The goal is to make a difference." And, I think they are doing just that.
Here are three of my Manifesto picks! You can download them right here, see if you like them, and then head over to
ChangeThis
to pick up some more. Sign up for their newsletter and they'll notify you when new ones come out.
--------------
Escaping Corp
orate America
Changing Your Career Can Change Your Life
By Pamela Skillings
If you're like most Americans, y
ou're going to spend more than 100,000 hours
at work over the course of your lifetime. That's probably more time than you'll spend with your best friend, the love of your life, or your cherished offspring. So, wouldn't it be a shame to waste the majority of thos
e hours on work that annoys you or, even worse, makes you
downright miserable?
This Is Not My Beautiful Life
Over the years, I've talked to a lot of disgruntled corporate employees. I worked in the corporate trenches myself for more than a decade and spent several more years interviewing and coaching corporate escapees. I've learned that people tend to stay stuck in jobs that don't inspire them for one of five common reasons (and sometimes it's a combination of a few). Do any of these scenarios ring a bell for you?
You believe that it isn't possible to actually love your work.
Some of us have been taught, by conservative parents or disapproving guidance counselors, that jobs are strictly ways to earn money. You're not supposed to enjoy your time in the salt mines, really. As a result, you may have ended up in a career that looked good on paper, but offers little fulfillment.
You're not sure what you want to do with your life.
For many of us, our careers just sort of happened. We took a "temporary" gig until we could figure out what we wanted to do for our "real" careers. Then, we woke up years later to realize that we were stuck in careers and lives that we never planned or wanted.
You're having a mid-career crisis.
Maybe you once loved your career, but the thrill is gone. You've stopped learning and growing, lost interest in your current field, or are otherwise ready to move on. But you're afraid to take a chance on something new--or you're confused about which direction to take from here.
You're too busy working to make time for a career change.
If one of your complaints is that your job is overly demanding, it can be difficult to carve out enough time to eat and sleep, let alone start working toward a new career. Instead, it can be tempting to put off change until some imagined day when you will magically have plenty of time.
It's all about the money.
There is no shame in caring about money. We all need money to live--some more than others. It isn't shallow to enjoy what money can buy. We all have different priorities and different ideas of what makes life good. You may value a high salary because it gives you the ability to put your kids through college, support your favorite charities, or just take nice vacations and see the world. The problem comes when you trade too much for a high salary. There are ways to make money that don't require selling your soul.
Did any of these ring a bell?
Download the solutions and the full ebook here
.
--------------
Mini Sagas: Bite Sized Lessons For Life and Business
By Rajesh Setty
I love this!
Both visual and inspirational. Each story is comprised of 50 words with a picture. I love the tight word limit.
What a great exercise! We should do our own mini-sagas sometime.
In this photographic manifesto (the first in ChangeThis history) Rajesh Setty has compiled 15 mini sagas from his collection. Each 50 word story is packed with a lesson on life and/or business.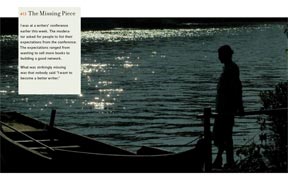 #13 The Missing Piece
I was at a writers' conference earlier this week. The moderator asked for people to list their expectations from the conference. The expectations ranged from wanting to sell more books to building a good network.
What was strikingly missing was that nobody said "I want to become a better writer."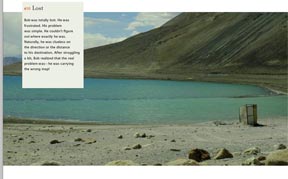 #10 Lost
Bob was totally lost. He was frustrated. His problem was simple. He couldn't figure out where exactly he was. Naturally, he was clueless on the direction or the distance of his destination. After struggling a bit, Bog realized what the real problem was--he was carrying the wrong map!
#2 The Book
John loved the library. That day, he was engrossed in a book. He hoped to finish reading it completely. It was almost the end, and then...there was a surprise--the last section was missing.
Alas
, John thought,
this book is close to real life. You don't know what happens next
...
Okay, while you can tell the guy that wrote this book isn't exactly a writer, I love the concept, and the design. A photo-journal, or "mini-saga," as he calls it. Super idea. I'd love to see more of this!
Click to download the full ebook manifesto here
.
--------------
How to Sell a Book (or Any New Idea)
(STEP 1 IS THE HARD PART)
By Seth Godin
My friend Fred has a new book coming out and he was trolling around for new marketing ideas. I think he'd be surprised at this:

Sell one.

Find one person who trusts you and sell him a copy. Does he love it? Is he excited about it? Excited enough to tell ten friends because it helps them, not because it helps you?

Tribes grow when people recruit other people. That's how ideas spread as well. They don't do it for you, of course. They do it for each other. Leadership is the art of giving people a platform for spreading ideas that work. If Fred's book spreads, then he's off to a great start. If it doesn't, he needs a new book.
You don't get to take step 2 if you can't do step 1.

Click here to download Seth Godin's latest manifesto.

--------------
These are just a sample of some of my picks. I haven't had time to read them all--there's quite a lot! If you are an author and want to submit a proposal, follow this link:
https://changethis.com/submit
. If you just want to see what's available for download, go to:
https://www.changethis.com
What a fun find!
Labels: 50 word stories, changethis, ebook, escaping corporate america, free ebooks, how to sell a book, manifesto, mini-sagas, seth godin