very once in a while, something special happens that makes me especially grateful I made a career change and became a writer (though U-turn might be a better description). Often when that happens, it has something to do with my teaching or with the young people I meet.
Dallas Woodburn was one of those happenings.
Dallas is the founder of Write On! a non-profit organization that encourages children to discover joy, self-confidence, and expression through writing and reading.
I've caught up with this busy University of Southern California college student and asked her to share her inspirational story.
WOW: Dallas, we all have a story to tell, but yours started a bit earlier than most writers. How did your publishing journey begin?
Dallas: For as long as I can remember, I have loved to read, so it was natural to begin making up my own stories as well. When I was in the first and second grade, I was lucky to have an amazing teacher, Diane Sather, who encouraged my love for writing.
I published my first book, There's a Huge Pimple on My Nose, when I was in fifth grade. Pimple is proof that with a lot of hard work, a lot of perseverance—and, yes, a lot of support, too—a small idea can snowball into something bigger than you ever dreamed.
My snowball began as a snowflake when I applied for and received a $50 grant from my elementary school to write, publish, and sell a collection of my short stories and poems. Here's what set my proposal apart: I said I would use the profits to repay my grant, so the school could offer an extra one the following year. My first printing, done at a Kinko's copy shop, was modest. It was twenty-five staple-bound forty-page books. Actually, they were more like thick pamphlets, but no matter—to me, they were books, my books, the most beautiful books I had ever laid eyes upon. J.K. Rowling couldn't have been more proud of her first Harry Potter hardcover edition.
"…a small idea can snowball into something bigger than you ever dreamed."
My fellow students and teachers, bless them, acted as if Pimple was at the top of the New York Times Bestseller List. The first twenty-five copies promptly sold in a couple of days. Can you imagine what a turbo-boost this was to a fifth-grader's self-esteem?
I was pursuing my dream, but I wasn't pursuing it alone—my family and friends and teachers were right there with me. So, I went back to Kinko's, ordered twenty-five more books—and soon sold all those as well. After three more trips to Kinko's, where the workers now knew me by name, I searched out a publishing business and ordered 700 glossy-covered, glue-bound, professional-looking Pimples.
My little forty-page dream evolved from a snowball into a blizzard, with reviews in the national magazines CosmoGIRL! and Girls' Life; book signings, radio interviews; even a "Dallas Woodburn Day" at the Santa Barbara Book Fair. I still have to pinch myself, but Pimple eventually sold more than 900 copies. To me, it seemed like 900,000!—and I repaid two school grants.
WOW: Was your early experience being published your inspiration for creating Write On!? Or was there something else in your life that made you chose this venture?
Dallas: When I published my first book, the teachers in my elementary school asked me to talk to their classes, and then I spoke to other classes throughout the school district.
I still enjoy talking to kids about writing. At the beginning of my talk, I would ask the kids if any of them were interested in writing, and a few shy hands would rise. In contrast, at the end of my talk when I asked the same question, a lot more hands would be raised. The students told me they didn't know that kids could be writers. They thought they had to wait until they were adults.
It saddens me that in so many schools, creative arts programs are becoming more and more encroached upon by rigid requirements and standardized tests.
When I was in elementary school, I was lucky enough to still have creative writing prompts and poetry assignments that helped fuel my love of writing from an early age.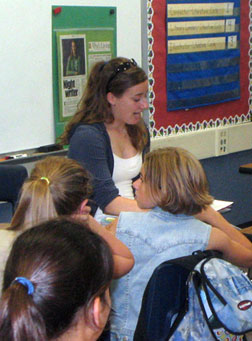 "The students told me they didn't know that kids could be writers."
One of the aims I have with Write On! is to help expose kids to creative endeavors like writing that perhaps they are not getting as much in school these days. Writing has opened so many doors for me and brings me such a sense of fulfillment and purpose—if I can help just one future writer stoke the fires of a passion for words and language, then I will be content.
WOW: You have gone on to create so many wonderful components to Write On! Please tell our readers about the scholarship awards, writing contests, and your holiday book drive.
Dallas: I started the web site for Write On! and held my first essay contest in 2000; I got some entries from the local area. Now, eight years later, I'm still holding writing contests and I get submissions from kids across the nation, and even some from Canada. I've been blown away by the writing and the responsiveness of these kids and teenagers.
I also award scholarships for young writers to attend the USC Summer Seminars Program Playwriting Workshop, and the Santa Barbara Writers Conference Young Writers Program.
I hold an annual Holiday Book Drive and in the past seven years have donated 9,240 new books to underprivileged kids. My goal for 2008 is to surpass the 10,000-book mark!
One of my favorite parts of this endeavor is delivering the boxes of books to the charities—the kids are so excited; they swarm the boxes as if they're filled with candy.
It's been such a great thing for me as a person, and also as a writer. You hear how reading is declining in the face of television and video games, but I have found there are a lot of kids who love to read and write. It's not a dying art; there is still an audience out there. I believe that writing and reading hold a special place in our society.
"…the kids are so excited; they swarm the boxes as if they're filled with candy."
WOW: Were there certain people in your life who were instrumental in helping you pull it all together?
Dallas: My parents have always been so supportive with my writing and volunteer endeavors. My dad in particular is a huge role model and my biggest fan, and he helped me talk through my ideas and come up with a "game plan" to put them into action.
My high-school English teacher, and now mentor, Tania Sussman, was instrumental, as were my former teachers at Poinsettia Elementary School and Cabrillo Middle School, who helped bring the book drive to their schools.
I also couldn't have done it without my younger brother Greg, who has been beside me every step of the way and who continues to hold the book drive in Ventura while I am away at USC.
He recently started his own non-profit called "Share Our Soles" (S.O.S.) through which he cleans up donated used running shoes and sends them to underprivileged children in Kenya and Mexico, many of whom do not own a single pair of shoes before S.O.S. steps in.
In less than a year, he has already collected and cleaned more than 1,100 pairs! We recently joined forces, inspired by the ancient Greek philosophy "A sound mind in a sound body," and Write On! is sending books from the Holiday Book Drive along with the shoes to these impoverished kids.
WOW: How did you go about spreading the word and publicizing your program?
Dallas: The first year, I printed up flyers at Kinko's and distributed them to schools in my school district, which really got the ball rolling fast. I also sent in an announcement to my local paper, and set up collection boxes at a local bookstore and at the Post Office.
Now, I continue to spread the word by passing around a sign-up sheet when I give talks to schools or community groups where people can sign up for more information. I learned to approach my foundation the same way I do my writing—I can't be afraid of rejection, I just need to get out there and spread the word! I have been pleasantly surprised to find that many, many people want to help—they just need me to tell them how they can help.
WOW: Write On! has been so well received that you've expanded your program. Where else can Write On! chapters be found?
Dallas: There are currently chapters in Texas, Idaho, Pennsylvania, Canada, and two in California: in my hometown of Ventura and in Los Angeles at USC. I hope one day to have chapters of Write On! in all fifty states. If readers are interested in starting up a chapter of Write On!, or holding a Holiday Book Drive in their area, please e-mail me! We would be thrilled to have you join us! Dallaswoodburn@aol.com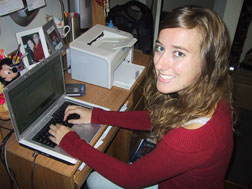 "I have been pleasantly surprised to find that many, many people want to help…"
WOW: You've also had the opportunity to lead a workshop for the Santa Barbara Young Writer's Program. What was that experience like?
Dallas: Simply wonderful! The students are so amazingly talented; they inspire me to no end. I am so humbled to be working with such esteemed faculty at what I truly believe to be the best writer's conference in the U.S.
I'm also the coordinator for the Young Writers Program of the Santa Barbara Writers Conference. I really enjoy interacting with other young writers, and I hope to expand the program and continue to be involved with the conference for many years to come.
WOW: In your personal work, reaching out to visit and speak with the children, what has been your experience with it? What do you talk to the children about?
Dallas: I talk to the children about the importance of following their passions and never giving up on their dreams. I tell them that often if they take small steps toward their goals, things can snowball to become bigger than they ever imagined!
I also try to relate my writing experiences with other passions they might have. For example, I encourage them to take ten minutes every single day to do their passion—whether it is music, or art, or soccer, or dance. Ten minutes a day really adds up!
Finally, I speak about rejection, something everyone has to deal with no matter what their passion is. I usually read to them from letters I have received from some of my author pen-pals such as Sharon Creech and Laurie Stolarz, saying even their award-winning novels (Walk Two Moons and Blue is for Nightmares) were rejected by dozens of agents and publishers. The important thing, I tell them, is not to let rejection or negativity stop them from pursuing their dreams.
"I talk to the children about the importance of following their passions and never giving up on their dreams."
WOW: What do you hope the children take away from being involved in the Write On! program?
Dallas: I hope to inspire kids to find a joy and solace in reading and writing—a way of connecting with others and exploring unknown worlds and thoughts. More even than that, however, I want them to know that there are people out there who care about them. And I hope being involved in Write On! gives them a strengthened belief in themselves and their potential.
WOW: If someone were going to try building a foundation from scratch, how would you suggest they go about it?
Dallas: I think the most important thing is having a cause you are passionate about. For me, that meant seeing a void and a way I could try to help fill it. When I give book talks, I encourage kids to ask themselves, "What can I do to help?" You may feel like one person can't make a difference, but believe me—you can! And a group of people joined together with a common goal or purpose can make an even bigger difference. Find people who are passionate and who can help your cause.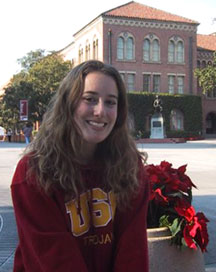 "I want them to know that there are people out there who care about them."
WOW: Dallas, you've been so busy encouraging young writers, have you had any time to work on your own writing?
Dallas: Actually, I have completed a novel manuscript that is currently a semi-finalist in the Amazon Breakthrough Novel Awards! (You can read an excerpt and, if you are so inclined, write a review.) It is a young adult work entitled: The Identity Theft of Dani Norhall. It is a character-driven novel with some mystery, suspense, and a twist ending. I wanted to explore the gray area between truth and fiction, and the way writers tend to put bits of themselves into their writing. Through Dani's journal writing, you can see something is not right in her life and world, but she's unwilling to talk about it directly. You find out more about her through the "fictional" stories she writes.
I have started to write another novel, which I am in the early exciting stages of—writing and waiting to see where the story will lead me. I'm also writing a monthly comic strip and advice column for Listen magazine, a publication that encourages kids to make smart choices and stay away from drugs and alcohol.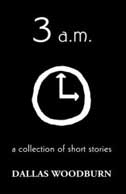 In addition, I have published various freelance pieces in the last year, including essays in the Los Angeles Times, CO-ED magazine, and the anthology A Cup of Comfort for Dog Lovers. I'm having fun working on a script for a play that I hope will be produced as part of my school's One Act Play Festival in the fall.
And I am still selling my second book, 3 a.m., which I published with iUniverse the summer after my senior year of high school. 3 a.m. has complex themes dealing with love, grief, self-discovery and internal awakening. I was interviewed on the nationally syndicated PBS book talk show "Between the Lines" about my experiences writing 3 a.m. And, at twenty, I am the youngest guest to ever have been featured on the show.
WOW: Dallas, do you have a favorite inspirational saying that we can take away from this. WOW! readers love a little inspiration!
Dallas: One of my favorite writing quotes is from Ray Bradbury, who I had the honor of seeing when he spoke at the Santa Barbara Writers Conference. He gave this advice: "Write with passion! Write with love!" I can think of no better advice on how to write—or live your life—than that.
Dallas blogs at www.dallaswoodburn.blogspot.com. Learn about her foundation, subscribe to her Write On! e-newsletter, or order her books on her website, www.zest.net/writeon. In addition, 3 a.m. is available at Amazon.com, BarnesandNoble.com, and Borders.com. You can email Dallas at dallaswoodburn@aol.com.
***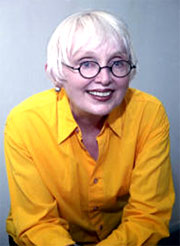 Carolyn Howard-Johnson's first novel, This Is the Place, won eight awards. Her book of creative nonfiction, Harkening: A Collection of Stories Remembered, won three.
An instructor for UCLA Extension's world-renown Writers' Program, her book The Frugal Book Promoter: How to Do What Your Publisher Won't was named USA Book News' "Best Professional Book 2004," and was given the Irwin Award.
Her second book in the How To Do It Frugally series is The Frugal Editor: Put Your Best Book Forward to Avoid Humiliation and Ensure Success is also a USA Book News winner.
Her chapbook of poetry Tracings, was named to the Compulsive Reader's Ten Best Reads list and was given the Military Writers' Society of America's Silver Award of Excellence.
She is the recipient of the California Legislature's Woman of the Year in Arts and Entertainment Award, and her community's Character and Ethics Committee awarded her work promoting tolerance with her writing.
Carolyn was also named to Pasadena Weekly's list of 14 "San Gabriel Valley Women Who Make Life Happen." Her website is www.HowToDoItFrugally.com. She Squidoos at https://www.squidoo.com/lensmaster/workshop/HowToDoItFrugallyforAuthors.