the season for hopeless romantics, believers in happily-ever-after, soul mates, true love, and... screech! Needle off the record. Breakups?
Yes, breakups!
So what if you don't have a significant other to share your romantic holiday with. We've all been there. Getting dumped stinks—no matter how you look at it. But you know what's worse? Feeling like you're the only person on the planet going through it. Thankfully, we have someone to help us through the heartache.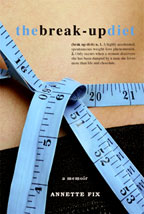 In her hilarious and heartbreaking memoir, The Break-Up Diet, Annette Fix shares her story about how she always believed in happily-ever-after and was busy working her Five-Year Plan: marry her golf-pro boyfriend, home-school her preteen son, become a famous writer, and retire to Fiji. When her live-in boyfriend calls it quits, Annette finds herself on The Break-Up Diet, consuming vast amounts of chocolate and exercising poor judgment by diving blindly into the shallow end of the dating pool.
Working as an exotic dancer to bankroll her aspiring writing career and support her son alone, Annette uses her blue-collar instinct to survive in the plastic jungle of The OC. Annette's adventures take her on a wild ride as she attempts to find the perfect balance between her dreams and her day-to-day life as Supermom.
The Break-Up Diet is a book for hopeless romantics, seekers of princes, believers in happily-ever-after, queens of their own castle, and readers who love books that make them laugh and cry and nod their heads, saying—I've been there.
All of you loyal readers know Annette Fix as long-time contributor, and more recently, Senior Editor of WOW! Women On Writing, but now you get a glimpse into her personal life, and the journey into publishing her memoir, The Break-Up Diet.
WOW: Congratulations on the launch of your memoir, The Break-Up Diet! Before I get to the fun questions about your book, I'd like our readers to know about the road it took to get there, so they can fully appreciate the amount of dedication it took to finally see your story realized. Let's call it a journey from the birth of an idea, to happily-ever-after. How does it feel?
Annette: Thanks! It still seems very surreal to me when I hold the book in my hands. I'm not sure the reality of it has sunk in yet. I think I'm still waiting to see how it's received—like a mother hoping that everyone thinks her baby is cute, instead of hearing whispers that the baby looks like the back end of a baboon.
WOW: (laughs) Well, from the early reviews I've read, your baby is super cute! But we all know that the road to publishing is often an arduous one. In your case, it was particularly challenging. How long did it take you from the first spark of inspiration to holding the published book in your hands?
Annette: Short answer: 7 years. But it's funny how things turn out. I never intended to write a book. I was busy working on a family feature screenplay with a producer whose production company had a picture deal with Disney.
It was one month after the 9/11 attacks, and that's when my muse got kicked in the head—or, maybe I should say, the heart—when my live-in boyfriend dumped me (over the phone). It was a total rug-pull and it really hit me hard.
I started journaling about my thoughts, and happened to read an entry to my best friend. It was a page full of post-break-up musings about how I should get a boob job and a lobotomy, and hunt for a rich husband. She thought it was funny and suggested I start writing it as a book.
WOW: (laughs) That's so Orange County. I'm glad your friend convinced you! So, after you wrote the book, we know that you landed an agent because of the first article you wrote for WOW! back in September 2006, How to Capture an Agent by Hunting in the Wild (an excerpt from your forthcoming E-book and workshop, The Hungry Writer's Guide to Tracking and Capturing a Literary Agent). What were some of the methods you used to land your agent?
Annette: I started out like many writers do—attending conferences and digging through the Writer's Market and taking note of agents who listed that they were accepting submissions for my genre (memoir). Then I began throwing queries against the wall for almost a year, hoping something would stick. Unfortunately, all that turned up was a handful of rejection letters that said, "Your material does not suit our needs at this time."
Then I tried a couple experiments: I sent out the exact same query letters—same title, same premise, but I called my book chick-lit fiction, and instead of sending out a bazillion queries, I targeted two agents who had high sales in that genre. I ended up with an agent a month later.
"I was glad the agent couldn't see my facial expressions—or the fact that I was doing an end-zone touchdown dance…"
WOW: You must have been ecstatic! Do you remember what you were doing when you first heard the news?
Annette: It was around 8 a.m. (California time) and I was on my computer, looking at pictures of the best and worst dressed celebrities on the red carpet—one of my standard writing avoidance activities.
So, when I got the call, I was completely caught off guard. And I was glad the agent couldn't see my facial expressions—or the fact that I was doing an end-zone touchdown dance while I was still on the phone with her. I can't remember a single thing we talked about; I was so out-of-my-head excited. After we hung up, I ran to the master bathroom and jumped into the shower to hug my husband while I was still wearing my flannel pajamas.
WOW: That's so exciting! It's a dream come true... I would've done the exact same thing. So, what happened after you signed with the agent?
Annette: I admitted to her that my book was really a memoir and not chick-lit fiction. But she didn't want to shop it to editors as a memoir.
As far as the actual process, it was fairly basic. She had some minor rewrite notes of changes she wanted me to make—things that changed the truth in parts of my story and fictionalized it. Then she had me send her copies of my headshot, so she could submit one with each manuscript.
But, when she asked me to write a bio, I told her I didn't have anything worth listing. She asked me to write one anyway. So, to prove my point, I wrote a bio poking fun at the fact that I didn't have any awards or degrees—all I had to offer was the truth of my experiences. I mean, how many people mention "trailer parks" and "meth labs" in their bio? (laughs)
WOW: Wait a minute...trailer parks and meth labs? I've got to see this!
Annette: You can see it here: https://www.thebreak-updiet.com/about_annette.html. My agent thought it suited the tone of the book so well that she actually packaged it with the manuscript! Then she began submitting to the big houses: Simon & Schuster, Random House, Harper Collins, St. Martin's, et al.
WOW: That's super! Now, you mentioned earlier that your agent didn't want to shop your book around as a memoir...instead, she marketed it as chick-lit. What was the climate of the publishing industry at the time? Especially, in regards to chick-lit?
Annette: My agent said selling my book would be a "slam dunk" and I was excited that she felt so strongly about it. Unfortunately, the chick-lit market was saturated. And the rejection letters started coming in. But it was confusing to me because there were great comments in the letters like: "breezy and fun," "something every woman would identify with," "written with humor and honesty," but none of the editors were willing to take a chance on it. After 15 rejections, my agent told me to set the manuscript aside for a while and start working on my next book.
"I couldn't set it aside. I felt like if I did, it would be the same thing as giving up on it."
WOW: Those sound like great quotes to me... Why did you ultimately decide to self-publish, instead of waiting?
Annette: I couldn't set it aside. I felt like if I did, it would be the same thing as giving up on it. It was a story I wanted to tell—one way or another. So, I approached some of the contacts I had in the entertainment industry and hooked up with a producer who wanted to do it as a television series.
I wrote the treatment for the series and partnered with a television writer to collaborate on the pilot. The producer set up a meeting for us and I pitched it to the Executive VP of Development of Scripted Series' at a major network. He liked the premise and wanted us to get a showrunner attached.
Before we got that far, I found out that the Writer's Guild doesn't recognize a pilot or series treatment as a derivative work if it's based on a book manuscript. It has to be based on a published book—something considered set and tangible. Cue the sound of screeching brakes. I didn't want to chance losing the creative rights to my story, so I backed out and decided to self-publish. Once the writer's strike is over, I plan to see if I can resurrect a deal for the series.
WOW: That makes sense, and sounds like a great plan. You explained the self-publishing process in detail in your July issue's article, The Self-Publishing Travel Guide: Exploring New Territory, so I'm going to ask our readers to refer to that article if they're interested in self-publishing. But on a more personal note, was it worth it? And would you recommend self-publishing to another author?
Annette: When I first decided to publish the book myself, I considered going with a subsidy publishing company like iUniverse. But once I began studying the business of self-publishing, I realized that business model wasn't right for me. So, I established my own company, Orange Curtain Publishing, and published The Break-Up Diet under my Womyn Books imprint. I planned to publish this book, my next two books, and considered eventually taking on other women's work—true stories written with unique and authentic voices.
Was it worth it? Yes. Would I do it again? Definitely—if I were faced with the same situation that motivated me to self-publish in the first place. But, I've also discovered that self-publishing, in its true definition, is a very involved process with a huge learning curve. After personally moving my book through each production step, establishing distribution, etc., I definitely have a greater appreciation for the well-oiled publishing machine of the big houses.
With what I know now, would I want to do it for my next book or someone else's? Not anymore. I've realized that publishing has taken me so far away from what I really want to do—write. I didn't start this venture to become an independent publisher—I got carried away in the tsunami of the process. This whole thing started because I just wanted to have the opportunity to tell my story.
WOW: I know you want to tell your story... But why is it so important that The Break-Up Diet be realized as a memoir?
Annette: I really tried to go along with my agent's belief that it should be marketed as chick-lit. I even went so far as to agree to fictionalize parts of it to make some of the messy relationship realities more palatable for the readers. But in the end, when I became my own publisher—when I had the final say—I didn't feel that was the right choice for it. I needed to be true to my story—and tell it the way it really happened and share the honest thoughts I had while it was happening.
My story has the uncomfortable truth and the fairytale ending. If it's published as fiction, then the entire point of the story is lost. That's why it's so important that it's published as a memoir—because life isn't always easy, and people are flawed, but the happy ending really can happen, and not just in the movies.
"I needed to be true to my story—and tell it the way it really happened…"
(Photo: Annette at her local Barnes & Noble.)
WOW: I agree that happy endings do happen in real life, and your memoir showed a great balance of both worlds: the incredibly real emotions and heartbreaks, and the incredibly real happy ending—I happen to know this is a fact!
But, in your opinion, do you think that the controversy with books such as James Frey's best-selling memoir, and Kaavya Viswanathan's semi-autobiographical novel have caused publishers to be wary of memoirs in general?
Annette: I really can't speak on whether those incidents have caused publishers to be more wary of memoirs in general, but I'm sure it didn't help! For me, it's definitely a hot button topic that I touched on briefly in my article, Drawing From Your Life to Create Your Story. I think a memoirist has a responsibility to her readers to be honest and ethical. Creating characters that don't exist and situations that didn't happen means the story is fiction. It shouldn't be passed off as memoir. Manipulating the truth to gain a better publicity angle is deceitful. And don't even get me started on plagiarism!
WOW: I've noticed a new trend hitting the literary scene: memoirs written in a chick-lit tone, known as "chickoir," in some reading circles. I love these types of books and think that this emerging trend will only continue to grow. Do you consider The Break-Up Diet a chickoir book? If so, do you have any favorite books/authors in this genre?
Annette: I think many subgenres have become more widely recognized as more and more authors merge different genres to tell stories in new ways. But it doesn't seem to become a recognized "hot new trend" until someone comes up with a promotional label that sticks—like chick-lit, urban-lit, etc.
Although the term "chickoir" may be new, I think it's more about the voice than the actual structure or premise. Eat, Pray, Love: One Woman's Search for Everything Across Italy, India and Indonesia is the perfect example of chickoir. It's a memoir, but the voice is chatty, introspective, a little snarky, and decidedly all-woman. But, I think that writing style has been around for a long time. Although it was cloaked as a novel, Heartburn by Nora Ephron was really chickoir back in 1996!
WOW: That's great insight! I've only been hearing the term chickoir in the past year or so. Speaking of terms, having gone through several break-ups myself, I know exactly what you mean by, "The Break-Up Diet," and I'm sure most women do as well. But for those that haven't experienced it, what is it exactly?
Annette: I put the definition on the book cover for that exact reason. And also with the hope that it will help browsing readers notice the book is a memoir and not an actual diet book!
The Break-Up Diet: n. 1. A highly accelerated, spontaneous weight-loss phenomenon. 2. Only occurs when a woman discovers she has been dumped by a man she loves more than life and chocolate.
At least, that's my personal definition! (laughs)
"You consider moving down the street from your ex so you can jog by his house—even when you've never jogged a day in your life."
WOW: That seems about right, but my only additional suggestion to your definition might be wine (with the chocolate)! So, how many pounds did you lose while on the break-up diet?
Annette: Fifteen pounds in three weeks. That may not seem like much, but I have a small frame, so it put me into Size 0 jeans.
Maybe it was just water weight that I lost from all the crying. I wasn't exercising and I know it wasn't my diet. I think I ate more than my body weight in chocolate in the very first week. Spoon in one hand. Jar of Smucker's™ Hot Fudge Topping in the other. I ate so much of it that I should've taken out stock in the company.
WOW: (laughs) Good idea! But, why fudge topping?
Annette: It wasn't just the fudge. I ate chocolate pudding, chocolate protein shakes with Hershey bars blended in, brownies, and anything chocolate that I could get my hands on. The fudge was my favorite though. A chilled jar, straight from the 'fridge. A giant wad of fudge on the end of a spoon. Each lick smeared my tongue with smooth, sweet chocolate. I'd hold a strip of it in my mouth until it melted—creamy and satisfying. Completely chocogasmic.
WOW: Mmm… I could go for a spoonful right now. I've heard chocolate is a mood enhancer. But besides eating a ton of chocolate, how do you know if you're on The Break-Up Diet?
Annette: That's easy. You've talked the ears off all your best girlfriends until they want to strangle you. You play "our song" over and over and over. You compile a photo album of all your best pictures together and give it to your ex. You cut off your hair, and follow a guy wearing the same cologne as your ex through Super Kmart. You consider moving down the street from your ex so you can jog by his house—even when you've never jogged a day in your life. And you begin to wonder at what temperature bunnies boil. Then, you know you're definitely on The Break-Up Diet.
WOW: Glenn Close set the bar very high for those types of break-up diets! (laughs) I also love that you've added "recipes" into the book that are of no nutritional value, but are quite poignant to your emotions. They're almost like poems in a way. How did you come up with this fantastic idea?
Annette: Believe it or not, the seed of the idea was actually planted by a male filmmaker friend of mine. We were having sushi at the Bonaventure Hotel in Los Angeles one night, and he was giving me notes on the first draft of my book. One of his notes was, "Where's the diet?" He said that if my book was about a diet (leave it to a guy to take the title literally), then I should include low-calorie recipes for the readers.
I thought about what he said, but I didn't want to make it about food—that's been done so many times in food memoirs, and it isn't what The Break-Up Diet is about. I wanted to find a way to show how women's emotions are so powerful that they can affect everything in a woman's life—including her weight loss or weight gain.
I wanted to find a unique way show that. And that's how I came up with the idea to create emotional "recipes" like: Crisis Pilaf, Guilt Stew, Doubt Cake, and Love Me S'mores. There are 15 recipes scattered randomly throughout the book, following the particular journal entries that inspired each of them.
WOW: I love that! Having been in the marketing and graphic design business for years, I think your memoir is a neat package. I've seen some self-published books that are highly marketable like yours, get picked up by a big publishing house. Is this something you'd ever consider?
Annette: Absolutely! In a perfect world—right after I figure out a way to create world peace and global green living, and win the lottery without buying a ticket—my wish would be that my story will resonate with women readers who will enjoy the story so much that the book sells well from word-of-mouth and I can find a traditional publisher who will offer to pick it up.
It happened for Laurie Notaro who subsidy published with iUniverse and is now doing quite well with her six books. As is, Christopher Paolini, the homeschooled boy who wrote and self-published Eragon (which was picked up and also made into a movie).
Learning the business of publishing has been an adventure, but I'd really like to get back to writing.
"As I typed each word onto the screen, I cried as I relived the day it happened."
WOW: Well, as Senior Editor of WOW! you are certainly doing a lot of writing, but probably not the type that you envisioned! (wink) And a thing that may come as a surprise to our readers, is that you worked as a topless dancer for six years in order to support your son as a single mother. I think this is an honorable sacrifice, but I wonder how others view it. I know you as a first-class editor, articulate, and highly intelligent, but does having that "label" cause some people to jump to conclusions?
Annette: Yes, but let them jump. The greatest thing I took away from my time working at the club was a stronger sense of who I am. Stripped almost bare in front of men and women you don't know will do that for you—at least, it did for me. Without the image statement you make with your clothing choice or the ability to hide behind a social status façade, you can only be yourself.
There will always be people who pass judgment based on their perception of morality, and also from their own ignorance. But I know who I am, so it doesn't matter what anyone else thinks.
When my son was young, I was concerned about people finding out what I did for a living. I didn't want him to be judged unfairly. I danced from the time he was 7 until he was 14. I lead a double life—and I wanted to keep those two lives completely separate. I was a writer, and Little League and homeschool mom by day, and a dancer by night. It was the only viable way for me to spend the most amount of time with my son, raise him in a safe and affluent area, pursue my writing dreams, and be able to pay for it all. And I don't regret a minute of it.
WOW: I applaud you, Annette. It takes guts and determination to do that—as does putting your story out there for the world to read. How do you think your friends will react to your memoir?
Annette: That's a tough call. As the story unfolds in my memoir, readers have a front row seat to watch as my relationships with my best girlfriends unravel. But I hope my old friends understand that although they appear in my story, it's not about them. They exist in my story because they existed in my life at that time.
Just by the very nature of how their presence affected my life, there was no way I could tell my story without including them. But I made a great effort to be completely fair in my portrayal of what happened between us. And that includes the scenes with the men who touched my life…and a few other things. (laughs)
"I really hope women can take away an inner sense of comfort in the belief that when a relationship is over, they are supposed to let it go…"
WOW: Yeah, you certainly do bare all! Can you share one of your favorite scenes from The Break-Up Diet with our readers?
Annette: I'd say my favorite scene in the book is the entry that begins on page 55, titled: "Five Hours in Purgatory"—it was the last time I ever saw my ex.
It was the hardest scene in the book to write. Some scenes sound like music to me. The music for that one is "A Sorta Fairytale" by Tori Amos. As I typed each word onto the screen, I cried as I relived the day it happened.
As a writer, it reminds me of the first part of my favorite quote from Robert Frost, "No tears in the writer, no tears in the reader…" In that scene, I was more naked than any other scene in the book. I'd like to think that's what memoir is supposed to share with its readers—the raw truth.
WOW: Annette, I want to personally congratulate you on your journey to publication, your persistence, and your well-written and thoroughly addictive memoir, The Break-Up Diet. What do you ultimately hope readers will gain from your book?
Annette: I really hope women can take away an inner sense of comfort in the belief that when a relationship is over, they are supposed to let it go. Because happily-ever-after really does exist, and if they allow it and believe in it, the universe will expand to meet their expectations.
WOW: Well put, love. So, what's on your 2008 promotion plate?
Annette: I plan to do some bookstore events, and put myself out there for radio and television opportunities. But I'm really looking forward to connecting with book groups—I think directly interacting with readers in-person and via web/telechats would be much more fun. There are a lot of topics that I touch on in my book that I think would make for interesting conversations in a roomful of women. Some reading guide questions are posted on the book website:
https://www.thebreak-updiet.com/book_club.html.
WOW: Do you have anything fun planned for your Valentine's Day launch?
Annette: I have a spoken-word performance at Tasty Words in Santa Monica on February 13th—it's a show called Dates From Heaven & Hell—I'll be telling some of the stories from my book. On Valentine's Day, hubby and I will be celebrating the launch privately. Because without him, the book wouldn't have a happy ending.
I also have a pet project that I think will be a lot of fun once the word gets out about it. The idea came up after talking to different female acquaintances. Whenever I answered their question about the premise of my book, every one of them could relate and told me an amazing break-up story that made mine pale in comparison! So, I decided to create a Break-Up Story forum where women can read and share break-up stories. It's just getting started. But I would love to hear true stories from WOW! readers! (Of course, you can make up a pseudonym for yourself—to protect the guilty!)
Please visit: www.mybreakupstory.com. And share the link with your girlfriends!
WOW: I definitely will! What a wonderful resource. Annette, thank you for a fabulous and fun interview! Do you have any closing comments you'd like to share with our WOW! readers/writers?
Annette: If you have a story you believe in, don't be deterred. Do whatever you need to do to give it life. No one should have the right to be a gatekeeper, deciding whose book should be published and whose shouldn't. If there is only one reader out there who is moved or entertained by your story, then whatever you had to do to reach them will have been worth it.
~ And never give up on happy
endings ~
Find out more about Annette by visiting her websites:
https://www.thebreak-updiet.com