ew York Times and USA Today bestselling author Gena Showalter hit the scene in 2004 with her first book, The Stone Prince. Since then, she has hit the ground running with a string of books spanning several genres. She has written paranormal, urban fantasy, and contemporary romance as well as young adult books. Her work has also been part of an anthology (Mysteria) along with popular authors MaryJanice Davidson, PC Cast, and Susan Grant. Her young adult book, Oh My Goth, was a nominee for the National Reader's Choice award and an MTV book. Animal Instincts, one of her two contemporary romances, was excerpted in Cosmopolitan magazine.
Gena has wowed readers with her magical and sometimes menacing characters. Her imagination seems constantly fueled with a never-ending passion for the art of novel writing. Her love of the craft and of her fans is totally amazing.
I had the pleasure of interviewing Gena for Road to Romance in 2006 and am delighted to have had the chance to visit with her once again. Thanks, Gena, for taking time out of your busy schedule to chat with us at WOW!
WOW: How far do you think you have come since your first book, The Stone Prince?
GENA: I can't even see the start-line anymore. While writing The Stone Prince, I bumbled around, thinking, "What if everyone hates this?" That single question caused me to second-guess myself constantly, and that second-guessing made for some painful writing. I've since learned to write from the heart, to write what I want, what I love, and everything else will fall into place. I can't please everyone. I know that now and I'm okay with it.
WOW: Well, The Stone Prince certainly proved you wrong—everyone loved it. I still have not forgotten Jorlan en Sarr or Katie James and I am waiting for you to write a sequel to it! Speaking of characters, which character or characters do you identify most with in your books?
GENA: Probably Belle Jamison from Playing With Fire. Before writing, I could not hold down a job. I was probably voted Worst Employee Ever by several different companies—all within the same year. Plus, she's quirky and has a smart mouth. I won't even mention the superpowers…
WOW: NY Times bestselling author Kresley Cole has called you "...one of the premiere authors of paranormal romance!" How does that make you feel?
GENA: I'm still over the moon about it. In fact, I smile every time I read it. Kresley is one of my all time favorite authors—if you haven't read her Immortals After Dark series, you are missing out! Her books constantly wow me, so having a woman of her talent say that about me…heaven!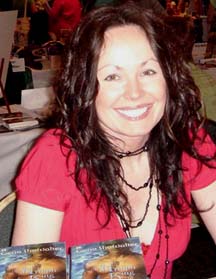 "Before writing, I could not hold down a job. I was probably voted Worst Employee Ever…"
(Okay, we'll buy it Gena…but we don't think you're doing so bad! Photo: Gena at the RT signing.)
WOW: It seems to me that not only your characters have superpowers—you have for churning out all those books you write! When writing an altered reality book such as your Alien Huntress series, is there any difference in developing a romance between the characters (human/alien) versus the relationship between the characters in a contemporary romance?
GENA: For me, not at all. Everything hinges on the physical and emotional awareness between the leading couple, whether one of them is an alien, a dragon, a demon, or both are human. It's all about growing and deepening the sizzle factor every time they're together.
WOW: Your books sizzle! How important is sexual tension within the context of your book, and how do you draw the line between erotica and what might be considered X-rated sex?
GENA: As a reader, sexual tension is one of the things that keeps me turning the pages, so as a writer, sexual tension is a must for me. But I don't worry about crossing any lines. I just write the story the way it plays out in my mind. As long as it fits the characters and their situation, I don't worry about anything else.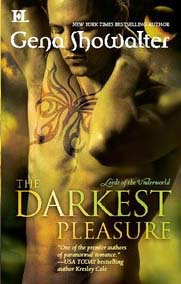 "…sexual tension is one of the things that keeps me turning the pages…"
(And those yummy covers don't hurt!)




WOW: Most of your books involve aliens of one sort or another. Why do you have such a penchant for them?
GENA: Of seventeen books, seven of them have aliens—the first two I wrote (part of my Enchanted Warriors of Imperia series) and then the five Alien Huntress books. The first two books featured alien heroes because I was (and still am) fascinated by the possibility of "what if." Those men were from an unknown location, so I had the freedom to play with their backgrounds, their lifestyles, their entire outlook on life and people. They were like fish out of water; everything on Earth was new to them. I loved watching them learn and deal. With the Alien Huntress books, many different types of aliens have lived on Earth for many years. They are a way of life for earthlings, yet they come with complications and danger.
WOW: Can you give us a little peek into your upcoming book, The Darkest Night (Lords of the Underworld)?
GENA: Oh, one of my favorite topics! The Lords of the Underworld are immortal warriors who stole and opened Pandora's box, allowing the evil demons inside to escape. Now, as punishment, they house those demons within themselves. Maddox, the star of The Darkest Night (May 2008), is the keeper of Violence. He's cursed to die every night, only to awaken the next morning knowing he has to die again. Lucien, the star of The Darkest Kiss (June 2008), is the keeper of Death. He's been ordered to destroy the goddess of Anarchy—but she's determined to become his lover. Reyes, the star of The Darkest Pleasure (July 2008), is the keeper of Pain. He's forced to self-torture to survive. These men are dark and seductive, hard and tortured, and I can't get enough of them!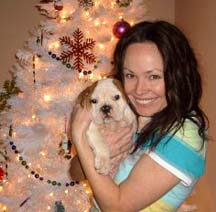 "…it's all about two people falling in love. Everything else is icing."
WOW: I know you pretty much listen to your own inner muse when writing, but for the rest of us, are there any hard-and-fast rules that a writer needs to adhere to when writing a paranormal romance?
GENA: I'm a big believer in writing from the heart, no matter what the "rules" are. But, having said that…if you create rules within your own book—such as, certain creatures cannot live on earth because they cannot breathe oxygen—you have to stick to those rules or give a solid reason why it becomes possible. Otherwise, the entire fabric of your novel becomes unbelievable.
WOW: Your sense of writing makes any world your characters inhabit believable. Is there any difference in the elemental structure of a paranormal romance versus a contemporary romance?
GENA: Not really. For me, it's all about two people falling in love. Everything else is icing.
WOW: Well, unlike many of your characters, we are human and make mistakes. In your opinion, what is the biggest mistake a writer can make?
GENA: Taking criticism personally and allowing it to paralyze your writing. That's not to say it's okay to disregard everything negative that's said about your work. Sometimes there are legitimate points to be made. But you have to remember that beauty truly is in the eye of the beholder. Just because one person hates your work doesn't mean you should give up. Keep at it. The only way to fail is to stop trying.
WOW: You have crossed genres and have written two contemporary romance books (Animal Instincts and Catch A Mate) and three young adult books, Red Handed, Blacklisted and Oh My Goth. Do you see yourself writing in any other genre such as a mystery or historical?
GENA: Right now, no. I love the genres I'm writing in, find joy in writing those types of books, and I'm pretty stretched time-wise as it is. But…maybe one day. I don't want to say "never" because I'm a mind-changer to the extreme. And hey, to be honest I've tried writing a historical. I was soooo afraid of the historical details, though, and let the project intimidate me. Maybe I'll grow a pair and finish it.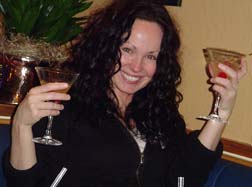 "Just because one person hates your work doesn't mean you should give up. Keep at it. The only way to fail is to stop trying.."
WOW: Other than keeping lots of chocolate and lattes on hand, can you give our budding romance writers a few insider tips?
GENA: Write from the heart, never give up, and remember that the Internet is a big place. Be careful what you say because it can come back to haunt you. Also, don't follow trends. If you start writing a book at the time a trend hits, you'll be trying to sell it as the trend wanes. Become the trend (which falls back under the topic: write from the heart.
WOW: When not writing (something I have trouble imagining), what would we find you doing?
GENA: Reading. It's my favorite thing to do. I'm obsessed with several writers right now: Kresley Cole, Jeaniene Frost, Nalini Singh, Meljean Brook, JR Ward, Karen Moning, PC Cast, Susan Grant, MaryJanice Davidson, Marjorie Liu, Lara Adrain, Michelle Rowen, Michele Bardsley, Jill Monroe, Susan Elizabeth Phillips, Julie Leto, Susan Sizemore, Vivi Anna, and so many more! Seriously, I could go on and on. Books are my greatest passion.

"Write from the heart,
never give up…"
WOW: If you could spend a day with one writer (deceased or alive) who would it be and why?
GENA: Because I'm a selfish creature and live in the moment, right now my answer would be JR Ward. I would beg, plead, and cry for an ARC of her next book. That woman has skill! Her books are some of the best I've ever read and her heroes are insanely hot! I'd love to just sit down with her, maybe tour through her brain, ask about what's upcoming, and okay, yeah, beg for Brotherhood secrets. Plus, she's just a flat-out nice woman, gorgeous, and super smart.
WOW: Thank you, Gena for a fun and informative interview! I don't know where you find the time to keep your fans abreast of all that you are doing, but I hope they visit your blog at www.genashowalter.blogspot.com, they will definitely see what I mean! And, readers, while you are there, check out Beefcake Monday!
Katherine Turcotte is a freelance writer and author interview coordinator. Her work has appeared in Romantic Times Book Club magazine, BookPleasures.com and Road to Romance. Katherine's other passion is herbal medicine. Look for her upcoming articles in Herb Quarterly magazine. She writes from the Pine Barrens of NJ surrounded by a bevy of Cocker Spaniels and one very spoiled Irish Setter.