n the fast-paced world of corporate consolidation, it wasn't too surprising that I had to update part of this article in a month's time. Since then, I found there have been mergers, acquisitions of imprints, and splits in corporate umbrellas.


My mission in writing this article is to give you an overview, so we all can obtain the knowledge that affects us as writers behind the scenes. Just keep in mind, changes can occur within the amount of time it takes you to Google a publisher.


Understand this information affects the publishing industry as a whole, and explains why things work the way they do for us as authors. And although it clarifies things to a certain extent, it also cannot solve anything. So, I advise that you read this with the intention of getting acquainted with the industry, keep on doing what your doing, and never give up!
THE STORY OF HOW IT ALL BEGAN:

Once upon a time, decades ago, there were hundreds of mom-and-pop companies that made up the whole of the U.S. publishing industry. These individuals had a passion for books and a sheer love for the written word. Of course, they possessed the skills for running a business, but at the time many people couldn't read, so money was not necessarily their primary objective. If it were, they would've chosen more lucrative careers. Some of these founders of literacy still have their family names on many of our popular imprints today.


These little publishing houses had unique voices in the industry, acquiring the titles that they enjoyed. Due to their various publications they managed to create an assorted reading list, none of which defined our culture, but together created many diversified voices of the population. As readers and literacy grew, so did the publishing houses. Bigger companies bought out mom-and-pop companies, until these little tribes became a unified nation.


Today, the big houses are mainly owned by foreign entities, most of which you've probably never heard of. These companies own all the brand names of the houses they've acquired throughout the decades, which serve as their imprints. We've broken them down into THE BIG SIX LIST, all of which include other media: magazines, movies, broadcast, TV, cable, newspapers, music, and online.


These guys dictate what the bestsellers are, the voices of our nation, and what's hot or not. They have the ability to buy front-row table space in all the major bookstores, decide which titles to push to the media, and which titles they will invest tens of millions to promote as their front list. Basically, they have the ability to move a nation. So, if you ever have the opportunity to join them, don't think twice, because they have a lot of dedicated editors on their staff that will work tenfold to make sure you achieve your goals, while achieving theirs.
WHY BIG HOUSE EDITORS DO WHAT THEY DO:

Let's imagine for a moment that you're an editor at one of the big houses in New York City. To get your position you've attended an Ivy League college and you've worked hard at your goal because you have a love of books. The people you went to college with have become successful entrepreneurs, lawyers, accountants, businesswomen etc. and have established a six-figure-plus income and own their own homes. But you live in a New York apartment and carry home a hefty stack of manuscripts every night and read until your exhausted enough to fall asleep in your Ikea bed.


You're smarter than most, but you aren't awarded by luxuries. One thing you have to your advantage is that you love your job. You've been reading since you were a young girl and have a passion for literature, but you know that this job is more than simply loving a book; it's about acquiring a bestseller. Now, that's a lot of pressure, isn't it?


To get to where you want to be as a successful editor, you're going to have to acquire some bestselling titles. You're going to be competing with editors from other publishing houses to secure the highest salary and a top position. So choosing the right manuscript to publish becomes an extremely important decision to you as an editor and to the publishing industry.


It's not too surprising that the big houses turn down many mid-list books, which in loose-definition are mainstream fiction and nonfiction books that don't quite contain all the ingredients required of bestsellers. They do have a place in the publishing industry, but probably aren't the books you see on fancy end tables in superstores, nor are they the ones receiving huge advances from publishers. That's where literary agents come into play. They are essential to an editor for discovering good material. If you want to get into a big house as an author, you are going to need a good agent to take you there. That's simply how the process works.
WHY AGENTS ARE IMPORTANT TO THE BIG HOUSE:

Agents are the essential contact to editors whose jobs depend on choosing the right titles.


No matter what occupation you're in, if you are a business owner and need help, you're going to hire a girl Friday or a secretary-and when they can't handle the number of solicitations you receive from prospective clients, then you're going to go with a contractor. This person will cut down your in-house overhead, and, if they have a proven track record, they will be able to boost your business as an entrepreneur.


That is why agents are an important part of how the big houses work. They provide the screening, editing, and polished material that quickly eclipses all other means of submission, especially if that agent has an established relationship with editorial standards.


As an editor, if an agented manuscript arrives, it receives your rapid attention and consideration, for their standards are most likely going to further your career in the dog-eat-dog world of the big house.
WHAT DEFINES THE BIG HOUSE?

There are several independent presses that publish as many titles as the big houses do and have the means to sell just as well. But for the sake of definition, we are not including them because they run under a totally different structure (to find out more about them, see last month's Small Presses Issue).


The structure of the big house is similar to any enormous mega-corporation. They have a global umbrella that owns many different companies in diverse avenues. They have a board of directors who make decisions and stockholders to answer to. Here are a few simple definitions:
Most are conglomerates controlled by foreign interests.
Book publishing is only a small part of their much larger agenda.
Their other interests may include: movies, magazines, cable channels, broadcast, music and Internet properties.
WHY GO WITH A BIG HOUSE?

Why not? They control most of the world's media and have the power to make your book a bestseller, if they choose it for their front list. They have dedicated editors who will help make your book the best it can be; otherwise they wouldn't have signed you in the first place. And last, but not least, they have the power to offer you an awesome advance.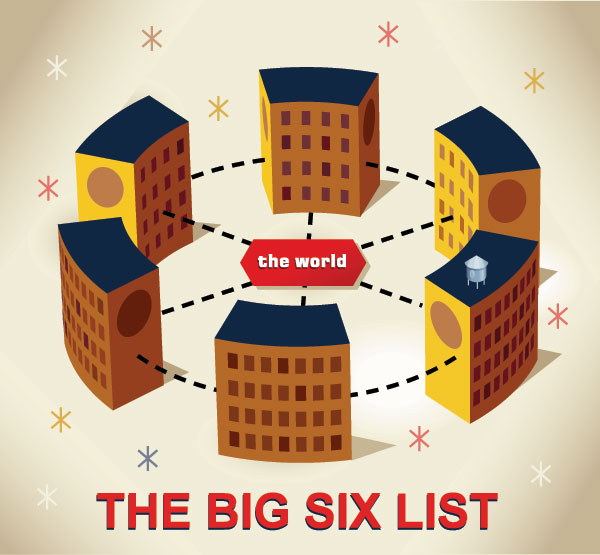 WHO THEY ARE, WHAT THEY OWN, WHEN THEY MERGED, WHERE THEY ARE LOCATED, WHY THEY ARE BIG, HOW IT ALL BEGAN
In Alphabetical Order:
"As one of Germany's major historic companies, Bertelsmann has borne a special responsibility towards its employees for 170 years. Tradition-consciousness is a fixture in our corporate culture, which strives to integrate historically developed values with modern corporate policy. Only by dealing with its own history can a company review its progressive decisions based on one's own the history, and thereby give it a sound and lasting foundation."
Bertelsmann is a global media firm based in Germany who owns publishing, music, and broadcasting operations in 60 countries. Bertelsmann produces, serves, and markets media. Their content is contributed by RTL Group, the No. 1 European broadcaster; Random House, the world's largest book-publishing group; Gruner + Jahr, Europe's biggest magazine publisher; and BMG, the umbrella of Sony BMG Music Entertainment and BMG Music Publishing. Arvato provides media and communication services, while Direct Group is the global market leader in media distribution through clubs and on the Internet.
Bertelsmann AG
Carl-Bertelsmann-Str. 270
33311 Gütersloh
Germany
Website: https://www.bertelsmann.com
U.S. BOOK PUBLISHERS BERTELSMANN AG OWNS:
Random House, Inc.
Random House, Inc. is the world's largest English-language general trade book publisher. It is a division of Bertelsmann AG, one of the foremost media companies in the world.
Random House, Inc. Timeline:
1925 - Founded when Bennett Cerf and Donald Klopfer purchased The Modern Library from Horace Liveright.

1927 - Random House colophon made its debut.

1930s - Started publishing children's books.

1947 - Entered reference publishing with the American College Dictionary.

1960 - Random House acquired the American publishing house of Alfred A. Knopf, Inc.

1961 - Acquired Pantheon Books, which had been established in New York by European editors to publish works from abroad.

1965 - Random House, Inc. itself was acquired by the major media corporation, RCA.

1966 - Published the unabridged Random House Dictionary of the English Language.

1973 - Acquired Ballentine Books, whose mass market paperback publishing program enabled Random House to reach a broader and diverse readership.

1980 - Random House itself was acquired by Advance Publications, Inc., a privately held company.

1982 - Acquired the paperback publisher Fawcett Books, a hardcover imprint.

1983 - Created Villard Books, a new hardcover imprint.

1984 - Acquired Times Books from The New York Times Company.

1986 - Acquired Fodor's Travel Guides.

1988 - Random House grew dramatically with the acquisition of the Crown Publishing Group, whose imprints include Crown; Clarkson Potter, Inc.; Harmony Books; and the Outlet Book Company, a publisher of low-priced books, now known as Random House Value Publishing.
Random House, Inc. assumed its current form with its acquisition by Bertelsmann in 1998, which brought together the imprints of the former Random House, Inc. with those of the former Bantam Doubleday Dell.
Random House, Inc.'s publishing groups are listed below. Together, these groups and their imprints publish fiction and nonfiction, both original and reprints, by some of the foremost and most popular writers of our time. They appear in a full range of formats--including hardcover, trade paperback, mass market paperback, audio, electronic, and digital, for the widest possible readership from adults to young adults and children.
1745 Broadway, New York, NY 10019
212-782-9000
Divisions:
Random House Information Group

Fodor's Travel Publications is comprised of the Fodor's Book Group and Fodors.com. It is the largest English-language travel information publisher in the world, providing travelers with the very best in travel guides. Offering more than 440 guides to destinations worldwide, Fodor's has been a leader in the travel publishing industry for over 60 years, and it continues to enjoy rapid growth through aggressive travel book marketing, a series of enterprising line extensions, and new ventures.
The Random House Publishing Group

The flagship imprint of Random House, Inc., the Random House Publishing Group originated in 1925 when Bennett Cerf and Donald Klopfer, two New Yorkers in their mid-twenties, acquired a line of classics and contemporary American works called The Modern Library from publisher Horace Liveright. The company assumed the name Random House in 1927, when Cerf and Klopfer decided to publish a few books on the side, "at random." Their artist-friend Rockwell Kent drew his now celebrated logo of a random house, which made its debut in February l927. Among the first titles of the new imprint were limited editions illustrated by Kent of Voltaire's Candide and Melville's Moby Dick.
Fawcett Books
Ivy
Presidio Press
Bantam Dell Publishing Group

Bantam Books, established in 1945, is one of the most successful publishers of adult fiction and nonfiction. In addition to being the nation's largest mass market paperback publisher, Bantam publishes a select yet diverse hardcover list, which includes the bestselling novelists Dean Koontz, Tom Robbins, Elizabeth George, Iris Johansen, Tami Hoag, Diane Mott Davidson, George R.R. Martin, Michael Palmer, and Luanne Rice.


Dell Publishing, a leading publisher of adult fiction and nonfiction for the past seven decades, is home to the bestselling female novelist of our time, Danielle Steel, who is published in Delacorte hardcover and Dell paperback. Dell also publishes the biggest-selling male novelist of the last decade, John Grisham, as a Dell paperback author.
1745 Broadway, New York, NY 10019
212-751-2600
Bantam
Delacorte Press
Dell
Delta
The Dial Press
Spectra
Crown Publishing Group

The Crown Publishing Group originated in 1933 and is known for the broad scope of its publishing program and its singular market responsiveness; qualities that are reflected in its savvy selection of authors and books and in its aggressive efforts to market them.
1745 Broadway, New York, NY 10019
Doubleday Broadway Publishing Group

Doubleday's century of publishing began in 1897, when Frank Nelson Doubleday founded Doubleday & McClure Company in partnership with magazine publisher Samuel McClure. Among their first bestsellers was The Day's Work by Rudyard Kipling. While the alliance between Doubleday and McClure lasted only three years, a long and profitable friendship grew between Doubleday and Kipling, who, using Mr. Doubleday's initials, "F.N.D.," nicknamed him "effendi," the Turkish word for "chief"; this name remained with Doubleday for his entire career.
1745 Broadway, New York, NY 10019
212-751-2600
Doubleday Religious Publishing
Flying Dolphin Press
Knopf Publishing Group

Founded in 1915, Alfred A. Knopf is a publisher of distinguished hardcover fiction and nonfiction. Their authors include: Toni Morrison, John Updike, Cormac McCarthy, Alice Munro, Anne Rice, Anne Tyler, Jane Smiley, Richard Ford, Julia Child, Peter Carey, Kazuo Ishiguro, and Michael Ondaatje, as well as classic writers Thomas Mann, Willa Cather, John Hersey, and John Cheever.
1745 Broadway, New York, NY 10019
Random House Children's Books

Random House Children's Books is one of America's foremost publishers of quality literature for pre-school children through young adult readers in all formats from board books to picture books to novels. Random House Children's Books brings together world-famous franchise characters, multi-million copy series, and top-flight, award-winning authors and illustrators.
1745 Broadway, 10th Floor, New York, NY 10019
Kids@Random RH Children's Books: https://www.randomhouse.com/kids
Beginner Books
Disney Books for Young Readers
First Time Books
Landmark Books
Picturebacks
Sesame Workshop
Step Into Reading
Stepping Stone Books
Knopf Delacorte Dell Young Readers Group
Website: https://www.randomhouse.com/kids
Alfred A. Knopf
Bantam
Crown
David Fickling Books
Delacorte Press
Doubleday
Dragonfly
Laurel-Leaf
Schwartz & Wade Books
Wendy Lamb Books
Yearling Books
Waterbrook Multnomah

WaterBrook Press was launched in September 1996 as an autonomous evangelical religious publishing division of Random House, Inc. Since the release of their first books in February 1998, the publishing program has grown dramatically, and now includes such bestselling and well-respected authors as Kay Arthur, Jane Kirkpatrick, Liz Curtis Higgs, Steve Arterburn, Michelle McKinney Hammond and Charlie Peacock.
12265 Oracle Boulevard, Suite 200, Colorado Springs, CO 80921
719-590-4999 Fax: 719-590-8977
Website: https://www.waterbrookpress.com
E-mail: info@waterbrookpress.com
RH Direct, Inc.
Random House Audio Publishing Group
Website: https://www.randomhouse.com/audio/
CBS Corporation was formed in 2005, after its parent company Viacom split into two separate, publicly traded corporations. Today, CBS Corp. has operations in virtually every field of media and entertainment, including broadcast television (CBS and UPN), local television (CBS Television Stations Group), television production and syndication (CBS Paramount Television and King World), cable television (Showtime and CSTV Networks), radio (CBS Radio), advertising on out-of-home media (CBS Outdoor), publishing (Simon & Schuster), theme parks (Paramount Parks), digital media (CBS Digital Media Group and CSTV Networks) and consumer products (CBS Consumer Products).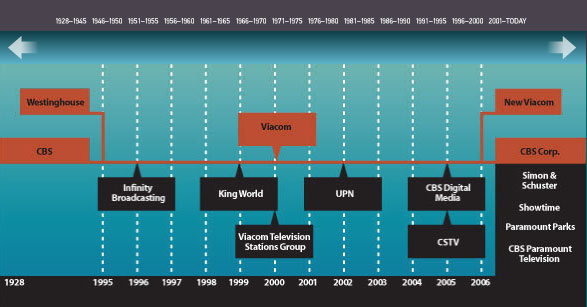 In Fall 2006, UPN will cease operations and The CW, a new fifth broadcast television network, will launch as a joint venture between Warner Bros. Entertainment and CBS Corporation.
51 West 52 Street
New York, New York 10019-6188
Website: https://www.cbscorporation.com
U.S. BOOK PUBLISHERS CBS CORPORATION OWNS:
Simon & Schuster, Inc.
Simon & Schuster, Inc. is a global leader in the field of general interest publishing, providing consumers worldwide with a diverse range of quality books and multimedia products across a wide variety of genres and formats. It is the publishing operation of CBS Corporation, one of the world's premier media companies.
Simon & Schuster, Inc. Timeline:

1924 - Richard L. (Dick) Simon and M. Lincoln (Max) Schuster found the company that still bears their names with no employees, no authors, no manuscripts, and no sales. Their first project, a crossword puzzle book, with a first printing of 3,600 copies and a retail price of $1.35 each (including an attached pencil), is a phenomenal success.

1925 - Simon & Schuster becomes the first publisher to offer booksellers the privilege of returning unsold copies for credit--a practice that revolutionizes the book business.

1930 - Hired in the company's first year, Leon Shimkin becomes an equal partner, where his talent and ambition in business soon establish him as the "third S" at Essandess.

1939 - Simon, Schuster, and Shimkin pioneer the American mass market paperback when they team with Robert Fair de Graff to launch Pocket Books. Priced at 25 cents, with a bespectacled kangaroo named Gertrude as its logo, these pocket-sized paperback reprints of classics and bestsellers are an instant success.

1943 - Hitching their wagon to a stork, the three S's launch a new Simon & Schuster subsidiary--Little Golden Books. Combining educational content and four-color art at 25 cents a copy, the titles are immediate bestsellers.

1944 - Simon & Schuster and Pocket Books are sold to Marshall Field for an estimated $3 million, after the heir to the Chicago merchandising fortune makes an informal offer to Dick Simon.

1945 - Pocket Books publishes the first "instant book," FRANKLIN DELANO ROOSEVELT: A MEMORIAL, just six days after the President's death.

1957 - Marshall Field dies and Simon, Schuster and Shimkin buy back Simon & Schuster, while Shimkin and James M. Jacobson acquire Pocket Books. Dick Simon retires later that year and Max Schuster and Leon Shimkin become equal partners.

1958 - Simon & Schuster sells its share of Golden Books to Western Publishing.

1959 - Washington Square Press is acquired by Pocket Books.

1960 - Richard L. Simon dies.

1961 - Pocket Books goes public with Shimkin holding 46 percent of the stock.

1966 - Max Schuster retires. Leon Shimkin acquires Schuster's shares in the company and merges Simon & Schuster and Pocket Books, renaming the company Simon & Schuster, Inc.

1970 - M. Lincoln Schuster dies.

1975 - Leon Shimkin sells Simon & Schuster, Inc. to Gulf + Western, and retires.

1984 - Simon & Schuster begins a period of intense acquisition, purchasing more than 60 companies, including Prentice-Hall.

1986 - Simon & Schuster Audio is launched.

1988 - Leon Shimkin dies. - Pocket Books begins publishing hardcover books.

1989 - Gulf + Western restructures and becomes Paramount Communications.

1994 - Simon & Schuster acquires Macmillan Publishing Company. - Viacom Inc. acquires Paramount Communications - Simon & Schuster Interactive is created.

1996 - Simon & Schuster Online is launched.

1998 - Simon & Schuster Education, International, Professional and Reference Groups sold to Pearson plc. Simon & Schuster Inc. is now made up of the international divisions Simon & Schuster UK and Simon & Schuster Australia, and four U.S. divisions: Pocket Books, S&S Children's Publishing, S&S New Media, and S&S Trade.

2000 - With the publication of Stephen King's RIDING THE BULLET, Simon & Schuster's Scribner imprint becomes the first publisher to offer an original work by a major author exclusively in electronic format.

2001 - Simon & Schuster publishes JOHN ADAMS by David McCullough which becomes a #1 New York Times best-seller and hits other national lists garnering critical acclaim. It goes on to win the Pulitzer Prize for biography with over 1.5 million hardcover copies in-print.

2002 - Simon & Schuster is integrated with the Paramount motion picture and television studios as part of the Viacom Entertainment Group.

2005 - Simon & Schuster became a part of CBS Corporation when Viacom Inc. split into two publicly traded companies: Viacom and CBS Corporation.

1230 Avenue of the Americas, New York, NY 10020
212-698-7000
Divisions:
Simon & Schuster Adult Publishing Group

The Simon & Schuster Adult Publishing Group includes a number of publishing units that offer books in several formats. Each unit has its own publisher, editorial group and publicity department. Common sales and business departments support all the units. The managing editorial, art, production, marketing, and subsidiary rights departments have staff members dedicated to the individual imprints.
Simon Spotlight Entertainment
Simon & Schuster Children's Publishing

Simon & Schuster Children's Publishing, one of the leading children's book publishers in the world, is comprised of the following imprints:
Hachette Livre is the largest publisher in France. It is part of Lagardère Media, the media division of Groupe Lagardère. Hachette Livre is the most important French editor, the second in England and in Spain, and the fifth world-wide. Recently, Hachette Livre acquired Time Warner Book Group from Time Warner, renaming it Hachette Book Group USA.

Hachette Livre
43, Quai de Grenelle
75905 Paris cedex 15
Tel: 01 43 92 30 00
Fax: 01 43 92 30 30
Website: https://www.hachette.com
U.S. BOOK PUBLISHERS HACHETTE LIVRE OWNS:
HACHETTE BOOK GROUP, USA
Hachette Book Group USA (HBG) was created when Hachette Livre, a French publishing company, acquired Time Warner Book Group from Time Warner in 2006 (see the Brief History sidebar below for more details). Hachette Livre is a wholly-owned subsidiary of Lagardère, a company that is active on a worldwide basis in the areas of communications and media (books, press, audiovisual and distribution/retailing of cultural products).
Hachette Book Group, USA Timeline:

1837 - Little, Brown and Company is founded.

1968 - Time Inc, acquires Little, Brown and Company.

1970 - Warner Communications acquires the Paperback Library and launches Warner Books.

1974 - Little, Brown and Co. acquires the New York Graphic Society, and in 1989 renames it Bulfinch Press.

1996 - Little, Brown and Co. and Warner Books merge to become Time Warner Trade Publishing, later to be renamed Time Warner Book Group (TWBG).

2006 - Hachette Livre acquires TWBG, which is renamed Hachette Book Group USA.
1271 Avenue of the Americas, New York, NY 10020
212-522-7200
Website: https://www.hachettebookgroupusa.com
Divisions:
Center Street

Center Street launched in January 2005 with the mission to publish books focused on wholesome entertainment, encouragement, and traditional American values.
Two Creekside Crossing, Ten Cadillac Drive, Ste. 220, Brentwood, TN 37027
615-221-0996 Fax: 615-221-0962
FaithWords

FaithWords launched in September 2001 to publish books for the growing inspirational market. Based near Nashville, Tennessee, FaithWords has grown dramatically by acquiring a solid list of faith-building fiction and high-profile authors with edifying messages.
Two Creekside Crossing, Ten Cadillac Drive, Ste. 220, Brentwood, TN 37027
615-221-0996 Fax: 615-221-0962
Little, Brown and Company

Little, Brown and Company was founded in 1837 and has published fiction and nonfiction by many of America's finest writers: Little Women by Louisa May Alcott, Emily Dickinson's poetry, and Bartlett's Familiar Quotations. In 1993 Little, Brown and Company created Back Bay Book to focus on the company's best fiction and nonfiction, and to publish original trade paperbacks. They are also the home of Bulfinch Press, a leading publisher of art and photography books.
1271 Avenue of the Americas, New York, NY 10020
212-522-7200
Website: https://www.hachettebookgroupusa.com
Little, Brown Books For Young Readers

Little, Brown began publishing books for children in 1926. Now known as Little, Brown Books for Young Readers, the imprint publishes high quality trade picture books, novelty, fiction, and nonfiction for babies, preschoolers, middle readers, and young adult.
1271 Avenue of the Americas, New York, NY 10020
212-522-7200
Website: https://www.hachettebookgroupusa.com
Warner Books

Warner Books came into existence in 1970 when Warner Communications acquired the Paperback Library, subsequently publishing paperback reprints editions of such bestsellers as Harper Lee's To Kill A Mockingbird and Umberto Eco's The Name Of The Rose. In 1980, Warner Books launched its hardcover publishing program, and from the beginning enjoyed success with such blockbusters as John Naisbitt's Megatrends, Andrew Greeley's The Cardinal Sins, and Durk Pearson and Sandy Shaw's Life Extension. In the 1990s Warner Books continued to add to that impressive list with such landmark bestsellers as Robert James Waller's The Bridges Of Madison Country, James Redfield's The Celestine Prophecy, and Sarah Ban Breathnach's Simple Abundance. More recent bestsellers include Jack Welch's Jack: Straight from the Gut, Tiger Woods' How I Play Golf, Robert Kiyosaki and Sharon Lechter's Rich Dad, Poor Dad, and America: The Book, by the writers of the Daily Show, and the works of David Baldacci, Nelson DeMille, Jane Goodall, Billie Letts, Brad Meltzer, Michael Moore, Nicholas Sparks, Lolly Winston, and Douglas Preston and Lincoln Child.
1271 Avenue of the Americas, New York, NY 10020
212-522-7200
Website: https://www.hachettebookgroupusa.com
5-Spot
Solana
Springboard Press
Warner Business Books
Warner Forever
Warner Twelve
Warner Wellness
Georg von Holtzbrinck (GmbH) publishing group is a family-owned company headquartered in Germany. The company is active in more than 80 countries and publishes both print and electronic media. They also own Macmillan, one of Great Britain's biggest publishers.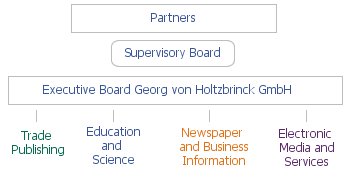 The group's activities are divided between four broad business areas:
Trade publishing
Education and science
Newspapers and business information
Electronic media and services
Gänsheidestraße 26
70184 Stuttgart
Germany
Phone: +49 711 2150-0
Fax: +49 711 2150-269
E-mail: info@holtzbrinck.com
Website: https://www.holtzbrinck.com
U.S. BOOK PUBLISHERS GMBH OWNS:
HOLTZBRINCK PUBLISHERS
Holtzbrinck Publishers is a group of publishing companies in the United States owned by Verlagsgruppe Georg von Holtzbrinck, based in Stuttgart, Germany. US publishers include: Farrar Straus and Giroux, Henry Holt & Company, Palgrave Macmillan, Bedford/St. Martin's, Picador, Roaring Brook Press, St. Martin's Press, Tor Books, and Bedford Freeman & Worth Publishing Group. Holtzbrinck embraces web technology and has a program that offers their authors the opportunity to blog.
Holtzbrinck Publishers Timeline:

1843 - The Macmillan Company is founded by Daniel and Alexander Macmillan, two brothers from the Scottish Isle of Arran.

1869 - The Macmillans launch Nature under editor Sir Norman Lockyer.

1877 - The Macmillans launch the Grove Dictionary of Music and Musicians.

1899 - Palgrave's Dictionary of Political Economy is launched.

1948 - Georg von Holtzbrinck launches Stuttgarter Hausbucherei (later Deutsche Bucherbund), a German book club.

1960s-1970s - Holtxbrink acquires Droemer, Kindler, Rowohlt, and S. Fischer Verlag.

1971 - Verlagsgruppe Georg von Holtzbrinck is created as a holding group for the companies.

1983 - Georg von Holtzbrinck dies and his son Diet becomes head of the company.

1985 - Holtzbrinck acquires Holt's general book division and names it Henry Holt Company.

1986 - Holtzbrinck acquires Scientific American for $52.6 million after the magazine rejects a $61 million offer from Robert Maxwell.

1989 - Holtzbrinck sells the book club.

1992 - Nature Genetics is launched.

1994 - Holtzbrinck purchases a majority interest in Farrar, Straus & Giroux.

1995 - Holtzbrinck purchases 70% interest in Macmillan Publishing Ltd.

1999 - Holtzbrinck completes the purchase of Macmillan Publishing Ltd. Nature Publishing Group is formed, incorporating Nature, the Nature Research Journals, NPG specialist journals (formerly Stockton Press), and NPG Reference (formerly Macmillan Reference Ltd.).

2000 - The scholarly and reference division of St. Martin's Press joins with Macmillan to form the Palgrave imprint.

2001 - Nature Publishing Group (NPG) launches Encyclopedia of Life Sciences. Thomson Learning purchases the political science textbook list from Bedford, Freeman and Worth of Holtzbrinck.

2002 - Holtzbrinck sells its scientific and educational publishing unit to Elsevier Science. The imprints include Urban & Fischer, Spektrum Akademischer Verlag, and SFG Servicecenter Fachverlage.

2004 - Holtzbrinck acquires Roaring Book Press, a trade and children's book publisher, which will become a division of Henry Holt.

2005 - Palgrave Macmillan acquires 21 journals from Henry Stewart Publications, Ltd, including all the journals in management, finance, property and allied areas.

175 Fifth Avenue, New York, NY 10010
646-307-5151
Website: https://www.holtzbrinckus.com
Blog: https://www.holtzbrinckonline.com
Divisions:
Bedford

Established in 1981, Bedford/St. Martin's is a college publisher specializing in the humanities. Bedford is the largest publisher of textbooks for college English courses, as well as a leading publisher in History, Communication, Business and Technical Writing, and Music. They publish the best-selling textbook in the United States: A Writer's Reference by Diana Hacker. Other best-sellers include The St. Martin's Guide to Writing by Axelrod and Cooper and America's History by Henretta, Brody, and Dumenil.
33 Irving Place, New York, NY 10003
212-375-7000
Boston office:
75 Arlington Street, Boston, MA 02116
617-399-4000
Website: https://www.bedfordstmartins.com
Farrar, Straus & Giroux

Roger W. Straus founded Farrar, Straus and Giroux in 1946. The firm is renowned for its international list of literary fiction, nonfiction, poetry and children's books. Farrar, Straus and Giroux authors have won extraordinary acclaim over the years, including numerous National Book Awards, Pulitzer Prizes, and twenty-one Nobel Prizes in literature. Poetry has always played a pivotal role on the Farrar, Straus and Giroux list, as well as fiction, history, art history, natural history, current affairs and science.
19 Union Square West, New York, NY 10003
212-741-6900
Website: https://www.fsgbooks.com
E-mail: fsg.editorial@fsgbooks.com
Feiwel & Friends

Feiwel & Friends is a brand new children's book imprint formed by Jean Feiwel at Holtzbrinck.
175 Fifth Avenue, New York, NY 10010
646-307-5151
Henry Holt and Company

Henry Holt is one of the oldest publishers in the United States. Henry Holt and Frederick Leypoldt, who emigrated to the United States from his home in Stuttgart eleven years earlier, founded the company in 1866. Holt has always been known for publishing high quality books, including works by such internationally renowned authors as Erich Fromm, Robert Frost, Hermann Hesse, Norman Mailer, Robert Louis Stevenson, Ivan Turgenev and H.G. Wells. Today the publication program focuses on American and international fiction; biography, history and politics; science, psychology and health; and books for children.


In addition to the Henry Holt imprint, the company publishes books under five other imprints. Metropolitan Books, established in 1995, publishes fiction and non-fiction, concentrating particularly on provocative and original American and international authors. Times Books, launched in 2001, is the result of an innovative co-publishing agreement between Holt and The New York Times; its list focuses on science, business and current events. Owl Books publishes much of the company's non-fiction in paperback; Picador USA publishes much of the company's fiction in paperback. Finally, Books for Young Readers publishes a wide range of children's books, from picture books for pre-schoolers to fiction for young adults.
115 West 18th Street, New York, NY 10011
212-886-9200
Website: https://www.henryholt.com
Palgrave Macmillan

Palgrave Macmillan, formerly a division of St. Martin's Press, publishes a wide range of nonfiction books in humanities and social sciences, from Political Science to History and Literature.
175 Fifth Avenue, New York, NY 10010
646-307-5151
Website: https://www.palgrave-usa.com
Picador USA

Since its launch in 1995 Picador has rapidly established itself as one of the leading literary trade paperback imprints in the country. Working closely with the hardcover houses Farrar, Straus & Giroux, Henry Holt and St Martin's Press, Picador has enjoyed fast sales growth, reflecting the general strength of trade paperbacks in the marketplace.
175 Fifth Avenue, New York, NY 10010
646-307-5629 Fax: 212-253-9627
Website: https://www.picadorusa.com
Roaring Brook Press

Roaring Brook Press is a publisher of high-quality literature for young readers of all ages, from toddler to teen, and in all categories: picture book, fiction, and nonfiction. Picture books published by Roaring Brook won the United States' most prestigious award for illustrated books, the Caldecott Medal, in both 2003 and 2004. Roaring Brook is launching a new imprint devoted to publishing graphic novels.
175 Fifth Avenue, New York, NY 10010
646-307-5151
St. Martin's Press

Founded in 1952 by Macmillan Publishers Limited of England, St. Martin's Press is now one of the largest publishers in America. Best known for the strength and breadth of their list, they publish 700 titles a year, and are equally committed to finding and nurturing the first-time author as they are to bestseller publishing.
175 Fifth Avenue, New York, NY 10010
212-674-5151
Website: https://www.stmartins.com
Tor

Founded in 1981, Tor publishes science fiction and fantasy as well as mainstream titles in both hardcover and paperback. They just put up their new website!
175 Fifth Avenue, New York, NY 10010
212-388-0100
Website: https://www.tor-forge.com
W. H. Freeman

W.H. Freeman and Company publishes books and textbooks in the sciences distinguished by a discerning editorial vision and a long-standing commitment to superior quality. As one of the few publishers that produce science books for scholars, students, and the general public, Freeman brings advances in the frontiers of modern science to classrooms and homes throughout the world.
41 Madison Avenue, 37th floor, New York, NY 10010
212-576-9400 Fax: 212-689-2383
Website: https://www.whfreeman.com
Worth

Worth focuses on publishing textbooks specifically in the social sciences. Worth has also become a leading producer of media for teachers and students, including the new Online Study Centers, e-libraries, and ActivePsych for introductory psychology courses, Media Tool Kits for developmental psychology, and the new PsychPortal, a state-of-the-art Online Homework Center and Learning Management Solution that brings together the full range of electronic teaching and learning tools for specific titles in one convenient, easy-to-use site.
41 Madison Avenue, 35th floor, New York, NY 10010
212-576-9400 Fax: 212-689-2383
Website: https://www.worthpublishers.com
News Corporation is a global media and entertainment corporation with many subsidiary companies that include HarperCollins, one of the largest English-language publishers. Rupert Murdoch is News Corp's chairman and majority shareholder, who turned his family's business into a multi-national, multi-billion dollar corporation.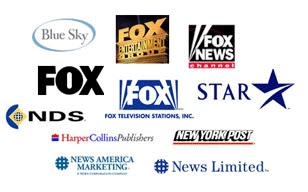 Their assets include MySpace.com, Fox Broadcasting, Twentieth Century Fox, Blue Sky Studios, New York Post, radio stations, newspapers, the LA Lakers, and the National Rugby League.
Website: https://www.newscorp.com
U.S. BOOK PUBLISHERS NEWS CORPORATION OWNS:
HARPERCOLLINS PUBLISHERS
HarperCollins Publishers is one of the world's leading English-language publishers with headquarters in New York. The company is a subsidiary of News Corporation. The house of Mark Twain, the Brontë sisters, Thackeray, Dickens, John F. Kennedy, Martin Luther King Jr., Maurice Sendak, Shel Silverstein, and Margaret Wise Brown, HarperCollins was founded in New York City in 1817 by the brothers James and John Harper. In 1987, Harper & Row was acquired by News Corporation. The worldwide book group was formed following News Corporation's 1990 acquisition of the British publisher William Collins & Sons. Founded in 1819, William Collins & Sons published a range of Bibles, atlases, dictionaries, and reissued classics, expanding over the years to include legendary authors such as H. G. Wells, Agatha Christie, J. R. R. Tolkien, and C. S. Lewis. HarperCollins has publishing groups in the United States, Canada, the United Kingdom, Australia/New Zealand, and India.
Today, HarperCollins is a broad-based publisher with strengths in literary and commercial fiction, business books, children's books, cookbooks, and mystery, romance, reference, religious, and spiritual books. The company has revenues that top $1 billion annually.
10 East 53rd Street, New York, NY 10022-5299
212-207-7000
Website: https://www.harpercollins.com
Divisions:
HarperCollins General Books Group

The General Books division posted 71 titles to the New York Times bestseller list. Among these, Freakonomics by Steven D. Levitt and Stephen J. Dubner, remained on the bestseller list for 66 weeks, as of July 30, and had sold more than 1.5 million copies. It also won numerous awards and distinctions, including the Book Sense Award for Best Nonfiction Book of 2005 and The Quill Award for nonfiction business book. Marley & Me now has 2 million copies in print and remains at the top of the New York Times list since its publication in October 2005.
HarperCollins Children's Books Group

In January, HarperCollins Children's Books won its 19th Newbery Award. Lynne Rae Perkins was awarded the 2006 John Newbery Medal for her novel, Criss Cross. The annual award, presented by the American Library Association, honors the author of the most distinguished contribution to American literature for children
1350 Avenue of the Americas, New York, NY 10019
212-261-6500
Website 1: https://www.harpercollinschildren.com
Website 2: https://www.harperteen.com
Zondervan

Zondervan has a team of more than 360 employees, with offices in Grand Rapids, Miami, London, and Sao Paulo.


Parent company HarperCollins Publishers has offices in New York, Los Angeles, San Francisco, Toronto, London, Glasgow, Paris, Johannesburg, Sydney, Auckland, Tokyo, and Singapore.


Zondervan authors number more than 1,500 and range from homemakers, business people, politicians and celebrities, to theologians, scholars, philosophers, and ministry professionals. They publish both fiction and nonfiction Christian-oriented books.
5300 Paterson Avenue SE, Grand Rapids, MI 49530
800-226-1122 Fax: 616-698-3454
Website: https://www.zondervan.com
Pearson is an international media company with world-leading businesses in education, business information, and consumer publishing. This U.K. based company publishes brands such as: The Financial Times, Penguin, Dorling Kindersley, Scott Foresman, Prentice Hall, Addison Wesley and Longman. The Penguin Group is the world's second-largest English-language trade book publisher.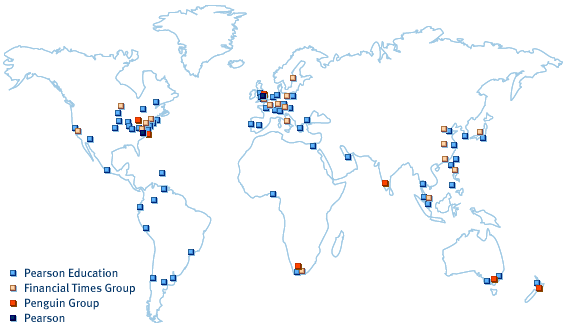 80 Strand, London, WC2R 0RL UK
Website: https://www.pearson.com
U.S. BOOK PUBLISHERS PEARSON PLC OWNS:
Penguin Group (USA) Inc.
Penguin Group (USA) Inc. is the U.S. partner of the Penguin Group, formed in 1996 through a merger between Penguin Books USA and the Putnam Berkley Group. Penguin Group (USA) publishes close to 4,000 titles every year for adults and children in fiction and non-fiction, from timeless classics to the hottest bestsellers.
Penguin Group (USA) Inc. Timeline:

1838 - George Palmer Putnam and John Wiley form the book publishing and retail firm of Wiley & Putnam in New York.

1848 - Wiley & Putnam's partnership is dissolved; Putnam's new firm, "G. Putnam Broadway," goes on to publish the works of Washington Irving, Edgar Allan Poe, Nathaniel Hawthorne, Samuel Taylor Coleridge and scores of other literary luminaries of the nineteenth century.

1866 - G. Putnam Broadway becomes, "G. P. Putnam & Sons" when Putnam's three sons join their father's business.

1872 - Upon George Palmer Putnam's death, his sons take over the business under its present name, G.P. Putnam's Sons.

1884 - A young Theodore Roosevelt, enamored of publishing, joins G.P. Putnam's Sons as a special partner.

1930 - G.P. Putnam's Sons merges with the publishing firm of Minton, Balch & Co. Control of the company passes to Minton & Balch upon Palmer C. Putnam's retirement.

1935 - Allen Lane publishes the first ten Penguin paperback books in London, filling the need for cheap editions of good-quality contemporary writing.

1936 - Penguin Books Ltd. is formed. Within its first year the company sells over 3 million books.

1936 - G. P. Putnam's Sons forms an alliance with London-based Coward-McCann (which became Coward, McCann & Geoghegan in 1971), which enables it to publish writers from both sides of the Atlantic.

1941 - Puffin Books, a children's imprint, is founded by Penguin.

1946 - Penguin Australia is founded.

1946 - The Penguin Classics series is launched with The Odyssey, which becomes Penguin's best-selling book.

1961 - Penguin Books goes public. Penguin Modern Classics is launched.

1965 - G.P. Putnam's Sons acquires Berkley Books, a mass market paperback house.

1967 - The first Penguin hardback is published under the Allen Lane Press imprint.

1970 - Allen Lane dies; Penguin Books becomes a wholly owned subsidiary of Pearson Longman Ltd.

1973 - Penguin Canada, which was originally founded during World War II but stopped operating in the mid 1950's, is restarted.

1975 - MCA, Inc. acquires The Putnam Publishing Group and The Berkley Publishing Group.

1975 - Penguin Books merges with the prestigious New York-based Viking Press.

1979 - Perigee Books, a trade paperback imprint is introduced by The Putnam Berkley Group.

1980 - The Putnam Berkley Group acquires Philomel Books, a children's imprint.

1982 - With the acquisition of Grosset & Dunlap, another children's publisher, Putnam emerges as one of America's premier children's book publishers.

1986 - Penguin acquires the New American Library/Dutton Books and merges them with its US operations. This acquisition includes Dutton Children's Books and The Dial Press.

1991 - The Putnam Berkley Group acquires Jeremy P. Tarcher, Inc., a preeminent publisher of New Age books.

1993 - The Putnam Berkley Group acquires Price Stern Sloan, Inc. and its diversified lines of children's books, humor, self-help books and novelty items such as calendars, puzzles and games.

1993 - Penguin Audiobooks is launched.

1995 - The Putnam Berkley Group launches Riverhead Books.

1996 - The Putnam Berkley Group is acquired by The Penguin Group. Putnam Berkley is merged with Penguin USA to form Penguin Putnam Inc.

1996 - Penguin takes a 51% stake in Rough Guides, the highly acclaimed publisher of travel and music writing.

1998 - Penguin Putnam Books for Young Readers announces the formation of a new imprint, Phyllis Fogelman Books.

1999 - Penguin Putnam acquires The Avery Publishing Group.

2000: Penguin Putnam and Alloy Online Inc. partner to create a new teen imprint, AlloyBooks. Penguin Putnam announces the creation of a new adult imprint, called BlueHen Books, headed by Fred Ramey and Greg Michalson.

Website: https://us.penguingroup.com
Divisions:
Penguin Putnam Adult Division

The Adult Division of Penguin Putnam continues to produce a steady lineup. One of the recent additions is the Penguin Blog, a must for authors interested in keeping up on the latest news (listed below). They have 20 imprints under their belt, so be sure to check those out.
375 Hudson Street, New York, NY 10014
212-366-2000
Website: https://us.penguingroup.com
Blog: https://thepenguinblog.typepad.com
Penguin Putnam Young Readers Division

Penguin Putnam Books for Young Readers publishes titles for children of all ages. Each of their imprints are comprised of their own distinctive missions, just as their adult books are. So if you're an author interested in learning more about the various titles they produce, check out their links below.
375 Hudson Street, New York, NY 10014
212-366-2000
Website: https://us.penguingroup.com
IN CONCLUSION?

Well, that was the BIG SIX LIST! And yes, it is enormous. For your sake, and mine, I didn't include all the information about the imprints. It would have made the article into a dictionary!


If you're an author who is fascinated by learning all you can about the big houses and how they move, I suggest you keep up on the latest "media mergers" in a Google search, or consult your favorite online business publication. Another good resource is Publishers Weekly who offers a free daily newsletter to keep up on the latest industry news and trends.


Other than that, all I can say is that things move very fast in today's publishing industry. Blink, and you've missed a beat. This is because things happen behind the scenes-they may take years for all we know-but we don't find out about them until they explode. It's not exactly privy information, but it does affect the way the publishing industry ebbs and flows with pop culture. And it does affect us as authors to a certain extent, by giving us the 'Who, What, When, Where, How, Why' of the corporate publishing world, and why or why not we are able to meet the wave of the nation when it comes to the books we write.


Arming yourself with knowledge can help you discern which publisher will be most likely to accept your book, and empowers you with material you may need when joining in on a conversation with an editor, publisher, or agent about the industry. Believe me, they'll be impressed!


The book business is just like any other: if you have a product you want to sell, you will want to research your market. As an author, you need to realize that you and your book are a product.


I know this isn't the way most of us think after laboring over a novel, but it's the truth. So, build up your platform, develop an audience before you try and get your book published, and if you want to roll with the big houses, find an agent.


That said, focus on what you know, write a good book, and ask questions. . . when it's time. The goals you want to accomplish are right there in front of you, grasp them now and never look back. I sincerely hope this will help you do that. You can do it!