ave you ever thought about creating a series of books for your main character? Join me for this fun and informative interview with author Deanna Raybourn whose latest book was just released on March 1st. Silent on the Moor is the third book in her award-winning Lady Julia Grey series.
A sixth-generation native Texan, Deanna Raybourn graduated from the University of Texas at San Antonio with a double major in English and history and an emphasis on Shakespearean studies. She taught high school English for three years in San Antonio before leaving education to pursue a career as a novelist. Deanna makes her home in Virginia, where she lives with her husband and daughter.
I had a fantastic time chatting with Deanna about everything from the ups and downs of writing a book series to her take on the business side of writing. She provides fantastic marketing tips, including blogging! This interview is not to be missed, especially for our authors-in-waiting who are thinking of writing in the historical mystery genre. And, if you have powerful characters strong enough to stick around for a few books, you'll need Deanna's insight!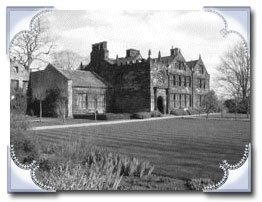 (Europe's East Riddlesden Hall inspired Grimsgrave Hall in Silent on the Moor)
WOW: Welcome to WOW! Deanna. We're thrilled to have you here. I always like to start from the very beginning. When did the writing bug first bite? Have you always been interested in writing?
DEANNA: There was never a time I didn't make up stories. I remember being thrilled when I finally learned how to print because I could finally get them out of my head! I started writing little stories and poems. I distinctly recall getting into trouble in elementary school when the teacher was reading Little House in the Big Woods to the class and I was too busy writing a diary of Marie Antoinette to pay attention.
WOW: What an inspirational start to your writing career! What are some authors and/or books that drew you into writing? What about those authors/books intrigued you?
DEANNA: When I was a teenager, it was Victoria Holt and Mary Stewart and Agatha Christie. I still have a fondness for all of them, but I'm also very smitten with less familiar British authors like Monica Dickens and E. M. Delafield. I also have pretty serious writer-girl crushes on Jane Austen and all of the Brontë sisters. When I'm in the mood for some magical realism, I turn to Joanne Harris or Alice Hoffman or Laura Esquivel. For biography, I like Antonia Fraser.
WOW: That is a very impressive list of women writers. I think I have a few of those ladies on my own bookshelf! What other areas of writing have you ventured into? Have you written other novels or nonfiction? Did you ever write freelance articles?
DEANNA: I wrote at least half a dozen novels before I was published. They live in a box in the attic now, including the first one, which I wrote when I was 23. I majored in English and history, so I did a fair bit of writing in college, but it wasn't creative. Working my way through those early novels was really some on-the-job training for me as a writer. I learned a great deal about how not to write a book.
WOW: Thanks so much for sharing that. I think it's so important to learn through our own writing. Let's jump right into your published novels. In what genre would you say your books fit? When I picked up Silent on the Moor, the cover screamed "Romance" to me, but when I delved into the book, it was more like a historical suspense/mystery with a romantic twist.
DEANNA: The novels are historical fiction, but I think there is enough there to keep mystery and romance readers happy as well. I never thought of the books as fitting a particular genre; they're just my books. But booksellers love to be able to keep things neat and tidy for readers, so they have their categories and we have to work with that the best we can. Those covers in particular were designed to appeal to the romance reader who might otherwise pass them by.
WOW: Now, I have to say, I love the character of Lady Julia Grey. She's very modern for her time: she's strong, intelligent, independent, not afraid to express her views or opinions but still has a tinge of vulnerability that she's also not afraid to show. Did you see a need for more books with characters like Lady Julia or did she just develop as you wrote?
DEANNA: Everyone who knows me well spotted immediately that Julia Grey is hugely autobiographical. Not in the particulars—I'm not a wealthy Victorian aristocrat and I am happily married and have no siblings—but as I like to say, the perspectives from her eyes and mine aren't so very different. Julia is a modern woman for the Victorian age, so I think that makes her accessible and sympathetic for modern readers, and it's very easy for me to get inside her head. In fact, when I'm wondering what Julia would do in a given circumstance, I usually just picture what I would do and write it!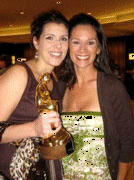 "I think every writer has some shortcuts or bad habits, and the trick is to know what they are so you can catch yourself in the act."
(Deanna with her two favorite girls: Sherri and the RITA! Deanna won for Best Novel with Strong Romantic Elements in 2008.)
WOW: The two things I love the most about your writing are the descriptive way you "show" your characters without actually "telling," and your strong dialogue. It must be difficult to present believable dialogue, especially in a historical time period. Did you do any research for that or did it just come naturally? And what advice can you give about "showing" our characters more than "telling?"
DEANNA: Thank you; showing instead of telling is something I am very conscious of as I write. It comes down to discipline. I think every writer has some shortcuts or bad habits, and the trick is to know what they are so you can catch yourself in the act.
For example, I've learned that the first draft is for getting the action down on paper. That draft is not about language so much as it is about plot. If I left it there, the prose would be serviceable, but not as interesting. The revision is where I really look at the language and make sure my word choices are as rich and appropriate and purposeful as I want them to be. I do tremendous amounts of research, even when it doesn't look like I'm researching! I watch loads of British television and films to make sure the cadences and the usage of the British English is correct.
I read letters and journals of the period for the same reason, as well as novels written during the time I'm writing about. I have to have the character's voice—in both senses of the word—fixed in my head, and then dialogue is extremely easy. There is simply one way they would say something, and that's the way I use. If I can't hear a character, the scene is flat and unremarkable, and I have to go back to figure out where I am missing the connection.
WOW: Fantastic advice! While on the subject of research, how important is it to a book set in the past? What are crucial things we must research in order to keep the authenticity?
DEANNA: It is as essential as the paper you write on. You simply can not write historical fiction without knowing your period. I once read where Persia Woolley said a writer should do the research and then only let 30% of it show in the book because the other 70% is for the writer's benefit, and I think that's a perfect ratio. I make every effort to keep my books accurate, even to details the average reader will never know or care about.
I consult almanacs, moon tables, railway maps—every resource I can get my hands on, and if I make a mistake it is always unintentional and mortifying. The flip side of that is I tend to be a pretty exacting reader. As soon as I find another author has not done her research and doesn't use a title of nobility properly, I chuck the book out and will never read that author again. I just think it's disrespectful to the reader not to even attempt to get the facts right.
WOW: I admire your fierce thoroughness for accurate research. Did you know when you started the first book that it was going to be the beginning of a series? How do we know when one book idea can spawn several different books?
DEANNA: You know your story can continue when you simply can't turn loose of the characters. In the case of the Julia Grey books, I realized very early on that I wanted to end the book with room for a sequel. This was partly a mercenary move because I thought it would make the book more attractive to a publisher, but it was mostly because I just didn't want to leave these characters yet. I wanted to send them on more adventures, and I tried very hard to create characters and situations I could mine for many books to come. That's why Julia has such a large family. With ten March children, I knew I could dabble with a few in each book and still have lots of new characters to play with.
WOW: While we're on the subject, how difficult is it, if at all, to write books in a series? Do you ever get "stuck" in where to take your main character and have you ever had to start a book from fresh because it wasn't going where you wanted it to go?
DEANNA: I was always terrified of writing a series because I would have to write books I'd already been paid for, and there's the specter of What if I can't? hovering over your shoulder. And, sure enough, the second book was much harder than the first because of the learning curve of working with an editor, writing to a deadline, etc. But the third book was bliss! Now, for the fourth book, it's outside of the series, and I've had the challenge of finding my stand-alone voice, a manner of writing that is purely me, but different from the Julia Grey books—again, very difficult, loads of terror. But it's coming along beautifully at this point and I feel like I've learned another skill. When I'm finished, I will go back to the Julia Grey series and have the privilege of picking up these characters again and exploring what else there is to know about them. Very much the best of both worlds, as far as I'm concerned.
WOW: Another unique aspect of your books is the "Questions for Discussion" you have at the end. What a wonderful way to get the reader more involved in the book and create interest in continuing on in the series with you! Was that an idea from the outset or something you thought of later? Why did you think to include it?
DEANNA: The discussion questions were my editor's idea, and she and I work on them together. I write the first batch and then she will come back with a few of her own and we keep at it until we're happy. They were primarily intended for book club discussions, but the solitary reader can enjoy them as well because they are meant to make you think about what you've read and formulate an opinion.
WOW: I thought it was great fun! Let's talk about what you do when you sit to write those fantastic novels. What is your writing routine? Any rituals? Do you have a set amount of time you set aside for writing?
DEANNA: I prefer to write in the morning, and I prefer to write every day. If I am on a deadline I will write a quota each day. If I'm writing at a slower pace, I am more likely to write scene by scene instead. Each evening, I read over what I wrote that day and make corrections by hand. The next morning, I start by inputting those changes, then I'm nicely warmed up to start writing. I always write on my computer. I would love to be one of those bohemian artistic types who can write in a coffee house, but I just can't. Writing longhand changes the rhythm of the narrative for me, and that's deadly.
I always write to music, usually movie soundtracks or something written in the period I'm writing about. If all else fails, it's Bach. And I do have a little corner of sacred space in my study, so there is usually a candle burning or a bit of incense. And I make inspiration boards for each book, an enormous collage of images that somehow relate to the book, settings, faces, bits of architecture or scenery. The current board is always hung where I can see it from my desk. Lately, I have been taking a few minutes to meditate and light a candle and write an intention for that day's work as a way of putting myself into a purposeful and creative state of mind. It's doing amazing things for my writing!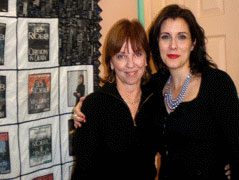 "I don't think you can underestimate the importance of forming professional relationships with people who 'get' you."
(Deanna signing with the fabulous Nora Roberts in Boonsboro, Maryland)
WOW: I love the idea of meditating before working, and the inspiration board is also a great idea. Thank you for sharing those with us. Now I'd like to pick your brain about the editing/publishing side of things, from the author's perspective. How do we get an agent/publisher interested in our work? What steps did you take in getting your work noticed?
DEANNA: I browbeat my agent until she took me. [Laughs] All right, not really—my agent isn't the sort to be browbeaten! But I did have to persuade her to take me on. I was writing Regencies at the time, and she didn't have contacts in that genre. I queried her accidentally some years before, and her rejection letter was so kind I kept it. I decided if she could be so nice to someone she had no intention of representing, she'd be wonderful to work with.
I sent her a different novel a few years later and she hesitated until I told her I was perfectly willing to be patient while she made some new contacts and tested the Regency waters. I think she would have rejected me a second time, but I phoned her and based upon how well we got along during that call, she took me on and we've been together ever since. I don't think you can underestimate the importance of forming professional relationships with people who "get" you. My agent and I are very different women, but she complements me perfectly.
WOW: I just love that story! What advice can you give us in terms of getting our manuscripts pulled out from the slush pile and placed right on top? What mistakes do you think writers make?
DEANNA: I think the biggest mistakes people make are underestimating the importance of timing and overestimating the importance of gimmicks. Publishers and agents want to see a captivating, well-written book presented professionally, which means according to their submission guidelines. They don't need the dog and pony show. To me, trying too hard gives off a whiff of insecurity. Let the writing speak for itself, but make sure it has a lot to say and that it says it eloquently. And timing is an uncontrollable factor. I was offered a three-book deal because my publisher needed a writer of historical fiction and my book was in the right place at the right time. A year earlier, a year later, and I wouldn't be publishing with that company. People don't really like to hear that because it's a factor they can't control, but it is something you have to be aware of. Sometimes it really isn't you.
WOW: Thank you for saying that because it can be hard to see "it isn't you" when you've had a rejection or two (or more). You have an amazing blog. I was most impressed with how interactive you are with your readers/fans. You've created a FAQ section about your books, you seem to update it every day, and you even answer non-book questions thrown at you. How important is it to maintain that sort of connection with readers?
DEANNA: Essential! I do update every day when I'm not traveling, and I love to open the blog to reader questions and let them pick my brain. That way I get blog topics suggested to me, and they get answers to their biggest questions—we both win! I talk a little about my private life, but I do not name my husband or child on the blog and I don't post pictures of them. I like to say the blog is me at about 80%. I don't blog about politics or religion because I want the blog to feel inclusive. I also accept friend requests from readers on Facebook as another way to stay in touch.
WOW: Great tips on the world of blogging! A lot of writers believe that once the book comes out, their job is pretty much done, except for the appearances scheduled by their publisher or agent. Do you have any advice on the importance of marketing ourselves? In what ways can we market ourselves beyond what our publisher/agent handles?
DEANNA: For me, the first and most important tool is the internet. I started the blog because it was a very cost-effective way to connect with readers. I had to start inexpensively and do a lot myself, building as I went. After the blog was up and running, I started my newsletter, formatting, writing, and sending it myself while I started my mailing list.
Now, my website is open for business and some of the things I used to do are being turned over, a tiny piece at a time, to my publicist. I also guest blog for other people. I accept every interview request made to me. I phone in to any book club that requests a chat. I have accepted every speaking engagement or signing request set up by my publisher, as well as many on my own.
Some of those things are free, some cost me quite a bit, but the cost is more in time than anything else, and that's a commitment I'm willing to make. I think you have to play to your strengths. If you aren't enthusiastic about blogging, it's going to show. So don't do it. Give your readers something else to love that reflects you. That's what readers really want, a sense of personal connection with an author.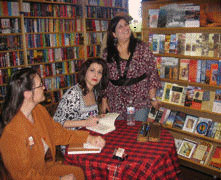 "It took me fourteen years to get published and I still wrote, book after book."
(Deanna signing for Jerusha at The Poisoned Pen with Suzanne Arruda)
WOW: Great networking advice. I'm definitely taking notes. (Laughs) Ready for some personal, non-writing related questions? What inspires you—in writing and in everyday life?
DEANNA: My kid. My daughter is hands-down the best thing I've ever done. She's well mannered and considerate and screamingly funny, and when I look at her, I think whatever else I don't accomplish in life, I did that. With my husband's help, of course. [Laughs]
WOW: Well…I guess it's fair to give your husband a small nod, huh? [Laughs] That's just beautiful. What would you be doing if you weren't writing your books?
DEANNA: Not writing is not an option. It took me fourteen years to get published and I still wrote, book after book.
WOW: Brilliant answer! You seem to have a very loving and supportive group around you. Did you want to share how they've helped you, and continue to help you, with your writing success? And how important is it that we have that strong support group to go along with us on our writing journey?
DEANNA: My husband and parents are my biggest support, but I also have a group of incredible friends who keep me grounded. My family often comes to signings, and I have several friends who have either harassed bookstores into setting up signings or traveled hundreds of miles for one. I am very, very lucky. It is crucial to have people who believe in you, but you have to believe in you even if no one else does. For a long time before I was published, I didn't discuss writing with anyone outside my immediate family. It came as a big surprise to quite a few people when I got a book deal!
WOW: Talk about a fantastic support network! And thank you for your very important advice on believing in yourself even if no one else does. Do you have any projects-in-the-works we should keep our eyes out for? What's next for you?
DEANNA: I'm currently finishing up revisions on The Dead Travel Fast, a mysterious tale set in Transylvania in 1858. There are no characters from the Julia Grey books in this one, but I think readers of the series will enjoy it as well. After that, I will head right back to the Julia Grey series for book four!
WOW: I know I'll be keeping my eyes on the shelves for both! Do you have any final pearls of wisdom for our readers, especially our authors-in-waiting?
DEANNA: My favorite quote from Winston Churchill, "Never give in. Never give in. Never. Never. Never. Never."
WOW: I think every writer or author out there should write that out and stick it right on their monitors. Thank you so much for squeezing some time in to chat with us. I'm sure our readers will find your advice insightful and inspiring.
Ladies, please be sure to visit Deanna's new website at https://www.deannaraybourn.com/ and keep updated on what new books are coming out! And don't forget to leave a comment or ask a question because she loves her fans!
***
Chynna Tamara Laird is a psychology student, freelance writer and author living in Edmonton, Alberta with her three daughters [Jaimie (six), Jordhan (four), and baby Sophie (nine months)] and baby boy, Xander (two). She plans to help children and families living with Sensory Processing Disorder and other special needs.
You'll find her work in many parenting, inspirational, Christian and writing publications in Canada, United States, Australia, and Britain. She's most proud of her children's picture book, I'm Not Weird, I Have SID. In addition, she'll have a memoir about raising a child with SPD out later this year.
Please visit Chynna's website at www.lilywolfwords.ca to get a feel for her work and what inspires her.